by: -RoG-
If there's one thing I can appreciate around this time o' year, it's a solid Halloween oriented ad campaign. Whether it's a company sticking Elvira's cleavage face on their products or simply tacking on words like "spooky" or "evil" to the name of their merchandise to generate extra sales, I'm all for it. Out of all the companies doing Halloween promos out there, I'd have to say that Corona has had one of my favorite ad campaigns over the past couple o' years. For those of you who haven't seen any of their Halloween ads, here's one of 'em:
Great isn't it? It's a total throwback to movies like Psycho or any number of slasher flicks from the seventies and eighties. I love the lime slime, slowly dripping down the dock after it gets stabbed. Ok, I really just wanted to say "lime slime"... let me have my moment, damn you! The best thing about the campaign however, is the little "lime-o-lanterns" that have appeared both in the commercials and print ads alike. I'm not sure what it is about them, but those spooky little limes have somehow become an unofficial Halloween mascot in my psyche. I always look forward to seeing them come October every year and hope Corona doesn't stop with 'em.
And when I say I really like them, I mean I've actually gone to the extent of tracking down and purchasing some of their evil lime promotional items from bar supply companies. Check it out: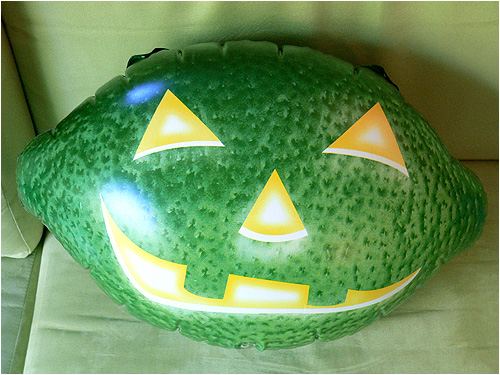 Yeah, that's right, I bought a giant inflatable Corona Halloween lime. It's made to dangle from the ceilings of your favorite watering holes, but I prefer to let it sit right next to me on the couch with that sinister smile. Maybe I'll even take it to the neighborhood pool and use it as a float sometime as long as they don't have any rules about "no lime slime allowed in the water" or anything. (Yep... I said it again. LIME SLIME!)
Of course, there are SOME PEOPLE who believe the giant inflatable lime isn't a couch decoration, but a volleyball instead.
With so much adoration for these lil' fellas, I decided that this year I'd get together some people to make lime-o-lanterns of our very own! Allow me introduce you to 'em:

Dr. Zombie Lime, Vampire Lime, Mummy Lime, and Franken Lime.
THE LIME SLIME GANG!
With our fearsome lime laceration team ready to go, we ran out to the local grocery store to pick up some limes.

To our shock and awe, the limes they carried were nowhere near as large as the inflatable lime-o-lantern or your average pumpkin. Fact is, they were quite small, but we didn't let that thwart our progress. Each of us had a specific lime design we wanted to pull off, so we began the process of carving and decorating. Franken Lime decided to pursue the (pain-in-the-ass) task of creating a semi-traditional jack-o-lantern with his lime. The reason it's so difficult is that the innards of a lime aren't anywhere remotely as easy to scoop out as those of your average pumpkin. You literally have to take an X-Acto knife and carve it all out, bit by slimy bit.


[click here to see a larger photo of the glowing lime-o-lantern]
After finally removing enough o' the lime guts, it was time to light this lime-o-lantern. Of course, due to its small nature, there was no way a candle was going to fit in there, and even if it did, some lime slime would probably put out the flame right away. With that in mind, Franken Lime went with a battery-powered pumpkin light to place inside a hole he carved in the base of his lime-o-lantern. As you can see, it worked out quite well, and one of the really nice effects that is unique to a genuine lime-o-lantern is that when lit, it creates a glowing freckle-like effect all over the lime. Halloween Freckles. You saw it here first, people.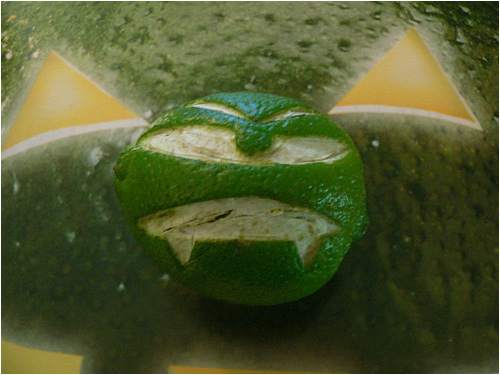 Having seen just how difficult it was to remove the guts from a lime, Dr. Zombie Lime decided to carefully carve out a design from the outer skin of his lime. It took a while to complete, but the result was a snazzy, Bloodthirsty Vampire Lime. He then returned to watching Jack-O in its entirety, which for any of you who've seen the film, know that sitting through that flick is no easy task by any stretch. In fact, I dare say it requires more effort than creating all of these lime-o-lanterns.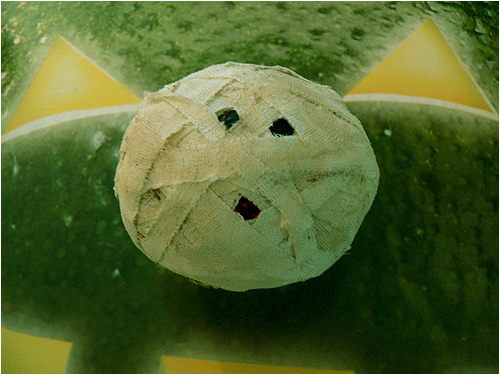 Next up was Vampire Lime, who was determined to make a mummy lime design come to life. At first, she started painting the lime, but it wasn't drying nearly fast enough, so she switched to using some athletic tape to make a faux-mummy wrap. She cut the tape into thin strips and wrapped it around her lime and then created the face with a Bedazzler. Ok, so they were just some random jewel stickers, but who doesn't love Bedazzling things? As you can see, her Mummy Lime turned out great and is now buried in a sarcophagus in Egypt, waiting to be unearthed by some careless archaeologists a hundred years from now.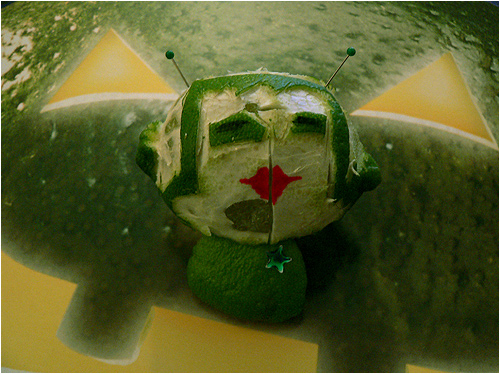 Our next design came from Mummy Lime who, like Dr. Zombie Lime, decided to skin the outside of her lime to make an alien lime. But not just any alien lime... a Sexy Alien Lime from Outer Space! Her antennae allow her to communicate with her sexy lime-o-lantern alien friends who are determined to make all the people of earth their mindless sex slaves. Ooo la la!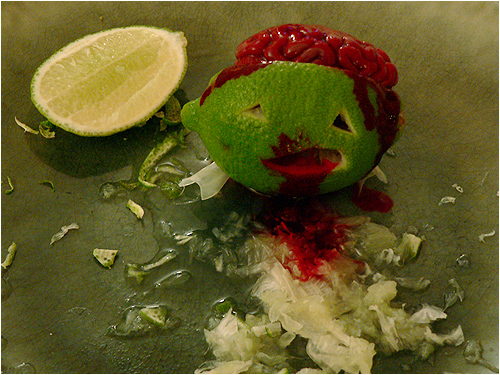 Last but not least, Franken Lime wasn't quite satisfied enough with just making a glowing lime-o-lantern, so he decided to turn it into a horrifying surgical experiment gone awry. After sticking some pins into the back of the lime, he stuffed a tiny novelty squish brain into the lime and doused it with blood. Real blood? Fake blood? We may never know the truth, but as you can see, the lime puked up a bunch o' blood. You probably would too if somebody scooped out your guts and removed the top of your head. Bloody Brain Lime is expecting your sympathy cards.

In addition to it being quite difficult to carve all the cuts out of a lime, the other drawback is that they don't last quite as long as your average jack-o-lantern pumpkin does. While the other three limes were in good shape for a full week, the gutted lime was in really poor shape by the end of it. He even squeezed out his own brain in an attempted suicide. Poor lil' fella.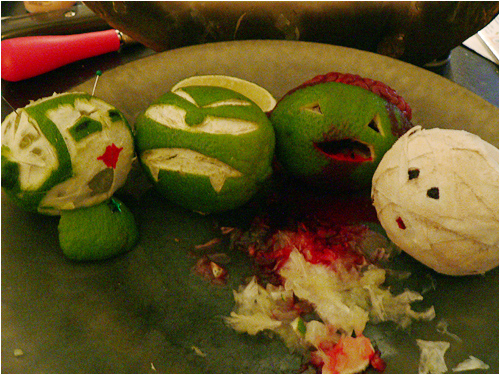 All in all, I think our lime-o-lanterns were a great success and this just might have to become one of our many new Halloween traditions. Here's hoping you'll make it a tradition in your home as well. But hey, rather than leave it up to fate, I'm going to give you guys some additional inspiration just in case our stellar lime-o-lanterns didn't already make you run out to the grocery store to buy some. Behold!
I'm hereby announcing I-Mockery's first contest of the 2009 Halloween season! I want you to go to your grocery store and choose some kind of food product to carve for Halloween. That's right, I'm spicing it up a bit and not just limiting the contest to carving limes. You can carve fruits, vegetables, hot dogs... whatever you want to try "Halloweenifying" for this contest! Of course, you're more than welcome to still use limes, but I wanted to give you the opportunity to make a jack-o-lantern out of anything you want.
Of course, it wouldn't be a contest without some spiffy prizes, so we'll be giving away the following prizes:
1st place winner will not only receive the complete Nightmare on Elm Street DVD box set, but also their choice of I-Mockery t-shirts and one of our I-Mockery button packs! (as seen in the store)

2nd place winner will receive their choice of I-Mockery t-shirts plus one of our button packs!

3rd place winner will receive some I-Mockery pickle hats plus one of our button packs!

4th and 5th place runner-ups will receive some shiny I-Mockery stickers!
All entries are due by the end of Wednesday, October 7th 2009. All entries must be posted in the official contest thread. You can post photos and/or videos of your entries. And, of course, feel free to enter as many times as you like!
So there you have it. Be sure to let us know what you think of our lime-o-lanterns in the comments section below and then get to work on some of your own!
p.s.: LIME SLIME.
Have any questions or comments about this piece?
Email -RoG-