[part 1 - the turnip] [part 2 - the potato]
[part 3 - the beet] [part 4 - the gourd]
Pumpkin Jack wasnít always Pumpkin Jack, and Halloween wasnít always Halloween. This celebration of the macabre began as a pagan festival called Samhain, when Celts would walk around with various root vegetable lanterns to guide the roaming dead to the next world. They also carved spooky faces into them (the lanterns, not the dead) to keep malignant spirits away.

It soon became tradition to carry these lanterns from door to door and ask for offerings for the benign spirits, but since they didnít have candy back then, they got other stuff instead. Like, I suppose, barley, sheep fat and yet more root vegetables.

Now, at first, these lanterns werenít pumpkins at all. You may have heard of the turnip lanterns of old, but there were many, many more variations. So this Halloween, I embarked on extensive research on this topic and studied the many forms of the Jack-O-Lantern. I will also actually attempt to carve all of these and post a series of short reports here on I-Mockery.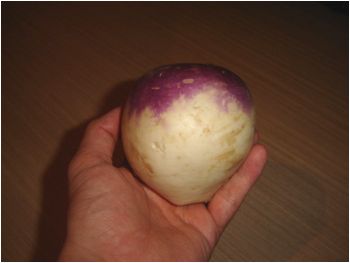 First up is the aforementioned turnip. Iím not sure how big they were back in their heyday, but the ones I found at the greengrocerís werenít what I had hoped for. They certainly were turnip-shaped, but I must say I remember the turnips of my childhood being larger than this.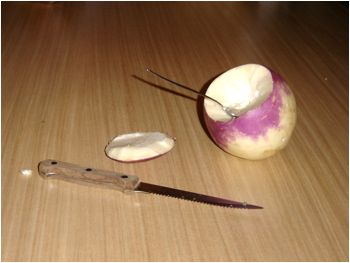 Since I was born and raised in Europe, I have never in my life carved a single pumpkin. In fact, I never even saw a pumpkin before I was 12. But I assume their soft pumpkin flesh must be easier to carve than the wooden meat of my turnip. Iím not sure which tools the pagans used to carve these things, but I soon figured out everything would go much smoother with a spoon than with a knife. This also gave me a quick and healthy snack while I was watching TV.
Once the root was hollowed out, I decided to carve a generic smiley face into it. Better not get too ambitious in my first attempt at lantern craft.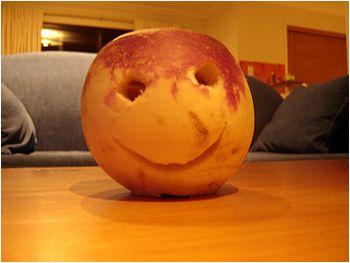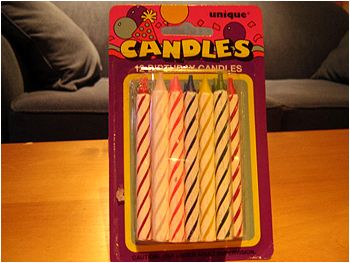 My research gave me no answers when it came to what kind of candle I was supposed to fit into my lantern, or if the old Celts and Irishmen used candles at all. For all I know, they just threw a wick in there with some cod oil. I settled for birthday candles. I know what burning cod oil smells like.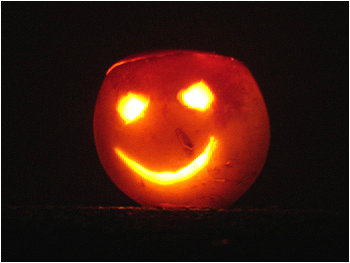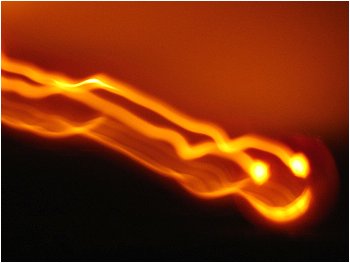 In the end, I think my turnip lantern turned out alright. It glowed eerily for such a small thing, and upon closer inspection I noticed my camera had caught it trying to murder me with its laser vision. The spirit of Halloween obviously deemed it worthy of demonic possession. I deem my first experiment a success.
CLICK TO SEE THE NEXT ITEM:
A POTATO!
---