by: -RoG-
(12/21/11)
Before we begin, if you haven't already seen our Christmas in Seoul, South Korea pictorial, I suggest you start with that one first so you can see what else we were up to in South Korea for the holidays. Now with that out of the way, I'm sure you're wondering just what the hell Lotte World is. Simply put: Lotte World is the largest indoor theme park in the world. Located in Sincheon-dong, Songpa-gu, Seoul, South Korea, it's attached to a large shopping center and has an additional outdoor amusement park area on an island that you can travel to via a monorail which connects the two locations. It's also open all year long since there's no real concern about weather.
Once again, I thought you'd enjoy taking a look at many of the photos from our trip to Lotte World so you can feel like you were there with us. You'll see ride highlights, weird prizes, novelty foods, a horror maze, and even some lengthy videos in this piece. Make sure you stick around 'til the end of the article, because your eyes will be treated to what just might be the most insane nighttime Christmas parade they've ever seen. So without further delay, I present you with our Christmas at Lotte World experience pictorial: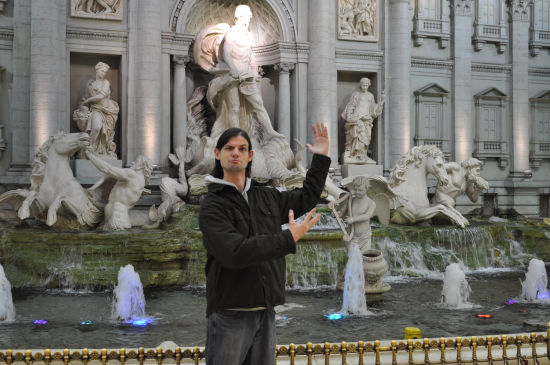 We took the subway straight to the Jamsil station where Lotte World is located.
Once we there, we are greeted by fountains... majestic fountains worthy of the gods!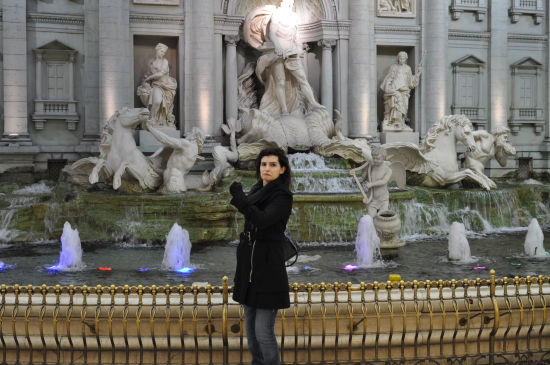 Re poses just like the guy in the background who is apparently punching a horse in the face.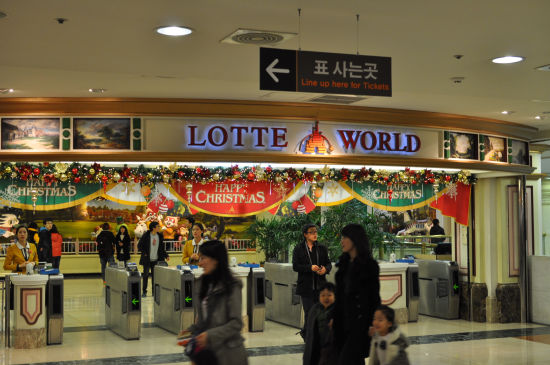 We arrive at Lotte World to purchase our tickets and can already see loads of "Happy Christmas" decorations.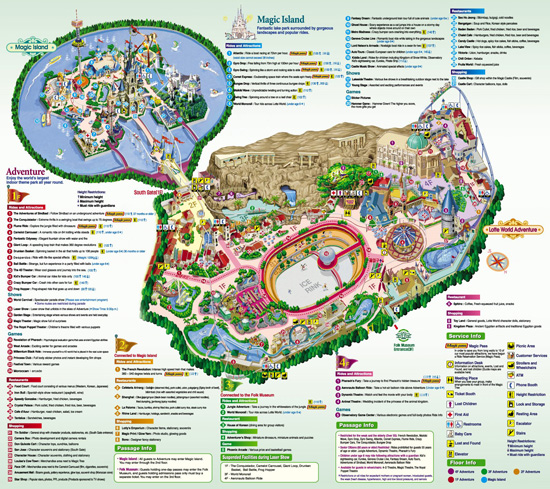 As you can see from the Lotte World guide map, we had a lot of ground to cover that day, so we quickly made our way in.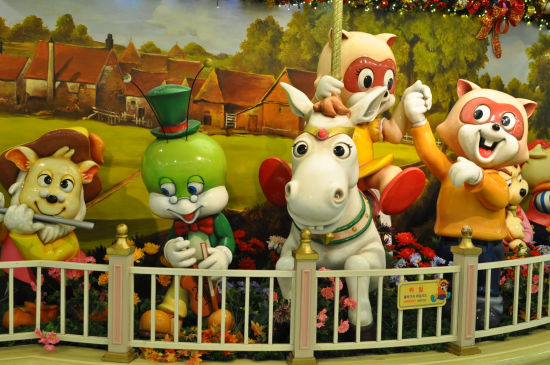 No idea who these characters are, but I'm sure they're just as popular as your average Disney character.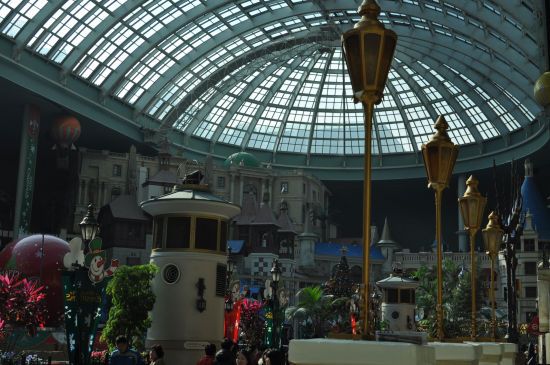 Our first view inside Lotte World stopped us in our tracks.
There's just so much to see, you don't even know where to focus your eyes. Sensory overload.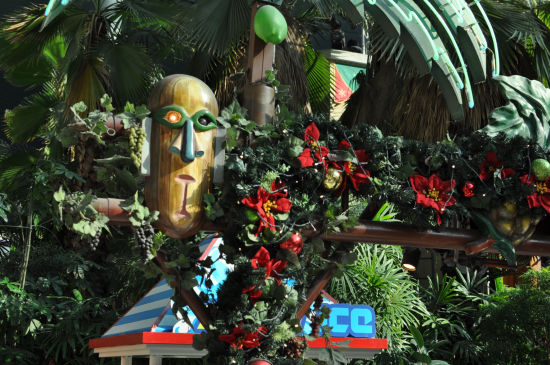 Tiki culture is alive and well at Lotte World if you know where to look.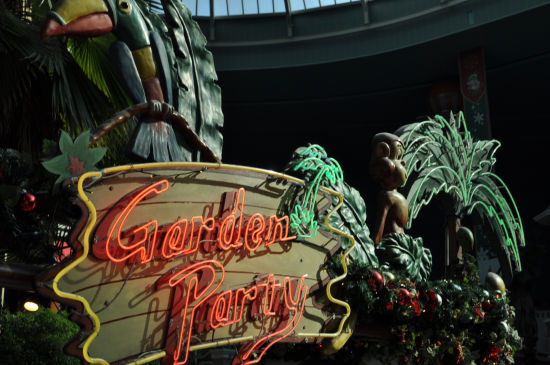 A garden is indeed a fine place to throw a party.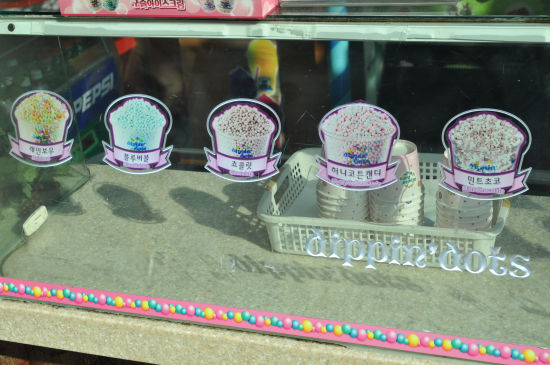 Dippin' Dots may have filed for bankruptcy, but they're still around.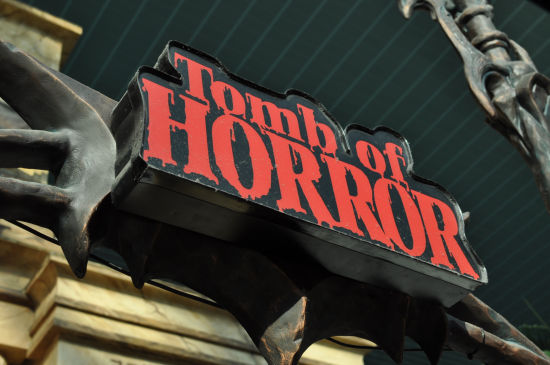 The first attraction we decided to check out was called Tomb of Horror: 3 Doors Later.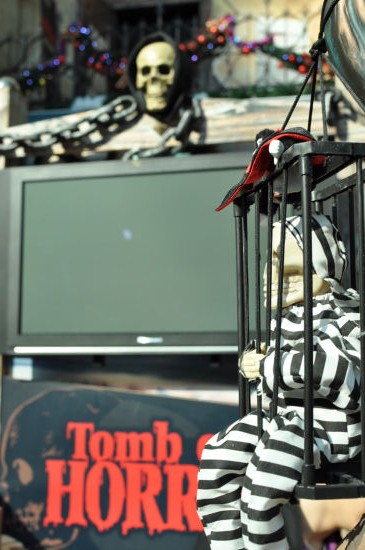 Had the television screen been on, I'm sure it would've been showing something horrifying.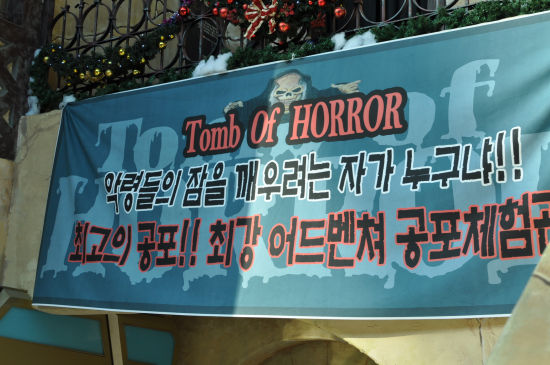 Okay, got it.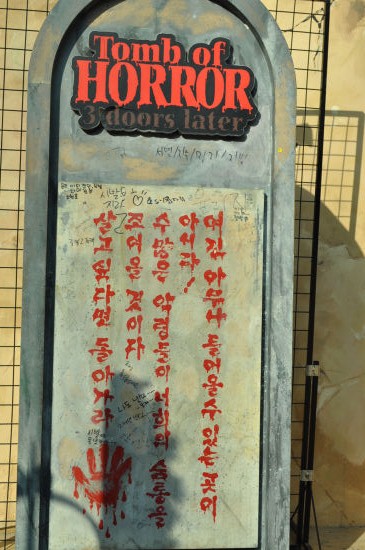 Unlike most signs in South Korea which had alternate text written in English, not much at Lotte World did,
so we just had to go into most things hoping they were entertainment rides and not express trains to North Korea.

Based on the "3 Doors Later" subtitle and these images, it became apparent to us that we
would have to figure out how to open some doors to move onward in this walk-through maze.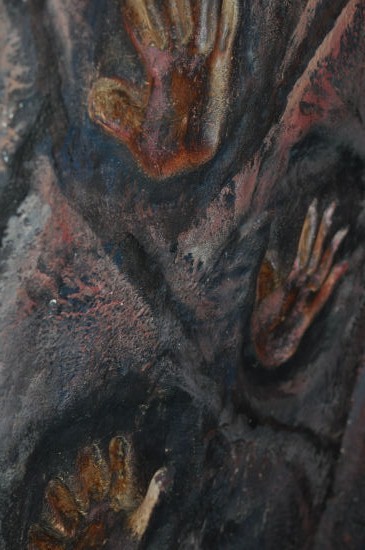 We made our way through a dark hallway, and eventually came to a dead end. Then we noticed these hand prints on the wall and remembered the signs. After putting our hands in the impressions, a door suddenly opened. Success!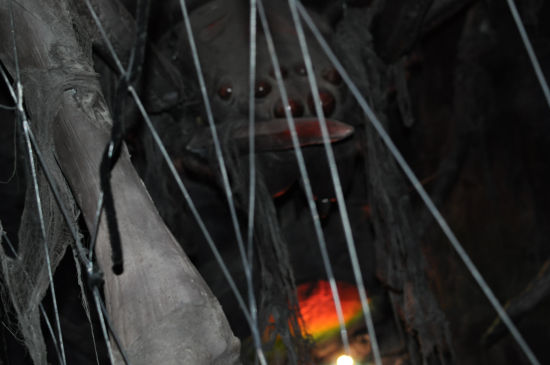 Some kind of giant spider hanging from the ceiling.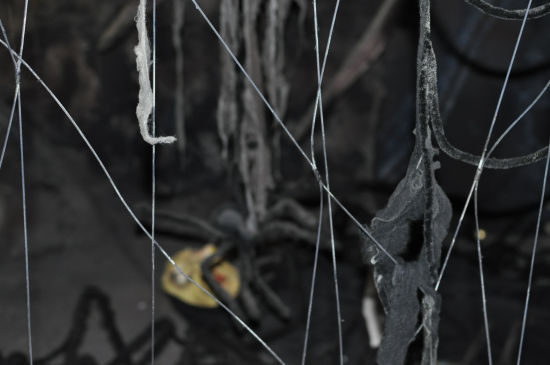 More spider webs.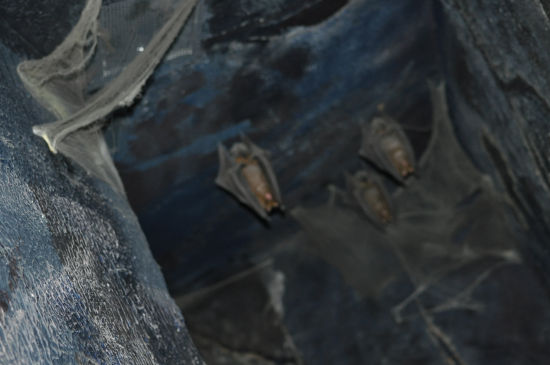 Vampire bats in the corridor.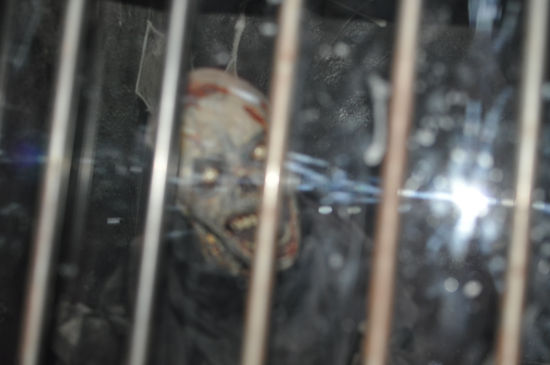 Some kind of undead creature that was spazzing out.

Now this picture represents one of my favorite memories from our entire trip. As we made our way through the dark corridors, we eventually caught up to the group of kids that went ahead of us. Just as I snapped this photo of them, one of the kids turned around, saw me, and then proceeded to scream "DRACULA!!!!" in absolute terror. His friends turned around and started screaming "DRACULA!!!!" when they saw me as well. Then they kept screaming and ran all around and swarmed me and started pushing me forward through the maze. It was absolutely insane, being pushed through this maze by a bunch of kids who were terrified at first, then laughing their asses off as they pushed "Dracula" ahead of them.
This experience alone made it worth the trip to Lotte World. Simply amazing.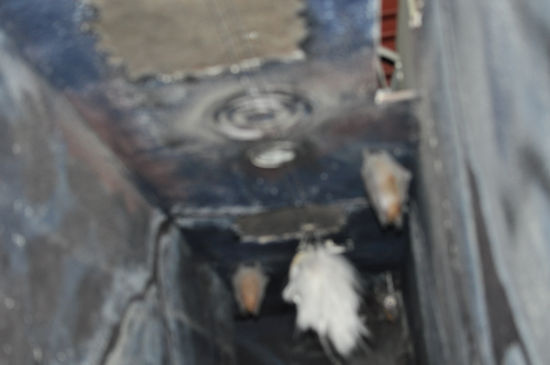 The severed head of some old ghoul moving along on a pulley system.
(Sorry for the blurry photos, it's hard to get good ones when there's a crowd of kids pushing you forward while screaming "DRACULA!!!!")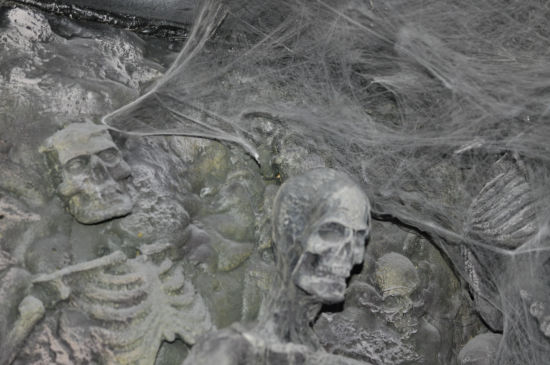 Skulls 'n spiders.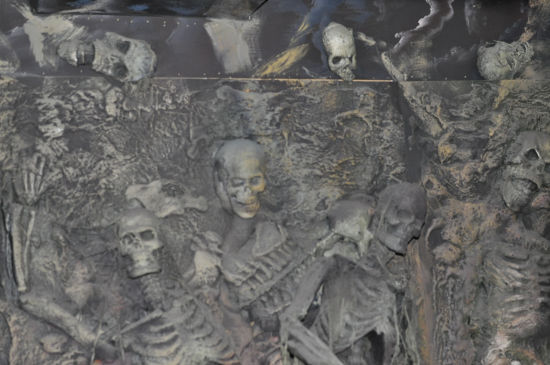 More bones.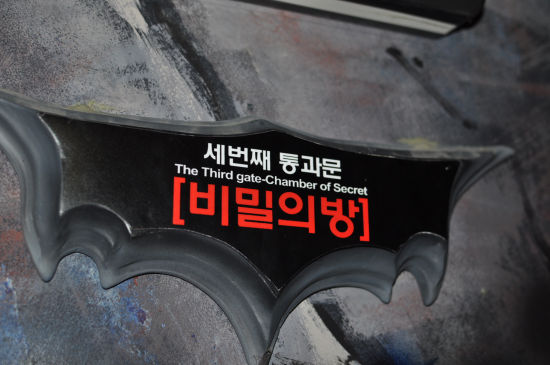 We didn't even see a sign for the second door puzzle (maybe those kids had already unlocked it) when we arrived at this one: The Third gate-Chamber of Secret. It had a few pyramid-shaped notches that you could move, but the door was
already open when we got there, so I guess it was either broken or somebody else solved it before us? Who knows.
What we didn't expect was to arrive in a crazy prism room.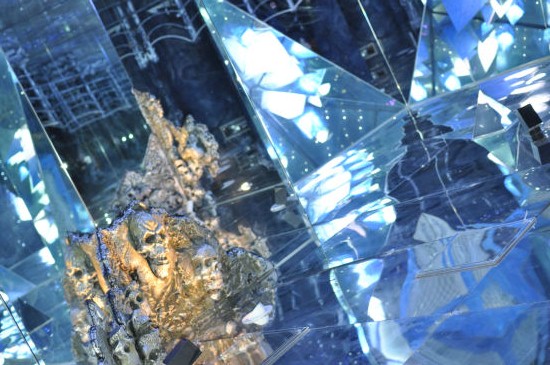 I know it's a horror maze 'n all, but the skulls just seem out of place in here.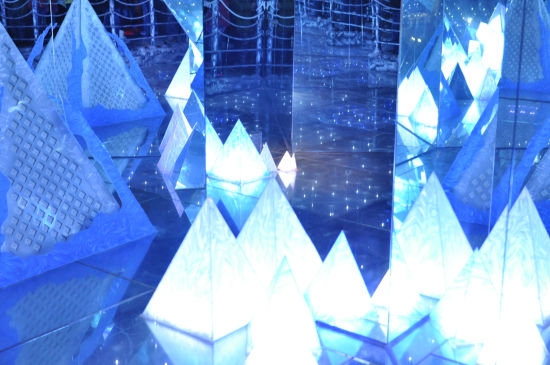 Where am I? Is this real life?
There's still more madness from Lotte World to see!
Click here to continue onward to page 2!