by: -RoG-
Having completed my Freddy's 10 Best Kills and Jason's 10 Best Kills lists, you guys apparently weren't satisfied enough, because you still wanted more. I received loads of emails requesting that I pay tribute to a horror icon that came before them. A horror icon who, like Voorhees, is a silent and brutal killer, yet has an air of pure evil about him. I'm of course speaking of Michael Myers from the Halloween films. Freddy's kills are practically an art form, and Jason kills with over-the-top brutal force, but Michael is in another category all his own. First off, most people will agree that he's the scariest of the three, and I attribute this to his emotionless stare. Looking directly into his mask, it's as if his eyes have been hollowed out and there's simply nothing there but a desire to kill and kill again.
Well today it's time we pay tribute to this horror icon who has become synonymous with our annual Halloween celebrations by taking a look at his best kills. As always, the rankings of these kills are simply my opinion. In other words, it's ok if you disagree with me, just understand that you're wrong. I should also state that I refuse to acknowledge any of the Halloween films after part 6. When Michael Myers started killing people on a live internet broadcast, it was clear that the series had hit rock bottom. And don't even get me started on Rob Zombie's remake, as I've ranted about that more than enough in the past. So this list covers the first six films; excluding Halloween III: Season of the Witch of course, which I'll always love as a standalone horror film, but it has nothing to do with Michael Myers.
With all that in mind, here's a look at what I consider to be Michael Myers' 10 best kills.
Kill #10: Twisty Neck!
(from "Halloween 6: The Curse of Michael Myers")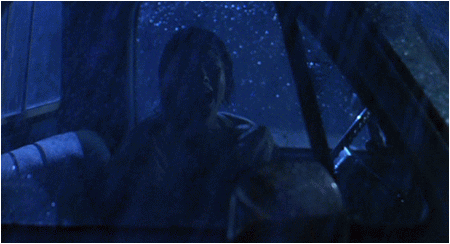 Halloween 6, although far from a perfect movie (partially due to having too many re-shoots and edits), brought in some interesting twists to the Michael Myers origin storyline involving an ancient Druid curse. More importantly, however, it gave Michael another reason to kill on Halloween. Enter the damsel in distress, Jamie, who is actually Michael's niece. She's on the run from Michael and when she hops into some guy's truck, he asks her what she's doing? Jamie, of course, is in a frantic panic, and coupled with the noise from the rain, the poor guy has no idea that she's trying to warn him about Michael Myers until it's too late.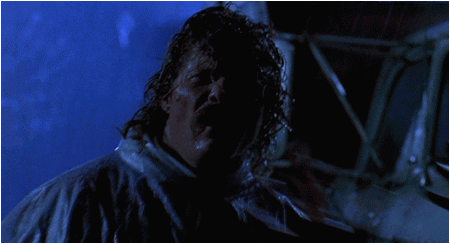 Michael pops out from around the corner and in one quick move, he twists the poor bastard's neck around so hard that his head nearly comes right off. If you look closely enough, you can probably see some of his spine exposed. That's gotta sting.
Kill #9: Lemme Give You A Lift!
(from "Halloween II")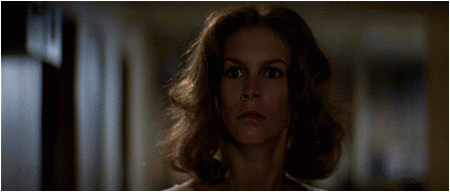 In Halloween II, Michael continues the chase after Laurie Strode (Jamie Lee Curtis) inside Haddonfield Memorial Hospital. He's already been picking off the hospital staff when he comes to find Jamie wandering around in the hallways as a nurse is calling out to her. Jamie turns around to respond to the nurse, only to see Michael approaching her from behind.
In an instant, Michael jabs a scalper into the nurse's back and lifts her way up into the air, seemingly without any effort whatsoever. All Laurie can do is stare in utter horror as the nurse's body soon goes limp and her shoes fall to the ground. Yet another testament to the inhuman strength of Michael Myers.
Kill #8: Nice Ride!
(from "Halloween 5: The Revenge of Michael Myers")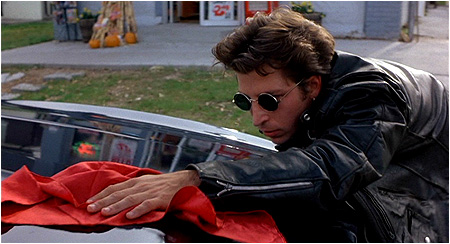 Now here's the kind of kill all horror fans can appreciate: the death of an asshole. If there's one thing we've learned from horror movies, aside from the whole "don't drink, don't do drugs, don't have promiscuous sex" thing, it's that you should not be an asshole. Why? Because if you are, then chances are you're going to die in some horrible way, much to the delight of the audience.
That's certainly the case with this pseudo bad boy you see here. His name is Mikey and he only cares about one thing... his precious car. For some reason, he believes that because he has a shiny car and a leather jacket, it gives him the right to act like a complete dick to everybody around him. Well Mikey, allow me to introduce you to Michael.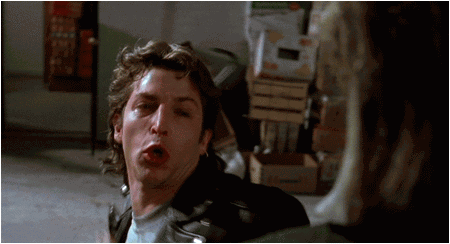 While Mikey is sitting in his car, Michael Myers walks up from behind and drags a garden tool across the back of it making a big scratch in that precious paint job. Obviously this infuriates Mikey, and he goes to attack Myers. Bad move, bub. Myers manhandles the would-be tough guy by choking him with one arm and bringing him to his knees. So what does he do with his free hand? He uses that same tool to impale Mikey right in the face and we get a nice close-up shot of it.
Even more amusing is that Myers then goes on to impersonate Mikey by driving his car, and his girlfriend Tina can't even tell the difference. When you can't tell the difference between your boyfriend and a psycho killer, it's pretty obvious that you've been dating the wrong guy.
Kill #7: Driver Down!
(from "Halloween 4: The Return of Michael Myers")
In Halloween 4, Jamie and Rachel catch a ride and flee Haddonfield after being relentlessly stalked by Michael Myers. While this guy is nice enough to give them a lift in his truck, he doesn't realize that Michael snuck into the back as well. Sure enough, Michael shows us that he's a total backseat drive when he hops up on the roof and smashes his hand through the glass. Now we've seen him do this before in the original Halloween film, but the lady driving that vehicle survived. Can't say the same for this fella...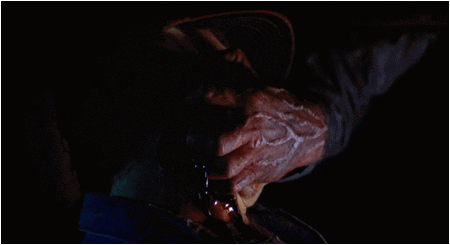 After breaking the window, Michael grabs ahold of the driver's neck and literally peels it back as if it were a banana. His blood starts pumping out as Michael's badly scarred hands continue to peel away. And that's why you never pick up a hitchhiker. Oh the lessons we learn from horror films...
Kill #6: Is There A Doctor In The House?
(from "Halloween 4: The Return of Michael Myers")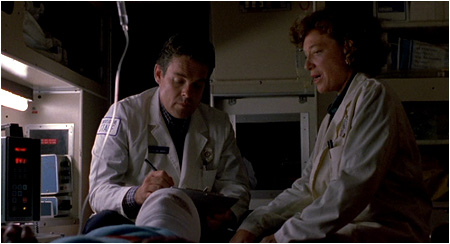 Another fine kill from Halloween 4 is near the start of the movie, when Michael is all bandaged up and being transferred from Ridgemont Federal Sanitarium to Smith's Grove Sanitarium. When he hears the medical staff in the ambulance talking about how his niece is still alive, he clenches his fist and comes back to life in a violent rage.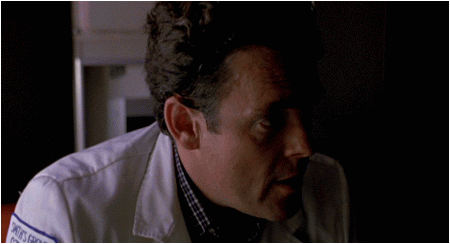 Before the poor guy knows what's happening, Michael is smashing his head repeatedly into the wall of the ambulance. Not satisfied with this damage as the onlooking nurse screams in horror, Michael then jabs his thumb directly into the guy's temple, literally piercing through his skull! Try doing that to yourself and see how successful you are, then perhaps you'll have a grasp on just how insanely strong Michael Myers really is in these films.
Kill #5: Short Circuit!
(from "Halloween 6: The Curse of Michael Myers")
Back to Halloween 6 we go, and back to another asshole who deserves a spectacular death. Meet John. He's your typical abusive husband character, but even worse, he willingly moved his family into the Myers house even though he knew about the murders that took place there. He gets angry during the film as the neighborhood kids tease him about how the boogeyman is coming to get him, but if he hadn't been such an asshole and actually listened to them, he might still be alive.
Fortunately for us, that's not the case. He heads down into the basement after he hears the laundry machine making some noise. When he finds some bloody linens in there (compliments of Myers killing his wife earlier in the film), John turns around to find himself face to face with Michael. Michael stabs him in the stomach and pushes him right into a nearby electrical box and that's when the real fireworks begin.
Michael holds John up as he begins to fry. John twitches and squirms as the electricity flows through his body, while Michael just stands there enjoying the show, completely unphased by the surging electrical currents. John soon begins to foam at the mouth and that's when you know something special is going to happen...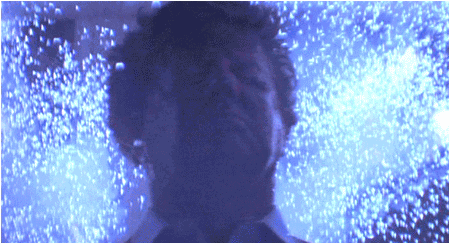 Yes indeed, this is the first and only time Michael Myers has actually made somebody's head explode, and it's a damned fine head explosion if I do say so. After all, how many head explosions have you seen that involve both an asshole and electrical fireworks? Good times!
Kill #4: Is It Hot In Here Or Is It Just Your Face?
(from "Halloween II")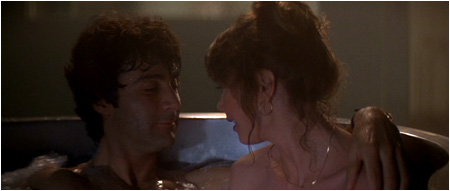 Easily the most memorable death from Halloween II is the infamous hot tub scene, in which a nurse named Karen decides to not only abandon her post, but she hops into the hot tub for a late night booty call. Things heat up quickly in the hot tub when Michael turns the knob to raise the temperature. She asks her boyfriend to go check it out and Michael quickly dispatches him. Michael then walks up right behind her and Karen assumes it's her boyfriend as she caresses his hand, but when she turns around and realizes it's not him, that's when the real horror begins.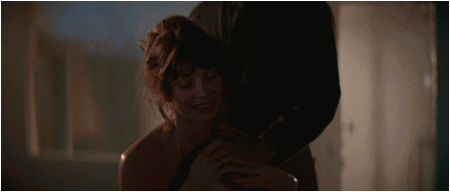 Have you ever been bobbing for apples before? Well that's what Michael does with this nurse, only in water so scaldingly hot that it eventually melts the skin right off of her face. It's an extremely brutal scene as we see Karen's facial skin getting progressively worse in between shots of the temperature gauge rising and her head being violently dunked into the water. By the time he's done with her, her lifeless body collapses to the floor with her flesh flaking right off after literally being boiled alive. I have a feeling this scene caused a big drop in hot tub sales back in 1981. But hey, it probably helped improve the productivity of hospital staff members worldwide and kept them on their toes at all times, so that's a good thing.
Kill #3: She Didn't Have A Ghost Of A Chance!
(from "Halloween")
I'm sure this whole time you've been wondering when I'd get to a kill from the original Halloween. After all, it's the best in the series and the one that started it all. Well don't worry about it, because the final three kills on my list are all dedicated to the original film and you're about to learn why.
One of Laurie Strode's friends (Lynda Van Der Klok) is in the house across the street, and she's having an all-night romp in the sack with her boyfriend, Robert. After they finish doing the deed, she sends him downstairs to grab her a beer, which of course, results in his death. But she's not aware that anything happened.
She just sits in bed, filing her nails and then Michael appears in the doorway, disguised as a ghost and wearing her boyfriend's glasses on the outside. Lynda obviously believes its her boyfriend and she teases him for a bit, but Michael just stands there and doesn't say a word. She eventually grows tired of his unresponsiveness and decides to call up Laurie on the phone.
When she does this, Michael walks up right behind Lynda and strangles her to death with the phone cord while Laurie listens on the other line. Laurie things it's just Lynda making a prank phone call with perverted noises, but those noises are actually Lynda struggling for her life in the hands of Michael Myers. Laurie eventually gets frightened and once Michael kills off Lynda, he picks up the phone and listens to Laurie's voice and you can almost sense that he's looking forward to paying her a visit next.
As cold and emotionless as he seems to be, Michael appears to enjoy playing games with his victims before finally finishing them off. Michael lures them into feeling comfortable, often by impersonating somebody else, and then when they discover what's really going on, that's when he unleashes his fury upon them. And that's what makes this particular kill so important, because it was the first time we ever saw that side of Michael, and the vision of him dressed like a ghost in those sheets is one that no horror fan will ever forget.
Kill #2: Stick Around!
(from "Halloween")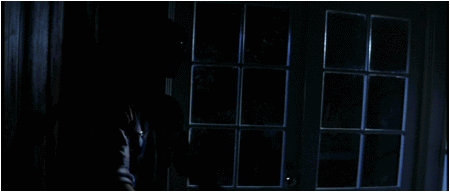 When I said Lynda sent her boyfriend Robert down for some refreshments which leads to his death, I didn't get into detail about it because the scene clearly deserves its own write-up. When Robert heads down into the kitchen, he senses that something is wrong. He walks cautiously over to one of the doors and looks around for a bit as the tension builds up. When he turns around to peek into the doorway, Michael comes exploding out, pushing Robert right up against the wall. Michael then begins lifting him up off the ground with one arm while Robert helplessly struggles to get free. Before he's able to do so, Michael pulls out a big butcher knife and stabs Robert in the chest with it. The stunned look on Robert's face almost says it all, but what audiences didn't expect was what came next.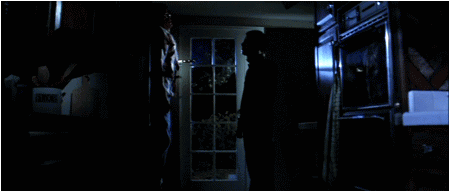 Robert wasn't just stabbed in the chest... Michael actually drove that knife in so deeply that it actually pinned him to the wall. We then see Michael's head slowly moving back and forth, staring at Robert's body as his hangs lifelessly off the ground. The scene has an incredibly strong impact, because you get a sense that even Michael is a bit surprised by what he was able to do there. Driving a knife through a victim so that it pierces the wall behind them so much that it can actually hold up their body weight doesn't even seem possible, and that's why it was such a big deal to horror fans. This also marks the first time in the Halloween series that we see just how inhumanly powerful and forceful Michael Myers really can be.
Kill #1: Young Michael Myers!
(from "Halloween")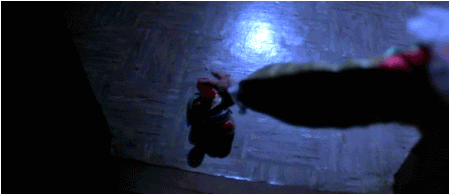 If you're surprised by this being the greatest Michael Myers kill of all, then perhaps you need to reexamine what it is about the Halloween films that you really like. This is how we met Michael Myers. We're introduced to him as a young boy dressed as a clown on Halloween. The film starts off with us seeing the world through his eyes as he makes his way upstairs. He puts on the clown mask and proceeds to pay his older sister Judith a visit. When she yells at him for coming into her room, he raises up a huge butcher knife and stabs her repeatedly. Keep in mind, we're seeing all of this happen through the eyes of his mask, as if it is we the audience members who are doing the stabbing.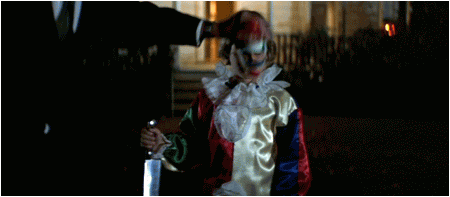 After his sister collapses to the ground, Michael makes his way out the front door where his parents find him. His father rips off the clown mask and we see the face of a young boy in a trance-like state, showing no emotion at all about what he's just done. "Michael?" his father asks, but he just stands there, staring blankly into the night with that bloody knife in his hand, while his parents can only look at him in total bewilderment as the camera pulls away.
It's an incredibly powerful image that establishes what's always been truly scary about the Michael Myers character all these years later. He's not like Freddy, who was a sadistic killer when he was alive, and he's not like Jason, who was an abused and neglected child at summer camp. Michael Myers was a child who came from a perfectly normal family living in the suburbs, who for no discernible reason whatsoever, decided to murder his sister on Halloween. Nothing explains it better than this memorable speech by Dr. Loomis:
"I met this six-year-old child, with this blank, pale, emotionless face and, the blackest eyes... the *devil's* eyes. I spent eight years trying to reach him, and then another seven trying to keep him locked up because I realized what was living behind that boy's eyes was purely and simply... evil."
That's what made Michael so scary. It's because there's no real reason for why he is what he is... he just is. Michael Myers is the Boogeyman. It had a huge impact on fans and that's why 30 years later it's considered one of the greatest horror films ever made.
So that's my list of what I consider to by Michael Myers' 10 best kills. I hope you've enjoyed this little stroll down memory lane and by all means, please share your thoughts in the comments section below. I'd love to hear about your favorite kill scenes and what made them so memorable for you guys. Happy Halloween!
Have any questions or comments about this piece?
Email -RoG-