by: -RoG-
I've been doing I-Mockery's annual "Two Months of Halloween" celebration for ages now, and I remember when I first started it, some people were said it was too early to begin the fall fesitivities. Cut to 2016, and now people are celebrating Halloween earlier than ever. With popular Halloween events like ScareLA, fans get to celebrate their favorite holiday in early August, and now there's a new ghoul on the block. Midsummer Scream is a Halloween festival that recently completed its innaugural event down in Long Beach in July, and for a first time convention, I gotta say they did a fantastic job of putting it together. Much like ScareLA and Monsterpalooza, Midsummer Scream is a convention that celebrates all the things that make Halloween great - monster masks, spooky artwork, gory props, sfx workshops, and haunted attractions.
For those of you who couldn't attend, I snapped lots o' photographs while I was there to help give you a sense of what it was like. The following is a collection of photos from the 2016 Midsummer Scream Halloween Festival on July 31st. Enjoy!

You know it's gonna be a good time when the first thing you see are undead clowns next to a kitten rescue booth.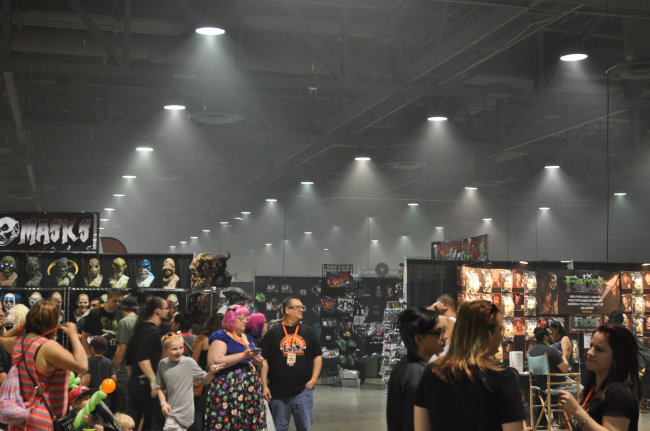 It felt like we were in a giant warehouse or airplane hangar, and as you can see from the lights above, the
smoke machines were on full blast to immediately put attendees in the spirit of the upcoming Halloween season.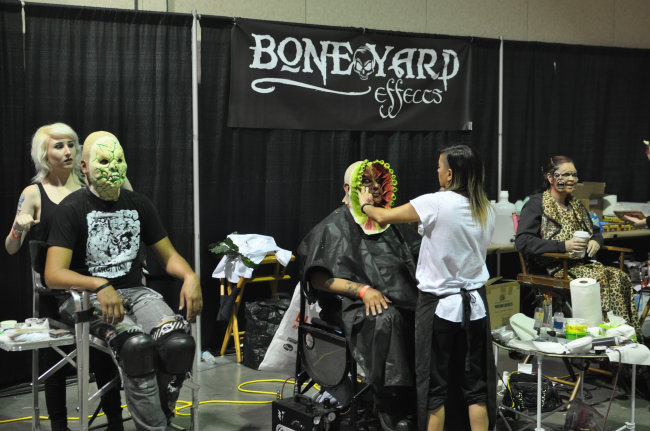 Some nice monster makeup application live demonstrations by Boneyard Effects.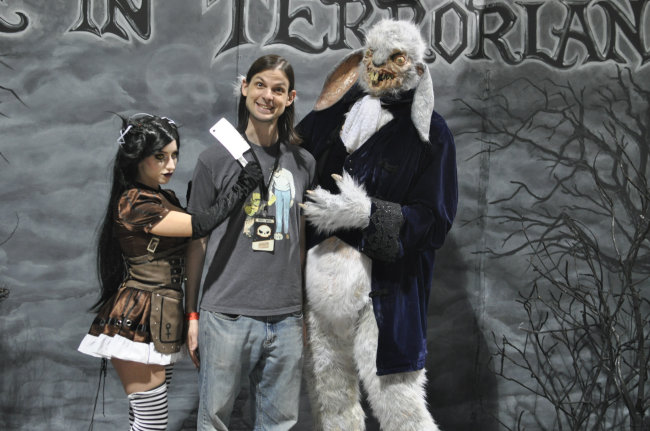 It may be a wee bit early to celebrate Halloween, but it's definitely too early to celebrate Easter!

Some wonderful monster masks and carved jack-o-lanterns on display.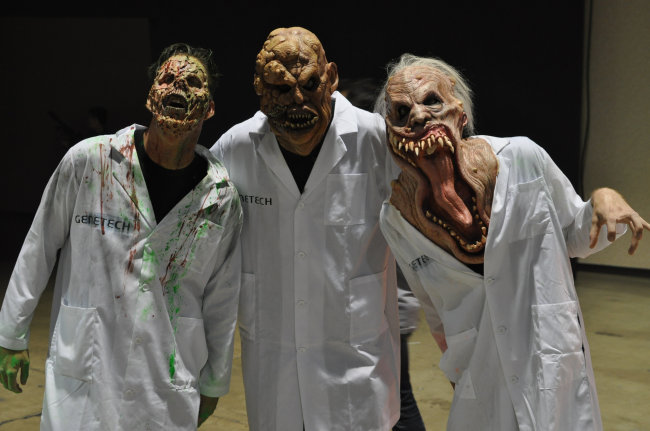 One of these guys actually came by my booth at Comic-Con. Sad to see he was genetically mutated since then.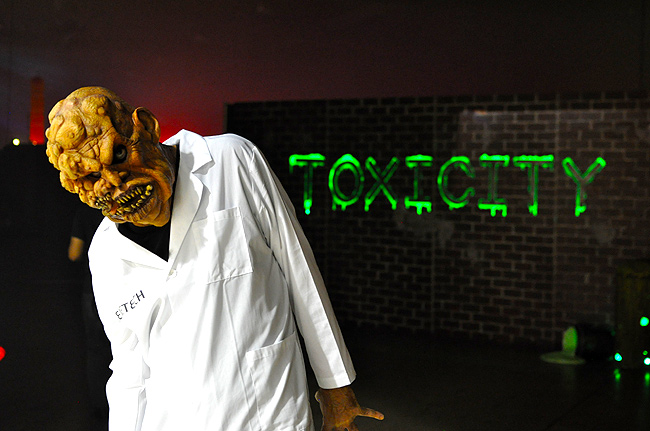 Something that stands out at Midsummer Scream is how they have a huge area dedicated to Halloween haunt attraction previews. It's almost completely dark, and all the attractions have short previews of their upcoming mazes that you can walk through. The first one we went through was Toxicity, and sure enough, we saw plenty of haphazardly handled toxic waste.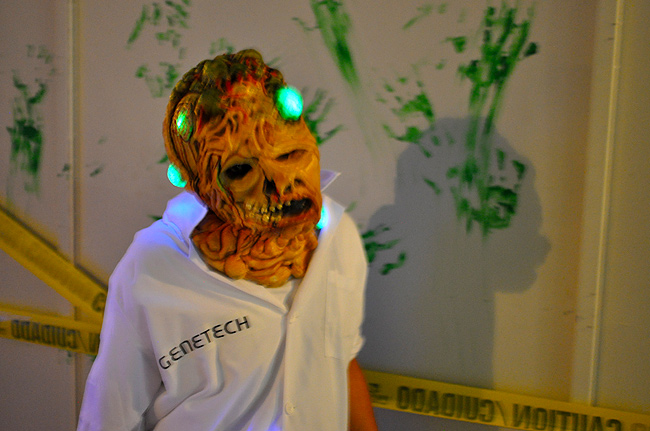 Hey, if you're gonna have giant cranial tumors, you might as well have ones that glow all nice 'n pretty.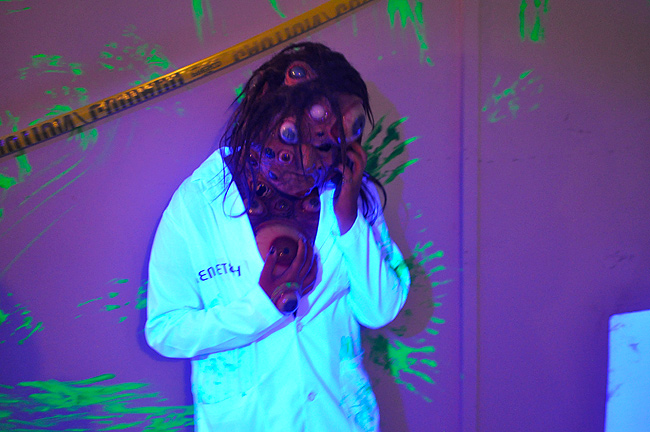 Her optometrist is gonna make a killing on her next appointment.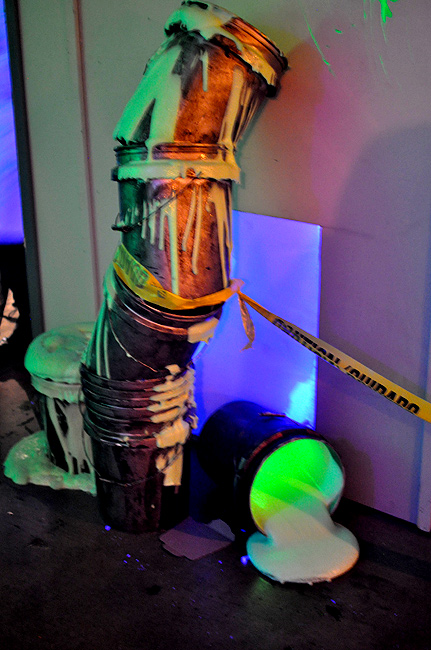 Clean up on aisle 15.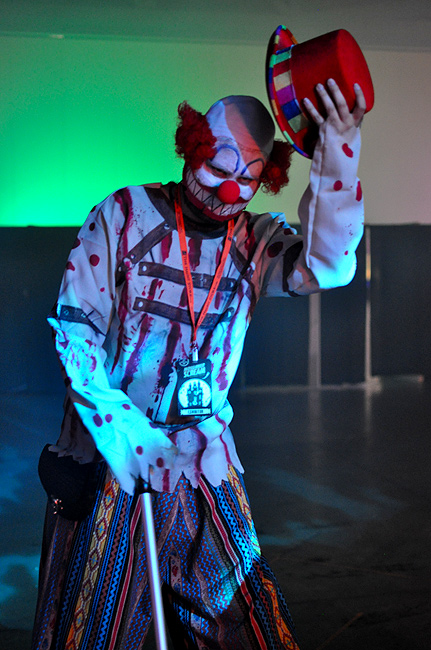 And a good day to you as well, sir!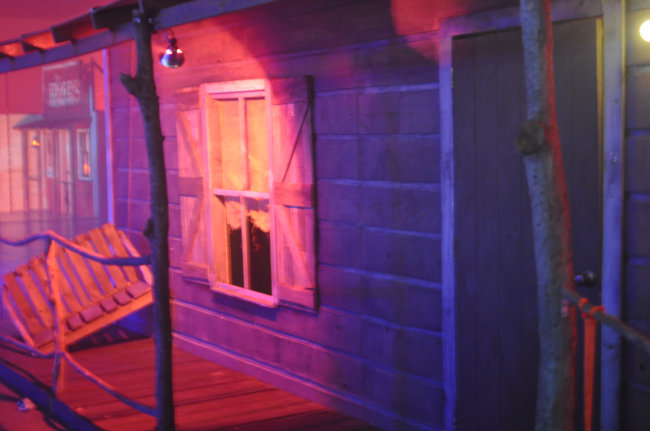 Gotta love this creepy old cabin facade from The Fleshyard that feels like it came straight out of Evil Dead.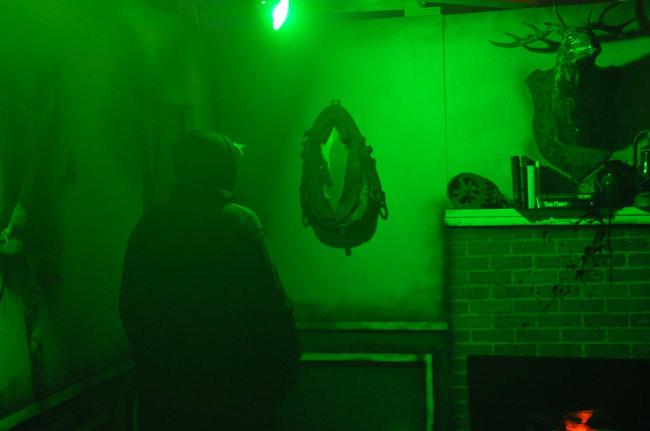 I asked this ghoul if he enjoyed reading that Tom Clancy novel on the mantle, and it told me, "Tom Clancy is neeeeeext!"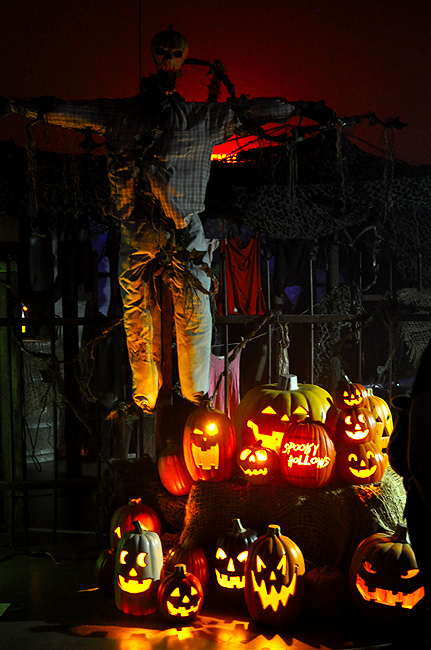 If this fantastic display for the Spooky Hallows haunt doesn't get you in the mood for Halloween, nothing will.

While waiting in line for Spooky Hallows, the view was pretty fantastic. Easily one of my favorite photos I snapped all day.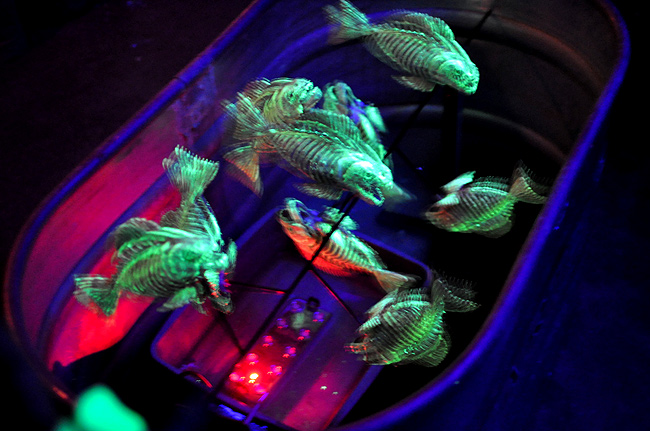 Glowing piranhas jumping for a meal!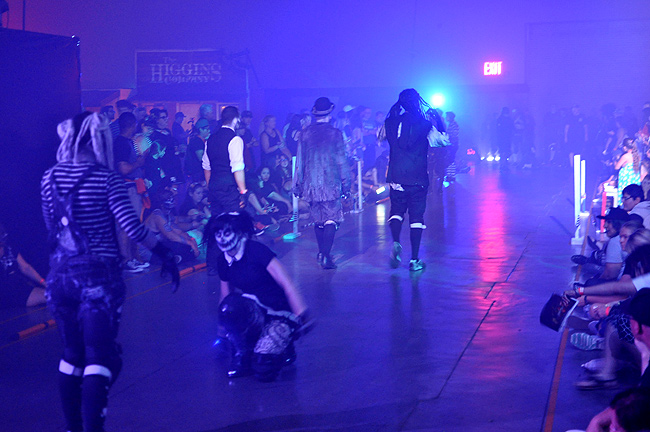 Haunt attraction slider performers had a nice "slide-off" competition.
Always fun to watch talented ghouls sliding on their knees in style.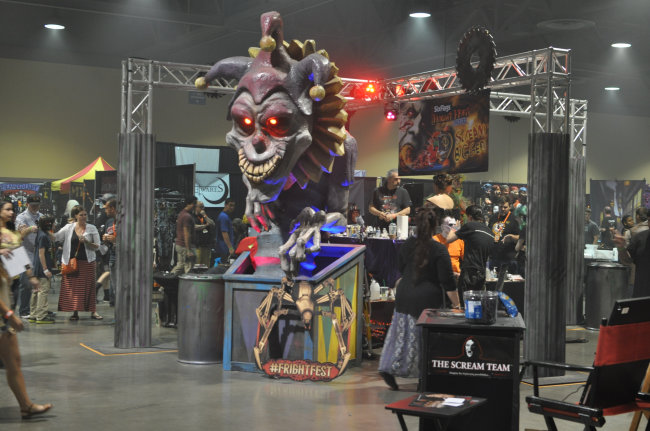 After finishing with the haunt previews, we went back into the main
exhibitor area and were greating by a giant jack-in-the-box.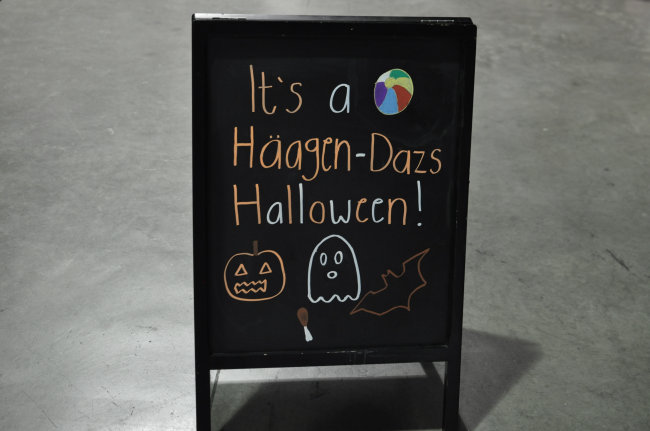 Free ice cream from Häagen-Dazs? Don't mind if I do...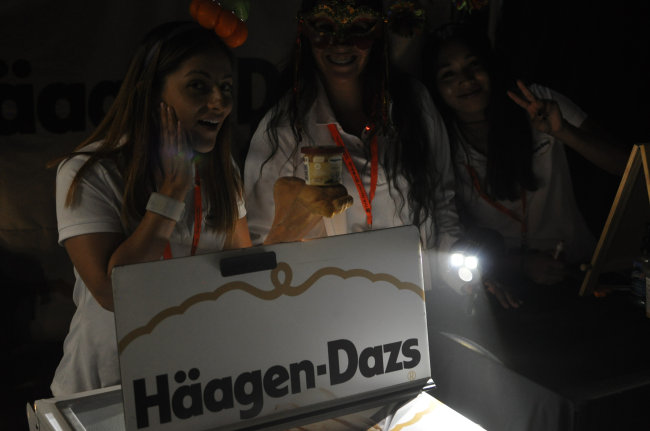 ...especially when it's served to me on a corpse's foot!
There are more photos from
Midsummer Scream 2016 to see!
Click here to continue onward to page 2!