by: -RoG-
...CONTINUED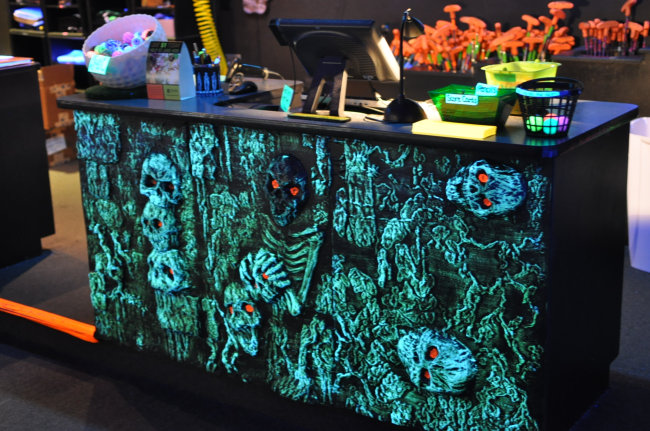 With the course finished, we returned our clubs to the boney front desk.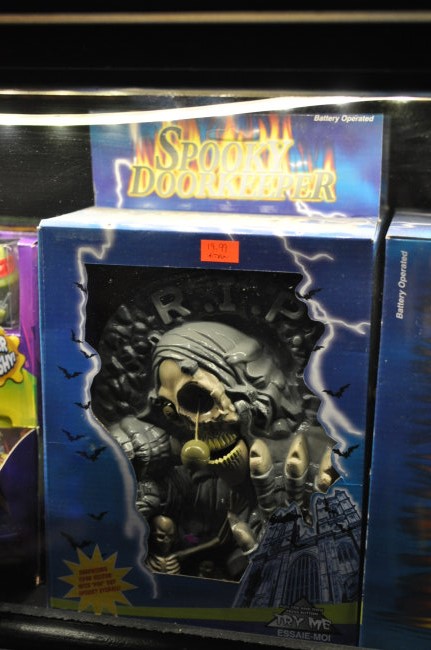 You too can win this obscure "Spooky Doorkeeper" novelty with enough prize tickets, or buy it for $20.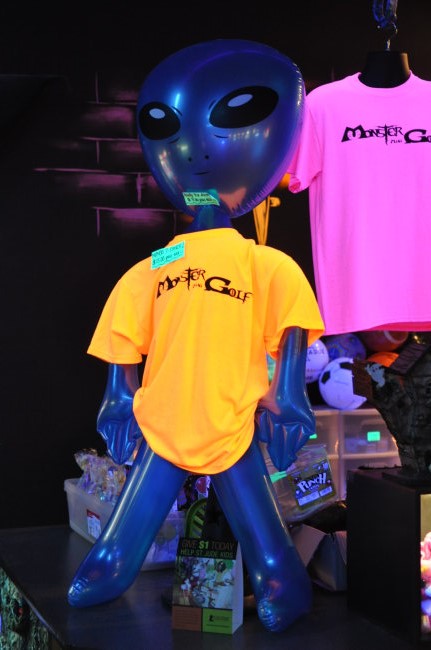 Wait, how did aliens get here?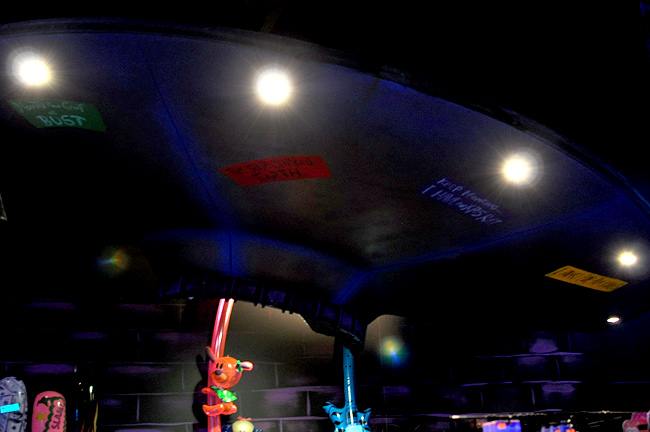 Oh, I guess that explains it.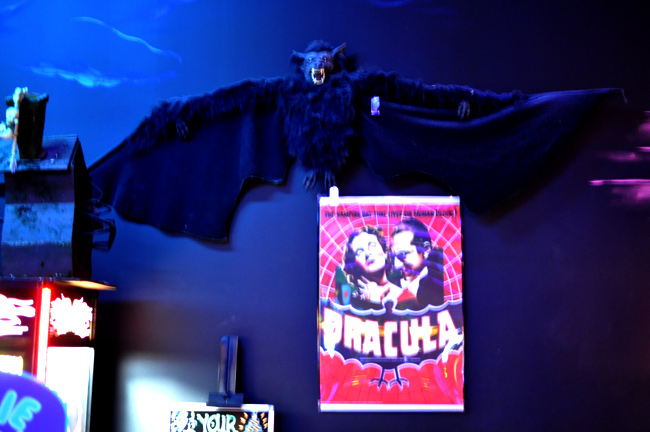 Always good to pay homage to the classics.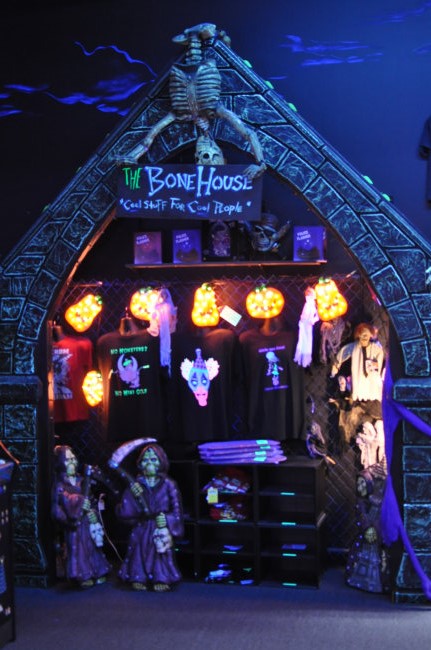 They also have a little mini-shop called The Bone House.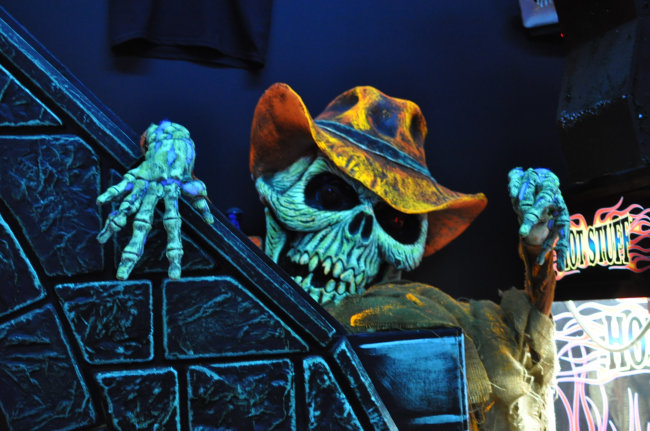 Cowboy Skeleton approves.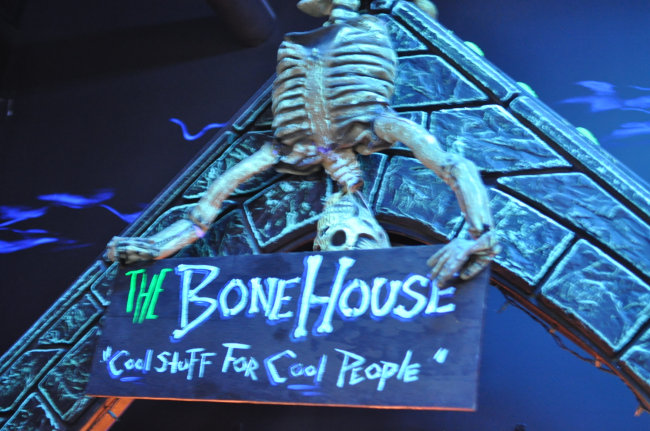 I didn't buy anything in there. Crap... guess I'm not cool.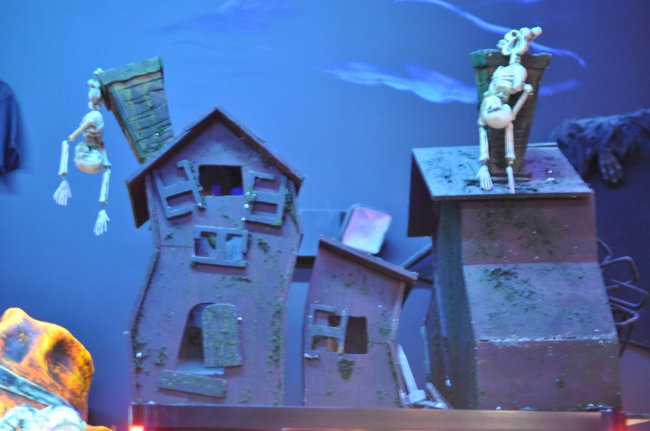 Nice little handmade haunted neighborhood with more of those skeleton keychains dangling from the chimneys.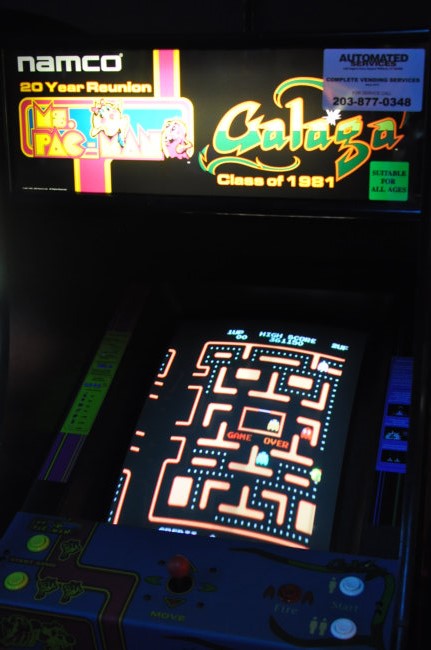 Ms. Pac-Man is far more difficult when the horizontal hold is off-kilter.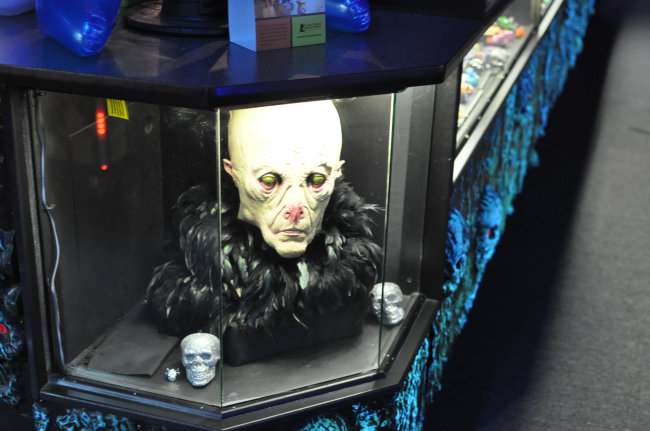 Dahling, you look maahvelous.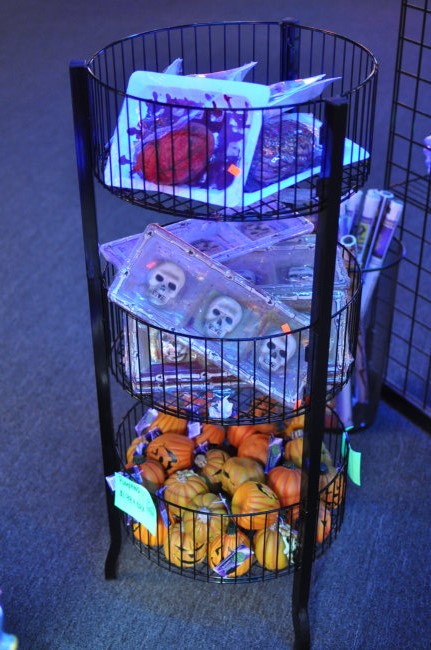 Random Halloween goodies for purchase.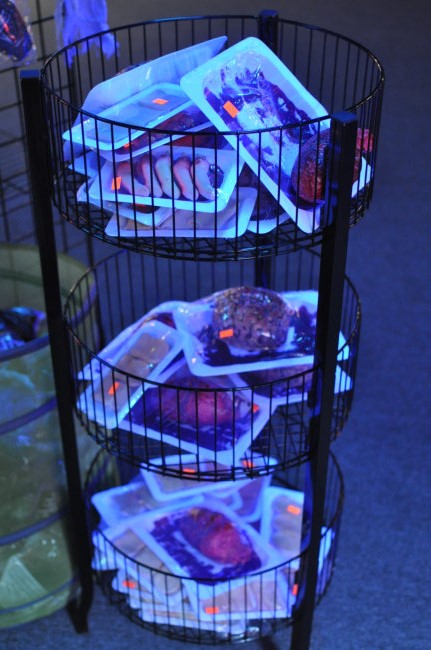 And you can do your beefy grocery shopping here too!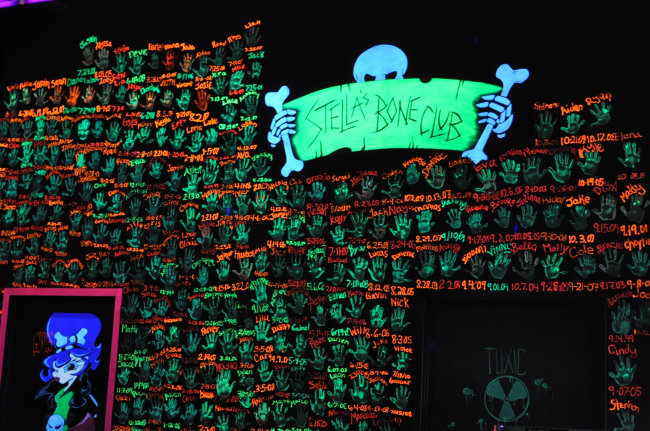 Dunno who Stella is, but she sure has a lot of members in her Bone Club.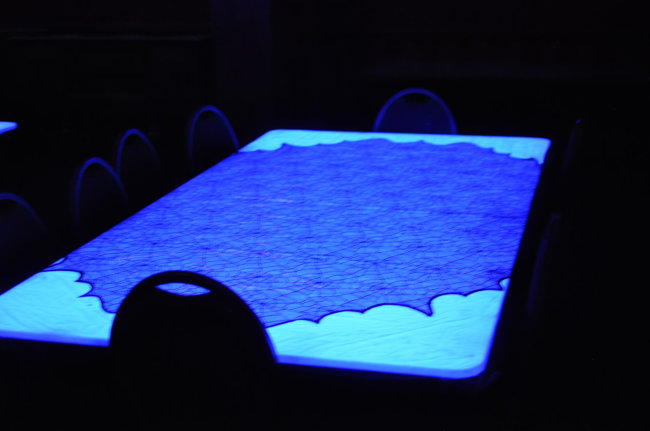 They also had a few rooms designated for birthday parties. I'd eat some cake here.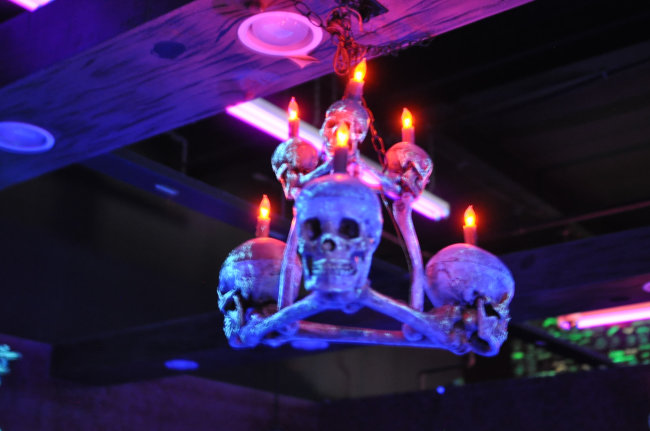 Nice chandelier!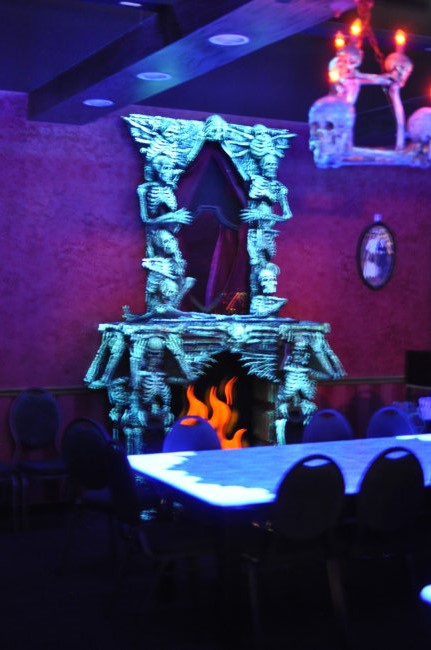 Yep, looks like the perfect spot for a birthday party to me.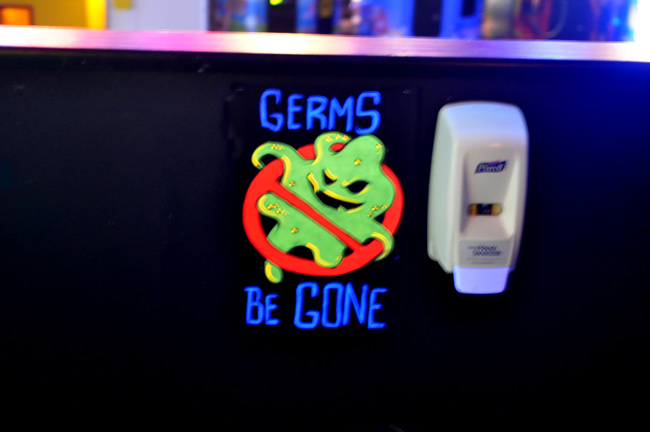 Yeah, probably a good idea to sanitize your hands after dealing with all those toxic monsters.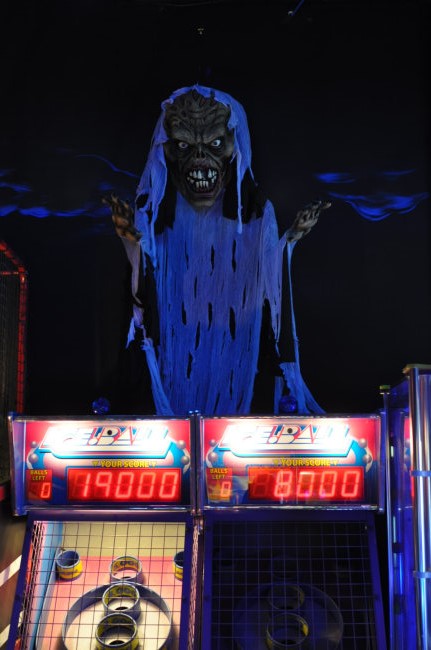 Couldn't leave without playing a few rounds of skeeball with my dad.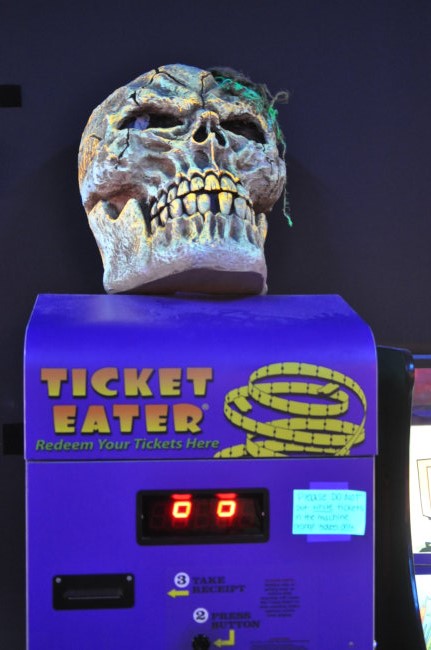 After feeding the "Ticket Eater" (and man, do I ever wish it had you feed the tickets into the skull's mouth),
we took our receipt up to the front counter and were only able to get some tiny skeleton toy. I had flashbacks
of Navin in The Jerk when he worked the prize booth at the carnival. But you know what? It still felt totally worth it.
Monster Mini Golf was a blast. A beautiful glow-in-the-dark course with creative obstacles and big monster decorations while you listen to 80s rock tunes. Couldn't ask for much more than that. I hope you've enjoyed this photo tour of their Deer Park location, and maybe I'll get to visit some of their other courses in the future. Gore! Fore!
NOTE: I'm testing out a new comments system using Disqus, so you no longer have to register an account on I-Mockery to post a comment. You can post anonymously as a guest or you can post with your social media accounts. Hope you'll all join in the fun this season and blab it up with your fellow Halloween chums! Don't be shy, give it a try and chime in below!
Have any questions or comments about this piece?
SHARE YOUR THOUGHTS IN THE READER COMMENTS SECTION BELOW!