by: -RoG-
(4/13/10)
The sun is out, birds are chirping, and Spring is in the air... sounds like the perfect time to go back indoors and look and a crazy world chock full o' murderous monsters! Yes indeedy, this past weekend I drove up to Burbank for the spooktacular Monsterpalooza convention for a look at some of the finest work by makeup and sfx artists along with plenty o' vintage monster toys and novelties. It was my first time checking out the event and it did not disappoint at all. As always, for those of you who were unable to attend, I've put together another huge photo gallery so you can see some of the best of what went down at the show. So let's dive right into it, because there's no reason we should have to wait 'til October to celebrate the wonderful world of monsters.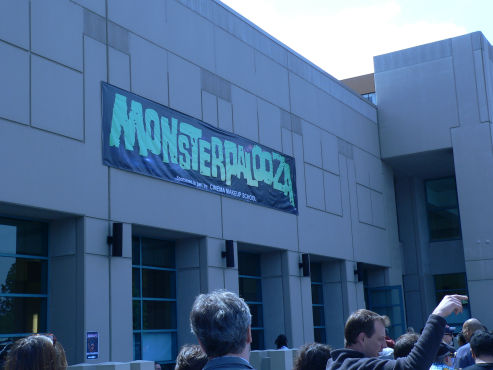 I arrived mid-afternoon, so the line wasn't bad at all, but I heard it wrapped all the way
around the Burbank Marriott hotel earlier in the day and the wait to get in was absurdly long.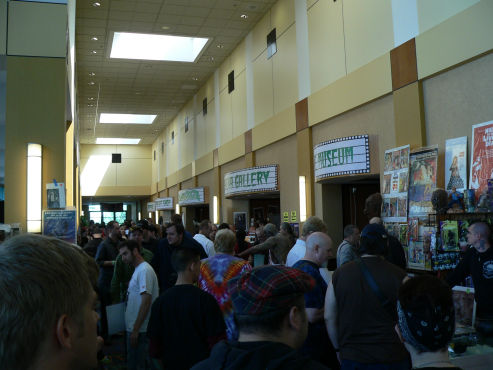 It may not be as large as the San Diego Comic-Con, but it's still just as crowded trying to make your way through the halls.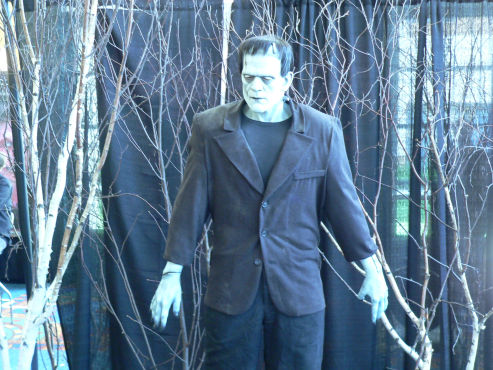 A life-sized Frankenstein's Monster out for a stroll in the woods.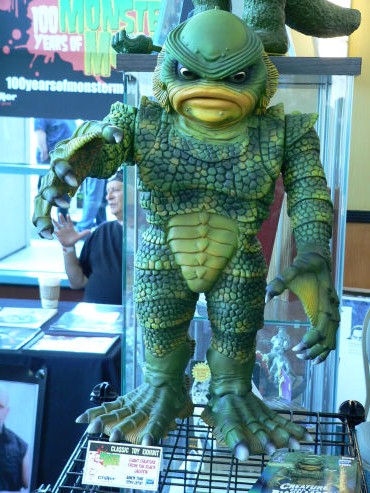 Definitely liking this large new Creature from the Black Lagoon.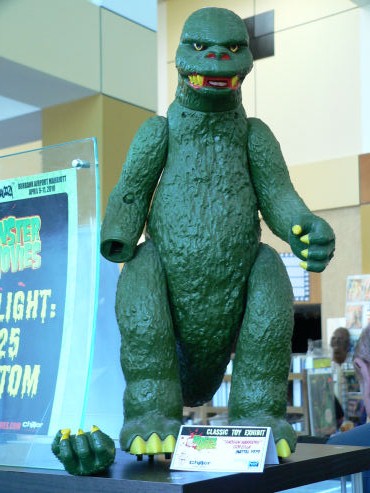 One of the greatest Godzilla toys ever made! This 1979 "Shogun Warriors" Godzilla has roller skates for feet,
his right fist shoots off like a missile and his tongue can stick out. What adult kid wouldn't want this!?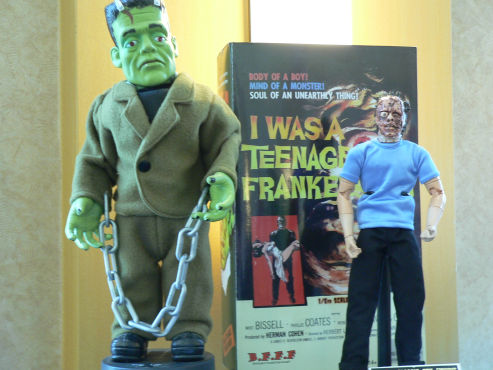 We were all Teenage Frankensteins at one point... it's called puberty.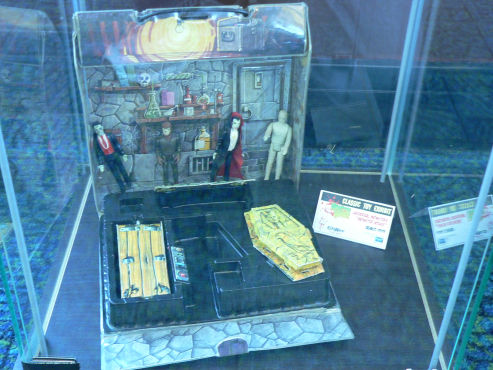 I'm sure you guys remember my feature article on the Remco Mini Monster Play Case, so you can imagine
it was really nice seeing one of my favorite monster toy sets being given some due credit at the convention.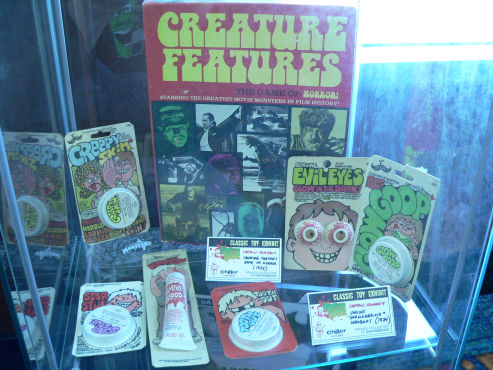 A variety of classic Imagineering brand make-up kits on display along with the Creature Features game.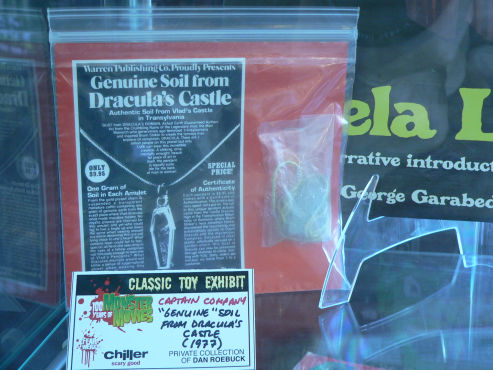 This one reeeeeally took me back. Genuine Soil from Dracula's Castle was something that was advertised by Warren Publishing in horror magazines and comic books back in the day. You could mail away for it and they would send you... dirt.
But it was Dracula's dirt and it came with a printed certificate of authenticity straight from the Carpathian Mountains of Romania, so who wouldn't want that? Proof yet again that you can sell anything to kids with the proper tie-in.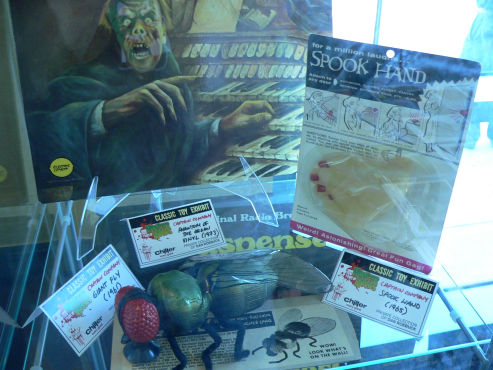 The classic Giant Fly mail-away novelty and Spook Hand gag along with the Phantom of the Organ album. I hope
Daniel Roebuck will invite me to come take a tour of his home some day... his vintage horror collection really is amazing.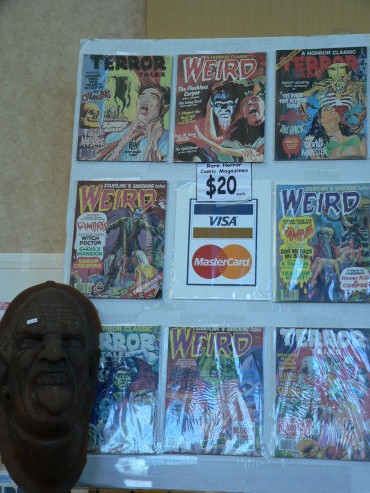 Terror Tales and Weird horror comic magazines... really wish they still produced these.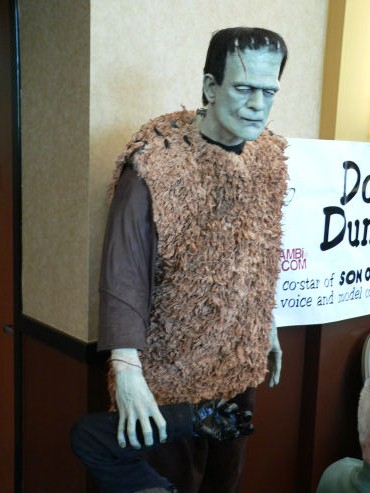 You know the economy is hurting people when Frankenstein's Monster had to exchange his suit for a shaggy bathmat.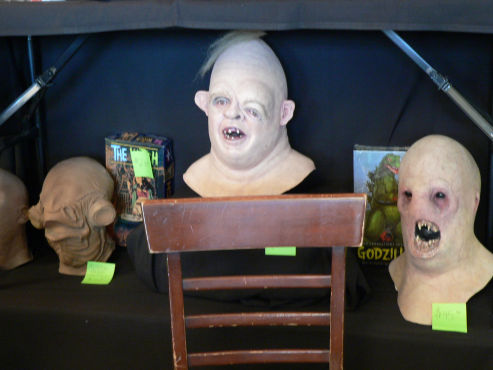 SLOTH... LOVE... CHUNK!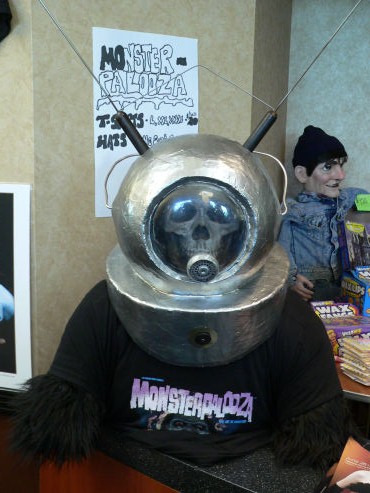 YES! A fitting tribute to the one and only ROBOT MONSTER! This put a big smile on my face.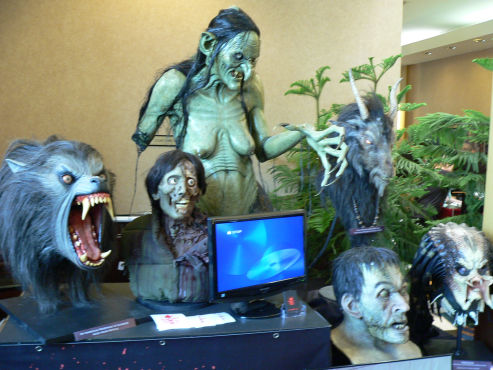 More monster goodnees, but somebody forgot to press 'Play' on the DVD player.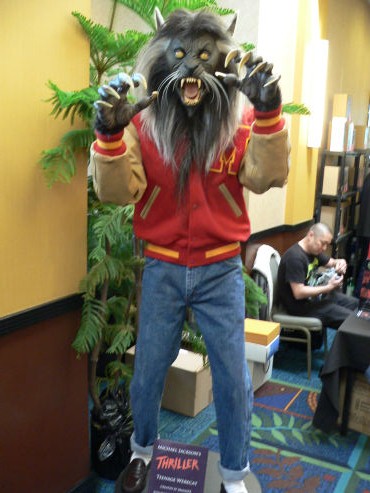 This Teenage Werecat from Michael Jackson's 'Thriller' was absolutely spot on. I need one of those in my doorway.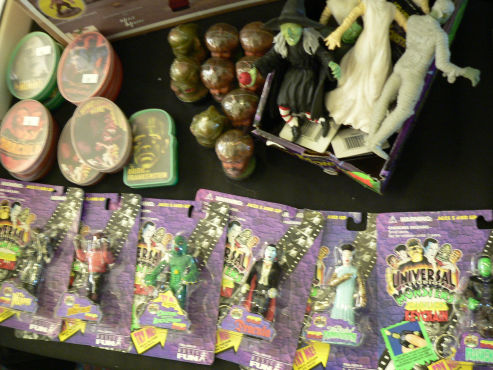 Lil' keychains and other Universal monster novelties.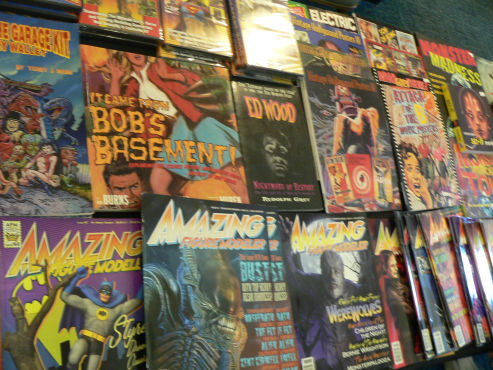 "Discover the feeling... learn to read."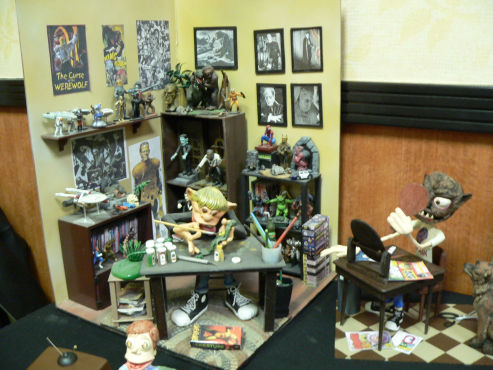 Here's a nice little model of a monster kid in his room making some monster models of his own.

The Abominable Snowman is a serious guy... VERY serious. Seriously.
There's much more Monsterpalooza madness to see!
Click here to continue onward to page 2!