by: -RoG-
(4/18/12)
Ever since moving out to Los Angeles, I've been visiting the Rose Bowl Flea Market out in Pasadena whenever I have the chance. It's simply an enormous gathering of people selling just about anything you can imagine - if eBay was physical place housing everything that was for sale on it, it'd probably look like that flea market. Well, a few months ago, somebody mentioned that there was another flea market nearby called the Pasadena City College Flea Market that I should check out, because it had some great vendors who were selling all kinds of oddball collectibles and there was no admission fee either. She didn't have to say another word, for I had already made up my mind to pay the place a visit as soon as possible.
The PCC Flea Market takes place once a month, the weekend before the Rose Bowl one occurs, so it's nice that there's no overlap. While it is significantly smaller, it does seem to be more focused on the things I'm interested in, whereas you never know what you're going to find from vendor to vendor at the Rose Bowl (though, that is part of its charm). Another interesting thing about PCC is that most of it is staged in a multi-level parking garage. Remember that old Seinfeld episode where they were lost in a parking garage, wandering around all day long? I don't think they would've minded their stay nearly as much if there were vendors selling toys and games from their childhood.
The following is a collection of photographs of the interesting merchandise I found up for grabs as I wandered through the PCC Flea Market - both inside the garage and out. Enjoy: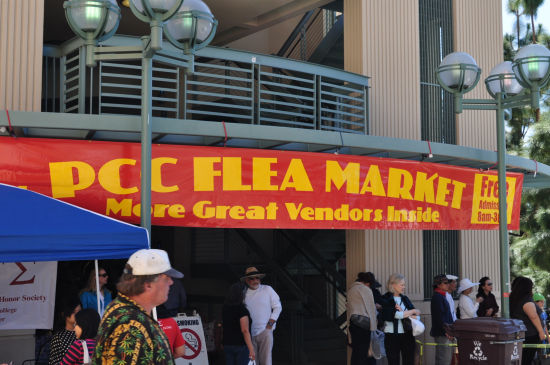 The entrance to the PCC Flea Market garage.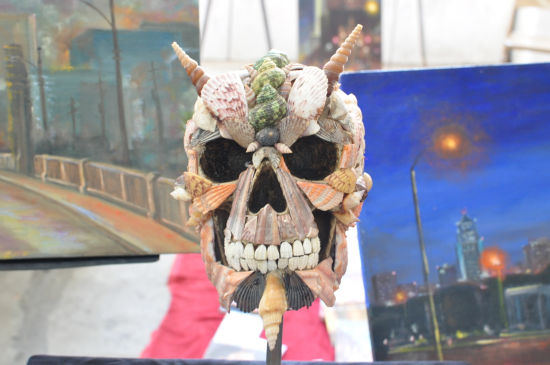 A skull made from seashells is a fine way to start the day.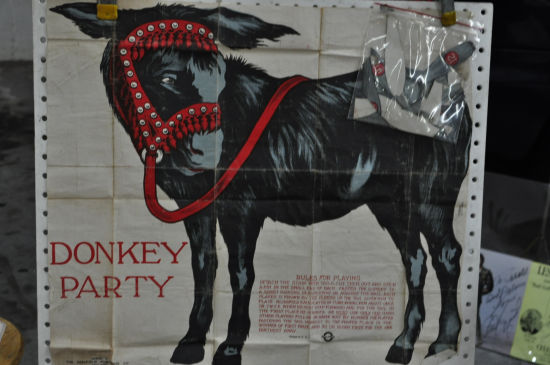 If I ever throw a donkey party, you are all invited.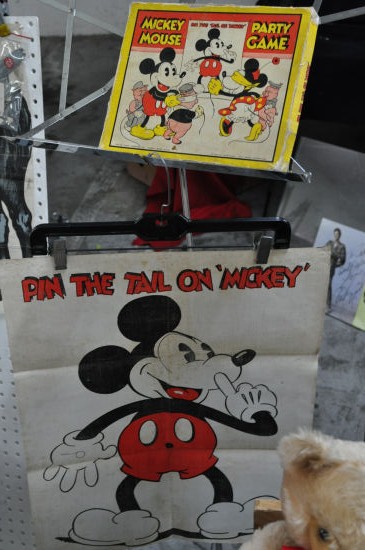 Thanks for showing us your anus, Mickey.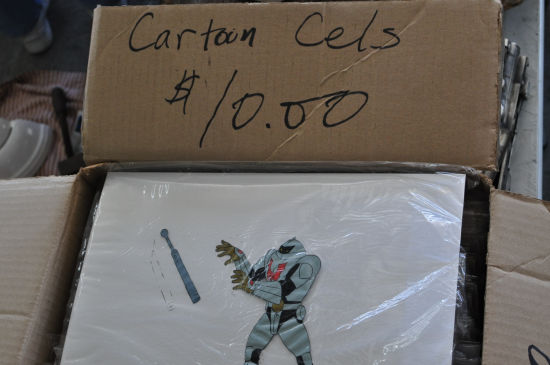 For only ten bux, you too can own this vintage Masters of the Universe cartoon cell of a Horde trooper tossing a baton!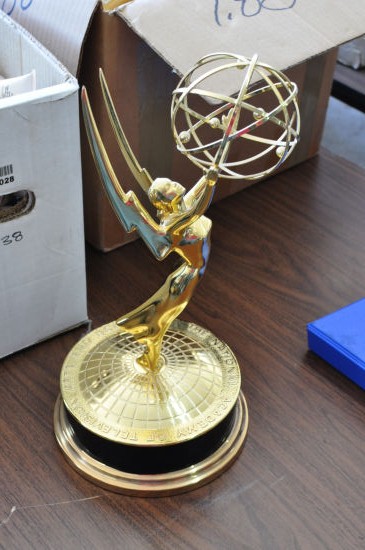 Well, I guess those major awards aren't as important to some people after all.
(They probably preferred a leg lamp instead.)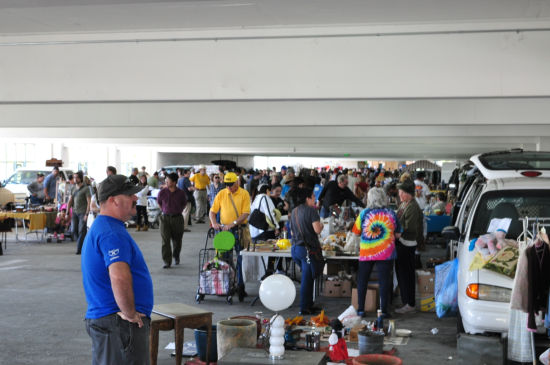 Multiple rows spread across multiple levels of a parking garage, all looking just like this. Good times.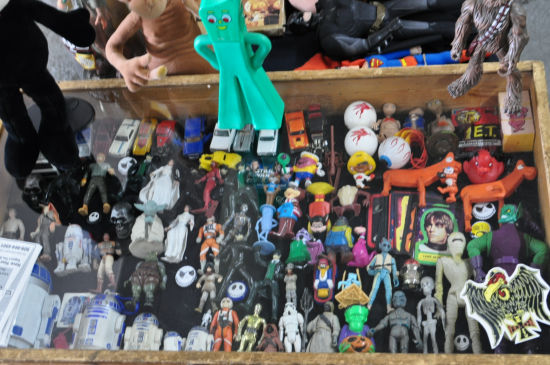 From Gumby and Star Wars to Madballs and E.T., there was no shortage of toys here.

I'm sure it was noone of consequence.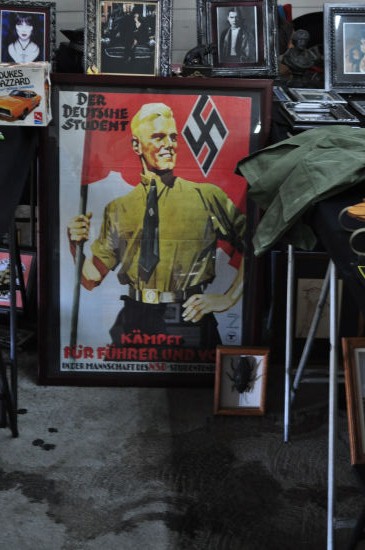 You know, I think that'd look great over our mantle, don't you?
Drats... I can't afford it. Oh well, I'm sure it'll find its way to a nice, hateful home.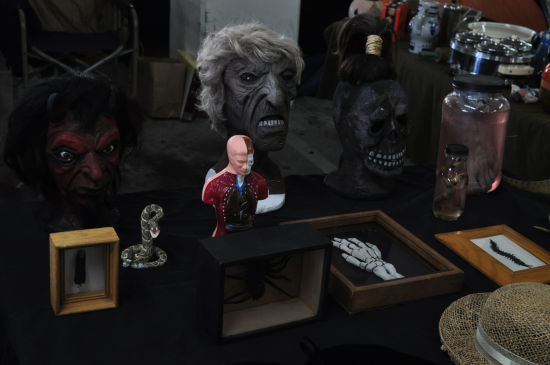 A mask maker was there, showing off some creepy creations.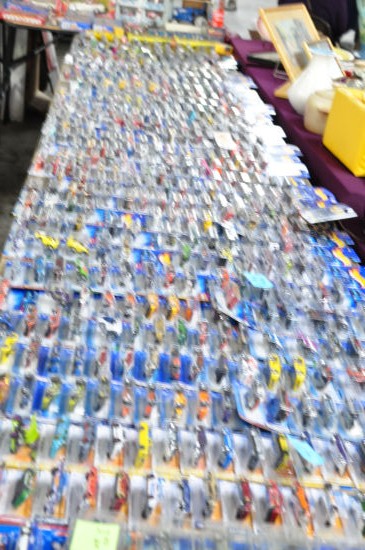 Excuse the blurriness... I guess the spectacle of a bajillion Hot Wheels cars gave me the shakes.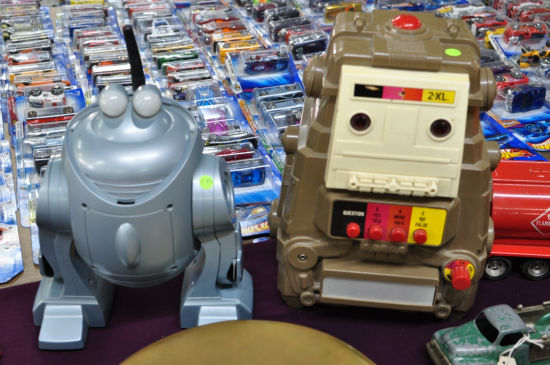 Robot buddies. Friends 4evar!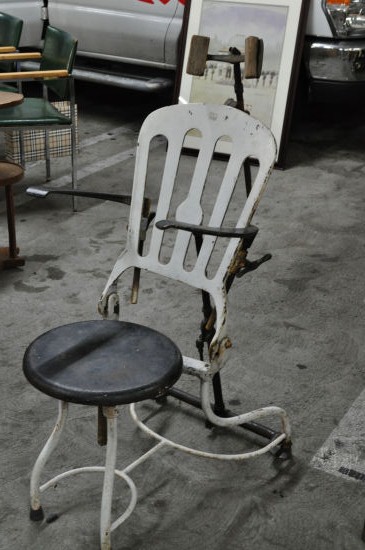 I'm pretty sure this is the kind of chair you buy if you're planning on torturing somebody in your basement.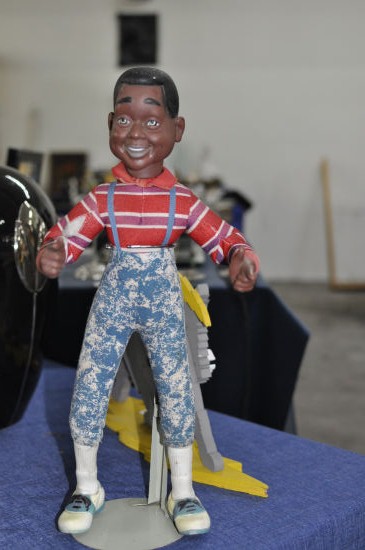 Looks like Steve Urkel finally got some contacts.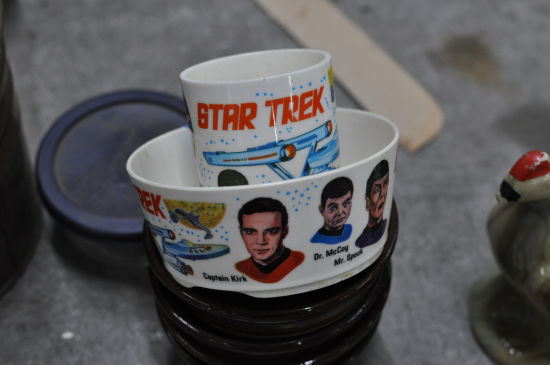 I guess I've never been to a fancy restaurant before. Why?
Because, no matter how good the food was, my meals were never served to me in Star Trek themed dinnerware.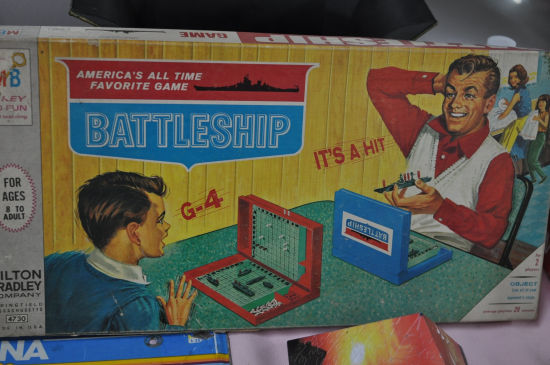 FACT: vintage board game art is a thousand times better than modern board game art.
Notice the mom and daughter in the background doing their womanly household chores?
That's right ladies, you're not allowed to play sophisticated games like Battleship. Do the dishes instead, right?
Classic.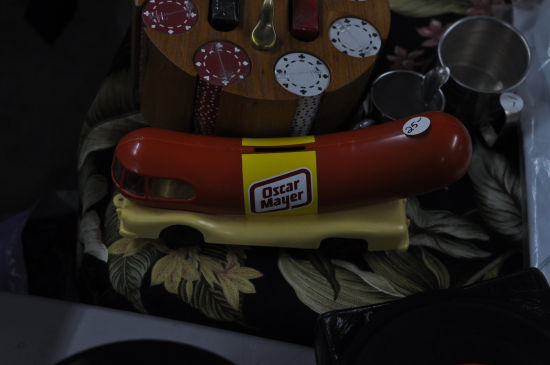 There will come a day when I get to drive the Oscar Mayer Wienermobile. Until then, the miniatures will have to do.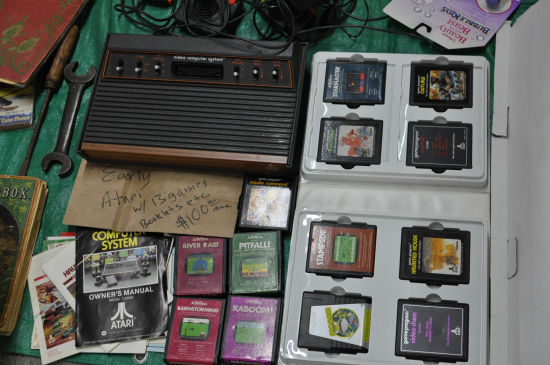 It's always nice to see one, but you can score an Atari 2600 with games for a lot less than $100. It's not like they're rare.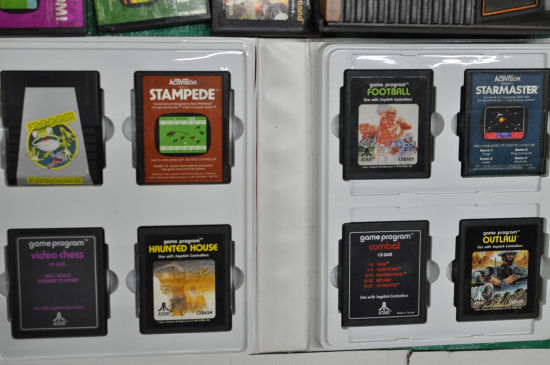 Let's play a game - combine any two Atari game titles to create a new game title. I'll go first:
Starmaster Outlaw.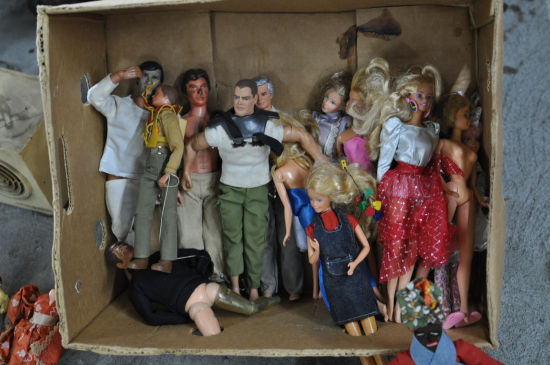 It never fails... there's always one Barbie with all of her clothes removed. Perverts everywhere I go.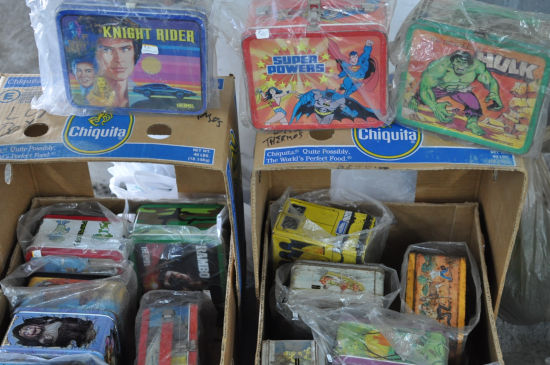 I was really tempted to get the Rambo lunchbox, but it was missing the Thermos. Still, nice collection they had here.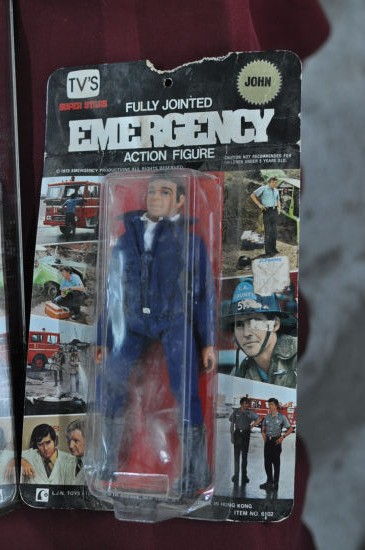 TV's Super Stars Emergency action figure: John.
Or, as kids used to call it... THE MOST BORING ACTION FIGURE EVER MADE.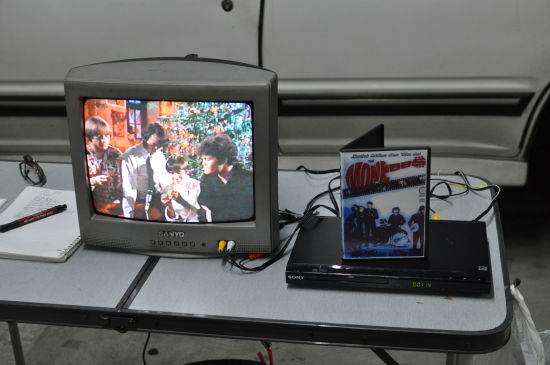 When we went to this flea market, Davey Jones had just passed away.
Sure enough, there was an asshole trying to cash in on his death right away by selling bootleg Monkees DVDs.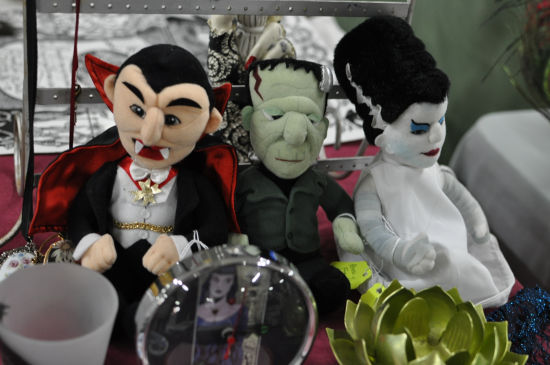 Universal Monster plush pals!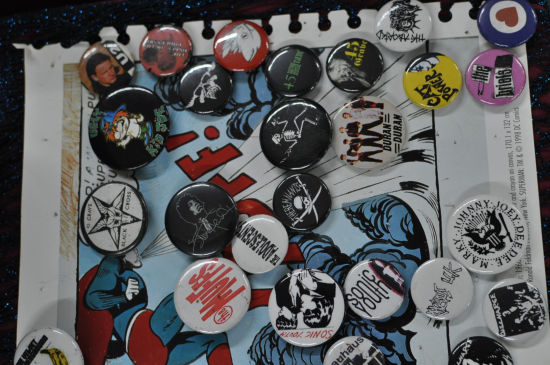 I always like buttons, but I found much better ones later in the day... you'll see 'em in a bit.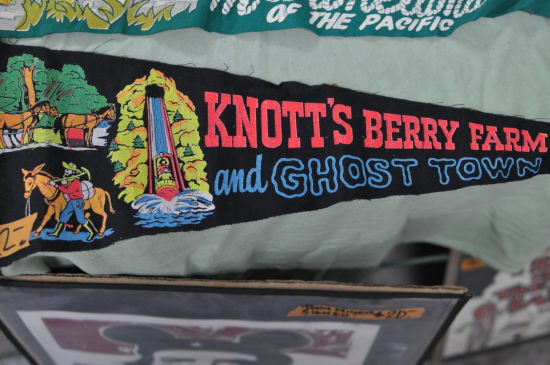 An old Knott's Berry Farm Ghost Town flag.
There's still more Pasadena City College
Flea Market goodies to see!
Click here to continue onward to page 2!