by: -RoG-
Pee-wee Herman (ie: Paul Reubens) got a raw deal. Seriously. The guy was a genius and just because he played with his Wee-pee in a dark movie theater one day, his career as that fun-loving character was basically over. Oh sure, Tom Green can suck the teat of a cow in a grocery store on national television and he's starring in some movies shortly thereafter. But not Pee-wee. It's sad too, because while our Saturday mornings were filled with the spectacle that was Pee-wee's Playhouse, the children of today... well... they don't really have any reason to wake-up on a Saturday if you ask me.
Fortunately, they've put out a bunch of Pee-wee's Playhouse episodes on DVD, including what I consider to be one of the greatest Christmas shows ever. That's right, I'm talking about the Pee-wee's Playhouse Christmas Special!

It all starts out in a winter wonderland of snow, and the Playhouse has been completely decked out for the holidays - at least on the outside. When we go inside, we're treated to a bunch of fake-military members who are singing "Merry Christmas Everyone" along with Pee-wee. They apparently tried to get some real marines to perform this, but they claimed they couldn't make it. The few. The grinch. The marines.
No matter though, because with the insane amount of guests they had lined up for this special, we probably wouldn't even notice if the marines were giving the king of cartoons a beatdown that he'd never forget. Just look at this:
Yup, the list of guest stars was pretty incredible for the time: Oprah Winfrey, Dinah Shore, Joan Rivers, Little Richard, K.D. Lang, Grace Jones, Magic Johnson, Whoopi Goldberg, Annette Funicello, the Del Rubio Triplets, Charo, Frankie Avalon, Zsa Zsa Gabor, Roger Barr, and Dolph Lundgren. Ok, well the last two are only in the special edition of the DVD... the special edition that's in my mind. So as you can see, this holiday episode was packed with potential!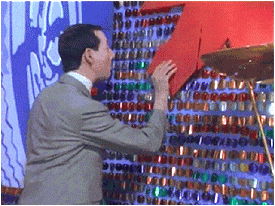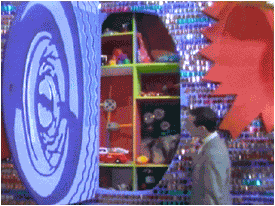 So we start off with Pee-wee going over his ridiculously massive Christmas list with Conky the robot. When Pee-wee says that he wants a yo-yo, Conky reminds him that he already has one. Agent P.W. then heads on over to a wall and lifts up a secret panel. One of the things he was famous for, aside from a plethora of classic one-liners, was having secret panels all over the place. After he enters in his secret code on the panel box, his toy vault opens up and spins around displaying all of his goodies... including a yo-yo.

He does a few tricks and we're treated to one of the many wonderful claymation scenes that won Pee-wee's Playhouse much well-deserved acclaim. When he "walks the dog", the yo-yo literally turns into a dog and walks around. When he goes "around the world", the yo-yo become a pterodactyl and flies around Globey the globe.

After breaking the camera lens with the yo-yo, Pee-wee returns to listing out more things for his Christmas wish list. Conky practical has a meltdown when Pee-wee asks him to print out the enormous list. I once had a dream that Conky broke into my house and tried to kill me. Fortunately, I woke up before that evil robot had a chance. But the image of those steel hands gripping my arms and preparing to toss me into oblivion is as vivid in my mind today as it was when I first had that dream a long, long time ago...
...last week.

Miss Yvonne, the self-proclaimed most beautiful woman in the world (and who could argue with a lady who wears green eye-shadow and a beehive hairdo?), stops by the playhouse to bring Pee-wee a gift: the first of many fruitcakes to come. Then she tells everybody in the place that there's enough of her for everyone - basically suggesting that she'll be the official Christmas slut of the playhouse this year. Good times!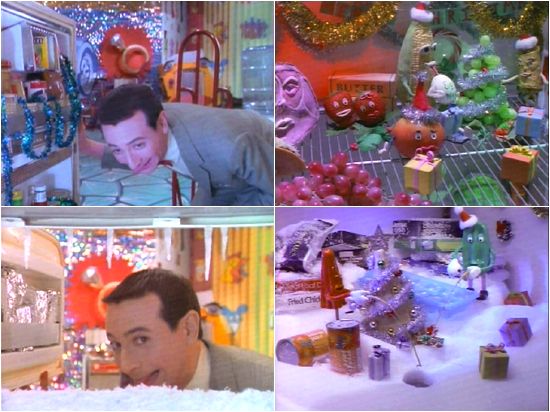 Pee-wee then brings the brick-heavy fruitcake to his fridge and we're treated to some more of that remarkable claymation work. All of the food in the fridge is enjoying the holidays... they even turned a bunch of grapes into a spiffy Christmas tree. And up in the freezer, the ice pops are having a grand ol' time doing some ice fishing. You know, my fridge has all sorts of things that crawl around in it too, but I don't ever recall them looking this cute.

Pee-wee then gets a call on his video phone, powered by empty cans of fruit. Well Whaddaya know! It's Whoopi Goldberg! She's calling to see if she could actually be on Pee-wee's Christmas special this year, but Pee-wee claims he's booked solid. Story of your life, eh Whoopi?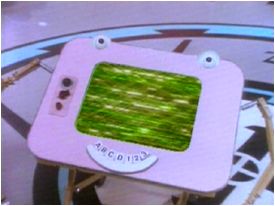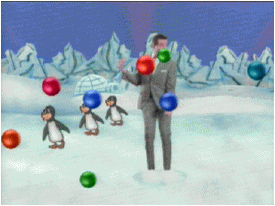 CONNECT THE DOTS. LA LA LA LA!
Ah who could forget the glory of the Magic Screen segments? It's starts off simple enough, with Pee-wee diving once again into the Magic Screen and then a bunch of scattered dots slowly start to take shape while Pee-wee sings that song that drove parents mad. "CONNECT THE DOTS. LA LA LA LA! CONNECT THE DOTS. LA LA LA LA!" This time, the dots form a sleigh... just like Santa has! WOW! But that's not all...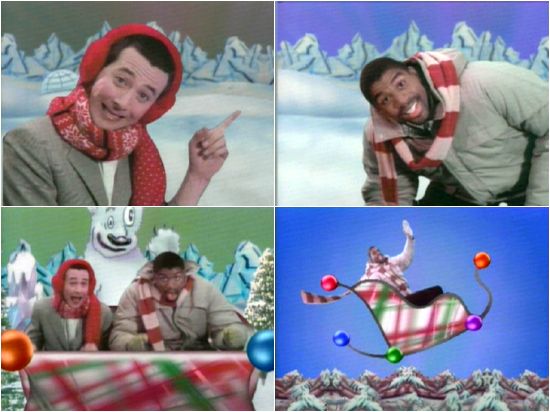 Look who else is playing around in the magical world of Magic Screen? Why it's none other than Magic Johnson! Magic Johnson claims that Magic Screen is his cousin, but I have my doubts. Could it be that Magic Johnson is actually Magic Screen's father? It wouldn't surprise me. I hear the guy really got around if you know what I mean. Well anyway, the two of them go on a magical ride on their sleigh after being chased off by a crazed polar bear. Merry Christmas Magic Johnson!
I think the entire reason that "Chairry" existed was so that she could catch Pee-wee in her cushioned arms anytime he was flung wildly from the world of Magic Screen. Well anyway, she brings up a good point that the playhouse hasn't been decorated for the holidays yet. "Decorations? Oh no! I was so busy making up my list for Santa Claus that I completely forgot! Now we don't have any decorations because I was only thinking of myself. Christmas is the time when we should be thinking of what we can do for others." Pee-wee proclaims. It's always fun to see when Pee-wee is going to break out of his usual wackiness to give the kids a valuable lesson. "I wish I hadn't been so selfish!"

WISH? DID SOMEBODY SAY... WISH?
Ah yes, Jambi the genie. Pee-wee must have been a saint in another life, because in this one, he's fortunate enough to have a genie that grants him one wish every day. You'd think by now Pee-wee would've gotten around to wishing for oh, I dunno... world peace, food for the starving, shelter for the homeless. But hey, I guess having a pet pterodactyl in your house is just as important as those other unselfish wishes. That and wishing that the playhouse could be instantly decorated for the holidays. So Jambi tells Pee-wee to repeat those classic Jambese words: "Mekka Lekka Hi-Mekka Hiney Ho!" but on the second time around he mixes it up! "Mekka Lekka Hi-Mekka HO HO HO!" Oh Jambi, you always did have a way with words... and wishes too: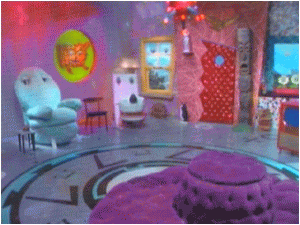 SUCK ON THAT, STARVING CHILDREN OF THE WORLD! So yeah, Jambi grants Pee-wee's wish and the playhouse is now all decked out in Christmas gear. Jambi even agrees to let Pee-wee make another wish later on in the day since it's Christmas. Lucky bastard.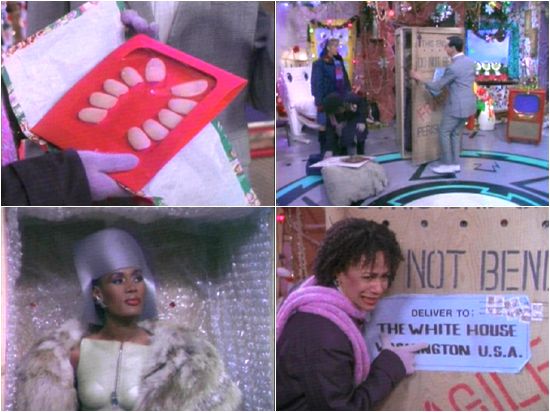 Soon after, Reba the mail lady shows up at the playhouse with a huge delivery for good ol' Pee-wee! Hoping it's not another fruitcake, he opens the box to find Grace Jones packed neatly inside! "Wait a minute, this isn't the White House!" Reba the mail lady realizes she goofed on the delivery. But Grace is cool enough to sing a song for Pee-wee and company anyway since she's already there.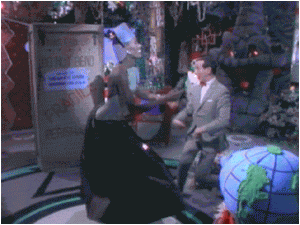 With a rum pum, pum, pum, she busts out David Bowie's version of "Little Drummer Boy" and Pee-wee joins in by doing the only dance he knows. Seeing the two of them dance together is just one of those surreal things that you never thought you'd see happen in your life. On a related note, I believe this is my new favorite animated gif image.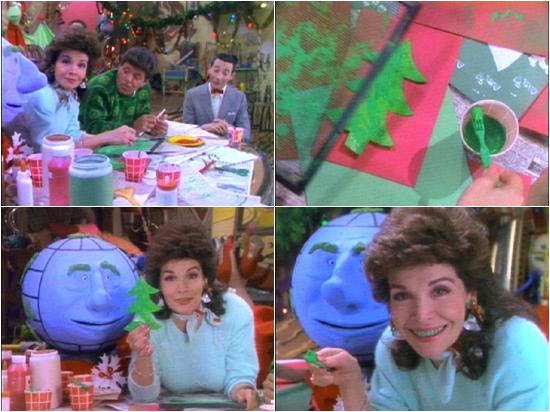 Next up, Pee-wee has Annette Funicello and Frankie Avalon demonstrate how you can do some simple Christmas crafts with average household supplies. A toothbrush makes a fine paint brush so you can make nice 'n green Christmas trees. Oops, she forgot to clean it before she brushed her teeth again. HAR! Well, it was funny back in the 80's damnit.
WILL THE PLAYHOUSE BE RAIDED BY THE FBI FOR
STOCKPILING HUGE QUANTITIES OF DEADLY FRUITCAKE?
WILL PEE-WEE REPLACE CHAIRRY WITH A LA-Z-BOY?
WILL CONKY BECOME A HUMAN CRUSHING ROBO
DEATH MACHINE WITH NO REMORSE WHATSOEVER?
CONTINUE TO PAGE 2 TO FIND OUT!