by: -RoG-
...CONTINUED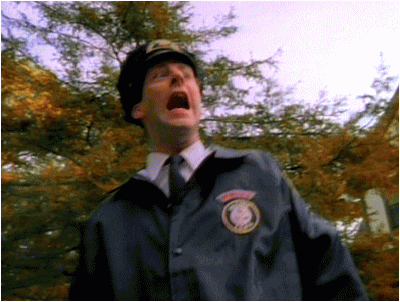 The sun hadn't even set, yet Crossing Guard Frank Gulcher was already far too jumpy... a clear indication that he wouldn't be able to thwart the hellacious Halloween hooliganism spread by the Pumpkin Eaters on this night. Pete & Pete were on their own.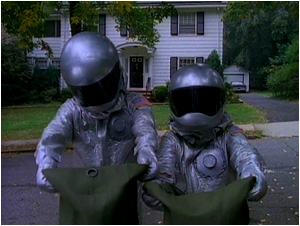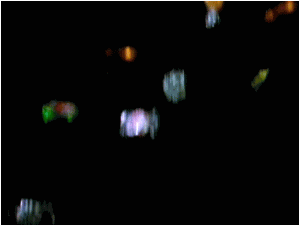 Big Pete didn't have a lot of time to worry, however, because Little Pete had the entire night planned out so that they could visit the most homes in the least amount of time. We're treated to a dizzying array of open candy sacks (which appear to be huge military duffel bags as opposed to the more traditional pillowcases) with treats pouring into them and ringing doorbells gallore. By 8pm, just 1 hour into their trick-or-treating, they had already covered 115 houses. That's just under two houses per minute! Even a seasoned trick-or-treating veteran like yours truly has to bow to impressive numbers like that.
Big Pete also confessed that the exhiliration of potentially becoming a Halloween hero brought his spirits back into full effect. Yes, his love for Halloween had finally returned.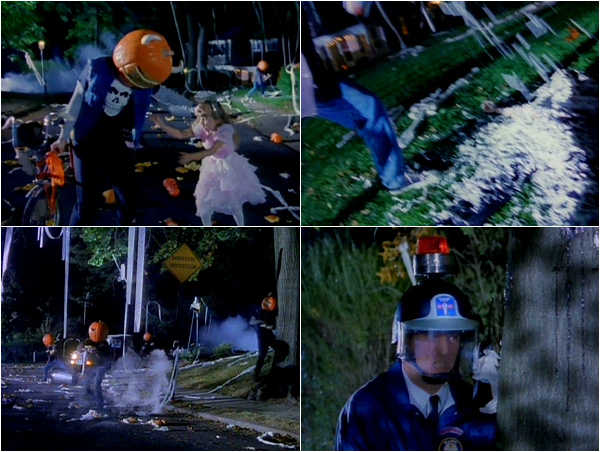 Unfortunately, while they were whizzing around town attempting to beat "The Record", Sector 17 and Crossing Guard Frank Gulcher were under heavy attack by the Pumpkin Eaters. Armed with eggs, toilet paper, and shaving cream... the Pumpkin Eaters were turning the neighborhood into a virtual warzone.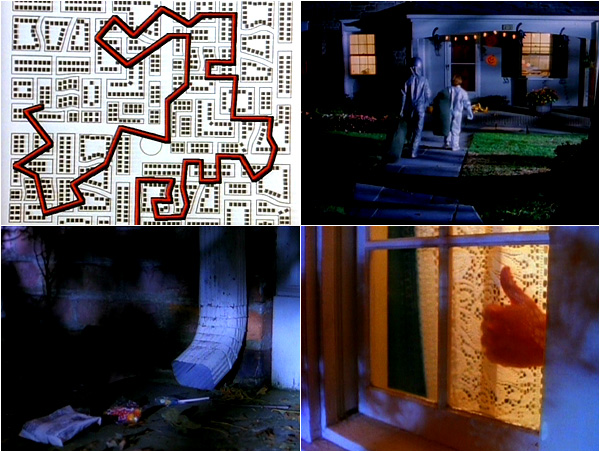 Fortunately, Little Pete knew plenty of shortcuts around town so the two of them could continue to trick-or-treat while avoiding the threat of the Pumpkin Eaters. And while people were turning their home lights off due to their fears of being hit hard by the gang, they still found ways to give out candies to Pete & Pete. As you can see, they even sent candies incognito down a gutter drainage pipe, just to help show their support for Halloween. The citizens of Wellsville refused to surrender to fear.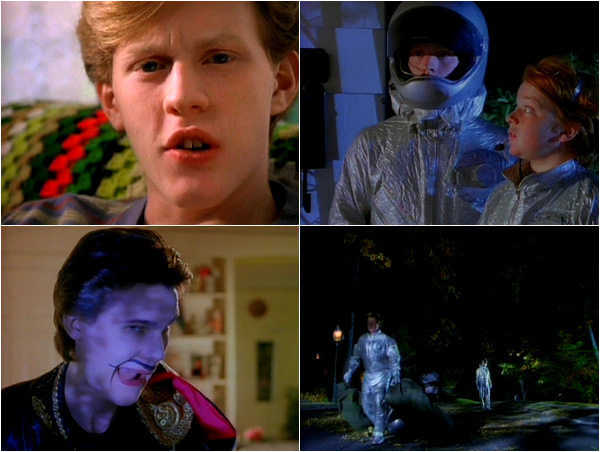 As they closed in on the Halloween record, they had no idea that they were about to walk up to the house of the one and only Ned Richmond. Yes, the kid who was branded a Halloweenie was at home giving out treats, and he recognized Big Pete immediately. Ned then gives Pete a wink and says that maybe the two of them can go out for Halloween next year.
And yes, for those of you who are fans of Strangers With Candy (one of the greatest shows of all-time), that is indeed Larc Spies who played Jerri's older brother who never came out of the closet, Derrick.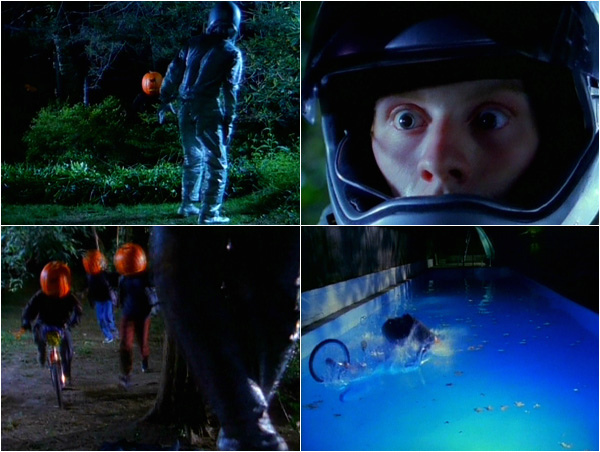 Big Pete is so shaken up by his run-in with Richmond that he actually quits on Little Pete and Halloween, convinced that if they continue with their quest for trick-or-treating glory, the Pumpkin Eaters will catch them. Despite all odds being against him, Little Pete goes on without his big brother, termined to break the record once and for all.
It looks like Big Pete spoke too soon, because shortly after he abandoned his little brother, he was spotted by the Pumpkin Eaters and with the screams of "Halloweenie!!!" the chase was on. He ran through woods, neighbor's yards, and over fences... but the Pumpkin Eaters would not give up the chase. Though he did manage to make one of them fall into a pool as a temporary distraction.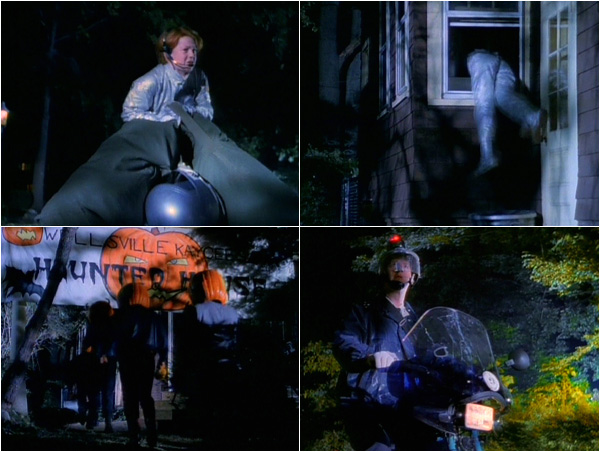 We then see Little Pete struggling to drag his giant duffel bags through the streets while shouting into his headset at his big brother about how he's a blowhole. Harsh words from a kid with a tattoo named Petunia... harsh words indeed.
Meanwhile, Big Pete has decided to take refuge from the Pumpkin Eaters in the Wellsville Haunted House. Obviously, this isn't the best place for somebody to hide, and not even Crossing Guard Frank Gulcher's keen crime detection senses could pick up on any wrongdoings going inside there.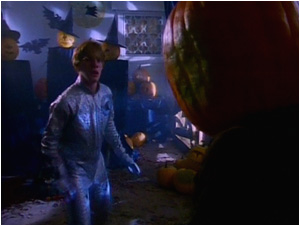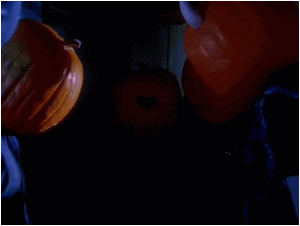 Pete soon finds himself cornered by the Pumpkin Eaters who are telling him they want his soul. Not exactly sure how they could collect on that, but either way, Little Pete hears what's going on through his headset and he's more than concerned. His Big Brother may have wussed out on the Halloween quest, but he's still family.
Little Pete curses the heavens for making him stop on his quest for Halloween glory just one house shy of the record, but he has to go help his little brother. "Bite my scab! Why!? Why now!?"
The head Pumpkin Eater informs Pete that he has two options tonight - 1) He can join them by smashing a ceremonial pumpkin and then helping them destroy Halloween forever or 2) He'll become the next Halloweenie, just like Ned Richmond.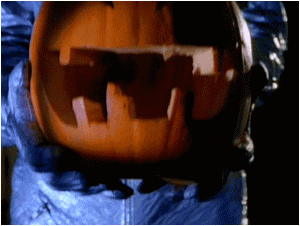 For people like you and me, this would be a no-brainer, but Big Pete actually considers their offer for a bit. After all, this is the same guy who smashed a pumpkin the previous day and proclaimed his hatred for all things Halloween, so would the end of the holiday really matter to him? He had the power to crush the spirit of Halloween forever or to save it.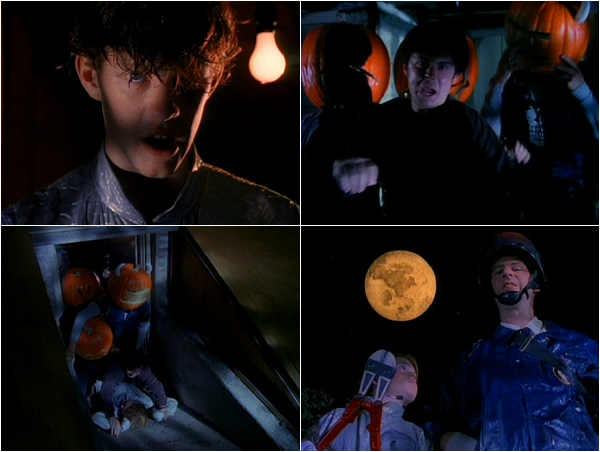 Pete decides to smash the pumpkin alright, but he smashes it right onto the noggin of the lead Pumpkin Eater, shattering his oversized pumpkin mask disguise in the process. We then discover that it's "Endless" Mike Hellstrom, Big Pete's arch nemesis who got his nickname from repeating the same year in high school over and over again! The entire gang charges Pete as Mike tells them to "fry this weenie!", but Little Pete shows up with Crossing Guard Frank Gulcher just in the nick of time.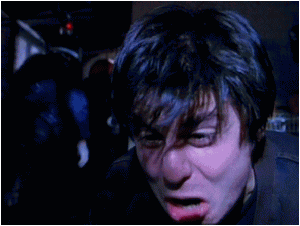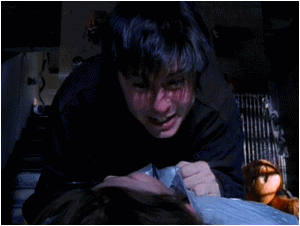 Upon seeing these twoheroic Halloween freedom fighters, all the members of the Pumpkin Eaters make a run for it. All the members except Mike. Mike sticks around and fights Little Pete who head-butted him, accidentally knocking himself unconscious. And just before he makes that little spaceman Pete scream, Big Pete slams yet another pumpkin onto Mike's head, finishing him off for good and saving Halloween!
So it turns out that this Halloween was a night for heroes, and just because Pete & Pete didn't break the trick-or-treating record, they did something far more important - they saved Halloween for everybody. Plus, the Pumpkin Eaters were forced to clean up the messes they made and Mike apparently got the worst of it, for Iggy Pop was making him clean up the sidewalk with a Q-tip. Even Nona got some sweet revenge by playing a prank with the garden hose one of 'em. Hell, she should've been given the opportunity to beat him within an inch of his life for making her miss out one of her childhood Halloweens... you only get but so many of those. With Halloween saved, Pete & Pete head off into the moonlight with their heads held high, for they can always try to break "The Record" next year, because these two brothers will now always believe in the greatest holiday of them all - Halloween.
As you can see, "Halloweenie" is a fantastic episode of the Adventures of Pete & Pete which truly does justice to Halloween. Even without an appearance by my favorite character, Artie, the Strongest Man in the World, it still manages to be one of the all-time greats. If you've never seen it, I highly recommend picking up the Season 2 DVD set and checking it out, because for me, no Halloween season is complete without an annual viewing of Halloweenie!
Have any questions or comments about this piece?
Email -RoG-