by: -RoG-
...CONTINUED
It's now time for a fantastic "Billy's gettin' his life back on track" movie montage!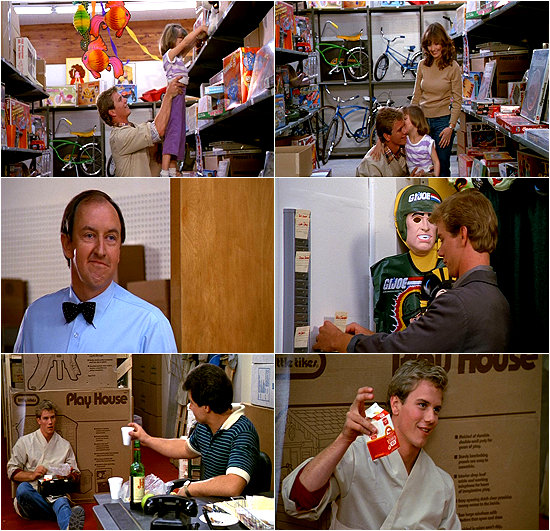 Granted, there's nothing better than the various training montages from the Rocky films, but this is still one HELL of a good montage. First we see Billy helping a young girl reach a plush teddy bear that's way up on a shelf too high for her to reach. She then thanks him with a hug and a kiss on the cheek. Awww. Next, even after he's punched out on his time card, the boss sees Billy straightening up one of the store displays before going home. He just smiles and nods at Billy as if to say, "You're a damned good kid and I'm proud to have hired you! Hell, I'm so proud of you I'd like to call you 'son', because I love you like you're one of my own!" It's a real tear-jerker I tells ya. And last but not least, when Billy and his stockroom co-worker, Andy, are on a lunch break, he offers Billy a cup of booze. Billy simply shakes his head no and holds up a carton of milk with a smile. That's right Billy! Alcohol is bad! Milk is good! You've really turned your life around!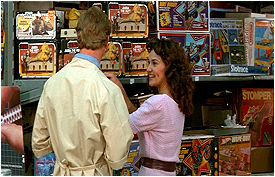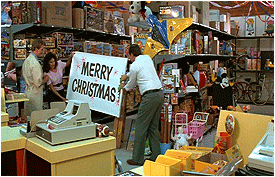 Next, he's helping this girl Pamela (whom he obviously has a huge crush on) stock some shelves with the original Star Wars toys, and man does seeing that stuff make me wish I could go back in time and buy it all. Anyway, the boss soon brings out a brand new Merry Christmas banner that they're going to hang up in the store.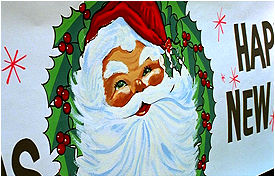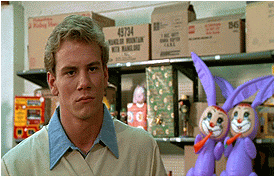 Unfortunately, he doesn't know about Billy's history and just how badly Santa Claus traumatized him. That all-American smile turns to quivering rage within seconds of seeing Santa on the banner. And it's about to get even worse in the workplace for poor Billy...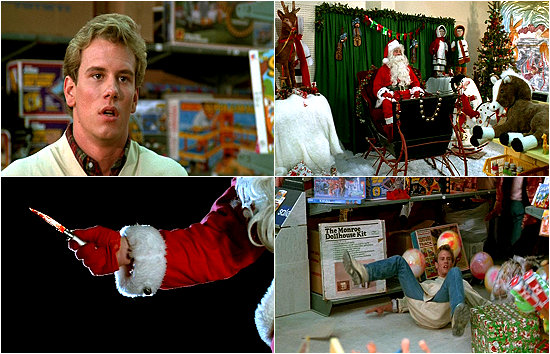 Apparently the boss hired a real Santa Claus to appear in the store for all the children. Obviously, this doesn't sit well with Billy as he instantly starts having flashback to the murder of his parents again, causing him to trip and fall over some of the toys. But hey, that's nothing a little fantasizing about his lady friend can't fix, right? Right!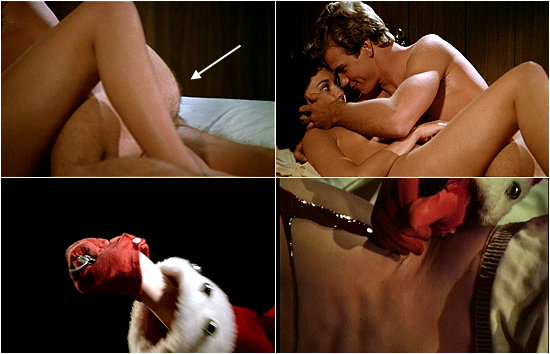 Later that night, Billy dreams of making love to his dream girl and we're treating to some fantastic shots of his ho-ho-hairy ass. Thankfully, Santa Claus comes along and stabs him before they can expose us to any more shots of hairy man ass.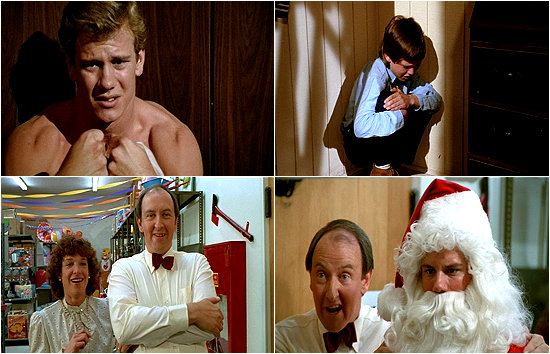 Billy quickly wakes up from his nightmare and crouches down in a corner and starts mumbling about stuff like "I'll be good! I won't be naughty! Please don't punish me!" just like he did when he was a kid. Well, Billy is soon gonna wish that he was still sleeping, because Mr. Sims has a new job for him. You see, one of the employees broke his ankle and is no longer able to come to work for the rest of the season. Sims wants Billy to take over that guy's work. Doesn't sound too bad right? It wouldn't be if the employee wasn't the same guy who was the in-store Santa Claus! So much for the job being therapeutic, eh? He dresses Billy up in the Santa suit and you can see him immediately starting to lose his mind. Sims even gives him some advice, "Try not to scare the little bastards! I guess they think the old guy's scary! Silly, isn't it?"
Yeah, it's ho-ho-hilarious.

Soon enough, kids are lining up to sit on Billy-Santa's lap. Of course, when they actually arrive on his lap, they become overwhelmed with fear. And why wouldn't they when he tells them things like, "Do you have any idea what you're doing? You're being naughty, right on Santa's lap! I don't bring toys to naughty children. I punish them... severely. That's right, stop it, or I'll have to punish you." The parents are immediately impressed with how quickly Santa is able to get their kids to stop crying.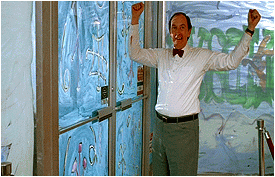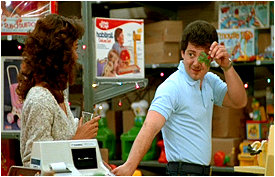 Come 7pm on Christmas Eve, the store closes and their busy holiday season has officially ended. Mr. Sims locks the door and shouts out, "It's over! It's time to get shitfaced! Hahahaha!" He may look like your average middle-aged guy with a bowtie, but Sims knows how to toss 'em back and party like nobody's business! He even gets Billy to stop drinking milk and start drinking some hard liquor. "Stick with me kid! By the time this party's over, you'll think you ARE Santa Claus!" Mr. Sims, call me crazy, but I think you're gonna wish you hadn't said that. While the others continue to party up front, Andy takes Billy's dream girl back into the stock room for some lovin' under the mistletoe. This combined with some more sagely slurred suggestions from Mr. Sims is more than enough to push Billy over the edge.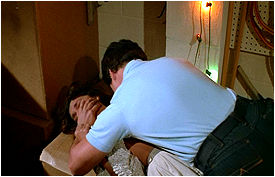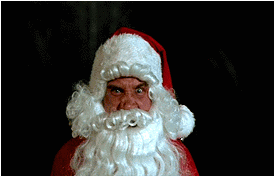 He walks back towards the stock room and finds Andy attempting to rape Pamela. You know, for a Christmas movie, there sure is a lot of rape going on. I guess rape is just one of those holiday traditions from yesteryear that have been lost in more recent times. Well anyway, as Billy watches Andy trying to force Pamela into having sex with him, he starts having more flashbacks to when his mom was raped by Santa again. And with that, Billy is officially ready to take on the role of Santa the Punisher!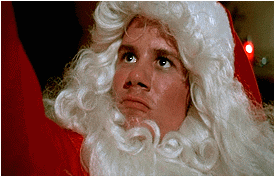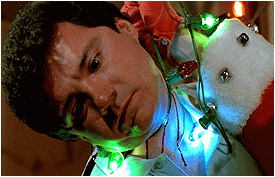 Billy shouts out "NAUGHTY!" as he wraps some Christmas lights around Andy's neck and strangles him in mid-air with just one arm. Man, lifting those heavy toys really gave Billy some muscles. Then again, this is the same guy who knocked out Santa Claus with one just one punch when he was a kid, so maybe he was just built tough. Ford tough.
For some reason, Pamela is upset that he killed Andy. Now, I can't speak for everybody, but if somebody was trying to rape me and another person came along and killed the would-be rapist, I wouldn't be shedding any tears over him. But hey, that's just me. Pamela, however, starts shouting at Billy calling him a crazy bastard. Naturally he reacts the only way that Santa Claus would in a situation like this...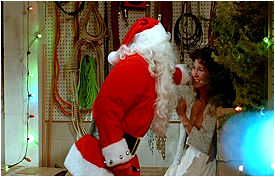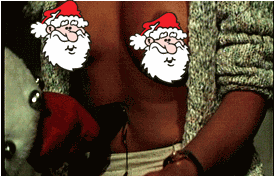 He grabs one of his box-cutters and jabs it into Pamela's stomach. "Punishment is necessary, Pamela. It is good!" Right you are, Billy! Right you are...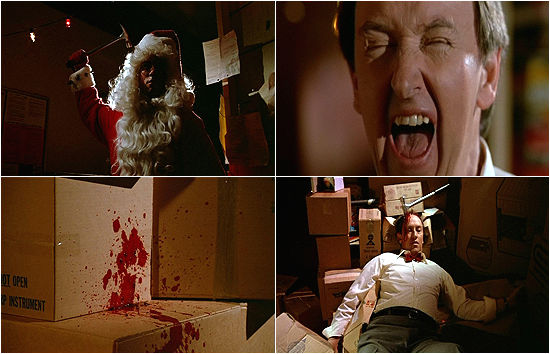 Next on the punishment smorgasbord is good ol' Mr. Sims who is completely drunk off his ass. Say kids! Do you know what drinking alcohol is? That's right! It's NAUGHTY! And now that he's on Billy's "naughty list", that means he gets a very special present. A present in the form of a sharp end of a hammer embedded in his skull. Merry Christmas!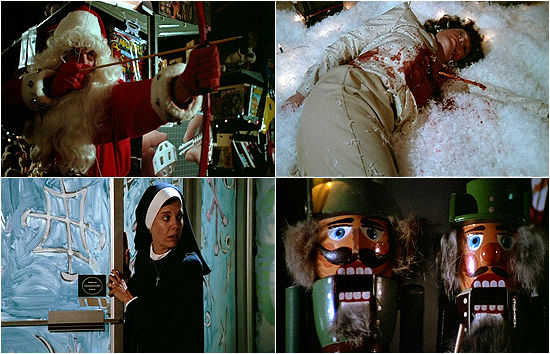 Billy then goes after the clerk lady who never hurt a fly... but she did partake in some booze too, so I guess that's enough of an excuse for him to kill her off. Then again, he drank some of the booze as well. Oh hypocrisy, why must you mock Kriss Kringle so? Believe it or not, the lady manages to get the axe away from Billy by toppling some boxes over on him. Unfortunately for her, Billy is a hell of a show with a bow & arrow and there just happens to be one right where he's standing! With his store massacre complete, it's time for Santa to pay some other naughty people a visit, don't you think?
Naturally, Sister Margaret shows up and discovers the grisly murders that took place, but Billy is already long gone. All that remains are a bunch of toys and some nutcrackers, which the cameraman is all too eager to focus on while Sister Margaret screams her head off. Hey, nutcrackers are creepy lookin'... that's a fact. There's just no way around it.
Will the creepy lookin' nutcrackers put an end
to Billy's murderous rampage or has his
Christmas bloodbath only just begun?
Click here to find out on Page 3 of our
Silent Night, Deadly Night feature!