by: -RoG-
Slurpees. Just mention the word and thoughts of joy and pain instantly come to mind. Sure, we've all heard about the infamous "brain freeze" that you're sure to experience should you try to drink your Slurpee too fast. But I consider the worst form of Slurpee pain to be when you try a new flavor that looks good, yet ends up tasting worse than 5-month old shark chum. Still, there will always be the great classic Slurpee flavors. Cheap, cold, and tasty as ever.
But what about those times when you're short on cash and in need of more than just the Slurpee? What's a poor lad to do? Well, many years ago I mastered the art of "The Slurpee Thievery Gag" and today I am going to explain it to you. Should you attempt it, don't bother sending me an email from jail requesting cigarettes for your new girlfriend "Biff". It's not my problem that you were stupid enough to act out an entertainment piece such as this one. That being said, on with some Slurpee thievery info!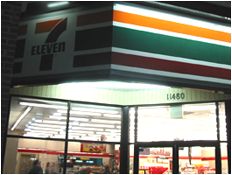 We pulled up to the 7-Eleven late at night, starving and in need of Slurpee goodness. This was our after-hours haven. It was the one place we could always count on to help us kill time in this boring town. While all the other puny local stores closed after 6pm, our 7-Eleven laughs in the face of 3am and screams "Bring it on you dirty whore! I can take it!" 7-Eleven has always stood by our sides, no matter how late we stayed up. And the mighty Slurpee machine within it was no exception.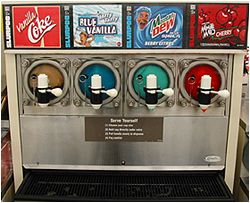 If you left your car turned on all day it would overheat and explode, sending shrapnel into a nearby amputee orphanage, killing everybody in sight, and leaving you with a guilt trip that even a defense attorney couldn't bear. Not Slurpee machines though! These things run 24/7. They have to, otherwise the proper Slurpee consistency cannot possibly be achieved. These machines represent just how far we humans have evolved over time. Literally, they're our species' crowning achievement. And now allow me to introduce you to those colorful cups which hold the honor of being the official portable Slurpee containment units.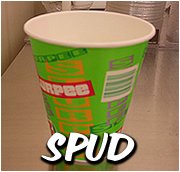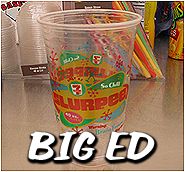 teh l33t slurp33 cr3w!
They come in all different sizes, but their prices only vary by about 50 cents at most. Lately, some stores have had the super-size Slurpee cups changed to be transparent. This is bad news for those of you wanting to do the Slurpee Thievery Gag, but we'll get to that in a little bit. I've always preferred the medium-sized Slurpee, because... well, it's just the right size and price. And don't forget, you also need to factor in the plastic dome tops too. See, when you snap those things onto the cup, the plastic dome adds a bite more space to hold in some extra Slurpee. Be warned though, I've tried pouring too much Slurpee into the dome top and it actually overflowed all over the counter. The stuff expands like crazy! And believe me, the very last thing you want is a pissed off 7-Eleven employee when you're trying to pull off the Slurpee Thievery Gag.
Gotta love the spoon straws. When your Slurpee becomes too dried out to suck up through the straw, you just scoop it out. Genius! Of course, some people are too lazy to do this and they end up accidentally dumping the remaining Slurpee all over their face. The spoon straws come in various colors, which is great for when you and your pals buy the same size/flavor and you need to distinguish the Slurpees from one another. "Hey dingleberry, that's my Slurpee goddamnit! I had the one with the blue straw, remember??? Great. Now get your fucking lips off it!"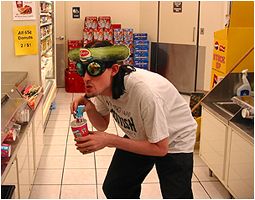 SNEAKY SNEAKY! LIKE A NINJA! :0
Ok now let's start with the Slurpee Thievery Gag basics. Pick out something in the store that you'd like to eat. Something with a good wrapping around it that can fit in a Slurpee cup and can't be harmed by liquid. I chose a blueberry Ring Pop. Tasty little bastards, they are. Candy in general is one of the better things to use when doing this.


INTO THE CUP IT GOES! WEEEE!
Now walk over to the Slurpee machine with whatever food you picked out. Choose a Slurpee cup (medium or large, non-transparent cups are preferable) and nonchalantly drop your food into the cup. Starting to get the idea now?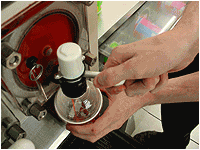 OMG! WHERE'D THAT RING POP GO!?
That's right, fill that same cup with the Slurpee flavor of your choice. Next, simply walk up to the front counter and pay for your Slurpee. If you followed the steps properly, the clerk won't even know there's some food hidden inside it. Now when you get home you'll have a nice little treat waiting at the bottom of your empty Slurpee cup!
Pretty easy right? Absolutely. Still, there are many common mistakes that people make when they try to pull off the Slurpee Thievery Gag. So I think we should cover some of those errors, just to be on the safe side.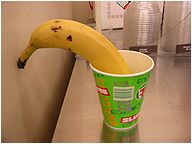 Mistake #1: "The Overstuff"
I think this one is pretty obvious, but hey, some people really just don't get it. Call it a hunch, but I'm pretty damned sure that most 7-Eleven employees, no matter how overtired they may be, will notice a banana sticking out of a small Slurpee cup. I tried explaining this to some kids, and the results were even more tragic: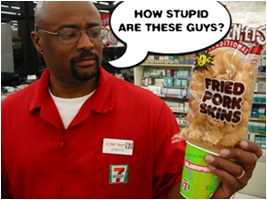 Do NOT try to hide a giant bag of friend pork skins inside a Slurpee cup (no matter how badly your sick tastes buds crave them). I cannot stress this enough folks, it just doesn't work.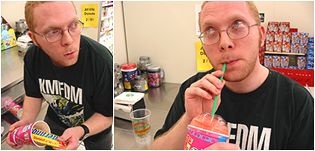 Mistake #2: "The Early Sipper"
When the only thing between you and jail-time is a thin layer of Slurpee covering some candy bars hidden within your cup, don't you think it'd be a good idea to NOT drink the Slurpee until you're outside of the 7-Eleven? Well, some people just can't fight the urge to take a few sips, and this often exposes the candy hidden inside. Nice going, Watson.


Mistake #3: "The Transparent Cup Using Jackass"
Ok, I'm amazed that somebody would actually try to steal something in a cup that you can see through. No matter how much Slurpee you put in there, it's gonna be pretty hard to cover-up anything you're trying to hide inside it. And our pal here didn't just take one thing, he filled it with as much crap as he could. So what happened?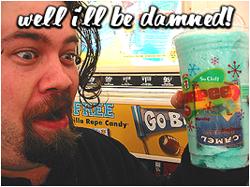 Big surprise eh? Yeah, I'm sure the store clerk won't notice that pack of Camels pressed up against the inside of the cup. Genius, pure genius. But it STILL gets worse.


Mistake #4: "Putting Crap In The Cup That Isn't Wrapped"
Now unless you have dietary habits that would make a roach wince, I suggest you do NOT put items in the cup that aren't wrapped. For instance, I wanted the above snack cake, but the wrapping it came in had too much air in it, and it wouldn't fit in the Slurpee cup. So, I removed the cake from the wrapping and threw it in the cup, completely naked. Oh the scandal!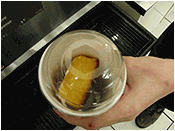 Now you might think "Cake and Slurpees" sound like a great combination, but trust me, it's one of the most vile things your mouth could ever be exposed to. I'm sure you won't simply take my word for it though, so I guess I'll have to cover that a bit more in-depth later on...


Mistake #5: "Slim-Jim Disguised As A Straw"
Granted, a Slim-Jim is basically the same shape and size as one of the spoon straws, but it's still noticeably different. Our brilliant friend here didn't listen to me though, and the 7-Eleven clerk gave him the beating of a lifetime.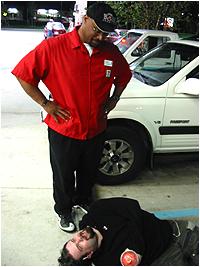 "The only pleasure I get out of this job is curb-stomping all you damned kids."
Ok so that covers most of your basic mistakes that people make when attempting to pull off the Slurpee Thievery Gag. It's amazing how something so simple can be bungled in such a wide variety of ways isn't it? I guess this is basically how those wacky "world's dumbest criminals" videos came to be. I truly pity anybody that gets hauled off by a cop for attempting to smuggle a York peppermint patty, hidden within a Slurpee.
Well, the Slurpee fun isn't over yet. We still have to see what happens when you get home and try to retrieve your prize from within the Slurpee don't we? Damned straight.
CLICK HERE TO CONTINUE ON TO PART 2!
---
Running a big site like I-Mockery takes a lot o' time and costs moola too.
Want to help show your support?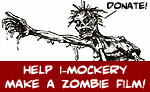 DONATE TO OUR ZOMBIE MOVIE!
Come talk about this piece & more on our Message Forums!
click here for more minimocks!

---


[Minimocks] [Articles] [Games] [Mockeries] [Shorts] [Comics] [Blog] [Info] [Forum] [Advertise] [Home]


Copyright © 1999-2007 I-Mockery.com : All Rights Reserved : ()
No portion of I-Mockery may be reprinted in any form without prior consent
We reserve the right to swallow your soul... and spit out the chewy parts.