YOU NEED MACROMEDIA FLASH TO VIEW THIS PAGE!
ALSO BE SURE TO HAVE YOUR SPEAKERS TURNED ON!
PLEASE BE PATIENT WHILE THE MOVIE LOADS.
HAVE ANY COMMENTS ABOUT THIS STARCRAFT/WARCRAFT PARODY MOVIE?
DID YOU FIND ALL THE SECRETS HIDDEN WITHIN IT?
COME TALK ABOUT IT IN OUR MESSAGE FORUMS!
Want to see some more Blizzard game related humor?
Check out our other parodies: An Orc Lost In Starcraft and Warcraft IV!
---
Running a big site like I-Mockery takes a lot o' time and costs moola too.
Want to help show your support?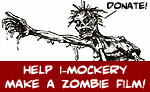 DONATE TO OUR ZOMBIE MOVIE!
Come talk about this piece & more on our Message Forums!
click here for more minimocks!

---


[Minimocks] [Articles] [Games] [Mockeries] [Shorts] [Comics] [Blog] [Info] [Forum] [Advertise] [Home]


Copyright © 1999-2007 I-Mockery.com : All Rights Reserved : ()
No portion of I-Mockery may be reprinted in any form without prior consent
We reserve the right to swallow your soul... and spit out the chewy parts.