by: -RoG-
Thriller. We've all heard the song, complete with the classic rap-monologue by Vincent Price himself, but what about the music video? Actually, what I really meant to say was: what about the best music video ever made? (though Journey's "Separate Ways" video gives it a good run for the money). I don't care if you disagree with me about Thriller being the best, because if you do, you're wrong. But one thing that we can certainly all agree on is that Thriller was amazing, especially for its time, and it really changed the way music videos were seen from that point onward. It set the new standard and any big/popular music video that was made afterwards was inevitably compared to it in one way or another. And even despite all of Jackson's bizarre career mishaps over the past decade, no music video has even come close to creating the fan frenzy that Thriller generated.
As a kid, it was like being allowed to see a horror movie that the parents wouldn't normally let you watch. There was so much excitement surrounded by it and everybody was fairly convinced that Michael Jackson would soon be elected President of the World. And while I guess it's good that never happened, it's sad to see what's become of music videos today. You see, Thriller came out back in 1983, when MTV was actually good. It was a real music television network that actually showed music videos instead of shitty sitcoms about spoiled teens and their struggles to overcome further pampering.
This brought a question in my mind: since MTV has gone to hell, how many kids haven't actually seen or will never see Thriller? That thought is probably scarier than the music video itself. But damnit, I'm at least gonna do my part by paying tribute to it because everybody should see Thriller in its entirety at least once. So here it is; my recap of the video for Michael Jackson's Thriller!
Ah yes, the disclaimer. After filming Thriller, Michael Jackson added this to the start of the video which, if you ask me, only made it more exciting. Disclaimers make everything more exciting don't they? That's why nowadays they're used less as an actual warning and more as a marketing tool. It doesn't matter what the disclaimer says, just as long as it's there in plain sight it will get certain kinds of people excited. The only word in this particular disclaimer that mattered to me was "occult" - which for a very young horror fan, loosely translated to "awesome".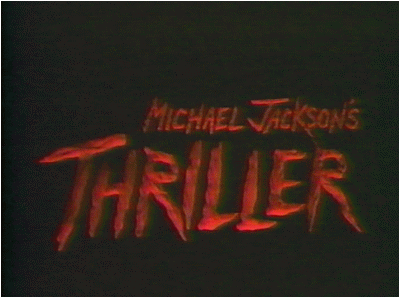 Even the title sequence of Thriller was scary at the time, what with those deep red claymation letters creeping around on the screen. When I first saw it, I was sure that those letters were going to jump right out at me for a quick scare, but they never did. Still, any time I watch Thriller I keep my eye on those letters... I just don't trust 'em.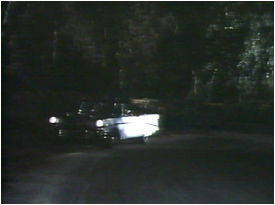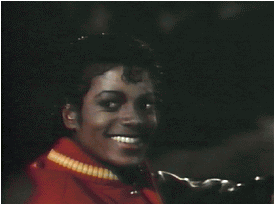 It all starts off back in the 50's (well, the car and the clothing would have you think that at least) with Michael Jackson and his girlfriend (Ola Ray) pulling over to the corner of the road. Michael informs his lady that he's out of gas, but she doesn't believe him. She's sure that it's all a trick so that he can "park" with her. But when they start walking, presumably to a gas station, she realizes he really was out of gas and apologizes for not believing him.

Michael stops walking and looks her dead in the eye and says, "I hope you like me... the way I like you," in a dead serious tone. It's not the kind of thing that would make a girl feel at ease, but instead would have her guessing if she was dating a psychopath. The way he's staring at her, you'd think he was trying to bore a hole in her head with his eyes. But this is a movie, so of course, she's not creeped out at all by this and is very eager to be his girl.
He then informs her, "I have something I want to tell you. I'm not like other guys. I mean, I'm different." Yeah well that goes without saying, but he's speaking about something a bit more supernatural...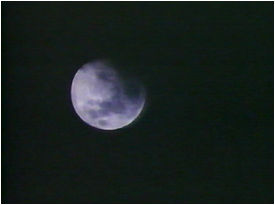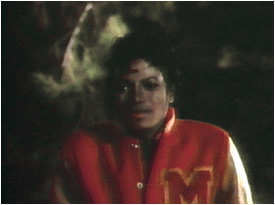 Up in the sky, a cloud moves on by to reveal a full moon and Michael Jackson doubles over in pain. And that's when it happens... one of those terrifying moments that is forever engrained in the minds of any child who saw Thriller. His grisly transformation into a werewolf begins and the dialogue between the two of them during this is impeccable.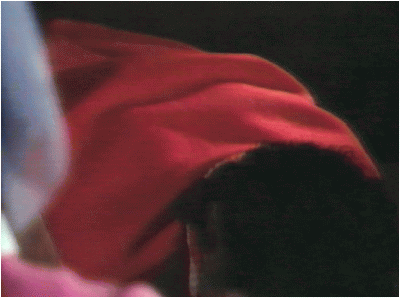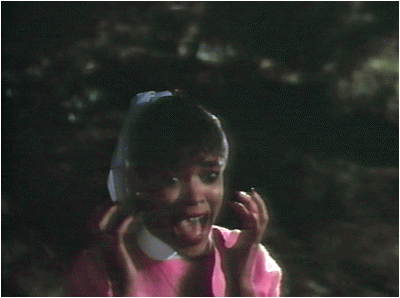 AAAAAAAAAAAAAAAAHHHHHHHHHHHHH!!!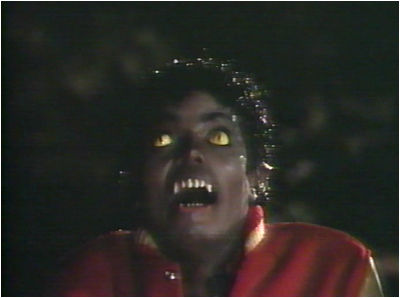 AAAAAAAAAAAAAAAAHHHHHHHHHHHHH!!!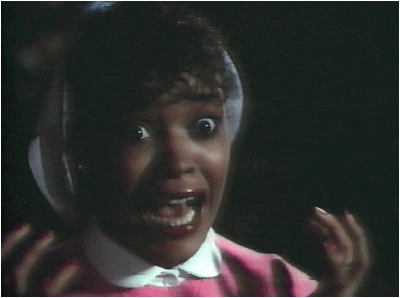 AAAAAAAAAAAAAAAAHHHHHHHHHHHHH!!!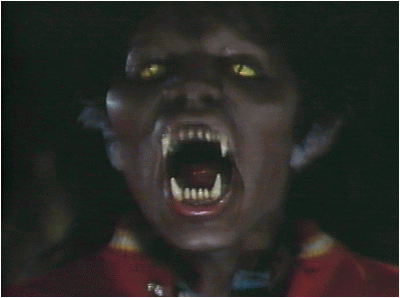 AAAAAAAAAAAAAAAAHHHHHHHHHHHHH!!!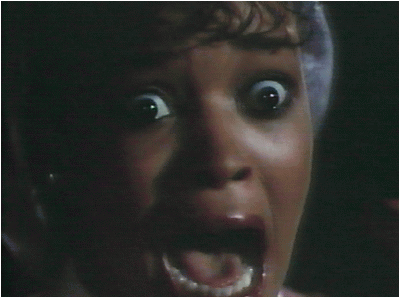 AAAAAAAAAAAAAAAAHHHHHHHHHHHHH!!!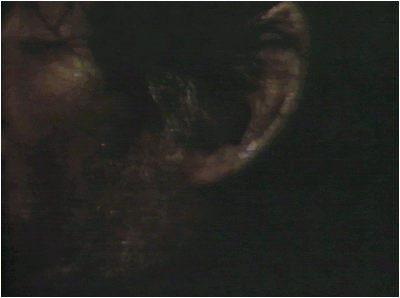 AAAAAAAAAAAAAAAAHHHHHHHHHHHHH!!!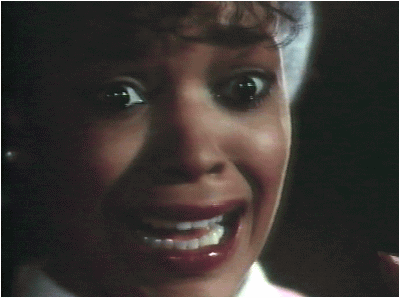 AAAAAAAAAAAAAAAAHHHHHHHHHHHHH!!!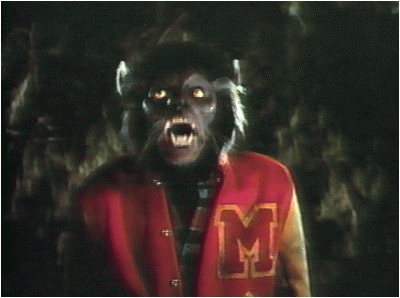 AAAAAAAAAAAAAAAAHHHHHHHHHHHHH!!!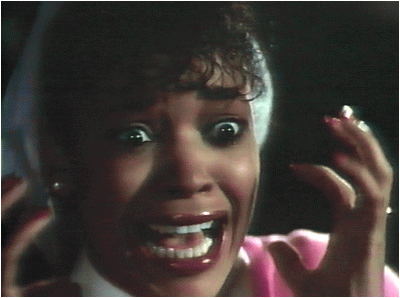 AAAAAAAAAAAAAAAAHHHHHHHHHHHHH!!!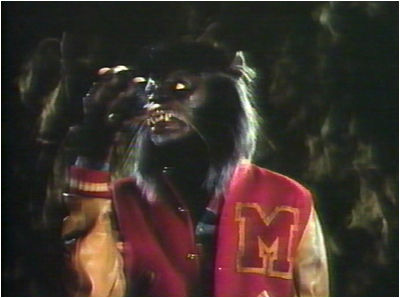 AAAAAAAAAAAAAAAAHHHHHHHHHHHHH!!!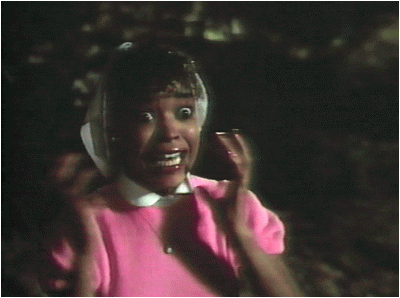 AAAAAAAHHHHH!!! OK I'M LEAVING NOW!!!
Amazing dialogue, eh? The script supervisor had to love his/her job during that scene.
I gotta give credit where credit is due; Rick Baker did a hell of a job on the werewolf transformation scene. Definitely one of the best ever put to film... but that's not too surprising since he also worked on An American Werewolf in London alongside John Landis.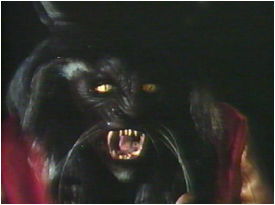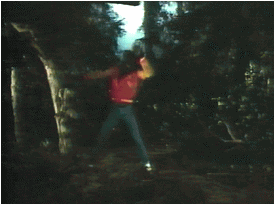 The girl runs away when the werewolf transformation is almost complete, giving herself a whopping 10 second head-start on the bloodthirsty creature. Now that he's a wolf, he goes chasing after her and for no reason whatsoever, knocks down a tree with one mighty animalistic swing of his hairy arm. Hey, werewolves are out of control and they do things like that.

They also howl at the moon too. What's more impressive, is that as noisy as Michael is in werewolf form, he's still able to jump from out of nowhere like a ninja and catch the girl completely off guard. You'd think she would've heard him coming, right?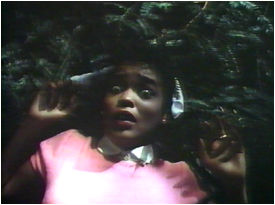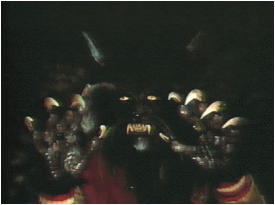 From that point on, it's clear that the girl is finished and just before we get to see the wolf tear her to shreds, it cuts to the inside of a packed movie theater.
Oh but there's more!
Click to continue to page 2 of the
Michael Jackson's Thriller tribute!