by: -RoG-
...CONTINUED

Damn! It was a movie within a movie all along? Son of a bitch. Ok, so now we're back with Michael Jackson and the same girl, in "real life" and they're watching the "Thriller" movie in a theater. While his girlfriend is disgusted by the movie, Michael seems to be enjoying himself wholeheartedly. Especially the popcorn.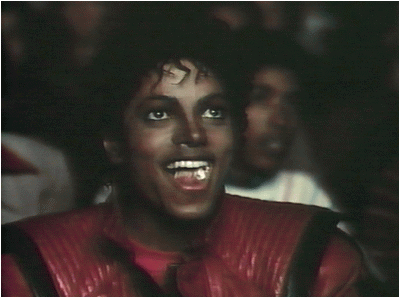 Michael likes his popcorn a lot. No I mean he really likes that popcorn. These weren't just polite little nibbles... no, these were enormous, mouth-wide-open chomps of popcorn that he wanted the entire goddamned world to see in plain view. And by the way, Orville Redenbacher? The man was NOTHING before Michael Jackson's Thriller. After the video was released, popcorn sales skyrocketed and Redenbacher became an overnight multi-millionaire. True story.

So the girl finally gets fed up with the grotesqueries taking place on screen and storms out of the theater. After a few more big smiles at the gory movie and some hearty chomps of popcorn, Michael follows after her. Personally, I would've stayed in the theater. A girl who walks out on a perfectly good horror movie? That's grounds for dismissal right there.
Mike teases her about it only being a movie and how she was scared. And now the music part of the video kicks in....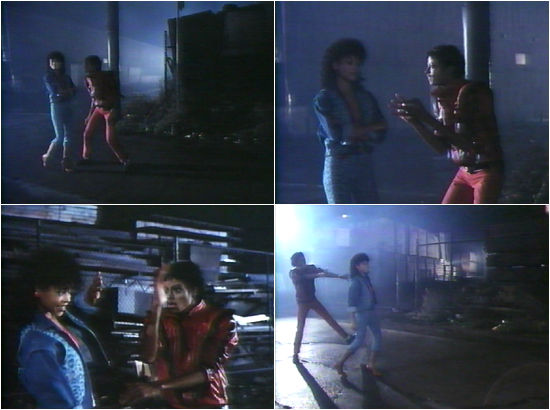 While she's terrified of the movie, she apparently has no fears about walking down a dark street in the city of Los Angeles around midnight. Smart girl. Michael sings his Thriller tune while dancing around her, walking like a zombie, faking a heart attack and making all sorts of spooky hand gestures. He's put a smile back on her face and she's no longer annoyed with him because of the movie. Then they walk by a graveyard that's covered in smog, or is that perhaps the icy chill of the undead?

And this is the point in which Vincent Price starts his infamous Thriller rap - easily most everybody's favorite part of the whole song. Why nobody had the foresight to give Price a record deal after this is beyond me. It's clear to me that an entire album, with nothing but Vincent Price rapping about all things spooky, could've been one of the greatest musical releases in the history of mankind. Talk about a blown opportunity.
As far as scenes where zombies rise up from the grave go, I'd have to say that I can't think of one that comes even remotely close to being as memorable as the one from Thriller. The graveyard looked perfect and all the zombies were spectacular...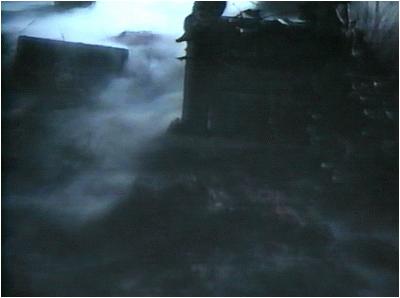 The sound of Vincent Price rapping about "creatures crawling in search of blood" combined with the creeping noises of dirt and grass being uprooted as the zombies emerge one by one is just too classic.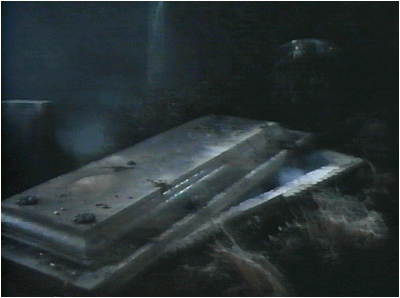 "And rot inside a corpses shell!" Now this is the one line from Thriller that I always screwed up as a kid. I could've sworn Vincent Price was saying "And r-r-rocked, inside a corpsin shell." Now what that actually meant, since "corpsin" isn't even a word, was beyond my youthful mind, but I was convinced that "rocked inside a corpsin shell" was an infinitely cooler way of saying "sealed in a coffin."
Fun activity: Should a loved one of yours die and you have the unfortunate task of making their funeral arrangements, why not spice it up a bit? Tell the funeral parlor director, "Um, yes. I believe he/she wished to be rocked inside a corpsin shell."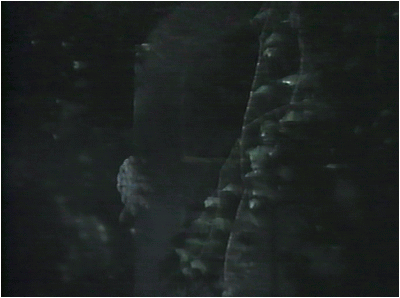 This is a zombie cameo by Rick Baker, the makeup effects wizard behind Thriller. Until I saw Thriller, I thought all people were buried underground when they die. Rick's mausoleum zombie changed that. Oh how Thriller educated my youthfully ignorant mind.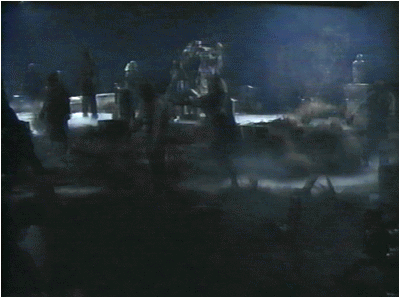 For all of you Zombie Walkers out there, take note of Thriller. This is how zombies should walk. Slowly, awkwardly and stiffly. They sure did zombies justice in Thriller.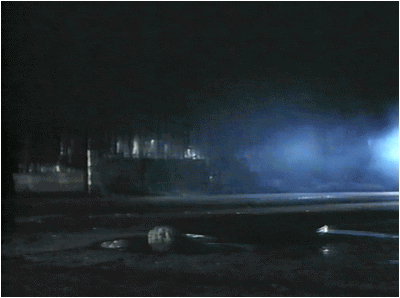 "The FUNK of forty-thousand years!" People just don't use the word "funk" enough these days when describing something that's stinky or terrifying (or both in the case of this particular zombie). I think it's high time we bring it back into our vernacular. And no, we can't just leave it up to George "Dr. Funkenstein" Clinton to spearhead this campaign; he deals with a different kind of funk. Anyway, I always loved this particular zombie; he was probably my favorite one in the entire thriller video. I dunno, you just don't see enough zombies emerging from the sewers. Other than the creatures from C.H.U.D., this guy is pretty much the king of subterranean spooksters. I think what I always liked about him was the green lightning they used to highlight the fact that he was indeed a toxic zombie.

The dead have now made their way out of the graveyard (and the sewers) and are walking through the streets in search of people to eat. We get a few nice close-ups of some other memorable character zombies...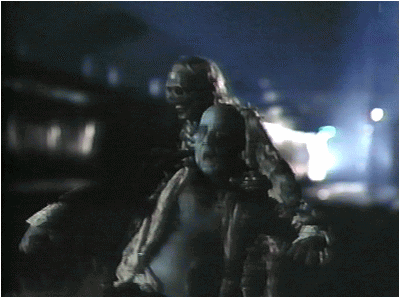 MR. ROLLY POLLY ZOMBIE!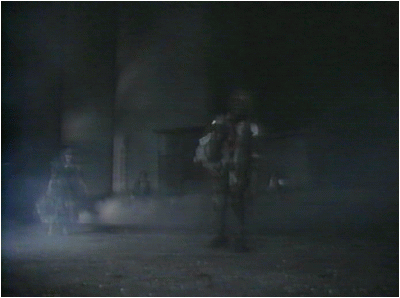 MR. "I DIDN'T NEED THAT STINKIN' ARM ANYWAY" ZOMBIE!

As Mike and his girlfriend continue walking down the road, they suddenly realize that they're completely surrounded by zombies. Zombies may seem dumb, but they're actually quite organized when it comes to forming a perfect circle around people whom they want to eat.

A few more head shots of the various zombies as they close in on the two. That one zombie on the right always creeped the hell out of me, with his mouth drooling black ooze 'n all. His make-up may have not been as memorable as some of the other zombies, but that damned black ooze looked nasty as nasty can get. I think Pee-Wee Herman may have given him some of that trick gum just before he died.
Oh but there's more!
Click to continue to page 3 of the
Michael Jackson's Thriller tribute!