by: -RoG-
...CONTINUED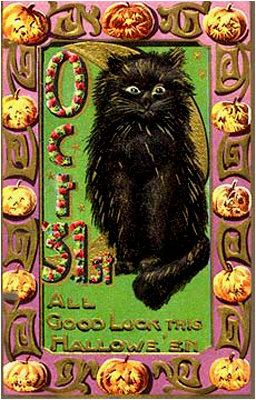 Good luck this Halloween, and hey! Here's a black cat to help you out with it!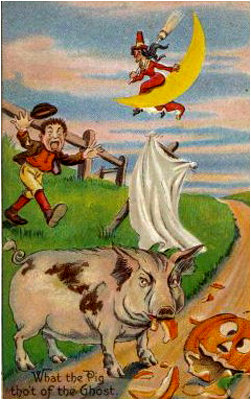 The pig apparently thought the ghost was tasty? It's a pig, what'd you expect?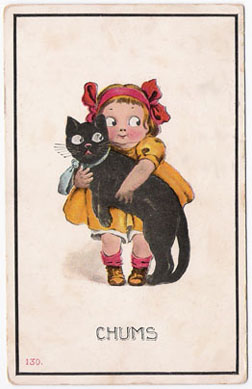 We're all chums on Halloween.

Are those two little guys actually supposed to be the spirits of "good luck" and "cheer"?
I only ask because one of them looks like an annoying elf and the other looks like a depressed miniature grim reaper.
Not exactly the kind of spirits you want visiting you all year long.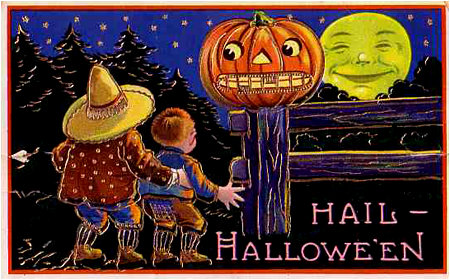 HAIL! I'm pretty sure that pumpkin has braces. Perhaps it's a commentary
on the dental work you'll need after overindulging on candy?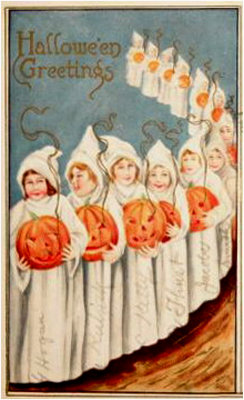 Anybody care to join this Halloween suicide cult?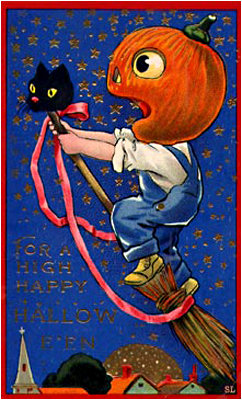 I'd look this shocked too if the witch broom I was riding ong had the severed head of a cat impaled on it.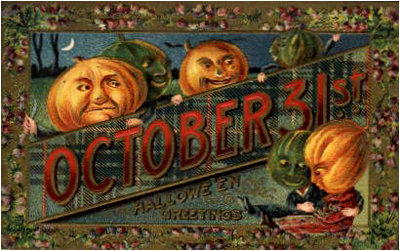 I like how all the pumpkins are happy as can be except for that one on the top left.
He simply doesn't trust whatever those two young ones are up to.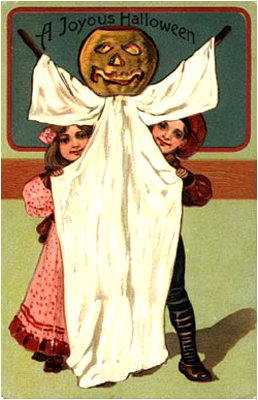 Joyous? I dunno, those two kids don't look overjoyed. If anything, they look overmedicated.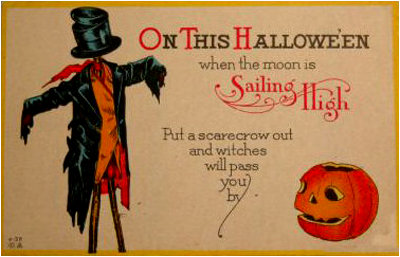 Actually, scarecrows are made of sticks and straw... isn't that what a witch's broom is made of? If you ask me, that would make them more inclined to pay you a visit. If you really want a witch to pass you by, don't put out a scarecrow.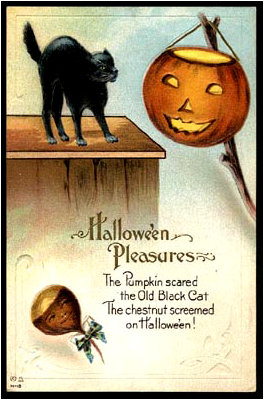 While the cat looks frightened, the chestnut doesn't seem to be screaming. In fact, it looks quite pleased
with how things worked out. My guess is that the chestnut planned this whole "scare the cat" prank.
The lesson we all learned here? Chestnuts are dicks.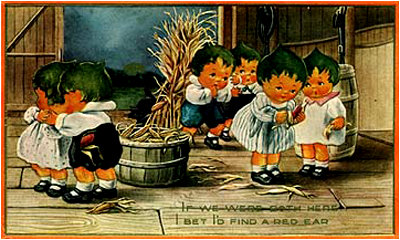 Oompa Loompas and Halloween... together at last.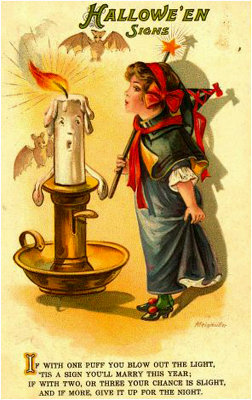 And if it's one of those trick self-relighting candles, you can sleep with the girlfriend/boyfriend of
whoever left it in front of you because that jerk just ruined your chances of ever getting married.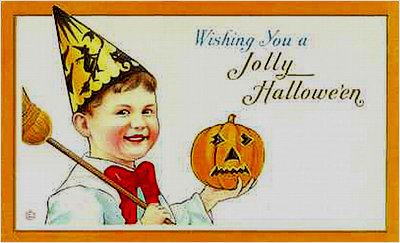 That kid is 100% unfiltered evil, and the pumpkin in his hand knows it.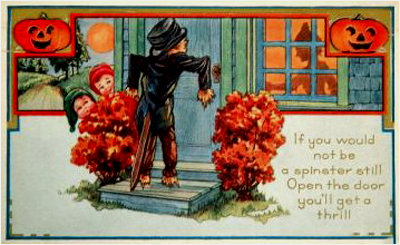 The "thrill" being when the kid loses his balance and finds that wooden stake entering his rectal cavity.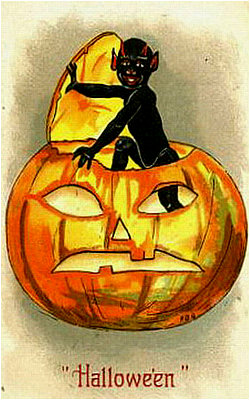 I don't know about you, but I'm definitely sold on this holiday now!
Have any questions or comments about this piece?
SHARE YOUR THOUGHTS IN THE READER COMMENTS SECTION BELOW!