There's a ton o' popular things that companies will try to tie-in with the holiday season to make some extra cash. As long as something is a part of pop culture, you can bet your bottom dollar that it will somehow be marketed with all the other Christmas crap out there. It doesn't matter if it's William Hung's "Hung for the Holidays" album or a Coca Cola polar bear plush doll, at some point you're going to cave in and buy one of these stupid items.
Well, it happened to me the other day, for I discovered the Toys "R" Us exclusive Incredible Hulk "Smashin' Spruce" Christmas Tree!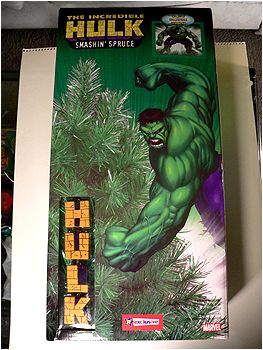 I don't know why, it just seemed like such a random thing to associate the Hulk with. And why does he get a tree? Where's "Aquaman's Awesome Palm Tree" or "Batman's Badass Redwood"? Well either way, one look at it and I knew I had to buy it, if for no other reason than to reassure myself that I wasn't hallucinating.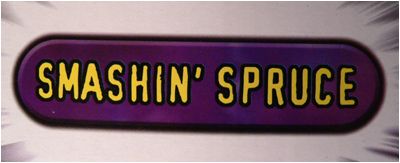 The back of the box is just kind of slapped together with some action bubbles to make the tree sound more extreme. Make no mistake about it, it's just a tree and nothing more.
All the rage... uh... half the calories? Seriously, it's a tree, it doesn't have rage. (Shut up LOTR fans, it's not a fucking Ent for chrissakes.)
Ok, I'll meet them halfway on this one: the tree is indeed green. It does have some purple mixed in with the pseudo-pine needles to make it match the Hulk's pants a bit more, but for the most part it's green. But mean? How is the tree mean? That simply doesn't make any sense.
Ok, I stand corrected. That really IS pretty mean. So what they're basically saying is that handling this tree can mangle the reproductive capabilities of your children. Then when your kids grow up, they'll have "All the rage!" because you were stupid enough to buy them a toy with lead in it. Then again, only the State of California knows about this chemical according to the warning. So, if you live in any other state, I guess you've got a good excuse to use for whenever you have that awkward discussion with your now impotent son.
Alright, enough worrying about trivial things like birth defects, let's check out our new Smashin' Spruce tree!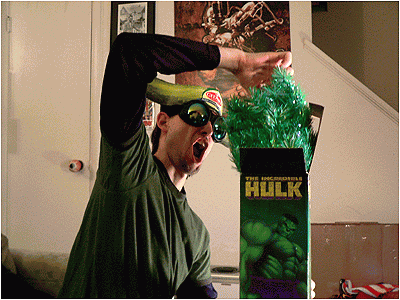 You'd think they could at least make the thing smell like one of those air freshener trees you hang inside your car to ensure that nobody will ever want to step foot in it again... but no, it just smells like plastic. Still, the tree itself looks pretty nifty with the green 'n purple Hulk colors, I'll give it that.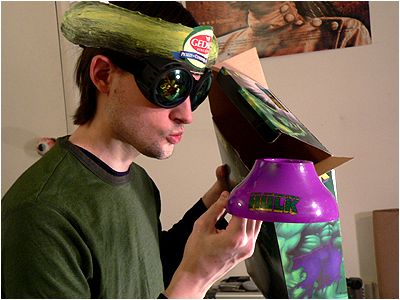 Oh and fret not, for if you're worried about somebody seeing the tree and not realizing that it's an Incredible Hulk Smashin' Spruce, the base tree holder makes it crystal clear. But if your house guests are still too dimwitted to realize it, then there's these...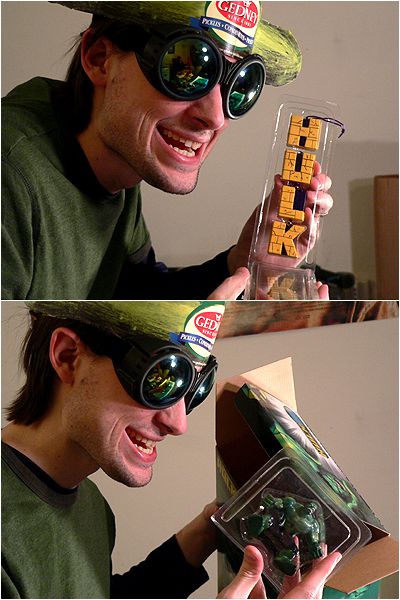 Yes indeed, it comes with 4 ornaments that spell out the word "HULK" along with an angry ornament of the Hulk himself. He doesn't look to happy to be an ornament, but then again, when does Hulk ever look happy?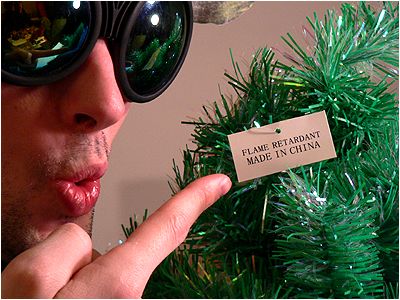 The Chinese have apparently done their homework and ensured that this tree will not catch on fire when the kids try to attack it with the family flamethrower. But what about the flame retardant warning sign itself? Is THAT flame retardant?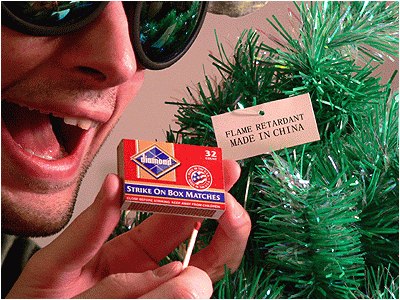 HAHA! LOOKS LIKE THE JOKE'S ON YOU, CHINA!
After extinguishing the half of the room that I accidentally set ablaze, I placed the tree into the base and started getting it set up. You can bend the branches in any decoration you like while you imagine yourself having the power of the Incredible Hulk to bend a real tree to your will. Personally, I like to imagine the power of the lead in this thing killing my sperm, but hey... to each his own.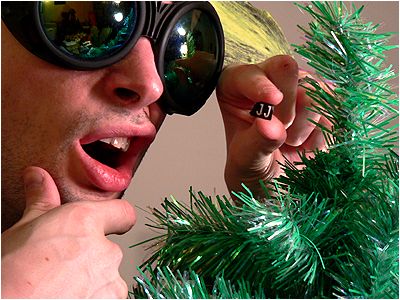 As I bent down the final branch, I discovered a small piece of paper near where it connected to the rest of the tree. The paper had the letters "JJ" written on it. What did this mean? Was it a secret cry for help from a Chinese factory worker who was being exposed to lead trees on a daily basis? Was it a warning that my tree would be a disaster unless I gave J.J. Walker from "Good Times" his moment to shine in this story? Well you know what? I can't speak Chinese so I can't do anything about that first question. But the second question? Well that's just not a risk I'm willing to take, so here ya go J.J. The limelight is all yours!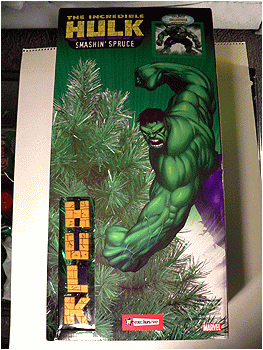 Ok, now that we've ensured that the curse of J.J. won't haunt our mighty tree, we can move along to decorating it...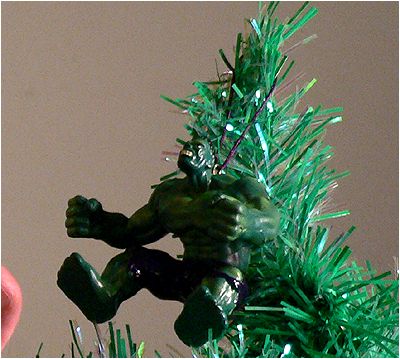 Since they didn't include a star to place atop the tree, I suppose the Incredible Hulk ornament will have to do, even if he does look pissed off to be hanging by a bolt embedded in the back of his neck. And now to place the letters on there.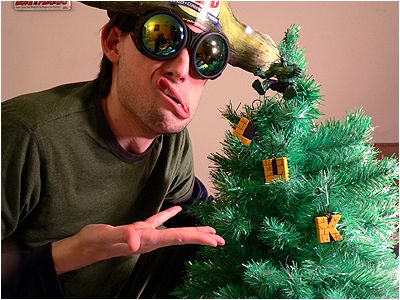 LUK?
More like: with any luk I'll figure out how to arrange these things to spell "HULK".
I managed to setup the ornaments properly and sure enough, it looked just like the Smashin' Spruce tree on the box. Still, they should've including something more with it, like additional Hulk ornaments of buildings he's smashed or people he's crushed. Or at the very least a set of Hulk-style lights. No problem though, I ran out to a local store and found some purple lights to string around the tree to complete its transformation to pure Hulkdom. If you truly want to make it an extra-festive occasion, put on a pair o' Hulk Hands for a smashin' good time!

"ALL THE RAGE!"
Well, that about wraps it up for the Incredible Hulk's Smashin' Spruce tree. Now if you don't mind, I'm going to go wash this lead off my hands... right after I finish jerking off. Hey, I don't live in California, so it's ok, right?