Richmond, VA. It's far from the most exciting place on earth to live. I've often questioned whether or not it should even be considered a city after living in places like Philadelphia and New York. Sure, you can make a trip to Williamsburg and learn all about the wonderful world of wig-making and uh... cannonballs... but what does Richmond have to offer? Well, they have a knack for picking the seemingly hottest day of the year to throw a big event together in Carytown in which everybody goes shopping for discounted merchandise, fried foods, and plenty o' watermelon. Yes indeed, I'm speaking of The Watermelon Festival!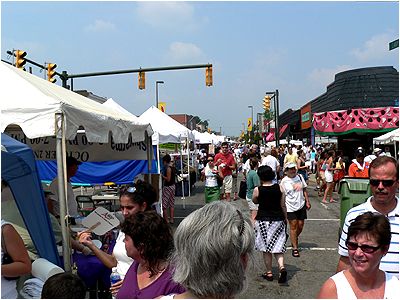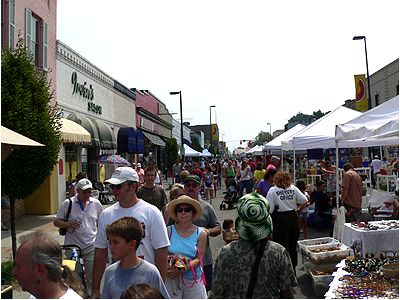 During the annual Watermelon Festival Cary street is filled with outdoor vendors and people as far as the eye can see in both directions. Jugglers, musicians, rides, store sales, independent artists, and ungodly amounts of food. I somehow always park my car on the street that leads straight to the crab cakes booth. Let me tell you, in 100+ degree heat, there's nothing worse than having a hot blast of crab cake-scented wind attack your face. It's always a great way to start off the festival, believe me.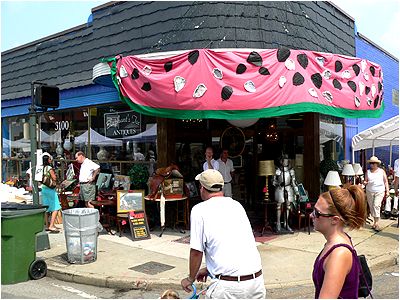 Ok, I just wanted to get that picture out of the way. There's so many things with watermelon decorations on them during the festival, it's insane. I don't even eat watermelon. "Then why go to a watermelon festival!?" I'll tell you why, because the local music shop "Plan 9" has some damned good sales. We're talking CDs and DVDs for a buck 'n what not. Hell, I got the entire Rocky box set in perfect condition for 20 bux along with a plethora of cheezy horror flicks. That right there was worth the trip, crab cake-scented facial blasts 'n all. Anyway, there ya have it, a picture of a store with a big watermelon on it. Hooray!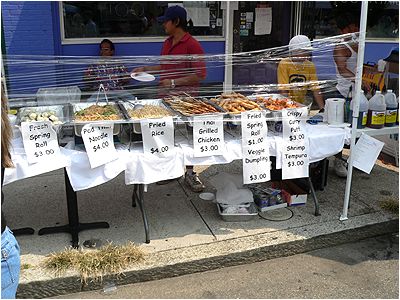 Aside from crab cakes and watermelons though, there really is some appetizing stuff for sale at the festival. Sure, they've got tons of sugary treats like funnel cakes and cotton candy, but they've also got some extremely tasty meals from a variety of cultures for you to try. Onlly problem is, when you're sweating buckets in heat like that, the only thing you want to do is a) drink water and b) puke.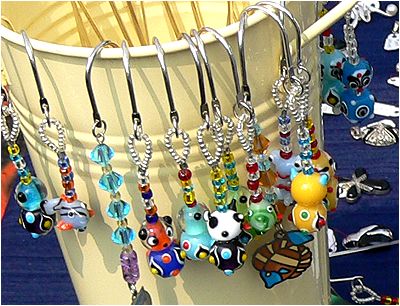 There's also definitely no shortage of artists at the festival, many of whom are offering up unique handmade items with impressive craftsmanship. And then there's other "artists" (and I use that term lightly) who... well...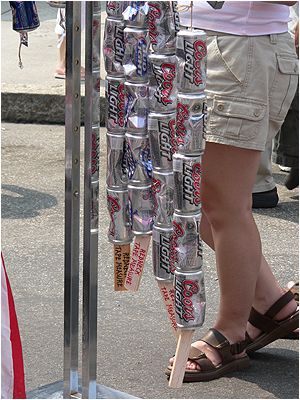 Yep, that's right... it's a "redneck tape measure" har har har! Sadly, these things probably sold 5 times as much as the artists who actually put a lot of work into their crafts, rather than some drunkard with leftover beer cans, some string, and Jeff Foxworthy's amazing wit. But that's just the tip of the iceberg, there's some other horrendous redneck items for sale at the festival.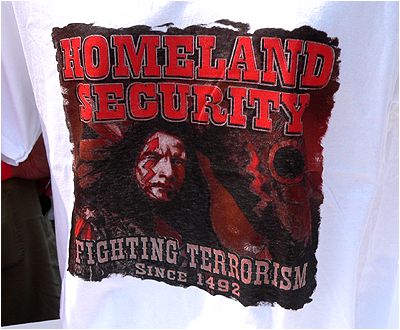 "HELL YEAH, BOY!"
Uh huh, I can't tell whether it's saying that Native Americans have been fighting the terrorists or if Native Americans ARE the terrorists. I'm leaning towards the latter. Sad, sad, sad...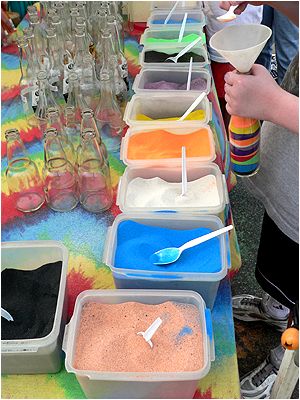 The kids were all over this one. Fill up a bottle with colored sand and you'll have a decorative rainbowtastic keepsake forever! I never understood what the big deal was, but the kids love bright colors, so more power to 'em. It's still not nearly as cool as "Magic Sand" though, not for a second. Speaking of which, I recently acquired a bottle of "Magic Sand" and for those of you not acquainted with it, you can expect a full report on it in the near future. MAGIC! :o
As you can see, another popular stop for kids was the airbrush tattoos booth: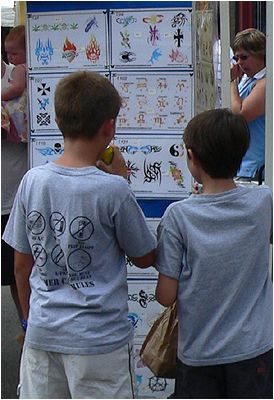 Kid 1: "TATTOOOOOOOOOOOOOOOS!!!!"

Kid 2: "AWEEEEESOME!!!!"

KID 1: "WHOAH! LOOK! A TRIBAL DESIGN!"

KID 2: "MY BIG BROTHER HAS ONE OF THOSE ON HIS ARM!"

KID 1: "NO WAY! HE MUST BE REALLY COOL!"

KID 2: "I DARE YOU TO GET ONE TOO!"

KID 1: "I DUNNO, AM I COOL ENOUGH?"

KID 2: "PROBABLY NOT. I THINK YOU HAVE TO HAVE A MEMBERSHIP TO SOME KIND OF CLUB TO BE ALLOWED TO GET A TRIBAL TATTOO."

KID 1: "DAMN! I'M GONNA HAVE TO GO WITH THE BUTTERFLY THEN..."

KID 2: "THAT'S STILL PRETTY RAD!"
Not all of the sights at the Watermelon Festival are good ones though. Take this trashcan for example: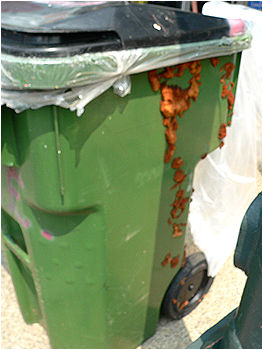 Now can somebody explain to me what the hell is going on there? Did somebody vomit-spray the side of this can with regurgitated crab cakes? Seriously, that shit looked like it had been growing on there for quite some time. But enough photographical nausea, let's have some fun shall we? It's time for...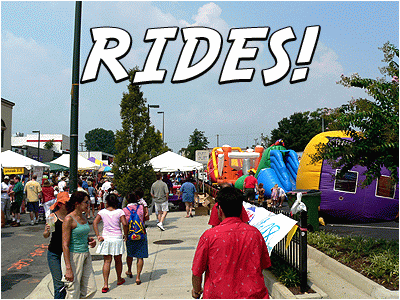 Inflatable rides are a staple of the Watermelon Festival... it's seems like they add on more of them each year. First up is the massive "Sinking Titanic" slide!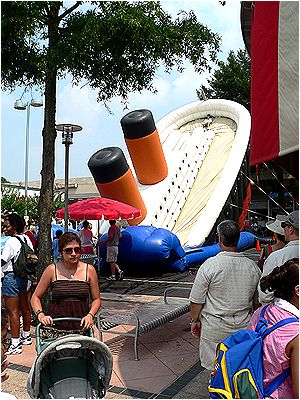 I dunno about you, but I would think that plastic gets awfully hot being in the sun all day long. It'd be one thing if it was a waterslide ride. Then again, when you're a kid, nothing can get in the way of your fun. Not oppressive heat, not god, NOTHING.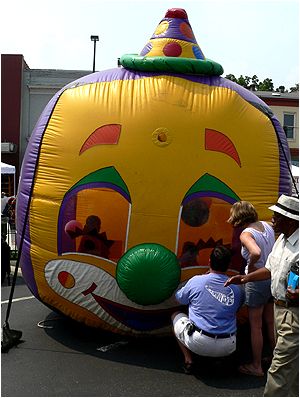 See what I mean? No sane person would enter a clown's head in this kind of weather... only a child. Look at their parents there, you can bet you're ass they're wondering, "How in the hell are they not MELTING in there!?!?"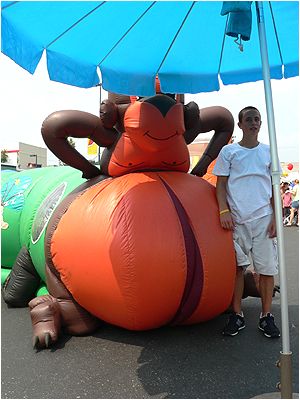 They'll even enter a giant gaping vagina of a monkey all in the name of fun! That's right, I said it.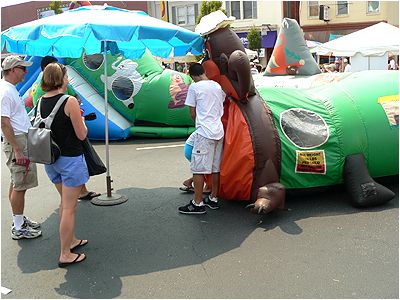 Actually, it's more like part monkey, part worm.
Either way, it's got a massive vagina.
Crab cakes, children, vaginas... I can only imagine what kind of sick bastards are gonna stumble onto my site when they enter in their search terms on Google.


Yeah yeah, more inflatable rides. We get it...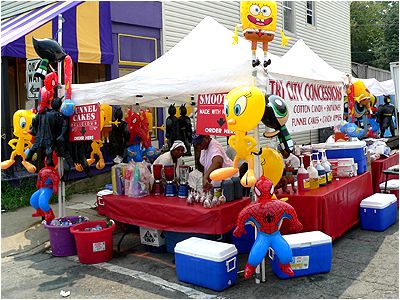 Funnel cakes, cotton candy, Spider-Man, Tweety and more...
yep, it can all be found at the Watermelon Festival.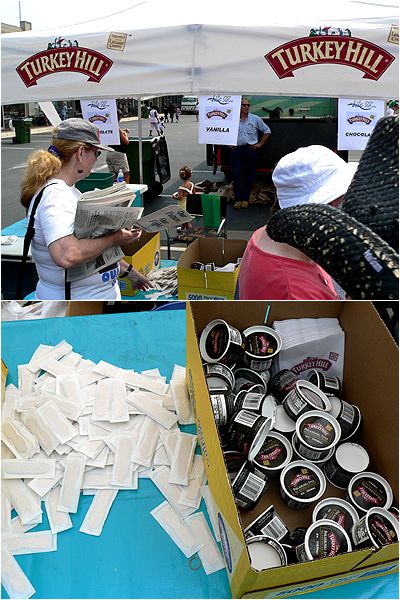 AHHHH, AT LAST! SWEET SALVATION! The only thing standing in the way of me falling into a heat-induced coma at the Watermelon Festival each year is the good people from Turkey Hill ice cream. Unlike the other vendors selling their sno-cones for almost 3 bux, Turkey Hill is here each year giving out all the FREE ICE CREAM CUPS you can eat! I'm sure it's a small chance in hell that one of their reps is reading this piece, but I gotta say "THANKS!" anyway.
Alright, well rather than show you photos of me gorging on 50 cups of ice cream, I'm gonna go pop in one of my Rocky movies and call it a day. Hope you enjoyed this tour of Carytown's annual Watermelon Festival. And please, don't spit the seeds out on my site... this place is already a huge mess.
---
On a semi-related note, I'm sure you've all heard about the recent madness over the $50 iBooks here in Virginia where people trampled over each other in a mad dash for the discounted old laptops. Well, I'd just like to say that it has made me realize our state slogan really is true...