Oh boy, oh boy, oh BOY, America! Here it comes again, another fun in the sun, Patriotastic, Nationarific Fourth o' July o' Ganza! If you're like me, this is the holiday that beats the crap out of all the others! Take a powder, Christmas! Go screw, Easter! Hey! Chanukah! You're strictly for Hebrews! The Fourth of July is in the house and it RULES!

Why? WHY? WHAT ARE YOU, A TERRORIST!?

Well, cop a squat, li'l feller, and your 'ol Uncle Max 'Uncle Sam' Burbank will tell you why! On July Fourth every real American worth their hot dog, apple pie and some third thing we co-opted from the Germans gets together to commemorate, celebrate and obfuscate that solemn moment in our great nation's history when we told the appallingly pansified British empire to stop treading on our red, white and blue snake!

And just how does every red blooded, god fearin', flag fetishisin' American show his respect to that hallowed day we declared our independence?

By each an' every one of us eating up enough Bar-B-Q to feed an African village for a month, drinking enough cheap booze to poison a seven hundred pound bull manatee, irresponsibly fumbling with poorly made explosives assembled by Chinese slave labor and then if we are still alive, trooping off to the local village common to holler our heads off and litter like madmen while half the town budget flies off into the sky at a time when your kids school has to have a bake sale to buy a ream of copier paper!
YEEEEEE-HAAAW!! THAT'S YOUR CUE, LEE GREENWOOD!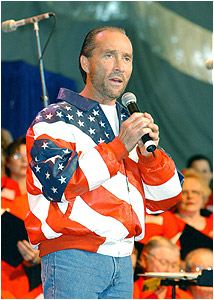 Mr. Lee Greenwood: Country legend, Patriot, Congenital Moron, Product of Incest.
But if you're anything like me (an AMERICAN!) At some point over the years, you hit the wall Fourth of July wise. You found yourself saying "By God, I have eaten as much scorched meat as this body can hold without dying, I have sung the patriotic songs I learned in grade school so loud and long I am coughing up red, white and blue internal organs, I have allowed myself to become drunkenly enraged that the town council allowed such a cheap ass, unpatriotic grand finale and hollered cuss words like a sailor with turret's syndrome until some more fireworks got shot off and I realized that had not in fact actually been the grand finale, and yet somehow I STILL don't feel as patriotic as I'm certain I should!"

Well, brother, I know what you mean, and I am here to help with a list of activities, or FUNTIVITIES (hands off my copy written word, terrorists!) that you can add in to whatever traditional Fourth of July traditions you and your family traditionally do each year.
RED WHITE AND BLUE FRUIT SALAD WITH A TWIST!
Here's a treat that can't be beat that leaves you face down in the street! In October, purchase an end of the season watermelon. Using a common household hypodermic needle, inject the melon with seventeen bottles of cut rate Vodka, and freeze. Skin and dice apples, add strawberries and blueberries and soak the fruit in rum for three to six months. On July Fourth morning just prior to sunrise, cut the melon into a basket shape (Saving the cut outs for later picnic consumption or sale to local hobo population), drop in the fruit, garnish with crushed Vicodin and pharmaceutical Benzedrine, and hey presto, Fourth of July Fruit Salad! The Twist? Eat the whole thing before the rest of your family gets up and you'll be blind mental until nightfall when the fireworks will set off a highly patriotic seizure!

SUNRISE PLEDGE OF ALLIGIENCE
The sun rises mighty early this time of year and a real fun thing to do is the moment it crests the horizon, start screaming at your wife and kids to get the hell out of bed and SALUTE THE DAMN FLAG! Boy, nothing brings a patriotic smile like surprising the wife with a blast of Revely on the old trumpet at five twenty A.M.! And if you don't know how to play the trumpet (I sure as hell don't!) Just bang two garbage can lids together real close to her head. It's pretty much the same thing, ask any soldier.

PATRIOTIC CRAFTIVITIES
More than cartoons, video games or breakfast, kids love crafts! And nothing starts the Fourth of July day like tons and tons and tons of Patriotic Craftivities! Why, I bet you even have the stuff you'll need right around the house! If you've got red, white and blue construction paper or paint, some paper plates, red, white or blue ribbons, an industrial staple or nail gun, a hot glue gun, matches, X-Acto knives, rubbing alcohol, cigarettes and a starters pistol, your kids can make a completely unsupervised patriotic Fourth of July windsock, just like our founding fathers used to tell which way the wind was blowing!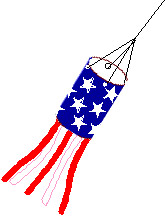 "What the hell is this? You call that a windsock? 'Cause I call it a piece of crap!"
And while the kids are crafting, you and the Mrs. can get a head start of your Fourth of July drinking!

EXTRAORDINARY RENDITION
HIDE-AND-GO-SEEK WITH A TWIST!
Here's a patrioriffic funtivity all the neighborhood kids are sure to enjoy! Select or 'target' the kid with most foreign sounding surname. Sneak up on him when no one's looking, pop a chloroform soaked pillowcase over his head and whisk him off to your 'CIA Chartered Top Secret' minivan! Then duct tape him to a board, drive to the most dangerous part of town and 'hide' him with the skankiest crack dealer you can find who you think will probably treat him in ways that might accord with a pretty loose interpretation of the Geneva Conventions. Now, here's the twist! Since the fact you 'hid' the kid in the first place is 'top secret', the 'seekers' chances of finding him are just about zero!

PAY TRIBUTE TO THE LOCAL HEROES AT
THE EMERGENCY ROOM!
Does it seem fair to you that a whole bunch of young emergency room docs, nurses and orderlies who drew the short straw have to sit out the Flagtastic Fourth of July Fungasm just because of some dumb ol' hippocratic oath? Hell no! Why not cheer 'em up by stopping by with a festively mutilated charred hand, third degree eyeball burn or other fireworks related injury?

HANG A FLAG OFF YOUR WEINER!
You'd be surprised how many people do this, and if you use scotch tape or rubber bands instead of a safety pin, it doesn't even hurt that much!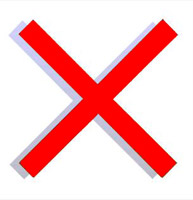 NSFW patriotism related hot glue wiener owie.
NIGHTLY DRUNKEN WHIZZBANG BOTTLEROCKET HOOTENANNY!
Just like tithing to the church, 10% of your annual income should be set aside for the purchase of cheap, dangerous, inconsistently manufactured, third word fireworks in bright packages with incomprehensibly translated directions. These should be set off nightly for one week to three months prior to the Fourth of July and for one week to an entire year after, directly beneath the windows of neighbors who work for a living, have small children and dry, highly flammable roofs.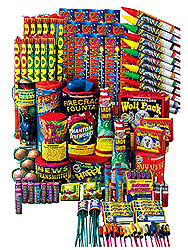 How many fireworks are in this assortment? Not enough, that's how many.
THE TICKING TIMEBOMB SENARIO
Follow me here for a second. Suppose for the sake of argument, you knew that someone you really didn't like (a neighbor, your boss, the wife) had inside knowledge of a nuclear bomb set to go off in the next twenty four hours. You'd pretty much HAVE to torture 'em, right? And what if they don't have any such knowledge? Would a patriot take that chance? On the Fourth of July? I think not.

DRUNKEN MIDDLE OF THE STREET BROAD DAYLIGHT UNINTELLIGIBLE FLAG WAVING AND HOLLERING CLAD ONLY IN UNDERWEAR.
This one is not so much an activity as something I seem to unavoidably end up doing at some point on the Fourth of July. And Thanksgiving. And Superbowl Sunday. And my birthday. And many weekends. And one time on Yard Waste Removal Day.

FINDING OBNOXIOUS TEENS IN THE FIREWORKS WATCHING CROWD WHO INSIST ON IRONICALLY SAYING 'OOOOH, AAAAH' AFTER EVERY SINGLE FIREWORK AND VICIOUSLY BEATING THEM WITH A CROWBAR
Self-explanatory

NEIGHBORHOOD OUTDOOR GRILL EXPLOSION CONTEST
While many of today's outdoor grills are propane fired and thus do not require any lighter fluid at all, if you want a really impressive fireball, you might want to stock up.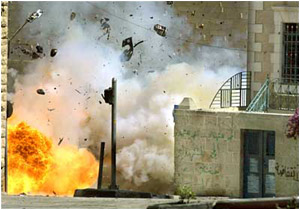 A little friendly competition never hurt anyone outside a twelve-yard blast zone.
PIN THE LAWN DART ON THE NEIGHBOR'S KID
While long illegal in most states, lawn darts can still be picked up on eBay or home made using knives, turkey basters, duct tape and the pinfeathers of Canada geese. If you're not the creative type, try buying standard pub darts and using the reverse setting on your shrink ray.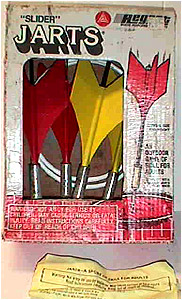 "They're not lawn darts, officer! Those are against the law! These are 'Jarts'!"

MESCALINE
Hey! It was good enough for the Native Americans, and what the hell's more American then a liquored up Red Man all high on Mescaline? ME, that's who! NOW GIMMEE THAT CHERRY BOMB, YOU DAMN TERRORIST! WHERE ARE MY JARTS?!
---
If you enjoyed this piece, be sure to check out:

The Underappreciated Art Of Firecracker Labels!
---