Visionary Darkness has gone through many changes over the years, so I figure I should give you a little bit o' history about it. Where it's going is beyond me, but at least I know where it's been so far.
Visionary Darkness started out way back in high school when myself and a couple of friends were always making fun of everything around us. We were completely bored in our classes, and we would discuss our hatred of our surroundings while the teachers lectured their useless garble. After a while we figured that more people should hear what we thought about things so we decided we would make our first "zine". But, we refused to call it a "zine". We hated the name "zine" as it is, but furthermore, we had no idea how often we would print new issues. So, we called it a "periodical" instead. Not that anybody cared what we called it, but it still mattered to us for some strange reason.
Anyway, we decided to call it Visionary Darkness. The name seemed fitting enough and we were more concerned with writing our rants and mockeries of the school and society than spending too much time thinking up of another name. We started compiling all of our writings and comics and magazine quote clippings (ie: quotes we would cut out of magazines and paste into visionary darkness in random places). We even made hilarious covers for it from unintentionally hilarious pictures found in various magazines such as TIME.
We had plenty of stuff written up, and Visionary Darkness was ready to be printed. SHIT! THERE'S NO WAY WE'RE GONNA PAY TO GET THESE PRINTED! Luckily, we had a friend who worked at Kinkos and he basically printed us ALL of the copies of Visionary Darkness that we would ever need. Unfortunately for him, he eventually got caught for making us virtually hundreds of dollars of copies for nothing. So we no longer had anyone to print copies for us. But by that time it was the end of senior year and we were off to our respective colleges.
Visionary Darkness made fun of it all... local music, school teachers, jocks, and basically anything that came to mind at the time. It was quite a big success considering it was just 10-14 pages of humor per issue. We got up at 6am and went into the school bathrooms and left issues in them for all to take. We never got caught. Then we would sit down in the morning and watch students filter into the school and we'd start seeing them all walking in the halls with copies of Visionary Darkness in their hands and laughing out loud. We'd also see angry teachers storming down the hall with a copy of Visionary Darkness in their hands. That was the best. hahahah!
Later we distributed them through a local music store that carried other local "zines". This is when we realized how well it truly did. I was handed back all the remaining copies of Visionary Darkness because the owner was getting sick and tired of people coming into the store and sitting on the floor for hours at a time just reading it instead of buying stuff and leaving. That was the best feeling in the world. And of course, in the next issue we made a big joke of how "Visionary Darkness has been banned from the local underground/punk music store!" Life was good (well sort of hehe).
Well, as I said, we all went to different colleges and that meant the end of the visionary darkness periodical. Luckily, the world wide web soon became an even better medium to get your words seen by all. So, I decided "why not learn html and put that same kind of humor online?" Soon I had a full web site of comedic material. Some rants, some stories, some completely weird things.
Visionary Darkness (the Web site) has gone through MANY changes. The biggest one being moving here to I-Mockery.com in 1999. There used to be a house that you could walk through to enter different rooms that had different sections of visionary darkness. And there were some downright hideous looking pages too when I was first starting out. Hell, I'm sure there still are. heheh.
Anyway, I hope you enjoy all the rants, all the commentaries, all the oddities, and anything else you find here and on I-Mockery.com. I'm simply trying to keep the same spirit and fun of the original Visionary Darkness periodical alive. Thanks to everyone who has written me and supported Visionary Darkness. Visionary Darkness is what started it all... where it's all going next, is beyond me.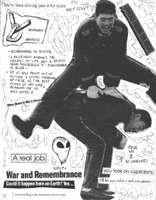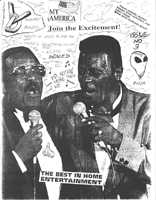 The Original Visionary Darkness Periodicals!
Click above images to enlarge!