New Jersey Dogs Of My Acquaintance
by: Max Burbank
I was for a time in my youth marooned by divorce upon the shores of northern New Jersey. Not the literal Jersey shores, the notable ones of which are further south, but it felt like a shipwreck in that it happened suddenly and violently, casting me bedraggled, a stranger in a foreign land.
My stepfather, a man I had not set eyes on three months previous, was the Republican Mayor of Union, an 'All America City' whatever that meant, and home to the worlds tallest water sphere. I have it on good authorit6y the sphere was constructed to solve a problem in relative pressure caused by the citizens' fondness for mass flushing at commercial breaks during prime time.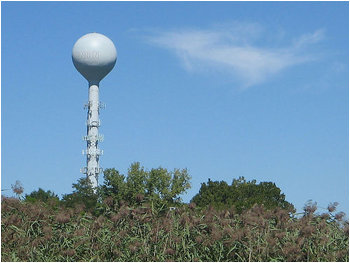 I am told this is no longer the worlds tallest water sphere, to which I say 'Ph*ck' that 'Noise'.
When I met the man he had mutton chops which he would soon shave, a prodigious belly that would soon be zippered by a triple bypass scar, four sons, a daughter, a live in maid who spoke an Island dialect unknown to any of us or who was possibly insane and unintelligible and three dogs.
I liked dogs. I always have, even the worst of them and this bevy seemed grace of a distraction, a small fixed area amidst the chaos where I could place my concerns and direct my attentions. Dogs are charmingly simple, generally speaking, rewardingly uncomplicated in their affections. Sadly the dogs of New Jersey, or at least the dogs I came to know that first summer proved more difficult and less effective as camouflage than I had hoped.
SHEBA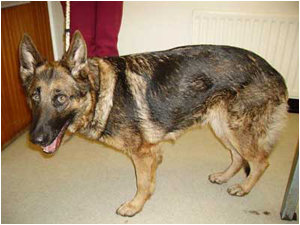 Good dog
Sheba was the oldest of the three, a large female German shepherd with a sweet disposition, given to shedding coaster sized chunks of matted hair. She suffered from hip displasia and was very slow. She had sad eyes that said "I have put up with a lot of terrible behavior in my life, and I've done it with quiet dignity." During my stepfather's frequent summer cookouts which he both hosted and visibly loathed, she would stand stock still about seven feet away from the grill as hideous, pale often shirtless relatives and neighbors capered in and out of the above ground pool, cocking her head just slightly and looking at me as if to say "You see? This is my life." She liked to sleep upstairs directly outside my stepfathers door, but she was too arthritic to climb up or get back down once she was up there. She'd stand patiently at the bottom or top of the winding staircase, depending on which way she wanted to go and just stay there, silently waiting for help like an old Jewish Grandmother but nicer. I took to carrying her up and down as it gave me something to do, but it wasn't easy. She was a very large dog, easily the size of a smallish coffee table. She suffered the indignity well, often giving my hand a single lick upon reaching her destination.
PEEBEE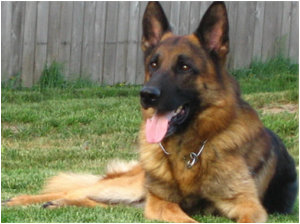 "What?"
Also a Shepherd, but male and several years younger, a classic police dog and so handsome if seen in photograph or holding still, but the illusion shattered the moment it did anything at all, because this dog was stupid. Dogs are not known for being rocket scientists in general, but Peebee was just as dumb as dirt, dumb as a god damn post, and not happy dumb, just plain damn miserable stupid, as if it's whole life all that it could think was "What? What? What do you want? What the HELL is going on? I don't have a single god damn clue. I'd like to do something, go somewhere, commit to some action of any kind but I just do not have two god damn functioning brain cells to slap together!"
Peebee was terrified of thunder, and upon hearing would try desperately to wedge himself under the kitchen cabinets, which were flush with the floor. There was no under to get under. There were other places to get under available, tables, beds, even rugs could be got under but the kitchen cabinets could not and that was where that damn stupid dog thought it had to be every single time an electrical storm passed by. My stepfather had dog valium to soothe it's nerves, but try getting a panic stricken dumb as dirt German shepherd to take a pill sometime. You can turn a perfectly good right hand into hamburger and bone meal in an instant.
COCOA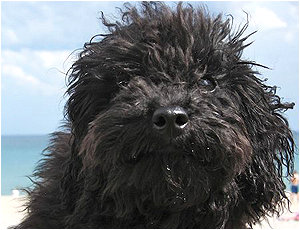 Hell hath no fury like this damn dog
This oily furred, one eyed, foul tempered, sex obsessed toy poodle about the size of an angry rotting ball of yarn was a truly Shakespearean dog. Totally insane, he dominated the other two dogs, though he was less than one-fifth their size. Peebee could have snapped him in half with a single bite, but Cocoa was a deranged little general, spastically trembling at all times but completely in control. It dominated Sheeba, frequently climbing atop the poor creatures head and copulating with her ear, something she allowed with a pained expression that clearly said "Is there no end to this?" Several years before my arrival on the scene, Cocoa had committed an unknown act upon Sheba which was crossed whatever canine line she had drawn in the sand for herself, and in the singe violent act of her life, she bit out her assailants left eye. Sadly the violence broke her will, not his and from that point on she simply allowed whatever happened to happen.
Unsatisfied, Cocoa frequently abused himself by cocking his hind legs over his tiny head and dragging himself along the soiled ancient shag carpeting in the living room with his front legs, thereby abrading his genitals against the coarse synthetic weave. One assumes he found it pleasurable since he engaged in the practice frequently, but the sounds coming out of his tiny muzzle did not sound like joy.
Confronted by these scenes of degradation, Peebee would stand legs wide apart, quivering, almost frantic; "I know I should do something in response to this but I'm JUST TOO STUPID!"
So their terrible doggy triangle dragged on through the endless New Jersey days until poor Sheba finally had enough and died. I found her at the top of the stairs. She must have died the right after we went to sleep, as rigor mortis had already set in, making it difficult to maneuver her outstretched legs around the landing halfway to the kitchen. I managed, and Peebee and Cocoa watched me, two eyes confused and one nearly rattling with mingled rage and grief.
I told you all of that so that I could tell you the story of three other dogs of New Jersey I barely knew. I didn't witness it myself, I only heard the tale afterwards as I was tangentially connected to it, but as you'll see it casts the story of the Jersey dogs I knew in a softer light by contrast.
It seems my stepfather's late first wife had a brother who was flamboyantly gay in a time and setting where such behavior was remarkable enough to be singular. Think Liberace, but instead of fame and pianos, a motel and catering business. That was uncle Bob. Bob had a longtime companion Jim, several years his junior, who at one time had been a spectacularly tanned teenage boy I'm told, but time and alcohol had done much to change all that and by the time I met him he looked like a favorite wallet you've been meaning to get rid of. He'd become the albatross around Bob's neck, always there, always a reminder of all the things he might have grown up to be instead of a dead bird. Once in a fit of tempter he'd bitten off the very tip of uncle Bob's nose, but that's another story. Together they had a dog, a full sized poodle of advanced years, a nice old dodderer who'd gone mostly deaf with a name I don't remember. Jim felt that this dog had begun to reflect badly on them, especially out by the motel pool and demanded something properly flashy in dog/accessory mode. Uncle Bob was contractually obligated to deny Jim nothing, having long ago stolen his youth and despoiled him and so shortly, predictably, two fine young dobermans appeared on the scene. The very first time this trio of dogs were left alone, uncle Bob and Jim having gone to make sure the themed cake arrived on time for a very expensive 'Saturday Night Fever' bah mitzvah party, tragedy ensued. The two dobermans relived the old poodle of its head and ate him. One can only imagine the scene of discovery, and I have.
Where Sheba still alive at the time, I would have sat with her companionably at the top of the stairs, my arm around her neck and said, "You see, it's all a matter of perspective. The cross you bare is not so heavy after all." I think she would have found it instructive and to some small degree, comforting.