Turn Your Brain Off
by: Dr. Boogie
My brother loves The OC.
When I learned this, I was stunned. Here's a man who graduated with honors from one of the most prestigious universities in the US, a man who can read the business section of the paper and not get so bored that I have to scan the page until I find the latest Dilbert comic, and when he wants to be entertained, his first choice is the OC. When he first told me about his interest in the show, I had never seen an entire episode, so I decided to watch one with him so we could bond, I guess.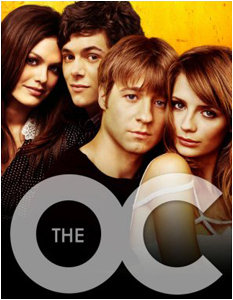 Not since Melrose Place has the plight of rich white people been so graphically portrayed!
After the episode, I had a few questions for him. My first question was about Kevin Sorbo's cameo. I'm so used to seeing him battling hydras and such in the hills of New Zealand that it was a bit jarring to see him making a special appearance as the father of some moody kid on The OC. My brother was just as confused as I was, so I moved onto question #2: Why do you like this show? I usually ask that question of my sister. Well, my brother got pretty mad. He didn't have any defense for the crappy dialogue and unlikable characters, but all the same, he did have an explanation for what I should do in order to enjoy The OC as much as he does: Turn your brain off.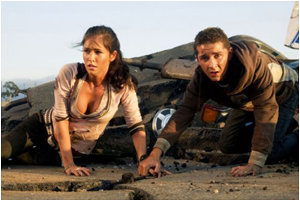 A scene from Transformers: The Movie. Not pictured: Transformers.
A few years ago, a feature film was made about the Transformers. I missed seeing it in theaters, but I did see it when it came out on DVD. Once again, I was confused. Certainly, there were Transformers in the movie, and many of them looked somewhat similar to how they originally appeared in their TV show/action figures/breakfast cereal. The problem was in the details of the film. Details such as the script. Also, Shia Lebeouf was present. Nevertheless, fans of the film eschew criticisms leveled at the film and its director, instead claiming that in order to enjoy Transformers: The Movie, there is but one thing you must do: Turn your brain off.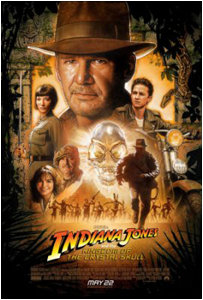 Indiana Jones and the Botched Series Resurrection.
More recently, a new Indiana Jones film came out in which Harrison Ford tackles aliens with magnetic skulls and survives an atomic blast by hiding in a refrigerator. Before the movie was even over, I could hear the defenders' cry: Turn your brain off.
I've always had difficulty turning my brain off. When I got to sleep, I sometimes lay awake thinking about all the stuff I'll need to get done the next day. When I see attractive people saying stupid, boring things in hour-long blocks with commercial breaks every five minutes, I wonder if I shouldn't be doing some vacuuming instead. When I see a CG robot urinating on John Turturro, I start thinking that maybe human evolution is just a myth after all.
The problem with turning off your brain is that once your brain is turned off, it is almost impossible to turn it back on again. Before watching an episode of 24, a man may choose to turn off his brain so that he won't notice that the plot from the previous season has once again been recycled and repackaged so that this time, Jack is angrily whispering about an assassination instead of a nuke. Once the episode is over, the man thinks to himself, I'll just turn my brain back on. As the last precious seconds of his hour with Jack Bauer beep away, the man's fate is sealed. He wanted to turn his brain back on, but it's too late for him. Now, all he can think about is how explosions are cool, and how he can't wait to see that new Dane Cook movie.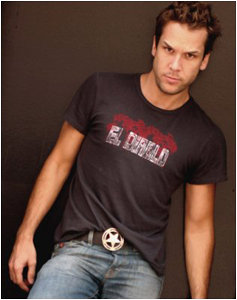 "Many of the things I say are almost like jokes!"
You see, your brain is like a garbage disposal: during normal use, you insert all manner of organic waste (new ideas, funny advertisements, etc) so that it will be chopped up and moved to your septic tank (your memory). However, if you fill your disposal with a lot of grease and potato skins (movies in the "____ Movie" genre, most of what MTV has produced in the last ten years, etc), your septic tank will quickly overflow and sewage will begin to seep into your yard (verbal diarrhea coupled with an earnest interest in what celebrities are doing/adopting).
These days, there seem to be more and more avenues of entertain that can only be enjoyed by turning off one's brain. Some view it as a new extreme sport, like a mental game of "chicken": the competitors face off, taking in one lobotomizing TV show, movie, book, and radio play after another until one of them can stand no more. The catch is that you have to pull yourself away after the other guy relents, but before these things begin to seem tolerable.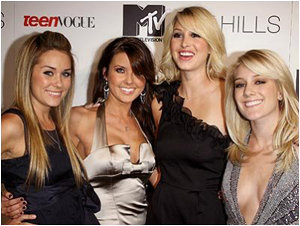 If this is "reality", consider entering a coma.
It's a terrific danger, especially to our younger readers. Peer pressure is a very dangerous thing, kids. Your friends may believe that the cast of The Hills are intelligent, hard-working individuals, but that is because the switch to deactivate their brains has already been thrown.
So beware whenever someone tells you to turn your brain off so that you can enjoy something. And be extra careful that you don't fall for any second-generation versions of "turn your brain off," like when someone tells you that something is an "acquired taste". When they say that something is an "acquired taste", what they mean is that the particular something is so awful that a person will not enjoy it unless they deprogram themselves by taking in massive quantities of the thing while telling themselves that it's actually good.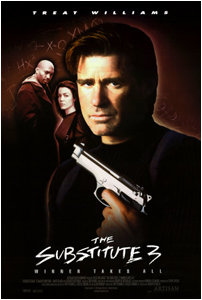 This movie promises to be a Treat!
But some of you will not be dissuaded from deactivating your thought processes so that you can enjoy a night out with friends. For those times, I recommend you abstain from a full brain deactivation, and opt instead for a partial brain deactivation. What does that involve? It involves the viewing of movies that are unintentionally hilarious. Movies like Blade Trinity, and the original Black Christmas, as well as any movie that casts Treat Williams as the hero. While viewing these films, most of your brain will still be active so that you can laugh at the comical dialogue, the scenes that make no sense, and the prevailing idea that someone thought that what you're watching deserved to be made into a feature-length film. Part of your brain, however, will be turned off so that your eyes don't roll completely out of your head during the whole affair.
My brother tells me that he is interested in seeing the new Kevin James movie. If the previews are to be believed, James will perform over an hour of pratfalls and slapstick while dressed as a mall cop. He claimed the movie would be funny because you "won't have to work while you watch it." Oh yes I will, dear brother. My brain isn't going to put itself in permanent shutdown mode.