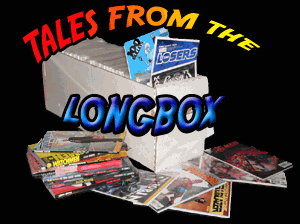 "The Dead Travel The Cosmos... In Spandex!"
10/08/08
by: Protoclown
Two years ago, I did an article about the Marvel Zombies mini-series, in which lots of classic Marvel superheroes got infected with zombieism and munched upon every human on the planet. Last year, I showed you the Marvel Zombies vs. Army of Darkness crossover, wherein Ash from the Evil Dead movies went toe-to-toe with the community of zombified Marvel super-heroes. This year, we're going to talk about Marvel Zombies 2, and whether or not it's the least bit interesting. I'm going to drop a "spoiler" here, and just tell you flat out that the answer to that question is a resounding "no". You see, last time we left our zombies, they had killed Galactus, gotten the Power Cosmic and headed off into space, after eating every man, woman, and child on Earth (or so they believed). There simply isn't anywhere interesting for the story to go at this point, but don't take my word for it--see for yourself.
The sequel starts forty years later with the small handful of surviving zombies (with new, cybernetic replacement limbs!) from the first book (along with a few galactic additions: Gladiator, Thanos, Phoenix, and Firelord) standing on a lonely asteroid at the edge of the known universe, as they suddenly realize that they've eaten everything.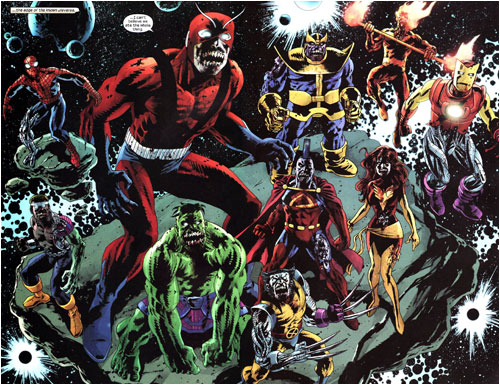 The Marvel zombies realize with horror that even the heartiest of buffets must have its limits.
That's right, there's nothing left. In forty short years, these zombies have flown all over the universe and eaten every living thing they could find. And since this happens at the very beginning of the story, you just know that you're not about to be assaulted with a pointless, boring journey at all. So if you're the writer, Robert Kirkman, where do you take the story from here, when it clearly doesn't have any legs left? Well, assuming you're not trying to milk a dead concept for money, you don't. You're fucking done. This is where the first book should have ended: with the horrific realization that the zombies are completely alone in the universe, with nothing left to eat. Unfortunately though, we're not so lucky, and the story continues...for some reason.
The zombies begin to lament their situation, and Thanos immediately blames Hulk, stating that if Mr. Big Green Fattypants hadn't eaten well more than his share, they wouldn't be in the predicament they are in now.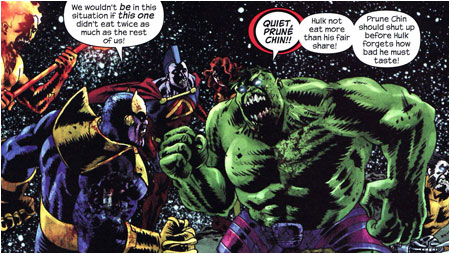 They had a fight to the death over who was allowed to wear purple, or something.
You'd be surprised the things that matter when the whole universe is dead.
Hulk does not much care for that sentiment, so he smashes Thanos's head to a pulp, stating that now he technically can eat for two, since Thanos won't require a share anymore. Of course, this kind of ignores the fact that there isn't any food left to eat anyway, but then, no one ever accused Hulk of being particularly smart.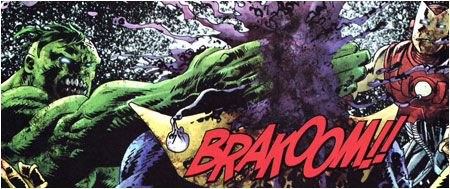 "Hulk not realize that Thanos's head filled with grape soda!"
The starving Gladiator, having never tried the rotted flesh of a fellow zombie before, immediately leaps upon Thanos's corpse and takes a big bite, despite Giant Man Hank Pym's warning. He soon finds himself puking up zombie chunks all over the space rock.


Bulemia isn't just an affliction for humans to suffer. Zombies have to deal with it too.
Giant Man stops and thinks through the pain of the Hunger for a moment, remembering that Reed Richards had made a machine that transported the Fantastic Four to the safety of another dimension. Perhaps if they could find that machine, they could teleport themselves to an entirely new dimension and start over, eating everything that the next universe has to offer. With that, they start the long, long flight back to Earth. As they fly back, Spider-Man tells Luke Cage that he's started to notice the terrible Hunger has faded a bit after not having access to food for so long.
Meanwhile, back on Earth, one of the few remaining survivors (that the zombies don't know about), a young boy, is travelling through the ruins of New York City when he hears a voice calling out from the wreckage. He soon discovers that the voice belongs to the head of zombie Hawkeye, decaptitated by Magneto in the first Marvel Zombies book, where he has apparently remained buried under wreckage for forty years. The boy picks him up carefully, and the zombie shows no desire whatsoever to eat him.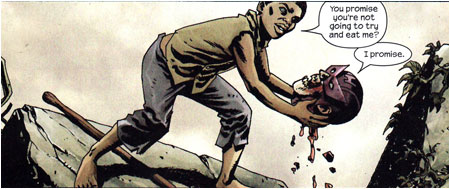 "Sweet! We've been in need of a new soccer ball ever since the last one popped on a rusty I-beam!"

We then cut to the capital of New Wakanda, last remaining human civilization on Earth. T'Challa, the Black Panther, who survived the first Marvel Zombies minus an arm and a foot (but now with cybernetic replacements), is talking with Forge and his wife (unnamed, but she looks an awful lot like an even older Aunt May, and even though we saw her die already she is apparently immortal in all Marvel continuities) about how the long-dead Magneto's Acolytes want to steal the seat of power from T'Challa and take over New Wakanda for themselves, those dastardly devils.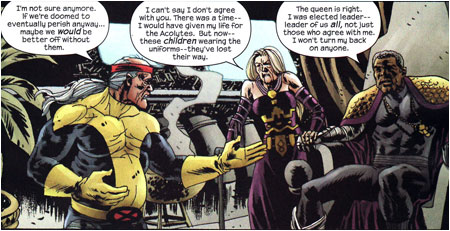 "Welcome, Forge! Can we get you anything? Some wheatcakes, perhaps?"
They're talking about how they're all getting older and soon they won't be able to run things anymore, when suddenly Wasp (Janet Pym) walks in with T'Challa's grandson, who is carrying zombie Hawkeye's head in his hands. Wasp, no longer affected by the Hunger, suggests that she can turn them into zombies and make them immortal so they can rule forever, but surprisingly, they're not wild about that idea.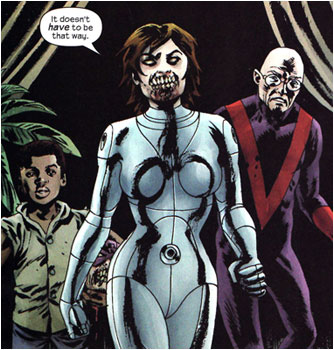 Poor, foolish Sarah Connor was so concerned about the robots destroying the Earth,
when really, it's the zombie robots she should have been worried about.
T'Challa then notices that his grandson is carrying the zombie head of his former friend, and Forge tells him to bring him over carefully. It's time for the experiments to begin!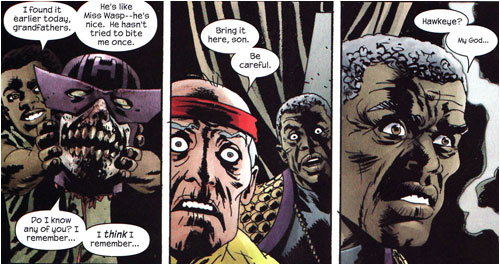 "Who wants zombie kisses! Does Grandpa want some zombie kisses?"
We cut back to the space zombies, to witness them taking a break in their voyage to feast on a living planet they somehow missed before. (In a sense, though, aren't a lot of planets "living"? Isn't our own?)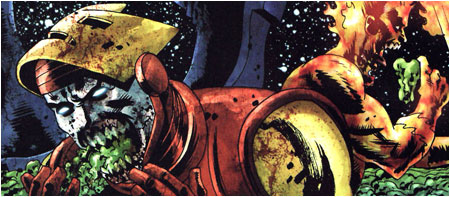 Boy, won't they be disgusted when they find out that Soylent Green isn't actually people,
but rather a bunch of chemically altered, factory processed pseudo-meats.
Back on Earth, the human scientist Reynolds has had a look at Hawkeye and determined that he's not really a danger to the group because he no longer suffers from the Hunger. Then he puts his head on the Wasp's original robotic body, because it apparently amuses him to see Hawkeye with metallic breasts (I know it does me).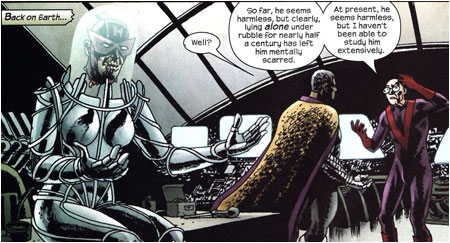 "Cannot fight the Hunger... must... grope... self!!"
Then we see son of Magneto Acolyte Fabian Cortez preaching to a bunch of other Acolytes about how T'Challa's time is done, that they have fucking zombies on their payroll, and it's time for a change, and blah blah blah. One of his men attacks the Black Panther in the middle of the night, inflicting him with a grievous stab wound.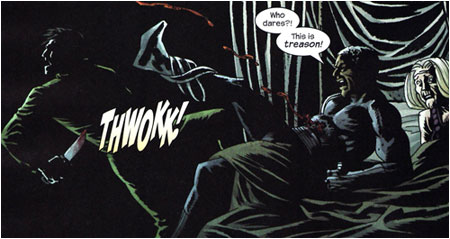 Never, ever, ask for a wake up call at the Days Inn in Kosciusko, MS. Just trust me on that.
T'Challa fights off his attacker, because he's the fucking Black Panther, and Wasp arrives in time to finish him off. Sensing that he's only got minutes before he bleeds to death, she decides to administer some "medical aid" by biting him and turning him into a smelly, horrible zombie like her.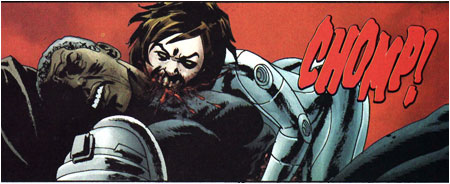 "Dammit, woman, I'm the King! It's unsightly for me to be walking around with a hickey!"
After tasting human flesh again, Janet is suddenly overcome by the Hunger, and makes a lunge for T'Challa's wife (who is totally Aunt May), but is stopped by a furious T'Challa, who demands that she leave his wife alone, pointing to the corpse of his attacker and stating that they should feast on him instead. After chowing down on another human being (and advising his wife not to look), T'Challa sits in shame, realizing what he has done. Wasp has a plan to contain them both in a holding cell before the Hunger takes hold of them again, where they will wait for it to fade so that they can come out again and act like responsible, friendly zombies.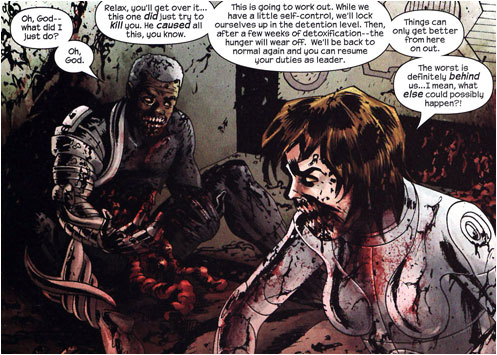 T'Challa reads the future in his entrails, and it doesn't look good. Mostly because he's all out of entrails.
Back in space, Spider-Man jokingly asks the group of zombies "Are we there yet?" one time too many, causing Hank Pym to turn around and go off on him, telling him to shut the fuck up and stop being so damned annoying. Spidey's response is to shoot Giant Man in the mouth with webbing, which of course further enrages him.


BUKKAKE TIME!
A fight damn near breaks out, as Giant Man prepars to kill Spider-Man, and the tension has to be broken up by Iron Man and the Hulk of all people. Yes, the Hulk just invervened and helped break up a fight.


"Hulk know that Spider-Man can be asshole, but Hulk still think Giant Man need take chill pill!"
Meanwhile, on Earth, T'Challa and Wasp are still locked away in the holding cell, while Black Panther's grandson hangs around outside, not understanding why his grandfather is locked up and wanting to free him. And Cortez talks with Forge, trying to convince him that since their leader is now a flesh-eating zombie, the people are never going to follow him now (apparently he is unfamiliar with the politics of the last hundred years).


"Okay seriously, it is starting to smell REALLY bad in here, you guys. You can let us out now.
It's cool. I promise we won't eat you!"
Back in space, Peter Parker and Luke Cage have a deep conversation about how Spider-Man jokes around to mask his insecurities, while Forge informs the now Hungerless T'Challa and Janet Pym that Cortez has started a real movement out there, and uh, he doesn't think he'll be able to get them out anytime soon. The reality is that Cortez has gotten Forge to ostensibly agree to execute the zombies tomorrow morning, but he sneaks back into the prison area with Reynolds and Hawkeye in the dead of night and releases them anyway.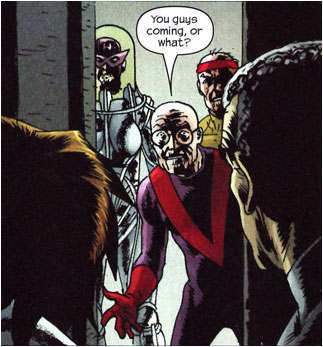 "Alright, I've got a sexbot and an old guy who's up for anything that gets him in more drugs,
but I gotta tell you up front that couples cost extra."
As they quickly and quietly dart through the hallways to reach the outside, Forge and Reynolds tell them the plan is to hide them out in the woods for a couple months, by which point they think that the people will have rebelled against Cortez and ousted him from power. Then they can come back into town and everything will be cool. But when they get outside, they are surprised to see...Cortez and his men, waiting for them!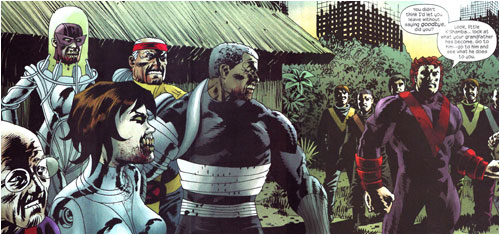 "I can't believe you guys were going to go to dinner without the rest of us! You are some selfish assholes!"
Cortez rambles on for a while, giving a long speech about how their leader has clearly become a monster, he's not fit to lead, he should be put to death, blah blah blah, when suddenly he realizes that everybody has this really shocked look on their face and they are staring at the air behind him. He turns around to see what they are looking at, because he knows he's not that awesome, and sees this: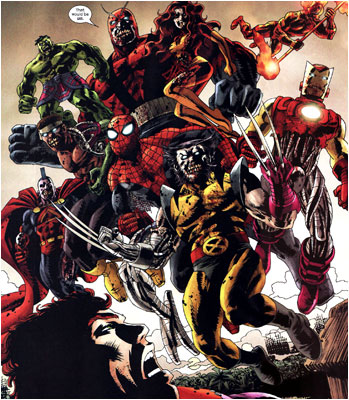 The zombies would always pose for a moment before going after their prey.
For the photographers.
Giant Man asks the survivors how in the world they managed to escape detection for so long, and that's when Janet tells her ex-husband that they don't have to be slaves to the Hunger, that they can beat it and live in harmony with the humans. About this time, Hulk shouts "Enough talk!", lands on the ground and starts biting off heads.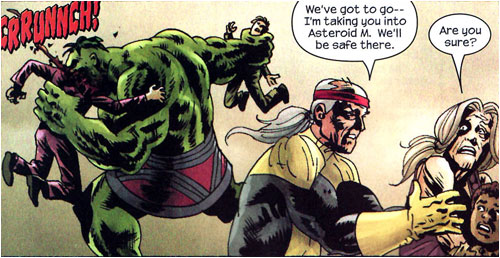 Old Man Jenkins was also known around the commune grounds as "Old Man Cop-a-Feel".
Chaos erupts as the big green goliath starts rampaging through the settlement, but Giant Man restrains him, telling him that they need to stop and think this through. He explains that they ran out of food the last time because they just ate everything without pause or discrimination, but he advises that if they create breeding camps and savor what they have, they can be in a constant supply of fresh human flesh forever!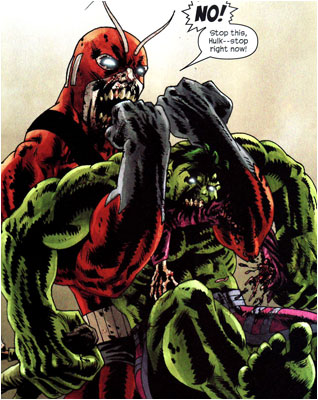 "Oh, darn it all! I never could get the Heimlich down quite right! Can someone who
knows what they're doing come over here? A little help? Choking on a torso? Hello?"
But Spider-Man feels a twinge of guilt at this, says he won't be a party to it, and shoots Giant Man in the head with the Power Cosmic!


"Okay, hitting me in the head with a lava lamp? Not cool. If that thing breaks, you're cleaning it up."
Spider-Man unloads all of his guilt on Giant Man, talking about how he's haunted by all the horrible things they've done, how he hasn't felt the Hunger in a while, and how he remembers a time when they used to be heroes. But Giant Man is less than impressed by this.


"Oh, crap. Is my head open? It feels breezy. Does anybody have any duct tape?"
An all-out fight then breaks out, with the humans desperately trying to escape as zombie fights zombie on the grounds of the New Wakandan capital. During the battle, Black Panther radios to Reynolds, who is inside the compound, and tells him to activate the special forcefield they cooked up years ago. It surrounds the building, keeping all of the zombies safely outside its perimeter.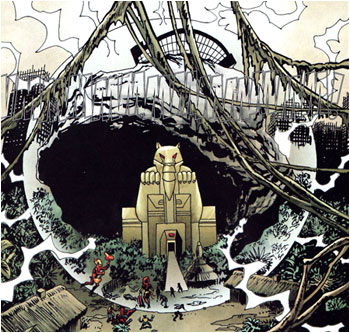 After switching on their forcefield, the Thundercats know they are totally safe against the forces of Mumm-Ra.
They feel a lot safer inside their sphere of safety, that is until they realize that they accidentally trapped Gladiator and one half of Luke Cage in there with them!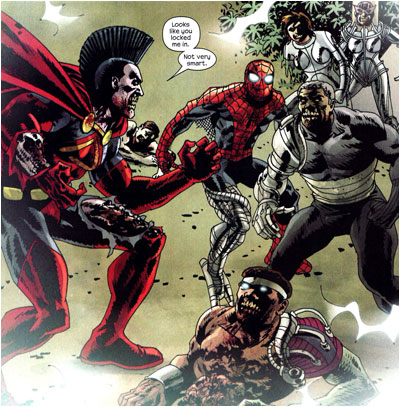 "Fools! You have trapped me, Gladiator, inside your protective sphere!
Now, break out the oils and get ready to wrestle!"
Spider-Man tries to appeal to his sense of heroism, reminding Gladiator that he was a protector of the people, but Gladiator merely informs him that these humans aren't his people, and that the zombies killed and ate all of his people a long time ago, so he's kind of feeling the whole revenge thing. Black Panther doesn't much care for his answer and lunges for him in anger, but Gladiator easily punches a huge hole in his chest and throws him to the ground.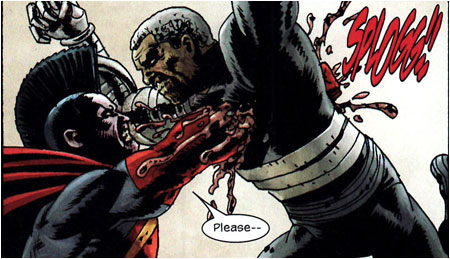 "Come on, Gladiator, have a heart! Um, I didn't mean that literally."
THERE'S STILL MORE ZOMBIE MADNESS TO SEE!
CLICK HERE TO CONTINUE TO PAGE TWO!