by: -RoG-
I'm a huge fan of yard haunts - always have been, always will be. There's just something special about a person so in love with the Halloween season that they'll turn their home into a land of nightmares once a year for a month or so. Ever since I moved out to SoCal, I've seen some of the most incredible home haunts in the world, and I still make a point to visit certain ones (like Boney Island) every year.
Last year, I heard about a local yard haunt that a 16-year-old named Dan Bootzin had been putting on since he was 12 called the Ambrose Haunted Maze. The fact that he had been putting on this haunt from such a young age was more than enough to pique my interest, so we paid a visit to Ambrose Avenue in the Los Feliz neighborhood of Los Angeles to check it out. Upon our arrival, we were already amazed by what this teenager had put together: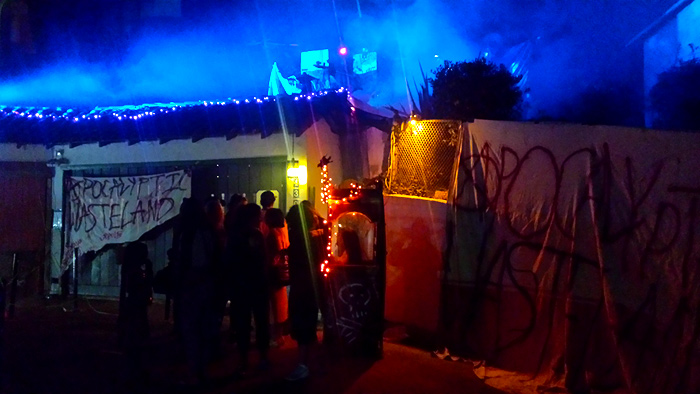 Built up on the yard of a house in the hills, the theme for last year's haunt was "Apocalyptic Wasteland", and Dan and his friends spared no expense to make it look fantastic. Torn pieces of fabric with blood red text frantically painted on, colorful lights, horrific sound effects playing everywhere, and fog machines running on full blast. It's everything you could want when walking up to a homemade haunt for the first time.
But there was another something special: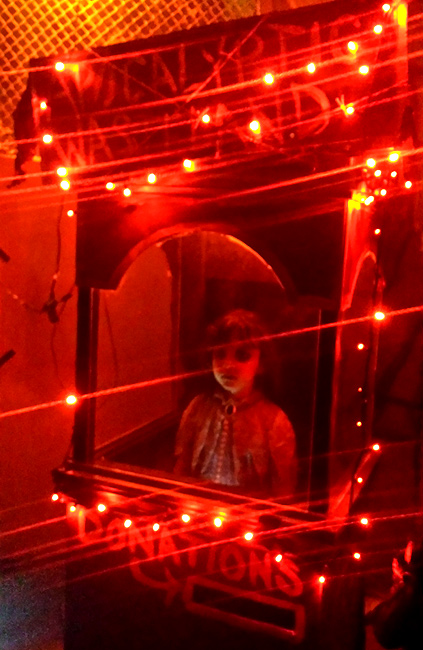 THIS GIRL!
While entering the Apocalyptic Wasteland was free of charge, they set up a mock ticket booth where they were accepting donations. Inside the booth, resided a ghoulish little girl with hollowed out eyes and a blank stare on her face. Soon as you approached her booth, however, she would slam her hands on the ticket booth window. She was sooooooo into her character, and we all laughed as she continued to startle unsuspecting new visitors. Even if there was no yard haunt at all, I think people would still donate just for her performance alone. And yes, everybody was donating... it was too good not to.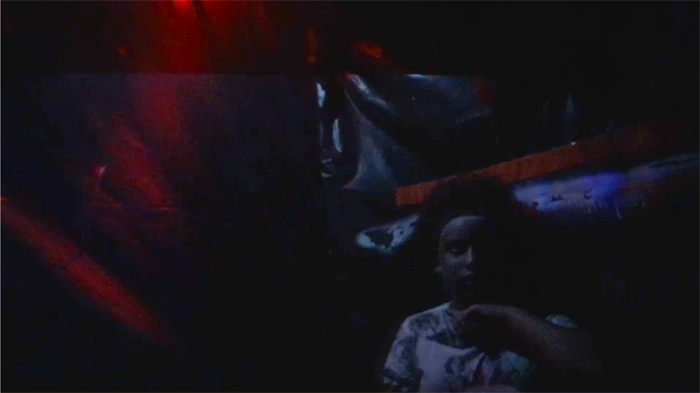 Upon first entering the maze, we were surrounded by huge sheets of black plastic tarp with warnings spray painted on them, along with creepy characters like this fella, who was more than happy to gesture to us that we weren't going to escape with our heads intact.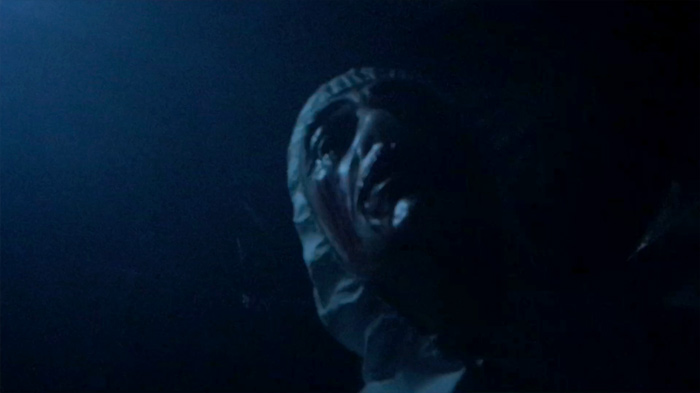 And then there were masked maniacs like this person, who'd jump out of the darkness and get right in your face, to give you a jump scare while you were busy staring at a toxic biohazard warning sign. Gotta love misdirection like that.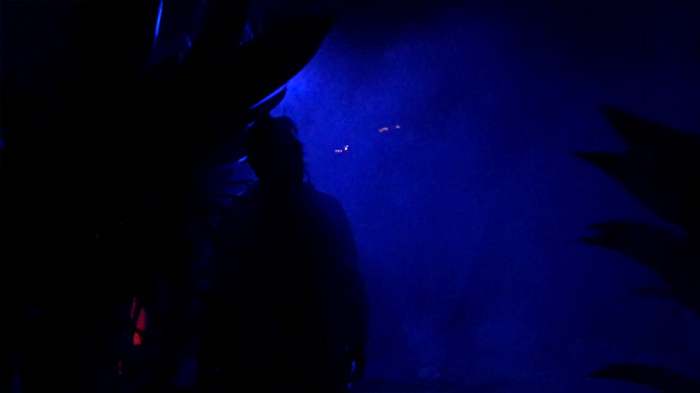 And just look at that lighting. No camera tricks there, folks... it simply looked that good. He may only be sixteen, but Dan already knows how to create a perfectly horrific atmosphere that rivals just about any professional haunt. I hope he gets a job at some theme parks sometime, cuz I'd love to see what he could do with a larger team and budget sometime.
Before we leave, I'd like to share with you this video featuring a full walk-through of the Ambrose Haunted Maze:
Keep in mind, since it was completely covered up, this maze was extremely dark, so it will be hard to see much of it in the video. Still, you'll see some nice glimpses of just how much work they put into it, and the fact that it takes a full 5 minutes to walk through the entire thing, gives you an idea of just how large the Ambrose maze really was.
I love everything about this yard haunt, from the decorations and the ticket booth ghoul girl to the fact that the official Ambrose Haunted Maze web site looks like it could've existed on GeoCities. If you'd like to learn more about the teenage creator, check out this Los Angeles Times piece on the Ambrose yard haunt.
And yes, if they bring it back again, you can bet that I'll be checking out the Ambrose Haunted Maze this Halloween season. If you live anywhere within driving distance of the SoCal area, I suggest you do the same, or the dreaded ticket booth girl just may come after you.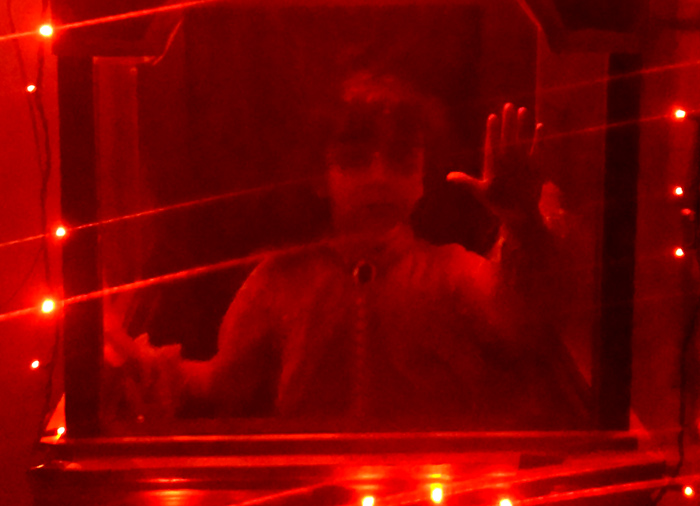 The horror! THE HORROR!
If you've enjoyed all the years of free content I-Mockery has provided, please consider purchasing a copy of our all new Halloween horror game, Grave Chase, now on Steam for PC, Mac, & Linux! It helps us out and you'll have a blast playing it!
Have any questions or comments about this piece?
SHARE YOUR THOUGHTS IN THE READER COMMENTS SECTION BELOW!