by: -RoG-
For many years, we've waited to see Boo Berry have his chance to shine in the limelight, rather than being cast aside by his other so-called Monster Cereal brethren as a mere afterthought. This Halloween, that's all changing, and there is no denying it, because it's coming straight from the source: General Mills.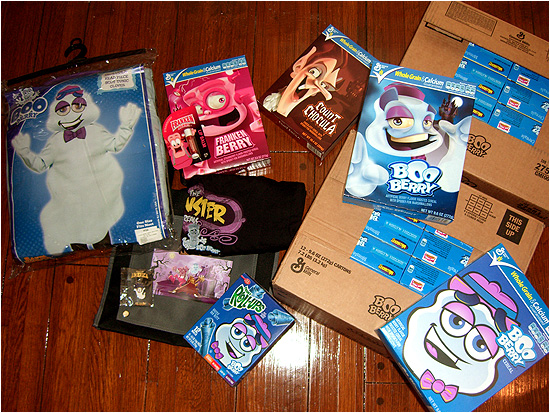 The other day I received a surprise in the mail from General Mills; they sent me a nice canvas bag with a printed image of Boo Berry, Frankenberry and Count Chocula near a haunted house on it. Inside the bag, was a new box of each of their monster cereals for the 2010 Halloween season, along with some other goodies such as a Boo Berry pin and t-shirt. They also sent a big Boo Berry Halloween costume, which I'll be showing you in more detail momentarily.
Upon closer inspection of their package, I realized that the box of Boo Berry cereal they sent me was their old design from 2009, which I love since it looks like the classic Boo, but I still wanted to see what their new Boo Berry box looked like. When I alerted them to this error, they didn't just sent me one replacement box... they sent me two full cases of Boo Berry cereal! I haven't had this much Boo Berry cereal to eat since I did the Totally Obsessed episode for VH1 years ago. So yeah... with two full cases of Boo Berry, I'm definitely set for breakfast for at least a couple weeks.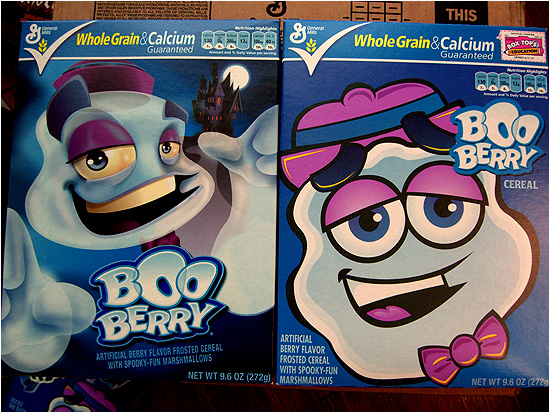 As you can see, Boo Berry and the other monsters were given a cartoonish revamp this year, and while I'm not a fan of this new look at all, I understand why they'd try this style. He now looks all 3D and shiny like half of the cartoons you see on TV, so at the very least, I hope this artistic sacrifice makes some young kids out there want to try the cereal for the first time. Once the kids are hooked, General Mills can return to the old design and count on future generations of Boo Berry addicts.
And no, I don't think this is the worst Boo Berry design ever. Let's not forget that they practically made him look like Casper the friendly ghost in the late nineties. It appeared as though Boo Berry was on a Prozac overdose. So in comparison, this new Boo at least looks slightly better than the overmedicated one. That said, I really hope they change him back to the classic, lazy stoner-eyed Boo Berry that we've all grown to love over the years, instead of this pseudo-Pixar nightmare version.
There is a silver lining to this new design, however... for on the back of the box, Boo Berry has finally taken on Count Chocula and Frankenberry in a Monster Cereal Showdown!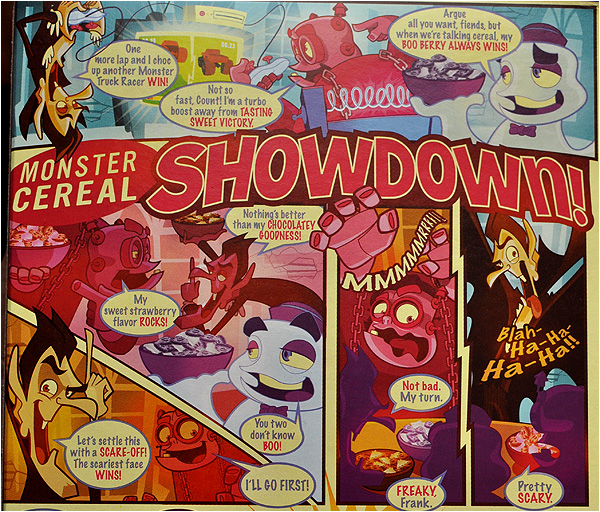 As Count Chocula and Frankenberry play some fictional "Monster Truck Racer" game, which they've naturally excluded Boo Berry from participating in, he reminds them that his cereal always wins. This causes them to set down their controllers and hold a Monster Cereal Showdown to see which cereal truly reigns supreme. They each present their arguments, "Nothing's better than my chocolatey goodness!", "My sweet strawberry flavor rocks!" and "You two don't know Boo!"
Compelling arguments from each side for sure, but nothing decisive enough, so they agree to settle it with a "SCARE-OFF" in which whomever makes the scariest face, wins the title of the greatest monster cereal. Personally, I would've just gone with a public taste test, but I don't pretend to be a monster, nor do I pretend to understand the first thing about the intricacies of their social structure when it comes to settling an argument, so a "scare-off" it is.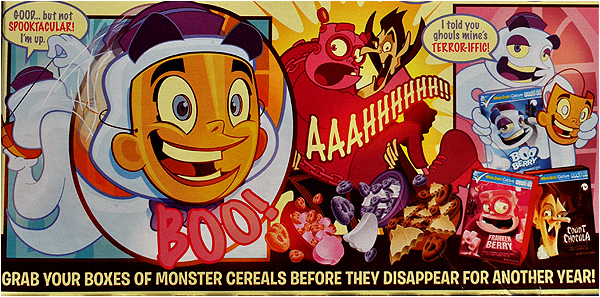 Frankenberry and Count Chocula make their best attempts at scaring everyone, but Boo Berry puts on a mask that looks like a super happy kid (quite reminiscent of Howdy Doody, minus the freckles) and it scares the daylights outta the other two monsters. That's right... Boo Berry has now won the title of Best Monster Cereal! He even gives a bold victory speech: "I told you ghouls, mine's terror-iffic!"
With General Mills printing this on their monster cereal boxes, the results are clearly official. So, I'd like to congratulate Boo Berry on a title that has been LONG overdue. And yes, I checked the back of the new Frankenberry and Chocula cereal boxes to make sure the story wasn't altered in their favor, but it's the same on each box with Boo Berry emerging as the clear victor.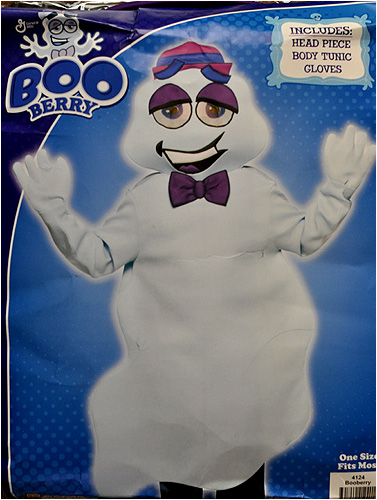 Next, there's the new Boo Berry costume, which (thankfully) is based on his traditional monster cereal form and can now be found in most seasonal Halloween shops. As you can see, it looks nice on the package, so let's see how it looks in real life.
Ok look... I love this thing. It's admittedly goofy looking, but it's also instantly recognizable as Boo Berry, from the heavy eyelids and pronounced eyebrows to the always-in-style bow tie. They even made sure the gloves had only four fingers, so there's nice attention to detail. I already consider myself quite lucky to have procured one of the old Boo Berry mail-away costumes which enabled you to dress up as a box of his cereal, but this is clearly an upgrade for anybody wanting to dress as Boo Berry himself.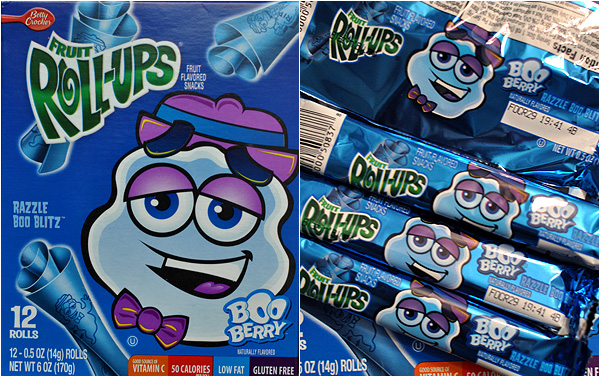 On top of all this, Boo Berry now has his own special variety of Fruit Roll-Ups! It's the same "Razzle Boo Blitz" flavor as the Boo Berry Fruit By The Foot from several years ago, but this time his face is actually printed on the Fruit Roll-Ups. I also appreciate that they actually customized everything from the box right down to the nice 'n shiny individually wrapped rolls.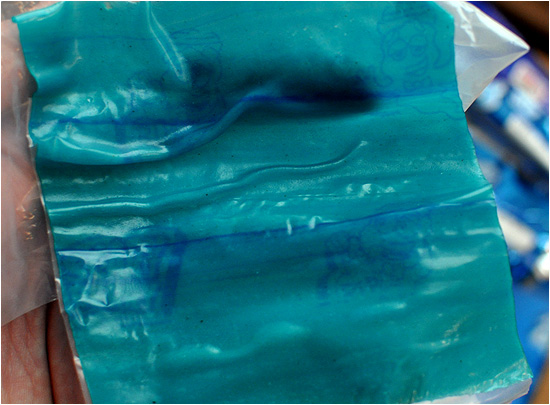 These things are really sticky, so they can be hard to unravel without destroying them, but if you manage to do so, you'll see Boo Berry peeking out from behind a tombstone and smiling at you. Yes indeed, Boo Berry's face has been immortalized on squashed, imitation fruit. I say we can chalk that up as a victory for our spectral cereal pal.
If nothing else, 2010 will be remembered as a banner year for Boo Berry. General Mills, thanks for sending me all these goodies... now go get to work on a better Boo Berry box design for Halloween 2011. I'd like to suggest a special "glow-in-the-dark" Boo Berry cereal box. Come on Big G, make it happen. You just might make Boo Berry blush if you do.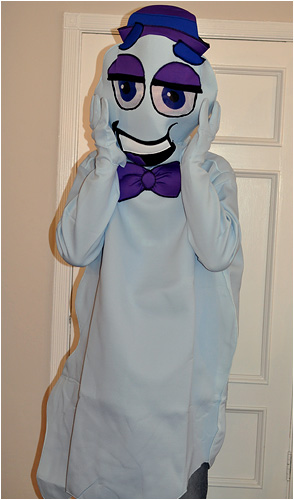 Have any questions or comments about this piece?
SHARE YOUR THOUGHTS IN THE READER COMMENTS SECTION BELOW!