by: -RoG-
Once again, Halloween has proven to be the king of all holidays, especially when it comes to insane import novelty items. Many of you probably recall imports I discovered in previous years like Death's Head Terror and a Power Weapon. Well, in mid-August, I paid a visit to Halloween Club, which is basically the largest Halloween shop in Southern California. It being so early in the season, they had several large folding tables near the front of the store filled with a wide variety of super cheap close-out items that they were trying to get rid of before business started picking up. Most of it was junk nobody would want, but then I noticed a pile of small boxes that seemed completely out of place...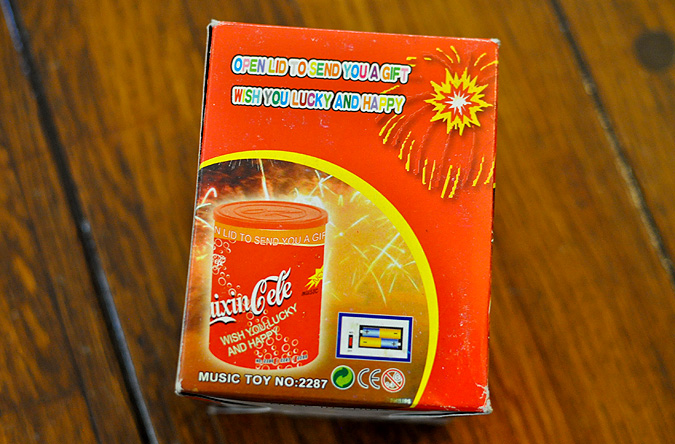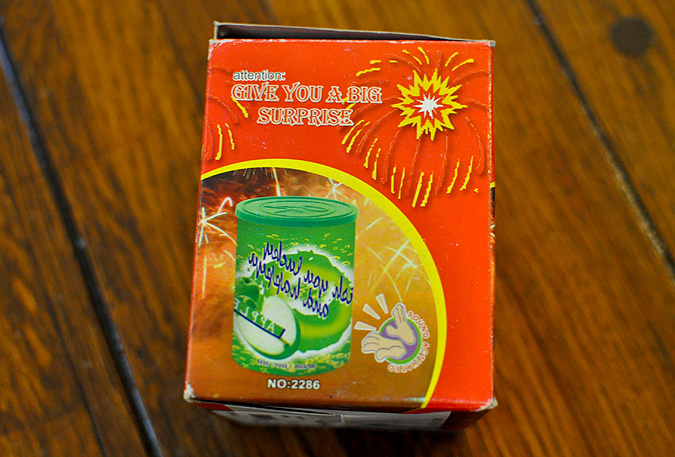 At first glance, they appeared to be some kind of food cans from Japan. Each box was covered in bad english including, "Open lid to send you a gift", "Attention: Give you a big surprise", and "Wish you lucky and happy". Upon closer inspection, I realized they were some kind of sound activated novelty items made to look like soda or treat cans. I figured it was the ol' classic snake in a can of peanuts gag, but then I turned the box over and received my first true shock of the 2015 Halloween season. Prepare yourselves...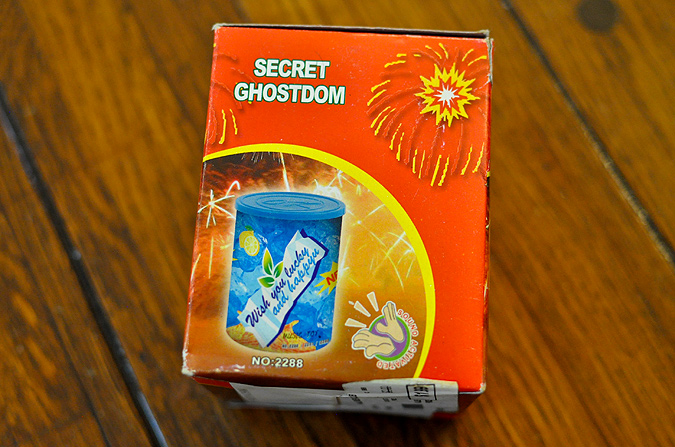 "HOLY SHIT!" was the exact phrase I shouted in the store upon reading that text, to which the clerks at the front desk immediately raised their eyebrows. I couldn't help it. I mean, do you see what I see? Secret Ghostdom has returned! SECRET GHOSTDOM IS BACK TO HAUNT OUR HALLOWEEN DREAMS! For those of you not familiar, I wrote about two different Secret Ghostdom toys last year that I was lucky enough to find, but never in my dreams did I consider a third one might be out there. Now we have ourselves a genuine Secret Ghostdom trifecta! Here's hoping this Secret Ghostdom features "SHAKE PRONUNCIATION IRRADIANCE! HOO! HOO! HOO!" just like the others. Alright, let's take a closer look.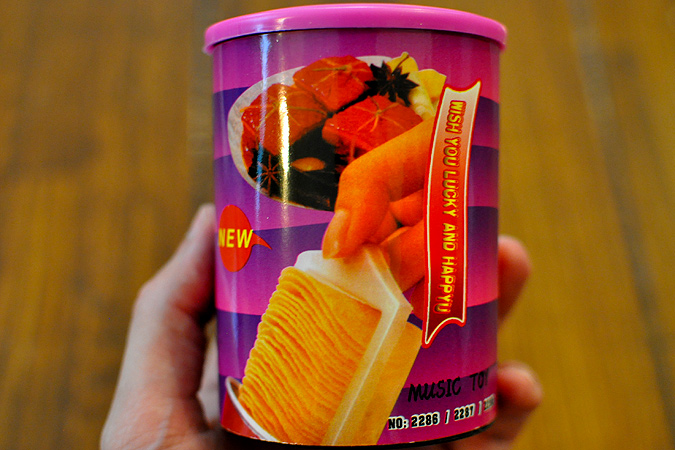 Each box seems to have a different can design. Some look like fruit snacks or chocolates, while others look like Pocky treats, but my favorite is this Pringles one with the unique inner plastic chip container. Really a brilliant idea when you think about it; instead of having to dig down into the can, you can just pull out this plastic caddy and remove your potato chips with ease. There also appear to be some kind of steaks in the background. Perhaps they're supposed to appear like beef-flavored pringles? Considering all the strange snacks I've sampled over the years, I'd give 'em a try.
They also took the bad english one step further, by adding a "U" onto the end of "WISH YOU LUCKY AND HAPPYU" for some reason. Whatever that reason is, I approve. Also, the gag would probably be more effective if they didn't actually print "MUSIC TOY" on the side of the can.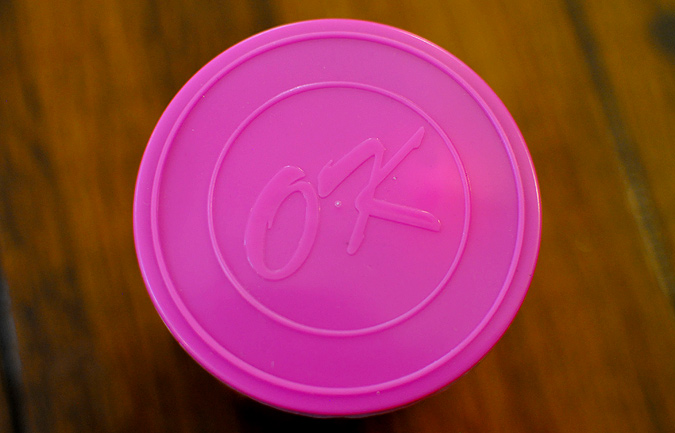 The lid of the cans all said "OK". Perhaps I'm not as well-versed in Asian humor as I should be, but I'm guessing this "OK" is meant to give the would-be potato chip consumer a false sense of security. You know, like, "Don't worry, this is a completely normal can of potato chips. Everything is going to be OK."
Alright, it's time to pop this sucker open and see what lurks inside...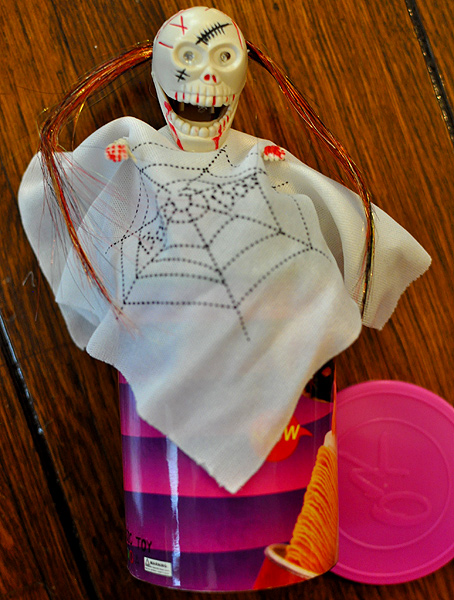 As the old Pringles ads used to say, "Once you pop, you can't stop.", and I can't stop staring at what just popped out of this can. SECRET GHOSTDOM LIVES! I feel like I've just reconnected with a long lost friend. Seeing that huge grin on his bloody and inexplicably scarred skull is simply the best. Secret Ghostdom still has his patented sheet with the "Boo Boo" spiderweb print on it. He also has extremely short, bloody hands - though there's no bone microphone with this one.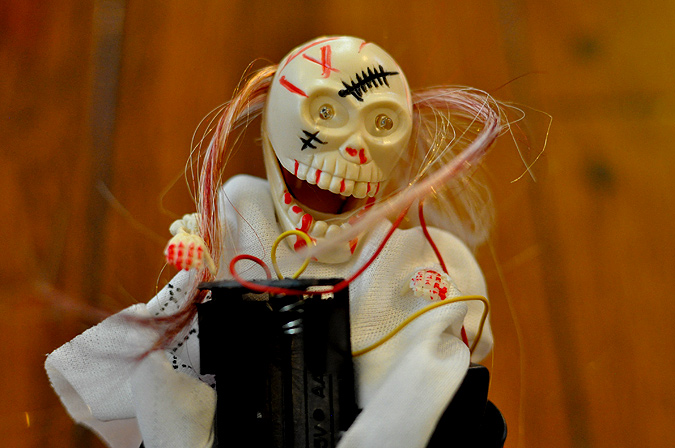 I looked around for a switch, and crammed down underneath Secret Ghostdom was a battery pack. I certainly shouldn't have expected a bizarre, generic import toy like this to include batteries. Honestly, with toys of this nature, the best you can hope for is that they actually work. More often than not, they don't. And now it's time for the big moment... will it turn on?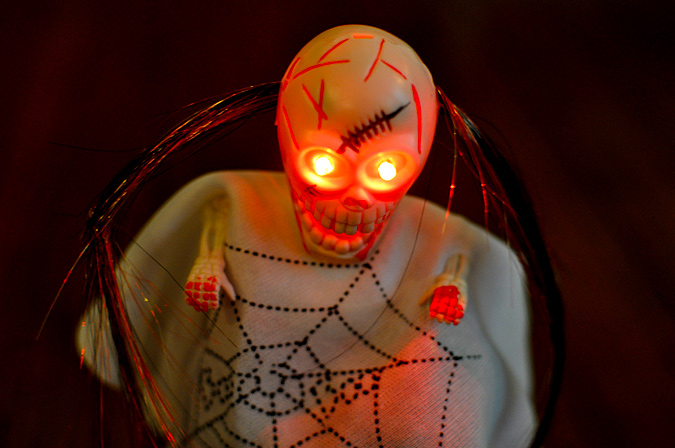 YES! Not only does it turn on, but Secret Ghostdom let's out one of those nonstop laughing bag sound effects that we've all heard a million times before. And man, do those eyes everglow red as a Kryptonian sun. Even more hilarious to me though, is the fact that it begins laughing and lighting up before you even get a chance to open the can, completely ruining any possible chance of this terrifying gag actually surprising anybody.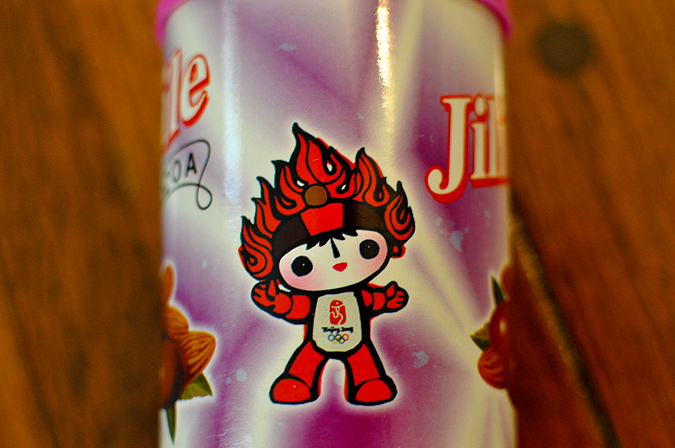 Something else I should mention; I just noticed one of the other cans features the 2008 Summer Olympics mascot known as Huanhuan, one of the five Fuwas (good-luck dolls or "Friendlies"). While this clearly wasn't licensed, I can only hope that this is a hint that Secret Ghostdom will be appearing as a mascot in the 2016 Summer Olympics. Or, even better, perhaps Secret Ghostdom will be competing in them!
Now I'm sure you want to know exactly how this Secret Ghostdom toy looks and sounds in action, so here you go:
Wow. With that voice, maybe Secret Ghostdom can sing the national anthem at the Summer Olympics instead. Either way, I'm just glad to know that there's yet another Secret Ghostdom Halloween existing in the world today, and it gives us all hope that more will be found in future Halloween seasons. I guess there's really only one thing left to say...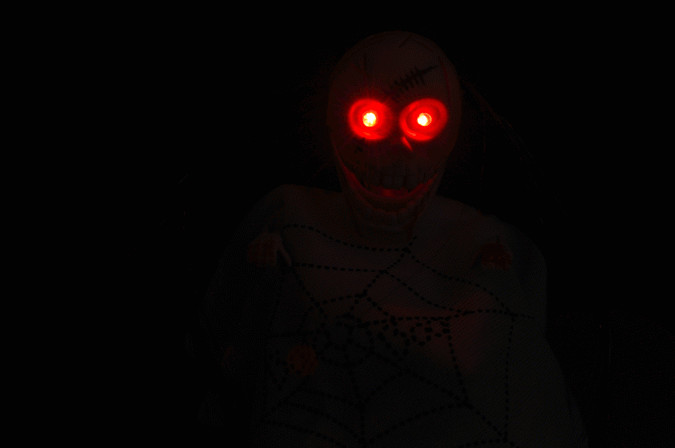 WISH YOU A LUCKY AND HAPPYU!
Have any questions or comments about this piece?
SHARE YOUR THOUGHTS IN THE READER COMMENTS SECTION BELOW!