by: Protoclown
If you pay attention to horror movies, you'll notice that there are popular monster trends that catch on about every decade or so, and everybody and their brother has to make a movie featuring that monster, until everybody gets completely sick of them and nobody wants to even think about them anymore, let alone watch a movie featuring them.
Right now of course, the popular monster is the zombie. Sure, zombies have been in movies going back a long way, but these days it seems that every other horror movie is a badly made zombie flick, with nothing new or interesting being tossed into the mix--these films are obviously an attempt to cash in and milk the monster cow as long as it's still producing. Sure, there are always exceptions to this rule (28 Days Later, Shaun of the Dead, and the Dawn of the Dead remake are all good examples), but for the most part it's pretty boring fare.
Back in the 90s, vampires were all the rage. It seemed you couldn't shove a stake into somebody in a crowded movie theater without hitting a vampire. And most of said vampires were boring, unremarkable, and utterly forgettable. Vampires kind of fell out of popularity for a good while there, and they're only just now starting to make a comeback into popular culture.
So now that zombies are being ruined for me (at least temporarily), I'm starting to wonder: what will be the next big thing? What new monster will come out, or what old one will have a resurgance in popularity, so that anyone and everyone wanting to direct a horror flick latches onto the idea until people get totally sick of it? I've been considering some options, and I think I've narrowed it down to this small field of potentials: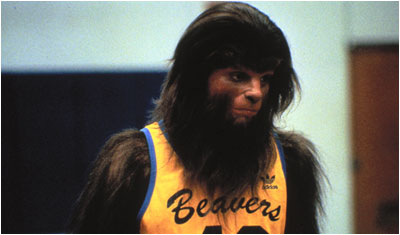 Werewolves
These seem an obvious choice, as the special effects necessary to portray them well did not really exist until fairly recently. There have been a few examples of them appearing in film over the years, but they've never really taken off to the point that vampires and zombies did. All it'll take is for one director to portray them really well, and then everybody will be all over the idea. And just think of all the potential to show awkward werewolf moments, like shedding fur at really embarrassing times, or having a messy diarrhea attack that, well, let's just say with all that hair down there cleanup would probably be a bit of a problem. And just think how disgusting werewolves having sex would be. All that sweaty, sticky, matted hair. It'd be like watching 1970s porn times a thousand. You know that some director is just waiting to show that on the big screen.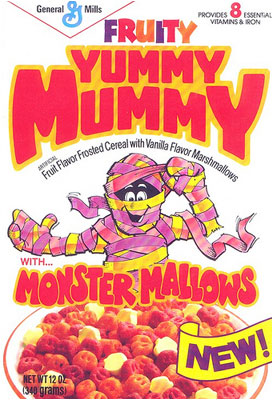 Mummies
This is a monster that usually operates alone, but imagine if some archaeologist uncovers an ancient tome in an ancient tomb, and blowing the dust off the cover, he unwittingly breaks the seal that kept the spirits of Egypt's dead royalty in the netherworlds, and they all come to life at once, terrorizing the Egyptian desert! Okay, we'll have to make them a little more dangerous to Western audiences--so how about they have an extensive network of underground tunnels leading from their pyramids and tombs, and after months of long travel, they pop up out of the sewer systems of Europe and North America!
Imagine a scene with me: a college age guy is with his girl and is about to get laid, when suddenly he has to pinch a major loaf. He goes off to the bathroom. He sits down and takes care of his business. He sits up to wipe himself (he has to be one of those people who wipes while "hovering", or this bit will never work) and absently reaches out for the toilet paper, while wistfully daydreaming of all the wild sex he's about to have, when suddenly he notices that the toilet paper feels kind of...ancient in his hand. He looks over, only to discover that he's pulling the wrapping off a mummy's outreaching, clawing hand coming up out of the bowl...

Creatures From the Black Lagoon
Okay, this doesn't specifically have to refer to that iconic horror creature--it could refer to any number of swampy, man-thingy kind of merpeople that rise from the depths. I just like the look of that creature, so I prefer to imagine them that way. Imagine a film opening with a father and son on a fishing boat out on the water, enjoying the calmness of the refreshing breeze as the gentle waves rock them slightly back and forth. The boy finishes a Pepsi (product placement!) and carelessly tosses the can in the water. Well, unbeknownst to him, that piece of trash was THE LAST STRAW!! After decades of using their habitat as our trash can, they're not going to take it anymore! A scaly green clawed hand rises up out of the water and angrily grabs the boy's wrist, quickly pulling him under the water's surface. After this initial attack they rise up out of the seas, lakes, oceans, fry vats and large puddles of the world to take vengeance on us for our littering ways. And they won't be satisfied until they take our women (and pretty men) down to watery graves! (They're not actually trying to kill them, they're trying to marry them. They're just not really very smart).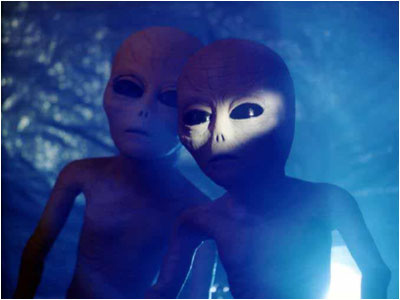 Aliens
This has always been more of a sci-fi staple, but they can be make for good horror movie monsters as well (if the screaming that permanently damaged my hearing when I saw Signs in the theater is any indication--but then again, perhaps they just really didn't like Shyamalan's directing). There are an endless number of variations one can apply to this idea--you can have them be as monstrous or as humanlike as you prefer, they can be mindless creatures of rage and aggression, or they can be cold and dangerously intelligent. And imagine the kind of anal probing scenes that you can now achieve through CGI--the kind of stuff that would never have been possible before without permanently debilitating the actors! I have a friend who was a marine, a real tough guy type. There's not much that scares this guy, but one thing he's terrified of? Little gray aliens. Nobody wants to be probed.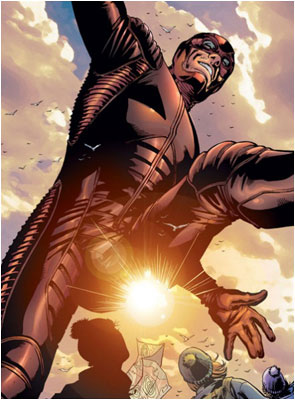 Big Giants That Walk Humans Around
on Leashes Like Dogs and Watch us Poop
Actually, this isn't even an idea for a movie; this is some horrible dream I had. Believe me, it was scary though. You don't want this.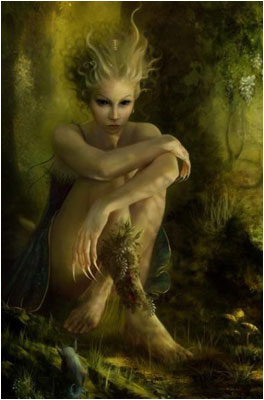 Faeries
Yeah, if you're just thinking of gay little Tinkerbell fairies that cast about on sparkly little wings, I guess they're not too imtimidating. But if you consider the fickle fae of ancient folklore who would just as soon kill you or enslave you for life as look at you and have magical powers over reality that we can't even begin to understand, they take on more of a threatening demeanor. When something can turn the very air around you into liquid shit, you tend to tread lightly around it.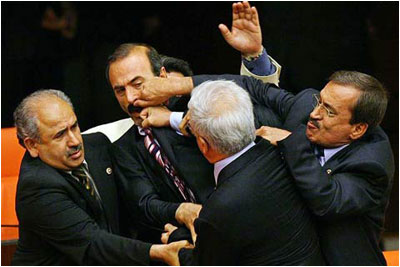 Politicians
Oh ho ho. No, this is too easy. You thought I was going to go there. That I wouldn't be able to resist going there. Well, I guess you are more the fool then, because I'm not even going to put it on my list, except for to make a point about how it's not even going on my list.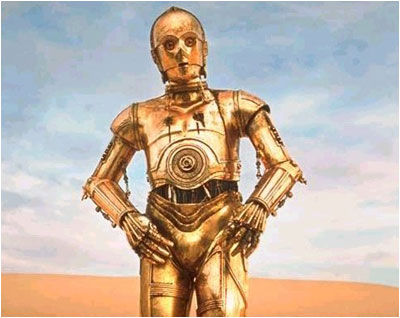 Robots
Another one that more frequently crosses over into Sci-fi, but robots have a small home in the corner of Horror as well. There are few things scarier than the idea of strong, inhuman workers rising up against their human masters. Yes, we've already seen plenty of killer robots, like the Terminator, but what about normal working bots that you would never expect to flip out? What about robots that you have invited into your own home, to do your laundry, to cook your food, to put your children to bed? What could be scarier than a butler gone berserk? When the Hug-Bot becomes a Strangle-Bot?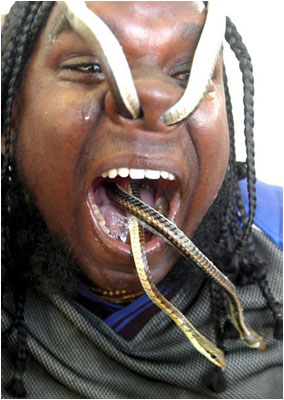 Snakes
This one would admittedly be lame, but I wouldn't put that past Hollywood. We've already had several "big snake" movies, such as Anaconda and Python and certainly one about a Boa Constrictor as well, but there's also plenty of room for their smaller cousins. We've already seen snakes on a plane, snakes on a train. But how about snakes on a boat? Snakes in a moat? Snakes on a sub? Snakes in a club? And imagine, if you will, a film called Boa, where a bunch of fashionistas all go gaga over a stylish bit of neckwear that turns out to be a giant snake! And it chokes them all to death! The first one on stage, in the middle of a fashion show! How embarrassing!
This is just a small sampling of where Hollywood could go next with movie monsters. I can't predict what the next big monster trend will be, but I am absolutely certain that we're nearing the end of the zombie cycle and we're about to venture into some other monster that will be portrayed in every third movie to the point of ad nauseum.
Have any questions or comments about this piece?
Protoclown
Be sure to help support Protoclown by picking up a copy of his HENCHING comic book in the I-Mockery Store!