by: -RoG-
Last Halloween, my pal Mike over at DreadCentral asked me to join him in doing a new Splattrax audio commentary recording for the 1988 remake of "The Blob". It was a really fun time tearing through one o' my favorite cheesy horror flicks from the eighties. Well, we had such a good time that we decided to make it an annual tradition and we just finished recording a Splattrax audio commentary track for the 80s horror-comedy slasher "Dr. Giggles", starring Larry Drake. Yes, the same Larry Drake who played Durant in "Dark Man" and Bubba in "Dark Night of the Scarecrow". Dr. Giggles is an absolutely corny horror flick with more medical-based one-liners than you can shake a stethoscope at.
So here's the deal. You need to get yourself a copy of "Dr. Giggles" on DVD. I already announced this in advance in the Blog the other week and it's currently a measly $6.49 on Amazon.com, so you have nothing to lose here... well... except the 6 bux and about 90 minutes of your life that you'll never get back. It's also available for sale in most stores like Best Buy and you can probably find it for rent in the horror section of just about any ol' video rental store or online service. It's not that hard to find anymore, trust me.
Once you have the DVD in your hands, it's simple as popping it into your player, turning down the volume on your TV a bit and then loading up the audio file of our commentary on your computer! From there, just kick back in your favorite chair and listen to the soothing sounds of my voice as I guide you through all of the blobby goodness of Dr. Giggles!
Download the appropriate sound files below: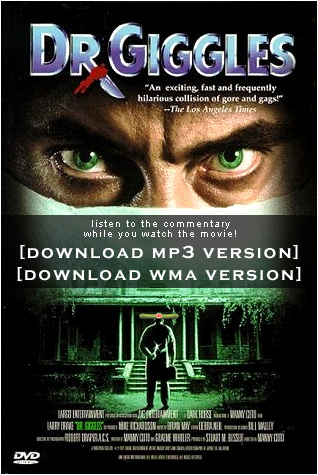 note: these are large sound files (the mp3 is roughly 85 megs) so you can expect
the download to take a little while unless you happen to be on a nice speedy connection.
Hope you enjoy the commentary! Again, big thanks to Mike over at DreadCentral for inviting me to record another Splattrax with him! Now get to watchin' Dr. Giggles and leave a comment below to let me know what you thought of our commentary!
Have any questions or comments about this piece?
-RoG-