by: Protoclown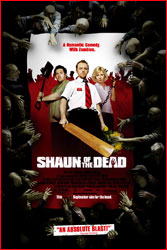 Shaun of the Dead is easily one of the best horror comedies to have come out in recent years. It manages to walk the fine tightrope between being funny and yet actually being menacing at the same time, which is something very few horror comedies are capable of doing, often falling to one side of the line or the other.
It was difficult to pick which moment to discuss from this film (the scene where Shaun and his friend Ed throw Shaun's record collection at a couple of zombies being one of my favorites), but in the end I decided to go with the more visually interesting angle by talking about what is probably the most gruesome death in the movie.
Toward the end of the film, David, friend of Shaun's and utter douchebag (AKA "adult Harry Potter"), has decided to become "that guy", by freaking out and deciding rather suddenly that he's not going to stay in the safe house they've got set up, but that he's rather going to endanger everyone by opening the door and heading out to take his chances on the outside.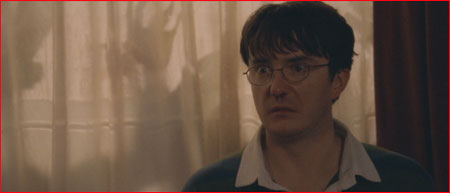 Unfortunately for him, he makes this bold declaration to everyone while breaking one of the cardinal rules of any horror movie: never turn your back to a window while standing right in front of it. Oops!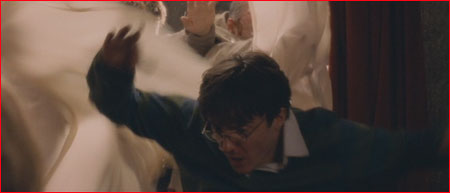 So naturally the zombies smell fresh meat on the other side of that flimsy glass and smash their way through, grabbing David and trying to pull him outside. His friends rush over to the window and grab his legs, trying to keep him inside, but it seems a bit too late, as there are too many zombies and their grip is insanely strong.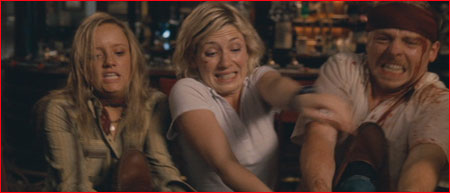 The zombies don't really care so much that they can't completely pull him outside the window, because they've got all the "good eatin'" parts over on their side already. As his friends stand there and watch in horror, David is quickly turned into an all-you-can-eat buffet as the zombies claw into his stomach and pull out his tasty, tasty intestines. After chomping down on his digestive tract (containing the "hidden surprise" of what he had for lunch!) for a while, they rip his arms and head off with ease as they munch on the rest of his body. (Hey, the good news is that there won't be enough of him left to turn into a zombie).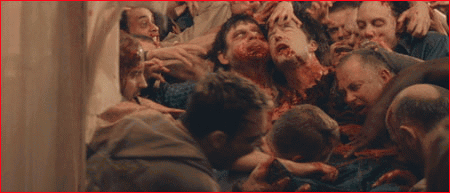 Meanwhile his friends are still tugging on his legs, which happen to come off right in their hands, causing them to recoil back and fall to the floor.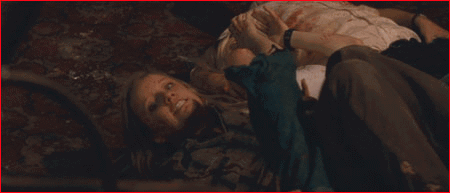 His girlfriend is of course somewhat shocked to have just seen him torn to pieces and now be lying there holding his dismembered leg. But had she been a little smarter, she would have known that these sorts of things happen when you date a douchebag. Ladies beware!
Have any questions or comments about this piece?
Email Protoclown