by: -RoG-
While I've always been a big fan of hunting for oddities at flea markets and yard sales, I haven't done too much antiquing over the years. That all changed when I recently had the chance to check out Antique Row in Pomona, CA and decided to make the most of it. Antique Row is a string of multi-floor antique shops all closely bundled together on East Second Street in Pomona and they're absolutely filled with just about anything you can think of from yesteryear. You could easily spend an entire day here and not finishing checking out all the goods these shops have to offer. Well, I didn't have an entire day, but I did have a few hours and managed to snap photos of some of the best treasures I could find, so let's take a look...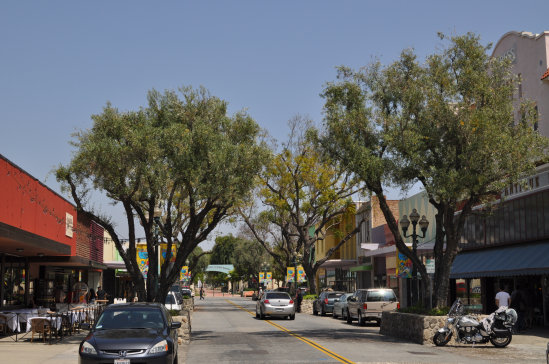 From the outside, Antique Row looks like your average street in a small town...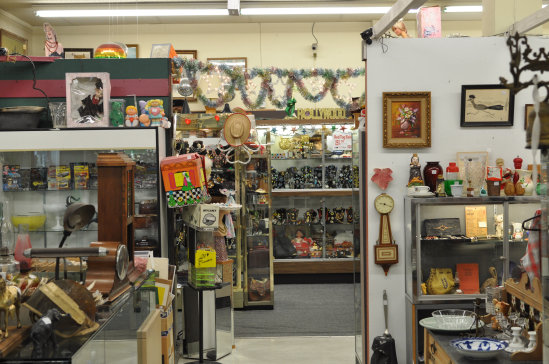 ...but when you enter the shops, it's as if the contents of every attic in America were dumped into them.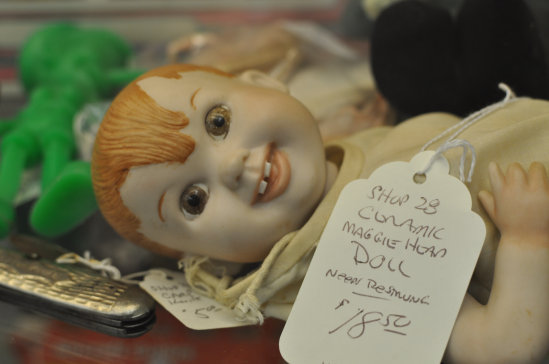 And what better way to start off my interesting finds than with the horrifying stare of this evil gap-toothed doll.

Hanky-panky card games? Oh so risque!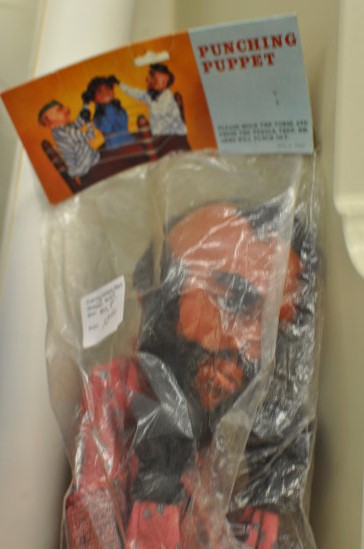 A bootleg Mr. T punching puppet. Be Somebody... or Be Somebody's Fool!

A monkey with fireworks is always a dangerous thing.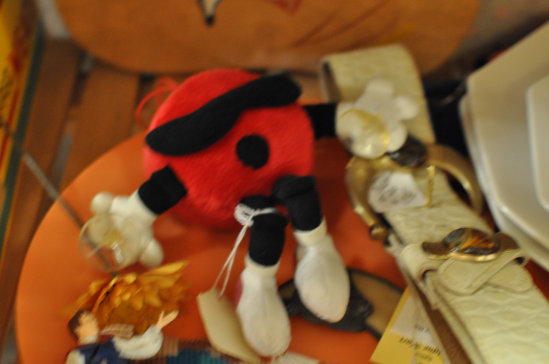 An old promotional Cool Spot plush, discarded amongst some other random trinquets.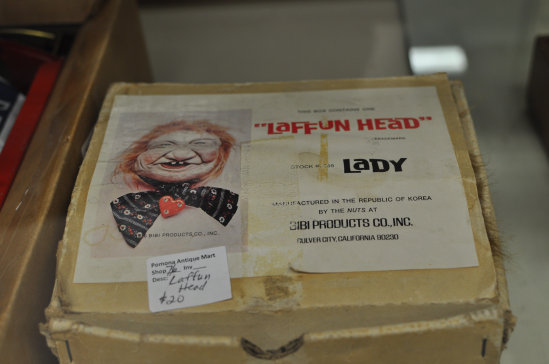 I've never seen a Laffun Head lady until now.
Turns out they were novelties from back in the seventies that squirted out water when you pulled on the tie.

Joe Camel mugs... for those who need some nicotine flavoring with their hot cocoa.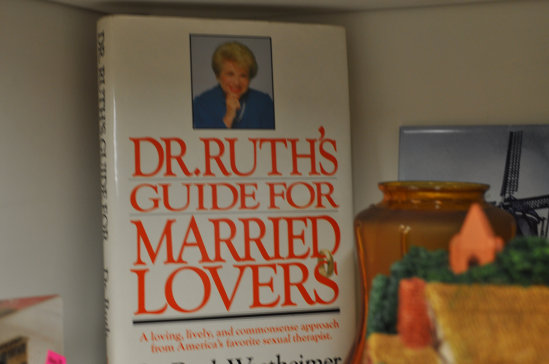 I guess some couple decided it would be best to pass on Dr. Ruth's
knowledge to others rather than keep it all to themselves.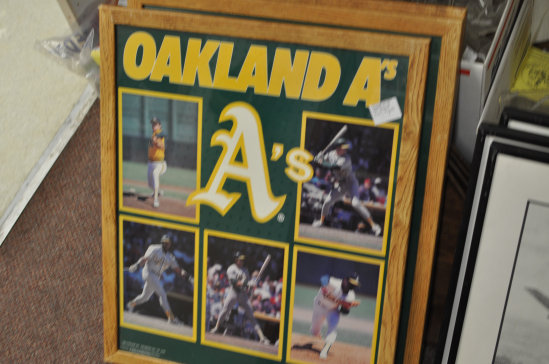 If you're a fan of old sports memorabilia, there was plenty to be found. I haven't watched baseball since
I was 15 or so, and I'm guessing my old Jose Canseco cards aren't worth jack. Yay steroids!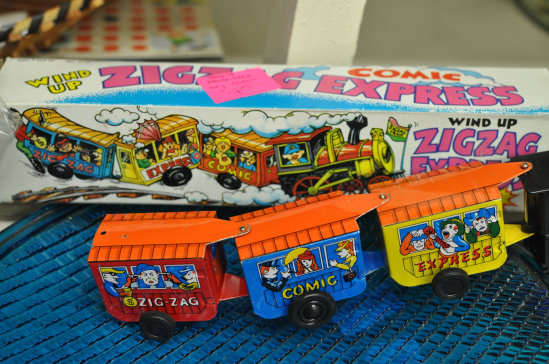 The Zig-Zag Comic Express wind-up toy train.
The guy in the caboose is being robbed at gunpoint while everybody else has a good ol' time.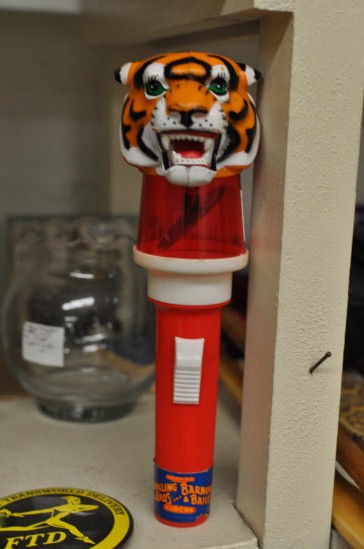 A vintage Ringling Bros. and Barnum & Bailey circus tiger light! Man, I haven't seen one of these since I was a kid.
For those of you who never went, these things were a staple of their circus and every kid wanted to walk away with one.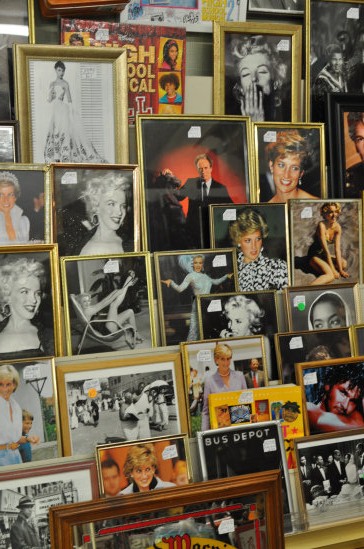 Framed pictures of Marilyn Monroe, Princess Diana, Clint Eastwood, Patrick Swayze and more. Excellent.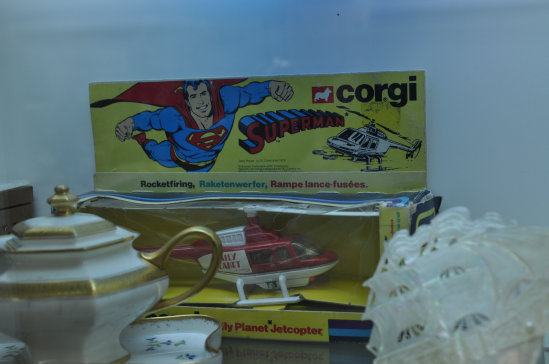 An old Corgi brand Daily Planet helicopter, for the kids who were
more interested in covering the news than creating it with Superman.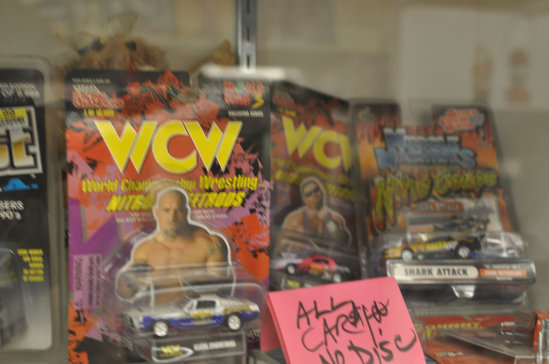 If you're looking for old toy cars featuring WCW wrestlers, they've got you covered.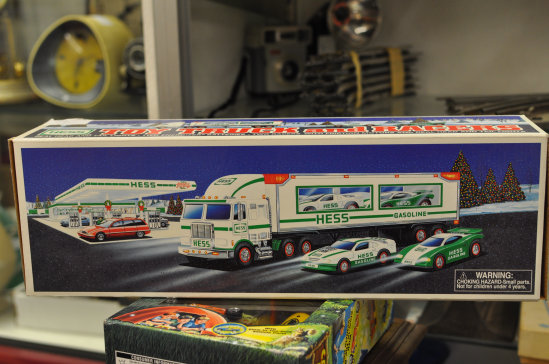 Another staple of my childhood holidays in New York - the Hess Christmas truck! Since 1964, Hess gas stations have been selling new toy truck sets every year during the holidays and we always collected them as kids. Now they come with everything from helicopters to jet airplanes, but the truck is always at the core of each set. I'm sure it seems like a somewhat odd thing for people to collect, but it's certainly no stranger than...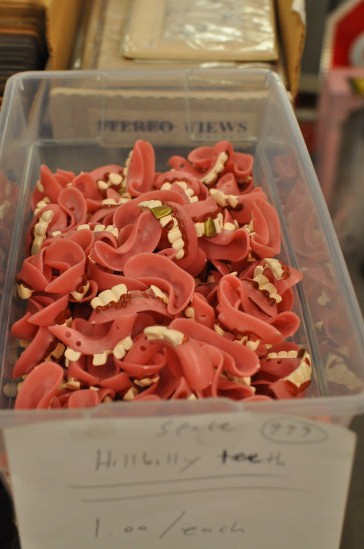 ...NOVELTY HILLBILLY TEETH!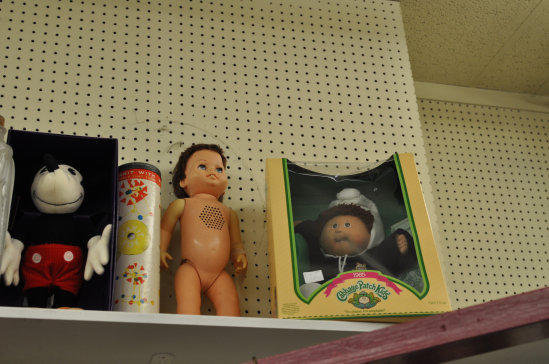 A Cabbage Patch Kid and Mickey Mouse doll try their best to ignore the creepy nude doll with the chest speaker holes.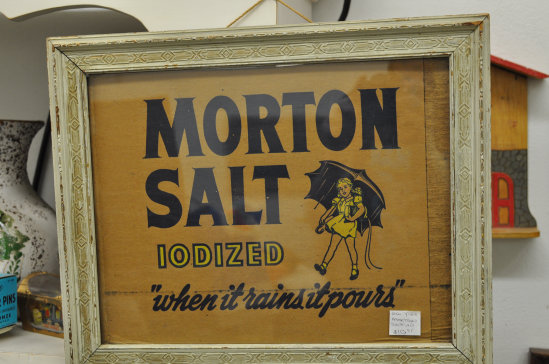 A framed Morton Salt ad? Sign me up!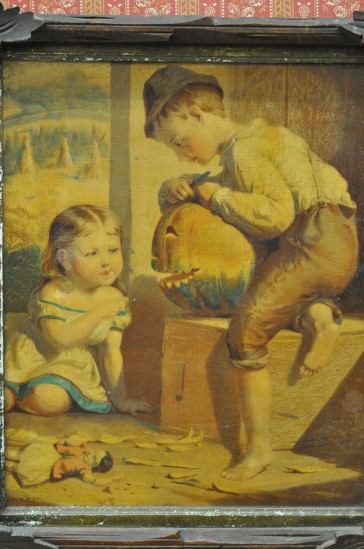 She doesn't look like she trusts that jack-o-lantern and I can't say I blame her.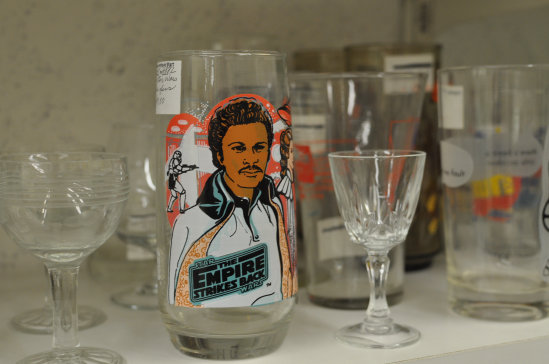 Wanna class up your glassware? All you gotta do is add a little Lando, baby.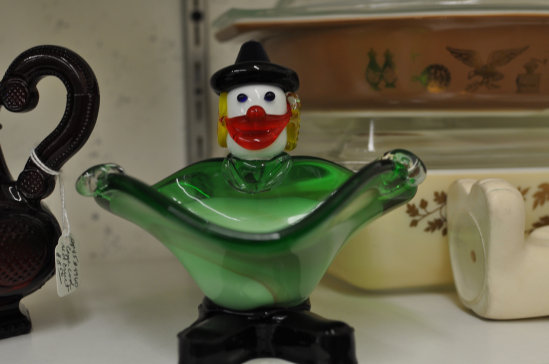 A peculiar looking clown ashtray.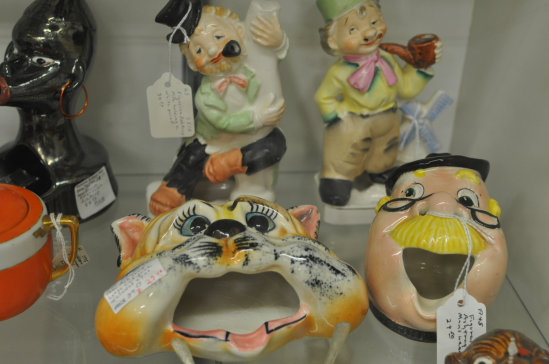 Not sure why people would want ashtrays that look like either of these things.
Not exactly the kind of thing you'd want to stare at on a regular basis. Smokers... you so wacky!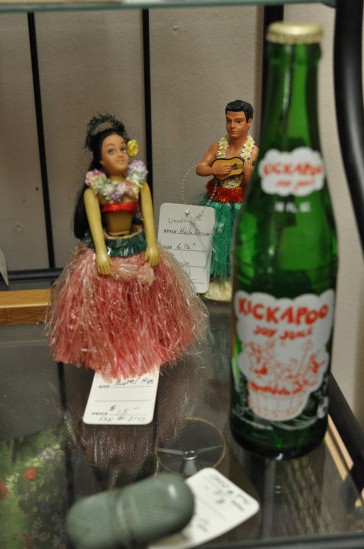 Hula dancers, a snake bite kit and a bottle of Kickapoo Joy Juice. Sounds like a party just waiting to happen!
There's still more treasures from Antique Row to see!
Click here to continue onward to page 2!