If you go to "Party City" during the last week of October in search of a Halloween costume, you'll quickly discover that it turns into a war zone. People fighting, lost children crying out for their parents, dogs eating the flesh of those who died in the hunt for a costume... and all that's just in the parking lot! If you dare to enter the store, you'll come face-to-face with huge lines and a collection of costumes so poor that you'll probably opt to just put a ribbon on your head and say, "Hello, I'm dressed as a crappy present, now give me some candy because I went through HELL to get this ribbon!"
Now if you're like me, you prefer to avoid the hordes of Halloween hooligans and get your costume shopping done early. Not only do you have your pick of all the great costumes and accessories, but you also get to check out the boxes of total crap that didn't sell last year.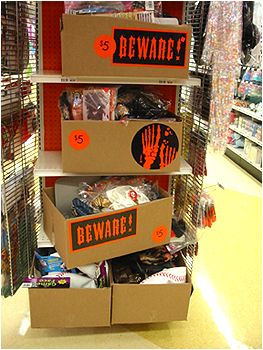 That's right, I'm talking about the "$5.00 BEWARE!" boxes! I've made it a tradition to visit these stores early every year in order to seek out the worst costumes I could possibly find. Last year, it was the infamous Jason X costume. That was quite a crappy costume to outdo. Could I possibly find something that was actually worse!?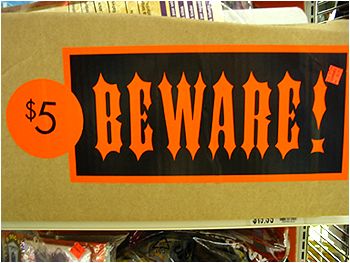 I approached the "$5.00 BEWARE!" boxes and started shuffling through all of the crappy costumes and loose bits that were haphazardly thrown in them. There were about 10 of those stupid masks that make your head look like a baseball. While I'm sure those are really amusing to every 40-year-old ex-jock who now works in a carpet sales store, they're completely uninteresting to a guy like me. I needed something more.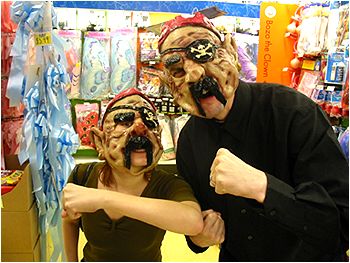 POTATO PIRATES!?
Wow, I thought I might've found a winner with these masks. Two pirate masks that made absolutely no sense whatsoever. The faces actually looked like real potatoes! Granted, I don't recall any tales of potatoes sailing the high seas and looting any vessels that would dare cross their path, but before this year I had never seen such a bunch of blatantly flamboyant pirates either. So I guess anything's possible.
While those potato pirate masks were indeed some pretty horrible finds, they weren't full costumes, and that's what I really wanted. I wanted the complete package. Something that would scream to the world, "BEHOLD! THIS IS THE ABSOLUTE WORST MODERN HALLOWEEN COSTUME ON EARTH!"
My friends... I am happy to report that I did indeed find that costume:

COUNT POP!
HOLY SHIT! Just look at it! If that isn't perfection of the awful, I don't know what is! It's a vampire cross-bred with some Andy Warhol styled artwork to create one hell of a craptastic costume! It even says BITE ME on the sleeve for chrissakes! And will you just look at that AMAZING pose the guy is making on the bag!? It's beautiful!
All this for 5 bux? SIGN ME UP!

I took it home and was immediately impressed with the plastic hairdo. Not only did it look absolutely ridiculous, but the side burns actually had sticky pads on the inside of them just to make sure they stayed glued to your face. What kind of fool would wear such a costume? What kind of madman would do such a thing? WHO IN THEIR RIGHT MIND WOULD EVEN CONSIDER BEING ASSOCIATED WITH THIS CURSED COSTUME!?
Hmm, that would be me.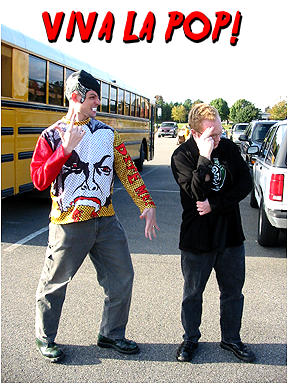 Not only was I more than willing to walk around in public as "The first person to ever actually buy and wear the Count Pop" costume, but I was willing to embarrass the hell out of my good pal Protoclown while I did it. You see, normally there's no way he would've come along with me if I was going to be pulling this kind of crap, but this time I didn't let him know until it was too late. Protoclown needed a ride, which I agreed to give him, but on our way to his destination, I pulled the car over for a quick pit stop and it went something like this...
Protoclown: "Uh RoG, what are we stopping at this Pumpkin Patch for?"

RoG: "One sec, I need to go into the trunk and get something..."

Protoclown: "What the hell are you doing back there? Hurry up! It's painful enough sitting in this car and listening to your goddamned Huey Louis CD AGAIN as it is!

RoG (emerging in costume): "TA DA!"

Protoclown: "WHAT IN THE FUCK!?!?!?!?!?!?"

RoG: "Congrats! You've just been elected to accompany COUNT POP on an all-out fun tour of the craziest pumpkin patch in town!"

Protoclown: "Sweet christ no... I should've walked."
And so it began... Count Pop was about to take the pumpkin-picking world by storm!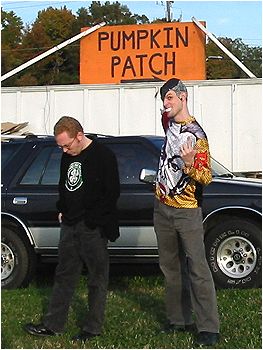 HELLO THERE KIDDIES, COUNT POP HERE! COUNT POP IS WITH HIS BESTEST FRIEND IN ZEE WHOLE WIDE WORLD, PROTOCLOWN! HE'S FEELING A BIT DOWN TODAY FOR SOME REASON, BUT DON'T WORRY, COUNT POP IS TAKING HIM TO A PUMPKIN PATCH TO GET A PUMPKIN SO HE'LL SURELY FEEL BETTER IN NO TIME!

JUST LOOK AT THIS PLACE! IT'S FILLED WITH WONDER AND ADVENTURE! ALL IT'S MISSING IS SOME MAGIC! AND COUNT POP HAS ALL THE MAGIC THIS PLACE NEEDS! OH YEAH!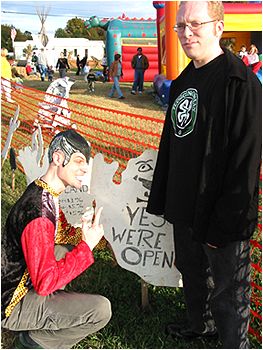 LOOK HERE PROTO! THE LITTLE GHOST GUY SIGN IS SAYING THAT THEY'RE OPEN! THAT MEANS YOU AND ME CAN GO INSIDE AND FROLIC WITH THE OTHER HEP CATS!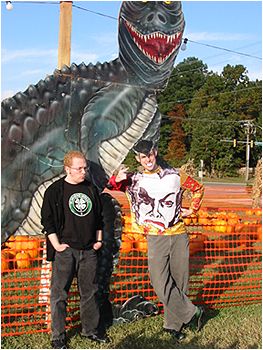 WHOAH! WHAT DO DINOSAURS HAVE TO DO WITH HALLOWEEN!? COUNT POP HAS NO IDEA, BUT COUNT POP DEFINITELY APPROVES! PREHISTORIC PUMPKIN PATCH RAAAAAAAR! RAAAAAAAAAR YOU BIG TYRANOSAURUS REX GUY! PROTO AND I BOW BEFORE YOUR EXTINCT EMINENCE!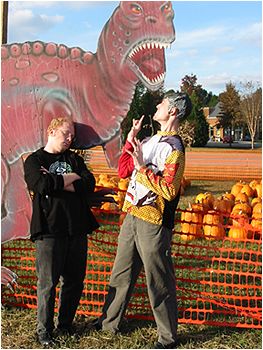 WHOAH THERE LITTLE FELLA! WE'RE ON YOUR SIDE TOO! SAY, DIDN'T I SEE YOU IN JURASSIC PARK? LOLOLOLOL!
HEY THERE MISTER PTERODACTYL! COUNT POP DIGS THE WAY YOU TASTE! YOU TASTE LIKE A BURGER AT A 1950'S DRIVE-IN DINER! YOU KNOW THE ONES WITH THOSE SEXY LADIES ON THE ROLLERSKATES WHO WOULD BRING YOU YOUR FOOD AND THEN SAY, "HEY, WOULD YOU LIKE AN EXTRA MILKSHAKE WITH THAT?" AND THEN COUNT POP WOULD SAY "MY MILKSHAKE BRINGS ALL THE BOYS TO THE YARD" AND THEN THEY'D SAY, "YOU KNOW, I BET THAT WILL MAKE A GREAT SONG SOMEDAY!" AND THEN COUNT POP WOULD SAY "I BET YOU'RE RIGHT! I HAD BETTER MAKE SURE I RECORD THAT BEFORE SOMEONE ELSE DOES!" AND THEY WOULD SAY "SHOULDN'T YOU BE TALKING ABOUT YOUR FRIEND PROTOCLOWN?" AND THEN COUNT POP WOULD SAY "YOU KNOW WHAT, THAT'S A GOOD IDEA!" HEY PROTOCLOWN, DON'T LET THAT DINO-BIRD STAB OUT YOUR BRAINS JUST YET! THERE'S PLENTY MORE FUN TO BE HAD WITH YOUR GREATEST PAL, COUNT POP!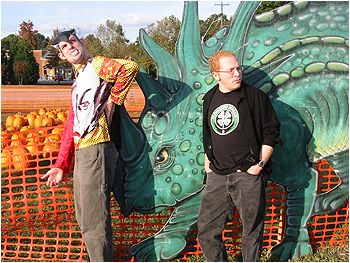 HEY! WHY IS COUNT POP'S ROCKABILLY BACK SUDDENLY BEING OVERWHELMED WITH A SHARP STABBING PAIN? OH NO! MISTER DINOSAUR, WHY WOULD YOU STAB COUNT POP IN THE BACK LIKE THAT? COUNT POP THOUGHT WE WERE LIKE *THIS* MAN!!!!! COUNT POP THOUGHT WE WERE TIGHT! :( NOW COUNT POP SEES WHY YOU'RE SAD PROTOCLOWN, YOUR BESTEST FRIEND IN ZEE WORLD, COUNT POP, IS IN PAIN AND YOU WANT TO MAKE HIM FEEL BETTER.
WELL DON'T BE SO GLUM, CHUM! LOOKEE HERE! THIS RANDOM KID AND HIS MOM LOVE COUNT POP! THEY KNOW HE'S JIVING WITH THE JAILHOUSE ROCK! THEY KNOW HE'S THEIR FRIEND 'TIL THE END! COUNT POP IS YOUR FRIEND 'TIL THE END TOO PROTO! 'TIL THE END!!!
EEEEEEEK! A ZOMBIE! HO HO HO! DID COUNT POP SCARE YOU THERE, PROTO? OH DON'T WORRY, IT'S JUST A PROP, I WAS ONLY KIDDING! HAHAHA! OK COUNT POP WILL WAIT RIGHT HERE WHILE YOU GO PUT ON A CLEAN SET OF PANTS! COUNT POP WOULDN'T WANT YOU TO WANDER AROUND THE PUMPKIN PATCH WITH A LITTLE STINKY IN YOUR PANTS! NO SIR!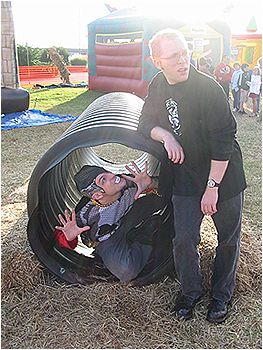 BOO!! HAHA! I BET YOU DIDN'T SEE COUNT POP COMING, DID YOU PROTOCLOWN? SEE, HE CLIMBED INTO THIS NEAT TUNNEL AND JUST WHEN YOU LEAST EXPECTED IT... *BAM!* COUNT POP WAS ALL OVER YOUR CASE!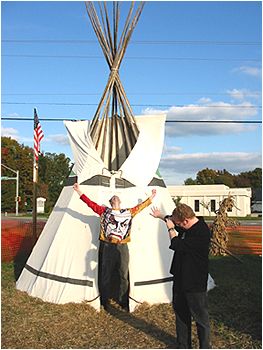 DO YOU KNOW WHAT THIS IS PROTOCLOWN? THIS IS A TEE PEE? AND DO YOU KNOW WHAT TEE PEE ACTUALLY RHYMES WITH? PEE PEE!!! ISN'T THAT FUNNY? YEAH, COUNT POP LOVES GAGS LIKE THAT. COUNT POP THINKS GAGS LIKE THAT ARE OUT-OF-SIGHT!!!!!!!!!!!!!!!!!!
A-WOOO-WOOO-WOOO-WOOO-WOOO!!! CAN YOU MAKE THAT SOUND PROTOCLOWN? THAT'S THE SOUND THAT THE INDIANS USED TO MAKE JUST BEFORE THEY PICKED OUT A PUMPKIN! THEY WOULD THEN WORSHIP THIS PUMPKIN ON THEIR HANDS AND KNEES UNTIL THE PUMPKIN GOD WOULD RAIN DOWN ON THEM SO THAT THEIR CROPS WOULD GROW! THEN THEY WOULD SELL THE CROPS TO BUY GUNS TO KILL THE WHITE DEVIL MAN WITH! YEAH, YOU COULD SAY COUNT POP IS A BIG HISTORY BUFF! YES HE IS!
WILL COUNT POP SING A SERENADE TO PROTO?
WILL COUNT POP TEACH PROTO THE MEANING OF LIFE?
WILL COUNT POP BE ELECTED PRESIDENT OF AWESOME?
CONTINUE TO PAGE 2 TO FIND OUT!
---
help support I-Mockery by supporting our sponsors:

---
Running a big site like I-Mockery takes a lot o' time and costs moola too.
Want to help show your support?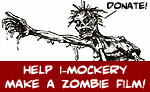 DONATE TO OUR ZOMBIE MOVIE!
Come talk about this piece & more on our Message Forums!
click here for more minimocks!

---


[Minimocks] [Articles] [Games] [Mockeries] [Shorts] [Comics] [Blog] [Info] [Forum] [Advertise] [Home]


Copyright © 1999-2007 I-Mockery.com : All Rights Reserved : ()
No portion of I-Mockery may be reprinted in any form without prior consent
We reserve the right to swallow your soul... and spit out the chewy parts.