It's been a year since we last heard from Count Pop. His quick rise to fame and fortune had led some people to believe that he was almost too good to be true... a mythical creature of the night with a rockabilly disposition, quick wits and unbelievably good looks. Since his story from last year, Count Pop has seen how many people want to hang out with him just because he is the most famous person on the planet. But as they say, it can get a bit lonely at the top, so he decided to go back to his roots and throw the greatest Halloween party the world has ever seen. But this was no ordinary party. No, it was a very special party for only his closest, dearest friends. Believe it or not, he put I-Mockery on his "R.I.P. list" (which is very similar to the V.I.P. list) and gave us full access to document the entire party. Count Pop is one of those rare celebrities who knows where he got his start, and he's very thankful to all of I-Mockery's readers who helped him get where he is today. And now, Count Pop invites us to tag along with him for what he has described as the Halloween party to end all Halloween parties! With that being said, take it away Count!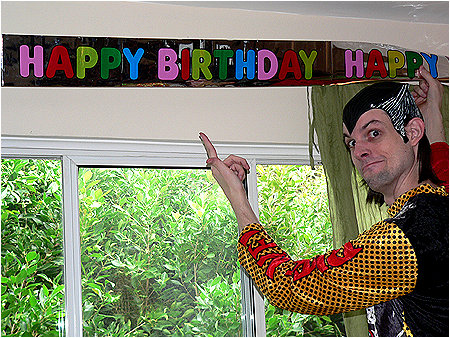 HEY HEY HEY HALLOWEEN HEPCATS! IT'S YOUR SUPER ROCKABILLY PAL, COUNT POP, BACK AGAIN TO MAKE YOU FEEL ALIVE WITH THE POWER OF ROCK AND JIVE! TODAY I AM THROWING A BIG HALLOWEEN HOOTENANNY HULLABALOO FOR MY CLOSEST FRIENDS! I SENT OUT INVITATIONS ON MY MESSENGER BATS AND I'M SURE THEY REACHED THEIR INTENDED RECIPIENTS! THOSE BATS HAVE SONAR YOU KNOW, AND THAT'S WHAT SUBMARINES USE TO FIRE TORPEDOES AT SEAHORSES, SO YOU KNOW IF THEY CAN TRACK TINY LITTLE SEAHORSES WITH SONAR, THEN THEY CAN SURELY TRACK DOWN THE POPSTER'S PALS! AS YOU CAN SEE, I'M SETTING UP MY DECORATIONS ALREADY. "BUT COUNT POP, THAT SAYS HAPPY BIRTHDAY!" YOU'RE RIGHT, IT SURE DOES AND I AM GLAD YOU KNOW HOW TO READ BECAUSE READING IS FOR ROCKABILLY RADSTERS! YOU CAN NEVER BE TOO COOL FOR SCHOOL! YOU CAN NEVER HAVE LOOKS THAT ARE TOO GOOD FOR BOOKS!
DON'T WORRY THOUGH, WE CAN CHANGE THIS BIRTHDAY BANNER INTO A HARBINGER OF HALLOWEEN HAPPINESS WITH A FEW SIMPLE STEPS! IT WILL SAVE YOU FROM HAVING TO BUY A NEW SIGN WHICH THE COMPANIES MAKE BY CHOPPING DOWN THE SHINY MYLAR TREES! SAVE THE MYLAR TREES! THEY PROVIDE US WITH THE AIR WE ALL NEED TO SURVIVE ON THIS ROCKIN' PLANET - HELIUM!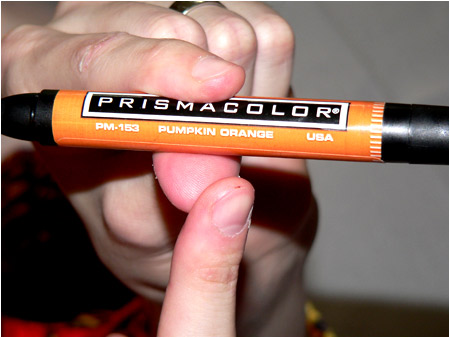 STEP #1: GET A HALLOWEEN MARKER! COUNT POP RECOMMENDS THE PRISMACOLOR "PUMPKIN ORANGE" MARKER BECAUSE IT'S GOT A HALLOWEENY COLOR AND YOUR POPSTER PAL STILL CAN'T FIGURE OUT HOW THEY SQUISHED A WHOLE PUMPKIN INTO THAT LITTLE MARKER! THEY MUST HAVE SOME AMAZING PUMPKIN PRESSING TECHNOLOGIES AT THAT COMPANY! I LIKE TECHNOLOGY ALMOST AS MUCH AS ASTROLOGY BUT NOT AS MUCH AS PAULA ABDUL'S "VIBEOLOGY".
"YOU GOT THAT VIBEOLOGY! THAT V-I-B-E-OLOGY! YOUR BODY IS PUMPED NEXT TO ME!"
THOSE LYRICS CHANGED THE WORLD!
STEP #2: DRAW A HALLOWEEN SIGN! THIS PART IS PRETTY EASY AS LONG AS YOU KNOW HOW TO SPELL THE WORD "HALLOWEEN"! IF YOU DON'T KNOW HOW TO SPELL IT, JUST USE A DICTIONARY LIKE COUNT POP DID! I HOPPED INTO THE POP-MOBILE AND HAD A DRAG RACE WITH THE OTHER DO-GOODER DADDIOS ALL THE WAY TO THE LIBRARY TO QUENCH OUR YEARNING FOR LEARNING! AFTER MAKING SURE I KNEW HOW TO SPELL IT RIGHT, I SKEDADDLED ON BACK HOME TO MAKE THE HALLOWEEN SIGN WITH MY PUMPKIN MARKER! IT WAS ALL GOING WELL AS I WROTE ON MY NEW SIGN UNTIL...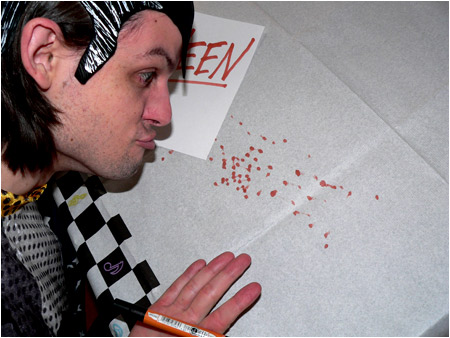 MY POTENT PUMPKIN PEN PENETRATED THE PAPER SIGN AND MADE A PERMANENT POCK ON MY ROCK 'N ROLL HALLOWEEN TABLECLOTH! THAT'S ONE HECK OF A LEAKY MARKER! WHILE SUCH A STUBBORN STAIN LIKE THIS WOULD MAKE EVEN THE MOST JOVIAL JAGUARS SHED TEARS LIKE A KITTEN AT THE KENNEL, YOUR OL' POPSTER WAS PREPARED WITH SOME TRICKS UP HIS SLEEVE! I KEEP LOTS OF THINGS UP MY SLEEVE ALL THE TIME TO BE HONEST - TRICKS, POPSICLES, GUITAR PICKS, STAMPS, AUTOGRAPHED 8X10 GLOSSY PHOTOS OF ME HUGGING THE PLANET, TRISCUITS WITH SHARP CHEDDAR CHEESE AND MORE! YOU NEVER KNOW WHEN YOU'LL NEED THOSE THINGS, SO YOU MIGHT AS WELL CARRY THEM WITH YOU AT ALL TIMES AND A SLEEVE IS AS GOOD A PLACE AS ANY TO STORE 'EM! TAKE COUNT POP'S ADVICE AND YOU'LL ALWAYS FEEL NICE AND NEVER GET LICE!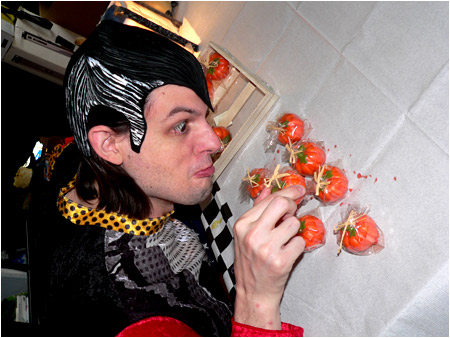 MINI PUMPKIN CANDLES ARE A GREAT WAY TO COVER UP PUMPKIN MARKER STAINS! YOU CAN ALSO HAVE ONE OF YOUR PARTY GUESTS JUST SIT ON THAT STAINED SPOT FOR THE ENTIRE PARTY SO NOBODY SEES IT, BUT THEN THEY CAN'T ENJOY ALL THE FESTIVITIES AND THAT'S NO WAY TO BE THE HOST WITH THE MOST TO BOAST!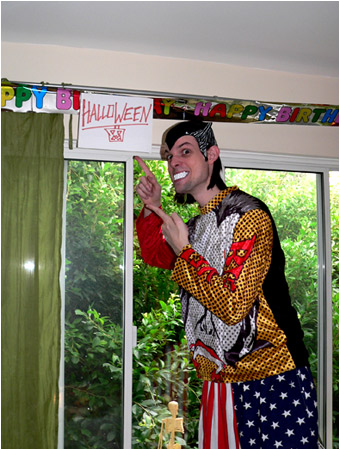 STEP #3: TAPE YOUR NEW SIGN TO THE OLD SIGN SO THAT IT READS "HAPPY HALLOWEEN" INSTEAD OF "HAPPY BIRTHDAY"! ACTUALLY, IF YOU'RE LUCKY LIKE ME, YOUR SIGN MIGHT BE A LITTLE TOO SMALL TO COVER UP THE ENTIRE WORD "HALLOWEEN" AND IT ENDS UP CREATING A BRAND NEW WORD: BIHALLOWEENAY! THAT'S RIGHT HEPCATS, YOU SAW IT HERE FIRST! COUNT POP'S CUSTOM HALLOWEEN SIGN HAS CREATED A BRAND NEW WORD AND IT SOUNDS LIKE SOMETHING THE HULA GIRLS IN HAWAII SAY WHEN THEY GREET YOU WITH A LEI! "WELCOME TO HAWAII COUNT POP! ENJOY YOUR STAY! MELE KALIKIMAKA! BIHALLOWEENAY!" YOU SEE WHAT A GREAT WORD IT IS? MAKE SURE YOU WISH ALL OF THE HIP-HOPPIN' TRICK-OR-TREATERS OUT THERE A HAPPY BIHALLOWEENAY ON OCTOBER 31ST!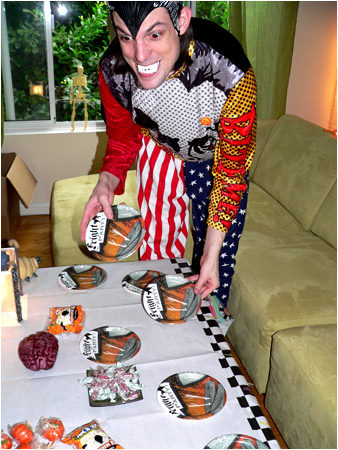 NOW THAT MY BIHALLOWEENAY SIGN WAS HUNG UP, I USED THE POWER OF MY PATENTED AMERIPANTS™, I DECORATED MY TABLE WITH ALL SORTS OF GOODIES INCLUDING A HULA LADY LAMP, A BRAINY BRAIN, POPCORN BALLS AND SPOOKY PLATES THAT SAY "FRIGHT PARTY" ON THEM! I GOT THOSE PLATES FOR 35 CENTS! THAT'S LESS THAN A COLA CAN! COUNT POP THINKS EVERYBODY SHOULD HUNT FOR BARGAINS JUST LIKE YOU WOULD HUNT FOR THE RED OCTOBER! MAYBE YOU CAN USE THE SAME SONAR TORPEDOES TO FIND BARGAINS JUST LIKE YOU'D USE THEM TO FIND SEAHORSES AND THE RED OCTOBER SUBMARINE!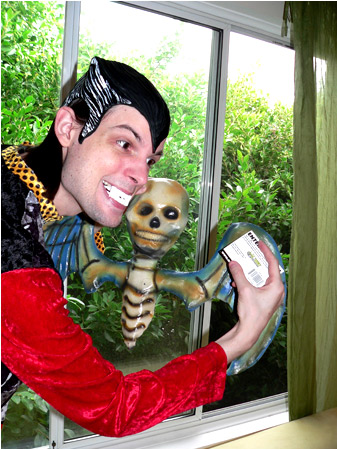 I ALSO GOT A "BONE ANGEL" AS A DECORATION FOR MY ROCKIN' ROCKTOBER PARTY! BONE ANGELS LOOK OVER YOUR BONES FOR YOUR ENTIRE LIFE! SO IF YOU CAN FIND A BONE ANGEL *AND* A FLESH ANGEL, YOU'RE GONNA BE SET LIKE GUY NAMED CHET IN A CORVETTE! AND REMEMBER, IF YOU'RE LIKE COUNT POP, YOU CAN LEAVE THE UPC TAGS ON THE DECORATIONS SO YOU CAN RETURN THEM THE DAY AFTER HALLOWEEN! THAT'S WHY AMERICA IS NOT IN ANY DEBT AT ALL BECAUSE COUNT POP'S PALS ALL KNOW THAT YOU CAN'T HAVE DEBT IF YOU RETURN THE THINGS YOU BUY! THE POPSTER EVEN HAS HIS CRACK TEAM OF SCIENTISTS FIGURING OUT A WAY TO RETURN FOOD!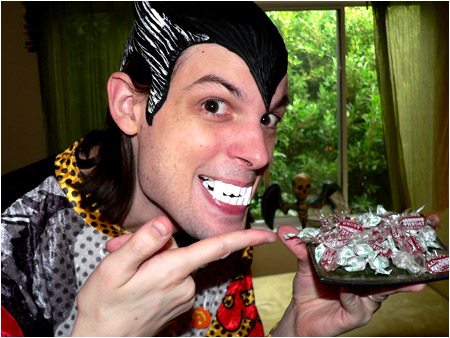 I ALSO PUT OUT A CANDY TRAY FOR MY GUESTS TOO! SWEETS FOR THE SWEET! TREATS FOR THE TREAT! WHEATIES FOR THE WHEAT! THEY MAY BE GOING OUT TRICK-OR-TREATING, BUT IF YOU'RE A GHOST HOST WITH THE MOST, YOU'LL PROVIDE THEM WITH SOME TASTY CANDIES ANYWAY!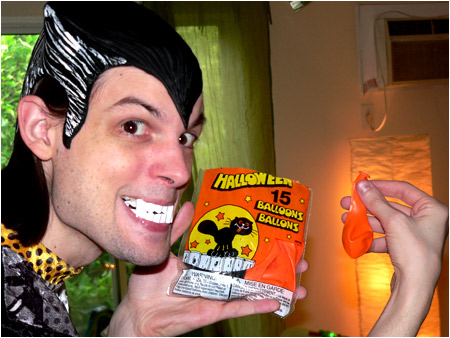 AND WHAT PARTY WOULD BE COMPLETE WITHOUT BALLOOONS! ORANGE BALLOONS! BLACK BALLOONS! HALLOWEEN BALLOOONS! BIHALLOWEENAY BALLOONS!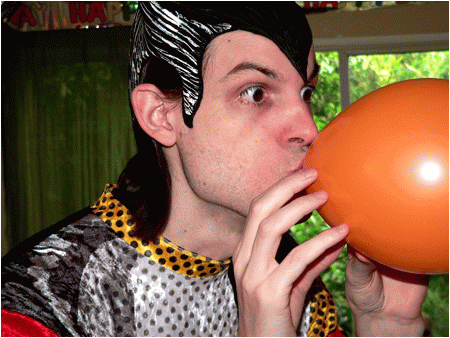 BEING THE HEAVYWEIGHT CHAMP OF ROCKABILLY VAMPS HAS ITS PERKS. FAME, FORTUNE, YOUR OWN PERSONAL JUKEBOX WITH A MUSIC CATALOG THAT INCLUDE EVERY VERSION OF "PURPLE PEOPLE EATER" THAT WAS EVER RECORDED... BUT WHEN IT COMES TO BLOWING UP BALLOONS, WE, THE BE-FANGED BAD BOYS OF BOP ARE NOT THE BEST MEN FOR THE JOB! OUR FANGS TEND TO POP THE BALLOONS AND NOBODY LIKES A PARTY FILLED WITH POPPED BALLOONS. BUT WHAT PEOPLE *DO* LOVE IS ARRIVING AT A PARTY AND BEING HANDED A BAG OF BALLOONS AND TOLD, "YOU GET TO BLOW ALL OF THESE UP!" IT'S MORE FUN THAN YOU COULD MEASURE IN A BEAKER! AND BELIEVE THE POP WHEN HE TELLS YOU THAT A BEAKER CAN HOLD A LOT OF FUN!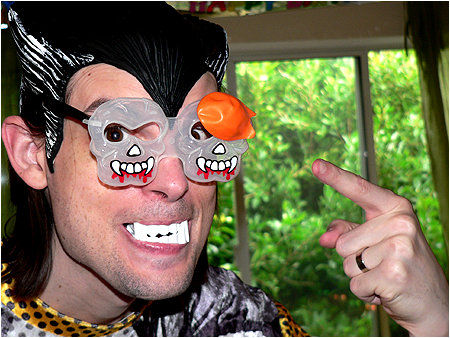 REMEMBER KIDS: COUNT POP SAYS YOU SHOULD ALWAYS WEAR YOUR SAFETY GOGGLES WHEN BLOWING UP BALLOONS IF YOU'RE A VAMPIRE! IF YOU'RE NOT A VAMPIRE, YOU SHOULD ALWAYS WEAR YOUR SAFETY GOGGLES ANYWAY BECAUSE SAFETY IS SCHNAZZY!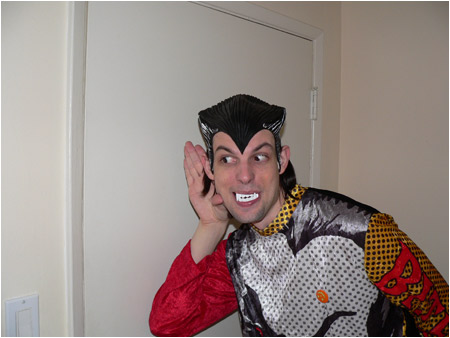 HARK! WHO DON DOTH KNOCKETH YON MY DOORTH?
CLICK HERE TO CONTINUE TO PAGE 2
OF THE COUNT POP STORY!
---
help support I-Mockery by supporting our sponsors:

---
Running a big site like I-Mockery takes a lot o' time and costs moola too.
Want to help show your support?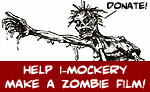 DONATE TO OUR ZOMBIE MOVIE!
Come talk about this piece & more on our Message Forums!
click here for more minimocks!

---


[Minimocks] [Articles] [Games] [Mockeries] [Shorts] [Comics] [Blog] [Info] [Forum] [Advertise] [Home]


Copyright © 1999-2007 I-Mockery.com : All Rights Reserved : ()
No portion of I-Mockery may be reprinted in any form without prior consent
We reserve the right to swallow your soul... and spit out the chewy parts.