A lot of people asked me what I thought about Star Wars Episode III where they have Vader walk around like Frankenstein and say "Noooooooooooo!" in an extremely cheesy way. They claim that Darth Vader would never say something like that. I simply have to respond with, "Look, you people really don't know the guy. He says that every day!" Still, nobody believed me. Fortunately, I happen to know Darth quite well and he's been enjoying his retirement from acting a lot. Still, there's not a day that goes by in his life where some sort of huge tragedy doesn't take place. I asked Darth if we could follow him around for a day and he was totally cool about it. So to all you Star Wars fans who were disappointed with Darth's final on-screen appearance, I present to you a day in the life of Darth Vader...
HOOORAY IT'S THE BURLINGTON COAT FACTORY! I SURE COULD USE A NEW COAT, LET'S GO INSIDE AND SEE WHAT THEY HAVE!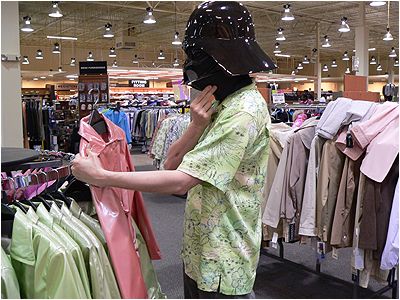 SAYYYYY... NOW THAT'S A PRETTY COAT! I WONDER HOW I'D LOOK IF I TRIED IT ON WHEN NOBODY WAS LOOKING?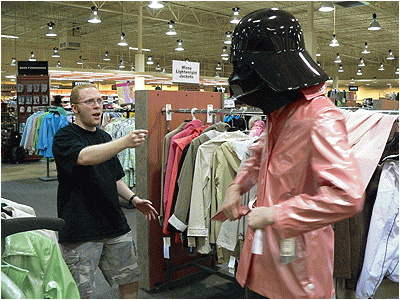 NOOOOOOOOOOOOOOOOOOOOOOOOOOOOO!!!!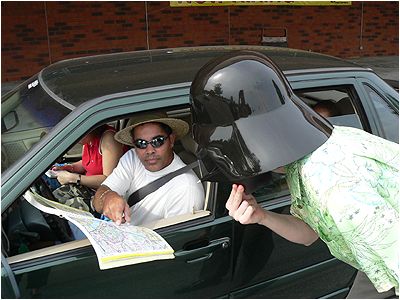 TOURIST: "EXCUSE ME SIR, CAN YOU TELL ME HOW TO GET TO ALBUQUERQUE?"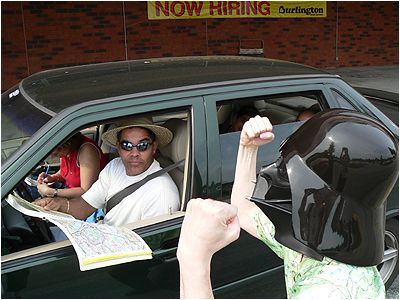 NOOOOOOOOOOOOOOOOOOOOOOOOOOOOO!!!!
OOOH LOOK! A PLAYHOUSE! A PLAYHOUSE FOR ME! I CAN GO INTO THE PLAYHOUSE AND PLAY ALL DAY AND WASH MY WORRIES AWAY! I'M GONNA GO INSIDE!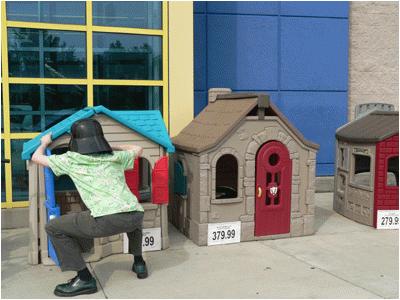 WHAT THE!? I CAN'T FIT MY BIG STUPID HEAD INSIDE!?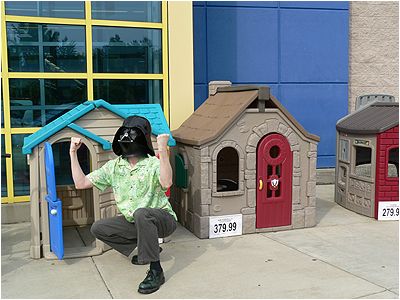 NOOOOOOOOOOOOOOOOOOOOOOOOOOOOO!!!!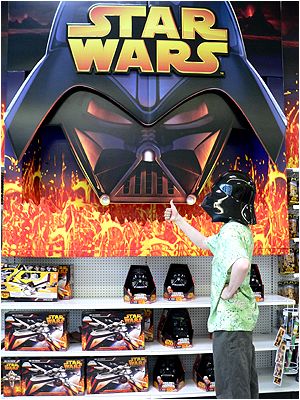 NOW THAT'S WHAT I'M TALKIN ABOUT! LOOK AT THAT WONDERFUL TRIBUTE THEY'VE MADE TO ME! I BET THE KIDS WILL ALL BE DRESSING UP JUST LIKE ME FOR HALLOWEEN THIS YEAR!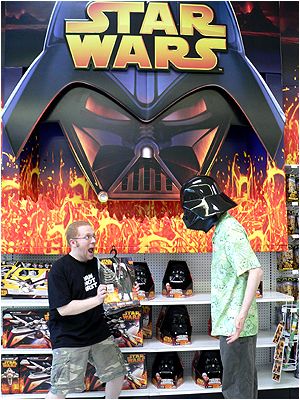 "SAY DARTH! CHECK OUT THIS LAME-ASS DARTH VADER HALLOWEEN COSTUME THEY PUT OUT! BWAHAHAHAHA!"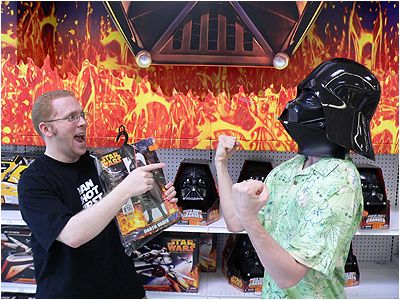 NOOOOOOOOOOOOOOOOOOOOOOOOOOOOO!!!!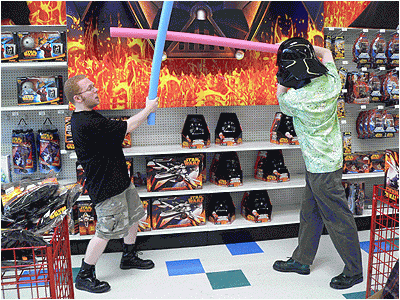 JUST BECAUSE I'M AN ACTOR DOESN'T MEAN YOU CAN MOCK ME AT WILL! PREPARE TO DIE, PROTOCLOWN!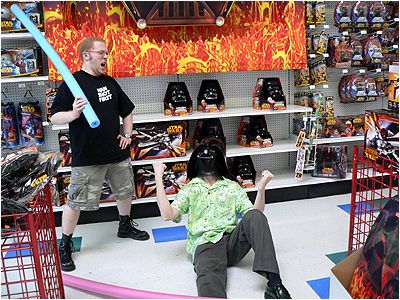 NOOOOOOOOOOOOOOOOOOOOOOOOOOOOO!!!!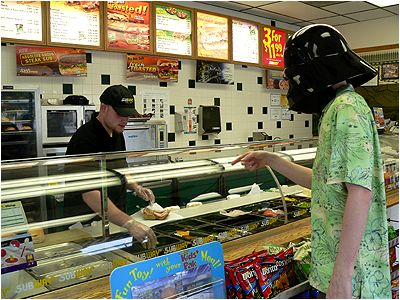 THAT'S RIGHT SUBWAY MAN, PILE THAT MEAT ONTO MY SANDWICH! PILE IT ON AND MAKE IT TASTY GOOD! WAIT! DON'T PUT AMERICAN CHEESE ON IT! PLEASE DON'T!!!
NOOOOOOOOOOOOOOOOOOOOOOOOOOOOO!!!!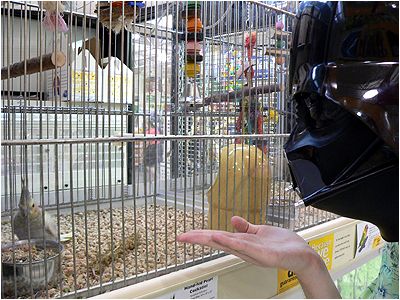 HELLO PRETTY BIRD! TODAY I WILL TEACH TO YOU SAY A WORD! CAN YOU SAY "PRETTY" PRETTY BIRD? COME ON PRETTY BIRD, SAY "PRETTY," I KNOW YOU CAN DO IT!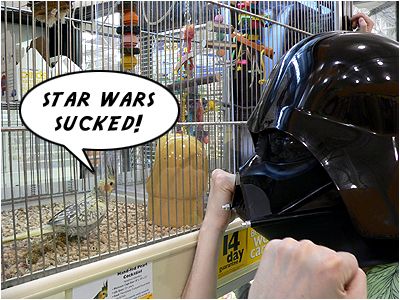 NOOOOOOOOOOOOOOOOOOOOOOOOOOOOO!!!!
OK FISH BOY, SINCE YOU PEOPLE OBVIOUSLY SELL DEFECTIVE BIRDS, HOW ABOUT YOU SELL ME A FISH INSTEAD. I WANT THAT FISH, RIGHT THERE AND NO OTHER! IF YOU GET ANY OTHER FISH I'LL BE VERY UPSET OK? SO PLEASE, GET IT RIGHT. STOP! YOU'VE GOT THE WRONG ONE! YOU'VE GOT THE WRONG...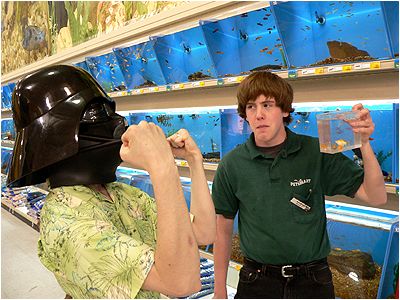 NOOOOOOOOOOOOOOOOOOOOOOOOOOOOO!!!!

WHAT ELSE COULD POSSIBLY HAPPEN TO DARTH?
CONTINUE TO PAGE 2 TO FIND OUT!
---
help support I-Mockery by supporting our sponsors:

---
Running a big site like I-Mockery takes a lot o' time and costs moola too.
Want to help show your support?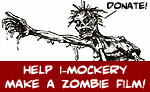 DONATE TO OUR ZOMBIE MOVIE!
Come talk about this piece & more on our Message Forums!
click here for more minimocks!

---


[Minimocks] [Articles] [Games] [Mockeries] [Shorts] [Comics] [Blog] [Info] [Forum] [Advertise] [Home]


Copyright © 1999-2007 I-Mockery.com : All Rights Reserved : ()
No portion of I-Mockery may be reprinted in any form without prior consent
We reserve the right to swallow your soul... and spit out the chewy parts.