by: -RoG-
...CONTINUED
Tic Tac Bewitching Blend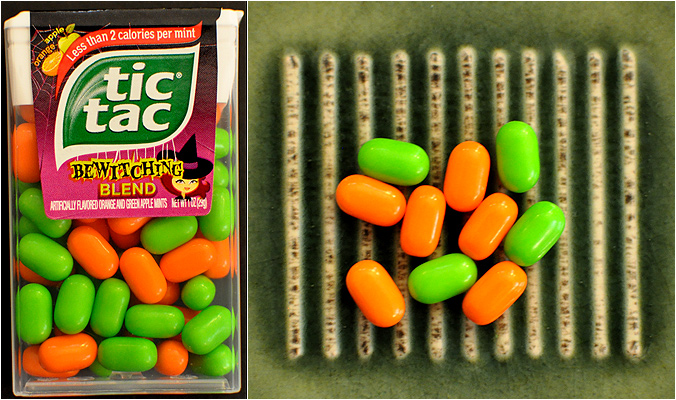 Man... everybody is getting into the Halloween candy market these days! If you had me predict which candy brands I would expect release a Halloween variety, Tic Tacs would definitely be near the bottom of the list; and yet here they are. The Bewitching Blend features orange and apple mints, and they have a very mild taste that works perfectly together. Between the little witch, spooky fonts, spider webs on the label and the green & orange color mix of the candies, this is an extremely nice Halloween presentation for such a small package. Welcome to the Halloween club, Tic Tacs! Please come back in 2014!



out of 5 haunted houses
Twinkle Candy Corn Pops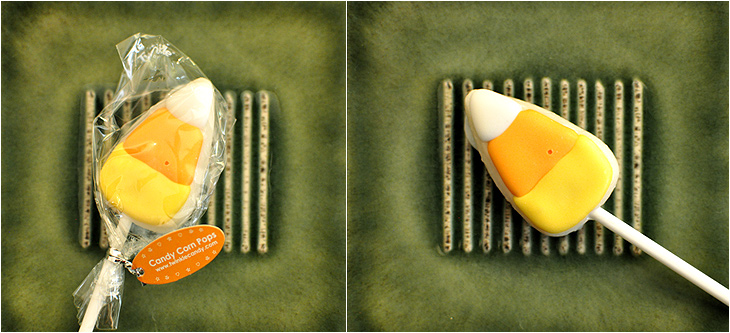 This is my first time tasting the Twinkle brand of candies. The candy corn lollipop certainly looks nice, as they clearly took the time to make sure it looks like the genuine article. Unfortunately, the pop itself is only mediocre at best. The candy corn flavoring is very mild, and as a result, I was just left wishing I was eating the real thing instead. It's not bad or anything, I just wish it had a strong taste that stood out as much as the lollipop itself.


out of 5 brains in jars of formaldehyde
ZomBee Halloween Kabobs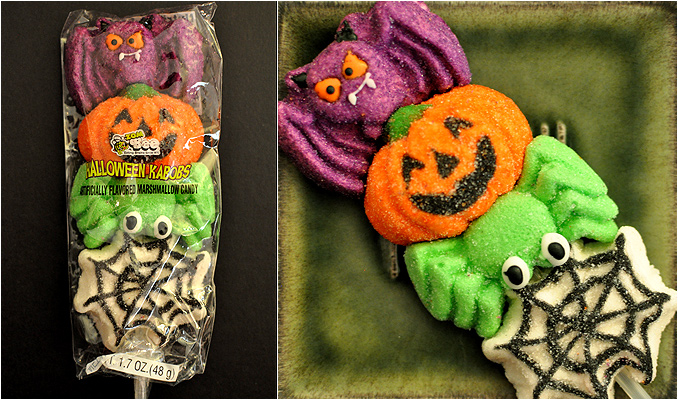 If there's one thing we need to see more in the world of Halloween candies, it's gotta be kabobs. Thankfully, the fine folks at ZomBee (aka: Bee International) have taken it upon themselves to give us a special marshmallow Halloween kabob featuring a purple vampire bat, a smiling jack-o-lantern, a bug-eyed green spider, and its cobweb. It looks great and you really do feel kinda bad eating such artwork, but kabobs are meant to be devoured, not admired, so eat it we must! Fortunately, eating it proves to be worth it, because the marshmallows are nice 'n soft and they're covered in crystallized sugar to make 'em a little tastier. Good stuff!



out of 5 hearses
Flix Light Up Bat Fan Candies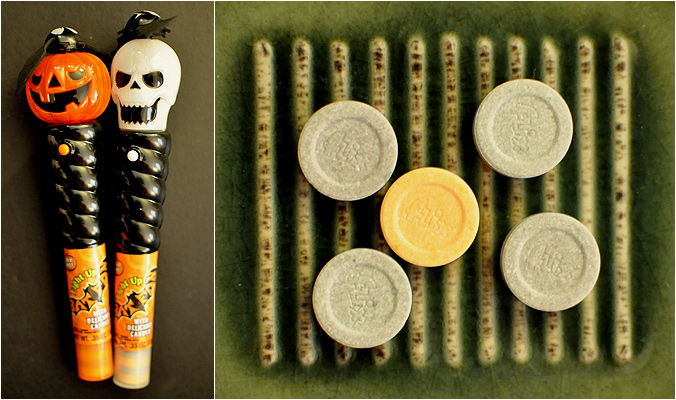 It's always a mixed bag with candies like this. The packaging is absolutely fantastic - you get a wonderfully designed light-up jack-o-lantern or skull with a spinning vampire bat fan on its head. They spin really well and look great when lit up, so they'd easily make great novelty items for any kid. Problem is, when so much is put into the packaging, the candy that is found within is usually nothing to write home about, and that's definitely the case here. There's just not much flavor to them at all. They're extremely hard, bland little candy discs that say Flix on them. Not exactly a Halloweeny candy.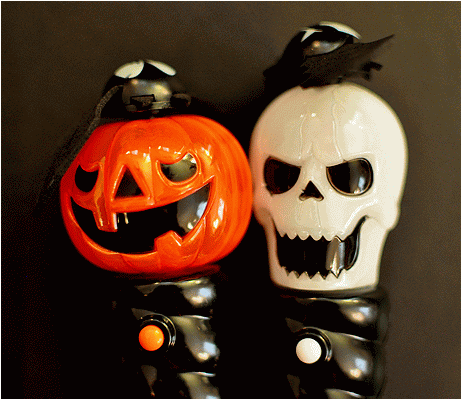 Still, if you're looking for a light-up novelty handheld Halloween fan, these will certainly do the trick.


out of 5 Counts (ah-ah-ah!)
Gummy Creepy Crawlers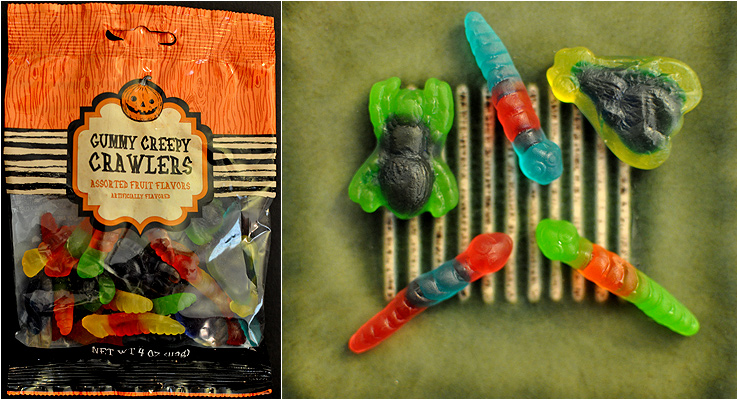 In addition to the bugs, I like that these look like little grubs or maggots instead of the typical gummy worms that are just repackaged for Halloween every year. The colors are certainly nice, and you're also hit with an extremely fruity smell as soon as you open the bag. Again, I'm not the biggest gummy candy fan, but these are pretty good for gummies. The fruit flavoring will please the palate and they're all nice 'n soft. Please the palate? Did I actually just say that? Snap out of it Rog... you're reviewing Halloween candies, not a five-star restaurant for chrissakes!



out of 5 leaf piles
Jelly Belly Candy Corn Jelly Beans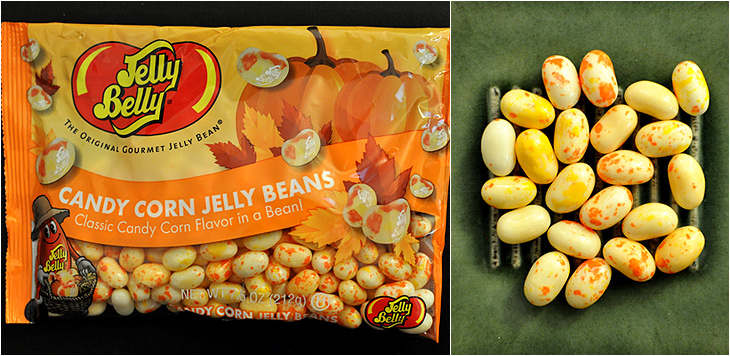 YES! Now this is what I want when a company tries to replicate the flavor of candy corn. This is practically right up there with the Candy Corn Oreo Cookies in my book. Jelly Belly has captured the genuine flavor of candy corn and put it into their wonderfully orange and yellow speckled jelly beans. If you're a fan of candy corn like I am, I simply cannot recommend these enough. Totally worth it.





out of 5 Chucky dolls
Russell Stover Big Bite Caramel Apple With Peanuts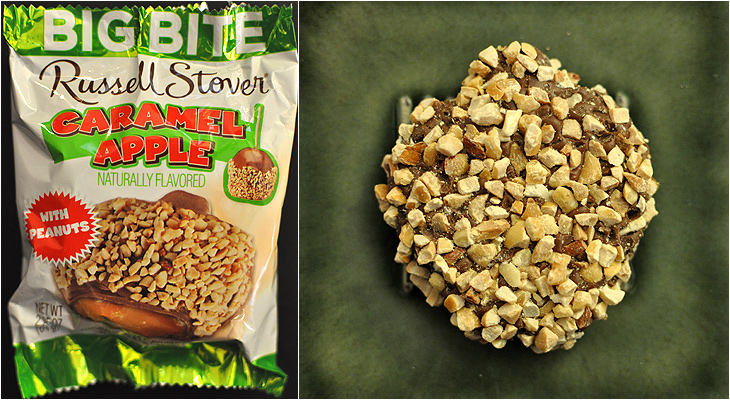 There are just too many delicious Halloween candies this season, and the Russell Stover caramel apple is no exception. This thing is loaded... and I mean LOADED with peanuts. Believe it or not, what you see in the above photo isn't even all the peanuts, because there was still a hefty handful of them in the bottom of the package after I removed it. It tastes amazing too, because there's a very subtle apple flavoring to the caramel that's damn near perfect, so with the chocolate and abundance of peanuts, it's a Halloween treat you do not want to miss out on. Having finally tried these, I clearly need to make a trip back to the store and pick up some more before they're gone for the year.




out of 5 black widow spiders
Herr's Candy Corn Flavor-Coated Pretzels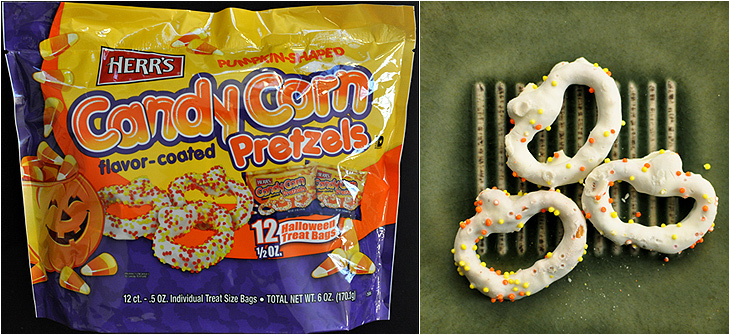 These obviously dance on the thin line between candy and snack foods, but since they're candy corn flavored, I figured they deserved some coverage. So you all know by now that I'm a fan of candy corn, and I know it's one of those candies that will always have people divided into separate love/hate camps. That said, even I had to approach these with trepidation, because I just wasn't sure if it would work. Candy Corn coated pretzels? It's a weird concept.
I do have to say that Herr's did a fantastic job on the festive packaging. It's so insanely bright and happy and even the font looks fun; it might even be my favorite packaging this season. Big kudos to them for making the pretzels shaped like pumpkins too. That's really going the extra mile when they didn't have to.
So how do they taste? On the plus side, they're not nearly as scary or weird as I thought they would be. On the minus side (at least in my eyes), you can't taste ANY candy corn in these. The pretzels are coated in white chocolate, and they use orange and yellow sprinkles to mimic the look of candy corn. But make no mistake about it, these taste nothing like candy corn at all. Oddly enough, they don't taste like pretzels either. With the thick white chocolate coating, they just end up tasting like mild vanilla cookies. The flavor isn't bad or anything, but it's far from what I was expecting they'd be shooting for. If you call something candy corn flavor-coated, then make it exactly that, otherwise it's false advertising in my book.


out of 5 puzzle boxes
Oh but there's more!
CLICK HERE TO CONTINUE TO
PAGE 4 OF THE CANDIES!