by: -RoG-
...CONTINUED
Nerds & SweeTarts Fright-Tins

I suppose this is more a packaging review than a candy review, since we've all had a chance to devour Nerds and SweeTarts before, and we all know they're awesome, right? Right! So with that in mind, they produced these fantastic little tin ghost containers to hold small packs of their candies this season. I love the expressions on their faces, particularly the Nerds ghost, as his tongue has turned green (been there) and he only has one tooth left (something I'm sure I'll relate to after I finish reviewing all these Halloween candies). What's odd to me is that they don't mention that they're called "Fright-Tins" anywhere on the ghost tins, it's only mentioned on the retail store display boxes. Then again, I don't have the Handbook for the Recently Deceased on me, so perhaps there's a better explanation for that odd omission. Regardless, they're great little collectibles to display, I just wish they could've included a ghostly new version of the candies that we've never seen before. Had they done that, it probably would've bumped their score up even more.



out of 5 crazy Jacks
Pumpkin Spice Peeps


Yes, pumpkin spice is everywhere nowadays, and what it tastes like can vary from product to product. Does it taste like Pumpkin? Cinnamon? The extract of Goblin Eyes and Necromancers? Define pumpkin spice's flavor however you like, but it's clearly permeating every aspect of Halloween culture these days, and Marshmallow Peeps are no exception. In this case, it's a very pleasant mix of marshmallow, crystallized cinnamon-flavored sugar, and a base dipped in white fudge. I wasn't expecting much, but they're honestly very good! Much better than just a plain ol' marshmallow. Combine that with a perfect package design featuring a Peep emerging from a pumpkin filled with creme and cinnamon sticks, and you've got a winner.




out of 5 chainsaws
Caramel Apple Peeps


As you can see, Peeps went all out this season when it comes to festive fall variety. Here we have the caramel apple flavor, complete with another unique packaging design showcasing all the colors of Autumn along with an old farm, apples, and a green Peep dipped in caramel. Sure enough, that's what we're dealing with the actual candy as well. When I opened the package, I was overwhelmed by how strong the apple scent was, and it had me thinking these wouldn't taste right at all. Fortunately, that wasn't the case. They taste great, and you really get a perfect blend of the caramel and apple flavoring... which, if you've read my reviews of other candy apple flavored products over the years, isn't an easy thing to accomplish.




out of 5 Kiefer vampires
Candy Corn Peeps


I mean, come on... how great are these!? Yellow Peeps, dipped in white fudge, and speckled with tiny orange crystal flakes. All three candy corn colors represented in stylish fashion both on the package and on the actual Peeps treats. They smell great too, much like the Candy Corn Oreos that we've all come to know by now. Once again, they did a great job making these taste just right and not too overpowering. That's three for three with these special Peeps packs. Most impressive!




out of 5 Freddy gloves
Brach's Fruit Cremes Candy Corn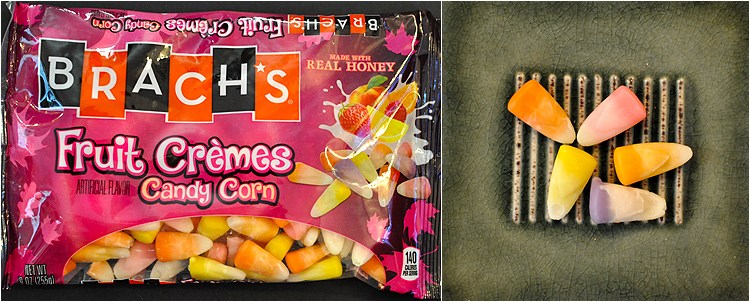 I've reviewed some fruit flavored candy corn in the past, but this is my first time trying Brach's which come in a variety of flavors: Strawberries & Creme, Orange Creme, Peaches & Creme, Lemon Creme Meringue, and Raspberry Creme. These are a strange mix. I've never liked peach flavored things, so I thought the peach candy corn was particularly awful. The lemon, orange, and strawberry ones were decent representations of their flavors, but not so much that I'd want to each them again. The raspberry, however, was extremely good, but it tasted more like a mix of candy corn and lavender instead. Sooo good! I'd honestly buy a full bag of that single flavor if they released it, as I kept digging into the bag to find them throughout the day, but considering you only get so many raspberry ones in a variety bag with the other flavors like this, I probably won't buy any more. If they released just a bag of raspberry candy corns, I dare say I'd give it a 4 or 5 rating! Either way, a much better mix than the Starburst Fruit Candy Corns from 2013.



out of 5 Frankensteins
Sour Face Twisters Spooky Sour Legs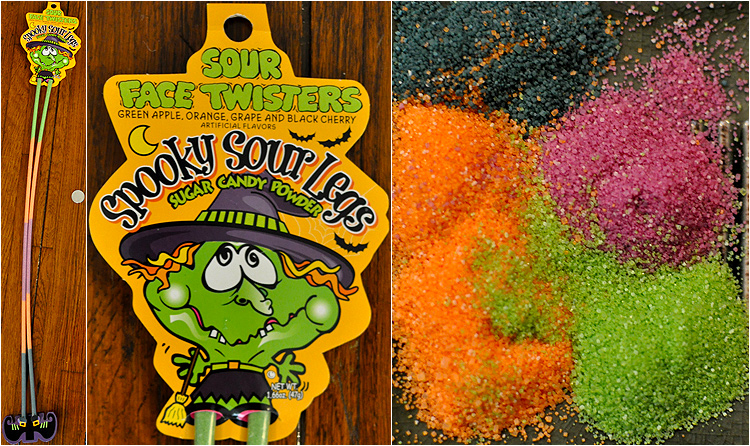 This is essentially a pair of large pixie sticks made out to look like some super elongated legs of a witch. I had to stand far away to even fit them into the photo, and as you can see, the presentation is fantastic. They include green apple, orange, grape, and black cherry flavors - all of which are represented by different colors in her legs as if they were festive stockings. The candy itself isn't too sour, but still strong enough for fans of sour candies. Of the four flavors, I'd have to say grape is the winner here. Easily one of the more fun candy additions this year. Would love to see more long-legged monsters added to this line in the future!




out of 5 jack-o-lanterns
Brach's Mellowcreme Pumpkins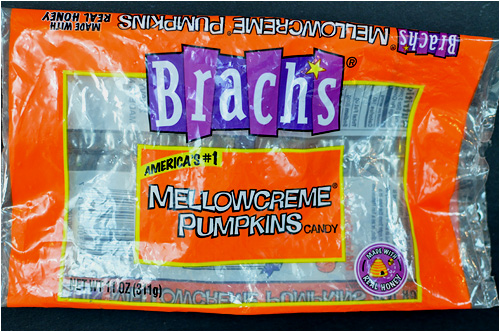 Look, I really tried to make the Mellowcreme pumpkins last long enough this Halloween season so that I could finally photograph them for a proper review after all these years, but they... they just... they somehow vanished. I honestly can't explain it. It's the damndest thing really... I... I mean why wouldn't they be in the bag anymore... that's just crazy... it's... it's... I... I don't... I... I...................
WHAT DID YOU JUST SAY TO ME, MR. CVS EMPLOYEE!?!?!???? WHAT THE HELL DO YOU MEAN YOU WON'T WALK TO THE BACK OF THE STORE TO CHECK THE STOCK ROOM TO SEE IF YOU HAVE MORE MELLOWCREME PUMPKINS BECAUSE YOU KNOW FOR A FACT I ALREADY BOUGHT THEM ALL THIS YEAR!?!? YOU MARCH YOUR ASS BACK THERE *RIGHT NOW* BEFORE I DRAG YOU BACK THERE MYSELF BY YOUR GODDAMN EYELIDS! YOU THINK I'M KIDDING ABOUT THAT?? WHY DON'T YOU ASK YOUR MANAGER ABOUT THE EMPLOYEE FROM LAST MONTH WHO NO LONGER WORKS HERE BECAUSE HE HAD TO GET CORRECTIVE EYELID SURGERY DUE TO MY STRETCHING THEM OUT SO LONG THAT THEY NOW REACH DOWN TO HIS POCKETS! MAYBE HE WOULDN'T NEED SURGERY IF HE WENT TO THE STOCK ROOM AND FOUND ME MY MEDICINE! MY MELLOWCREME PUMPKINS! SO YOU LISTEN UP, AND YOU LISTEN GOOD, YOU SONOFABITCH! YOU GET YOUR ASS BACK THERE AND FIND ME SOME MELLOWCREME PUMPKINS, AND YOU BETTER TEAR THROUGH EVERY SINGLE BOX LIKE A GODDAMN TASMANIAN DEVIL IN SEARCH OF THEM! AND IF YOU DON'T FIND ANY MELLOWCREME PUMPKINS, YOU HAD BETTER **MAKE** ME SOME MELLOWCREME PUMPKINS! I DON'T CARE HOW MUCH INTERNET RESEARCH OR HOW MANY CANDY CONFECTIONERS YOU HAVE TO HIRE TO MAKE IT HAPPEN; IF YOU DON'T PLACE AT LEAST A HUNDRED BAGS OF MELLOWCREME PUMPKINS IN MY MOUTH IN THE NEXT FIVE MINUTES, I'M GOING TO BURN THIS ENTIRE BUILDING DOWN AND THEN I'LL MOLD THE CHARRED REMAINS INTO THE SHAPE OF A BIG MELLOWCREME PUMPKIN AND DEVOUR IT WITH ALL THE HALLOWEENY DELIGHT MY BODY CAN MUSTER! DO YOU HEAR ME??? I WANT MY MELLOWCREME PUMPKINS NOOWWWWWW!!!!!!!
out of 5 witch hats
Treat Street Zombie Hand Gummy Lollipop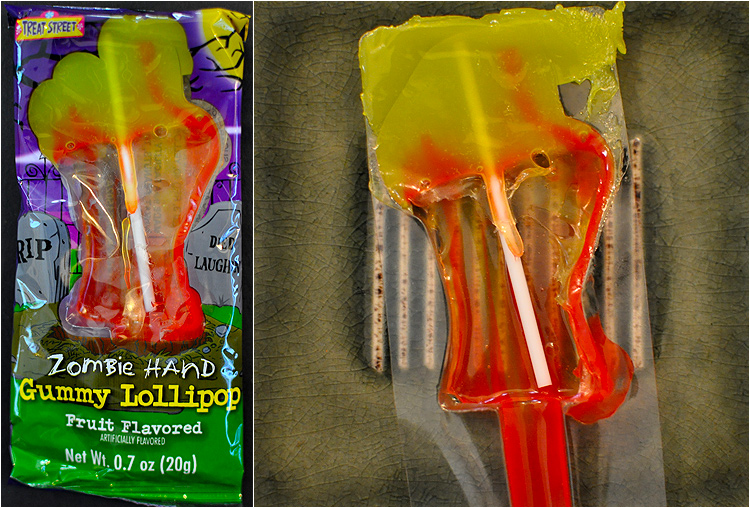 In case it wasn't obvious, this lollipop was a victim of the LA heat wave we experienced earlier this season. That's kind of like overkill when you think about it. I mean, this hand once belonged to a living human being, then it became a zombie hand, and now it was killed again by the sun. Ouch. Presentation wise, the packaging is very nice and festive, including tombstones which read "R.I.P." and "Died Laughin'". Despite being melted and nearly impossible to eat, the chunk I was able to gnaw out of the packaging wasn't too shabby. A nice, mild green apple flavor, and I'm sure it'd be more enjoyable if it wasn't adhered to the plastic packaging.


out of 5 Edgar Allen Poe's.
3 Musketeer Muskefears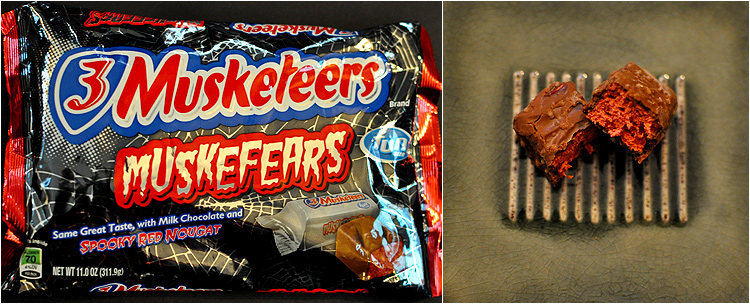 Yes, yes, YES! It's like the Mars company hired the Cryptkeeper to name their candy this year, and I couldn't be happier about it. They're exactly the same as regular 3 Musketeers chocolates, only they're filled with "spooky red nougat" instead. And you know what? That's good enough for me.




out of 5 tombstones
Oh but there's more!
CLICK HERE TO CONTINUE TO
PAGE 3 OF THE CANDIES!