by: Dr. Boogie
...CONTINUED
Especially when he starts mimicking the story he told earlier about his friend Parker, strolling down the road, sandwich in one hand and severed head in the other. All Jen can do it just gawk. Bill gets so cocky he starts delivering his scary murderer dialogue with a mouthful of sandwich. Jen takes off running again.
Come on!! He was right in front of her! HOW COULD SHE HAVE MISSED HIM!?
Get ready to get more irritated: Craig hushes Jen and explains that he saw Bill murder Linda. Bill locked all the doors, so Craig tried to get in through the bathroom window (even though it looked like he was just laying there watching Jen through the window) when Bill caught him and Craig knocked him out with that hammer. Then when Craig was in the store earlier, he thought it would be best to lurk silently behind Jen a couple times without revealing himself instead of, geez I don't know, TELLING HER ABOUT THE GODDAMN MURDER HE WITNESSED!!!
That explanation is so terrible that Bill has to come beat some sense into him.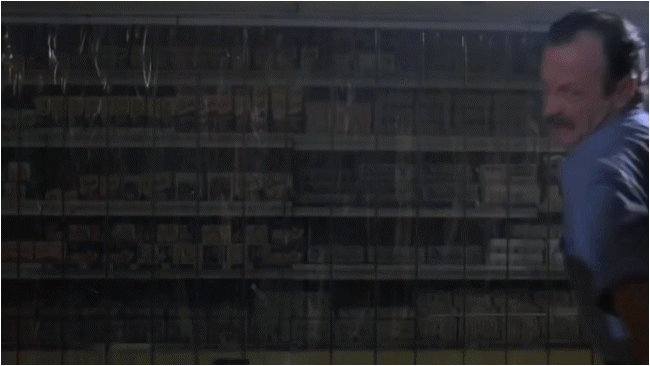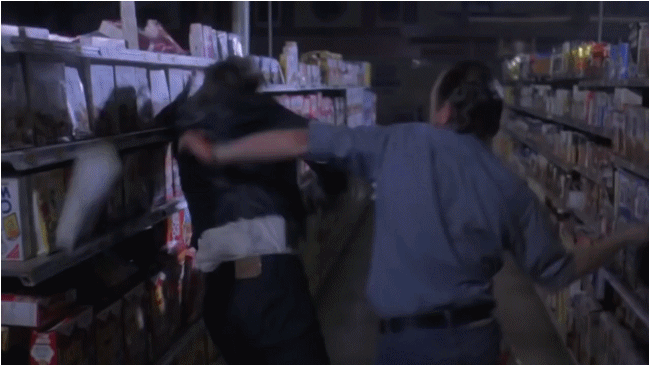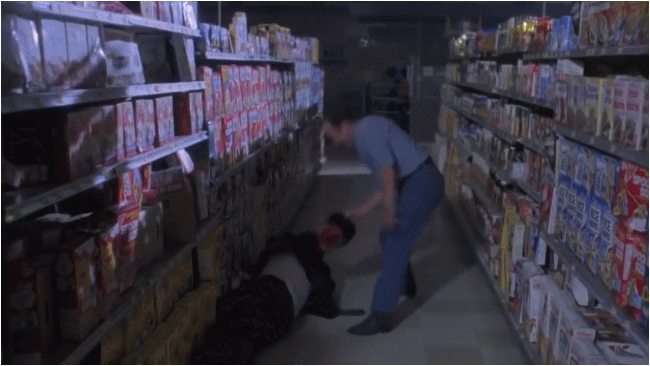 This is my favorite scene in the whole movie. Just Bill whaling on this doofus with his former friend's severed head amidst a bunch of old cereal boxes. I think Bill might be my new favorite horror icon.
Amidst all the wet thumping sounds, Jen manages to escape through the aforementioned bathroom window. Now all she has to do is hop in her car and drive off.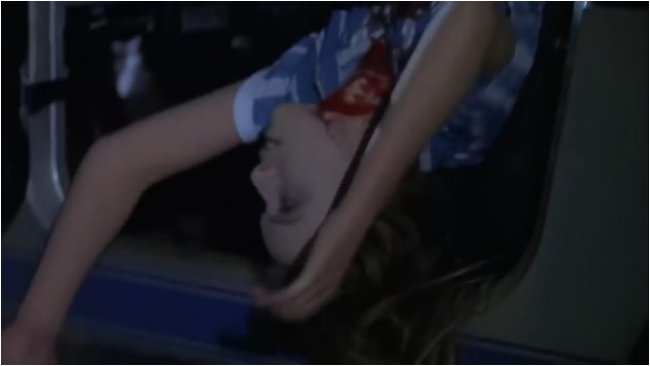 Oh hey Linda, I forgot you were in this movie! So how did Bill get her into Jen's car without stealing Jen's keys?
Ah, whatever. It's not like the explanation for that could be any worse that what Craig just tried to pass off as the truth.
Is anyone surprised that Bill has once again folded space and time to appear outside and drag Jen under her car? How about the mechanics of how he managed to reach under the care, yank her off her feet, drag her under the car, and then drag her all the way to the other side? What CAN'T this man do?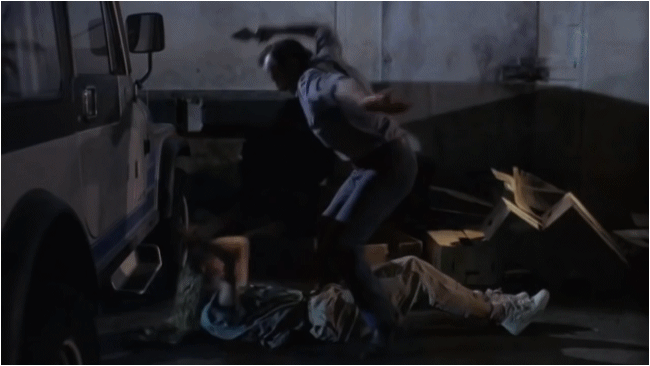 Take a knife to the chest, that's on the list. Before he keels over, he has the nerve to ask her where she got the knife. Really, Bill? That's the unexplained mystery you want to solve with your dying breath?
Speaking of mysteries, take a look at this next scene and tell me what you see:
You can't tell me that Jen saw the knife pop out of Bill's chest like that and didn't think it was at least a little weird. She's been through a lot, but knives don't just shoot out of people's chests! Not like that, anyway.
Tired, filthy, and now jobless, Jen walks over to the phone booth and calls the police.
Super speed, a regenerative healing factor, and his solar plexus works like a pitching machine. He's unstoppable!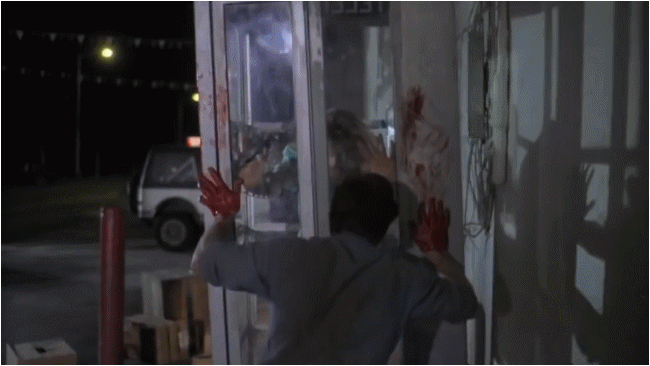 He's not even slowing down a little! I think getting stabbed in the chest just made him angry. Well, more giggly than angry. The giggle of an immortal grocery store killer.
Before Bill can torment Jen any further, Craig shows up and gives us a sample of all those murdering skills we heard about way back when.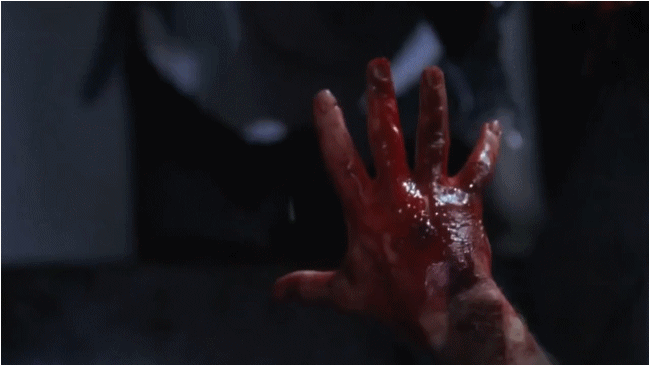 Editing can be a great way to showcase some of the best footage the DP has for you. You can also use it to cut out the less great stuff. Or you can leave everything in so that the audience can see one actor lightly socking another while holding a dull meat cleaver.
At last, it seems like our two heroes are safe: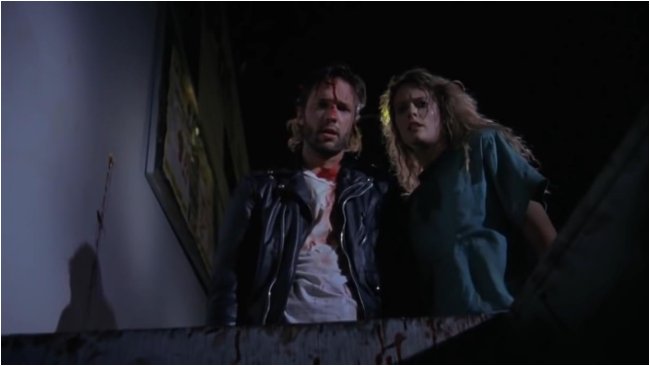 What a cute couple: a codependent with no upper body strength and near total blindness, and an abusive, chemically-imbalanced murderer whose willingness to kill came in handy this one time. Love really *is* blind. Just not as blind as Jen.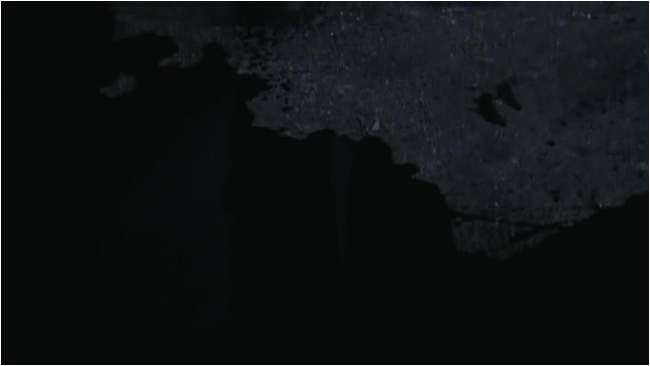 Maybe Craig is deaf. He sure doesn't seem to hear the approaching police sirens, or if he does, he doesn't think it would be a swell idea to drop the bloody meat cleaver. All I'm saying is don't actively try to make yourself look like a killer.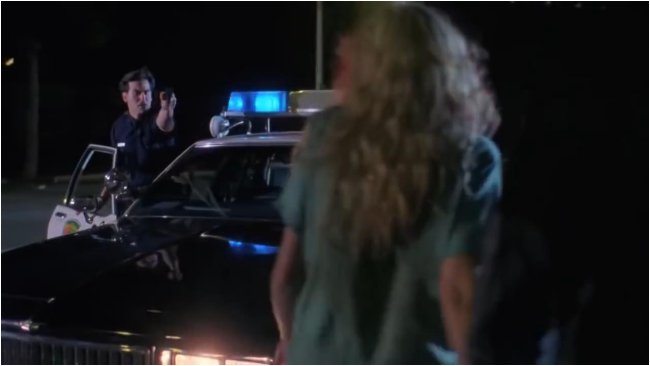 Hey, look! It's that Bruce Campbell guy who got top billing, showing up for the first time in the final scene of the movie! Aren't marketing materials funny?
Suffice to say, things do not look good for these two. And did you think Bill was dead? You stupid dumb person. He's alive enough to tell the cops that those two lovebirds committed all the murders.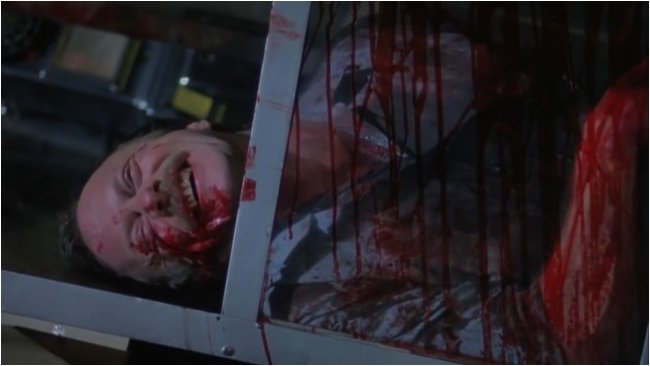 Just look at him, lying there. Get it? "Lying" there?
Unnamed Cop Played By Bruce Campbell runs inside and confirms that there's sliced up heads and severed hands and humorously-arranged bodies in trash cans everywhere. Meanwhile, Craig is covered in blood and Jen has eyeball on her shoe. They're both going up the river for those eight murders. Not to mention animal cruelty (they know what you did to those lobsters!).
Oh, and one charge of attempted murder.
Jen, for god's sake, don't waive your right to remain silent!!

I mean, I guess forensics could dust for prints and see that Bill's were all over the murder weapons and the people who were murdered. And they could pull up the phone records showing that Jen called the police out to bust Craig for busting her face. And they might even find Bill's lip prints on Danny's corpsey face. But no, none of that matters. Why?
Because Bill is already gone. He got up and walked right out of there. Heck the only reason we didn't see it earlier is because Craig didn't leave the cleaver stuck in him so he could fire it out like a shot. He's going to go get a job at Walmart and when he's done rolling back prices, he's going to start rolling back flesh!
The only difference is the people at Walmart will be glad he's killing them.
Have any questions or comments about this piece?
SHARE YOUR THOUGHTS IN THE READER COMMENTS SECTION BELOW!