by: -RoG-
There's a time of year when Knott's Berry Farm puts aside all of their berry preserves and turns their theme park into an exclusive home for ghouls 'n ghosts. That time of year is, of course, Halloween. During this season, they are no longer known as "Knott's Berry Farm"... instead, they only go by the name "Knott's Scary Farm". These guys definitely have the concept of converting their park into a spooktacular event down pat - after all, they've been doing it for 37 years and counting and were the first theme park to ever completely convert themselves for Halloween. I had a chance to visit the park for their 2006 Haunt and was definitely entertained with all that I saw (be sure to check out that photo gallery if you haven't seen it already), so when my friend Shannon offered me a chance to go again this year, I jumped at the opportunity.
The following is a gallery of photos that were taken at the Knott's Scary Farm 2009 Haunt. Obviously, when you're wandering through the dark corridors of their Halloween mazes, it's not always easy to get the best photographs, so please keep that in mind since not every low light photo came out perfectly. That said, they changed the mazes up quite a bit this year and I think you're really going to like what they've done. So without further delay, here be all of the photos!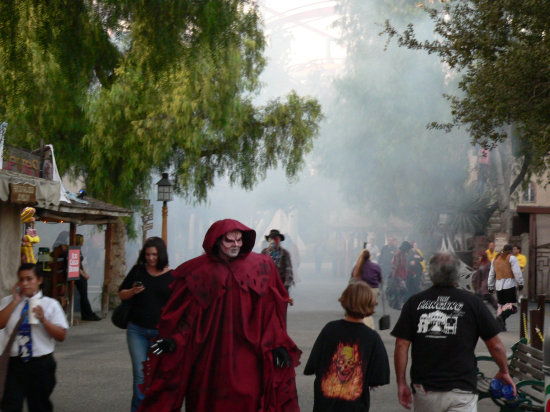 We arrived just as the sun was setting and the fog machines were already blasting away.
Saw this guy throughout the night and he was creeping out plenty o' people.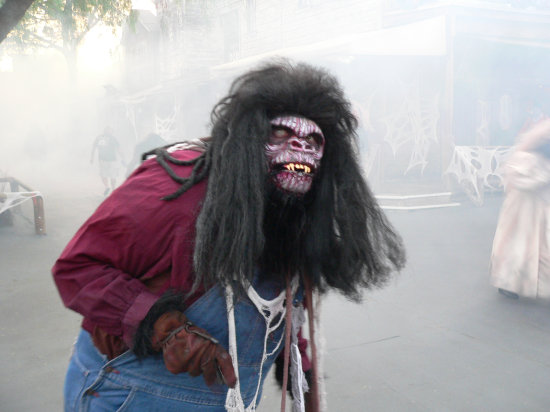 Nothing like an inbred ape man to start things off right.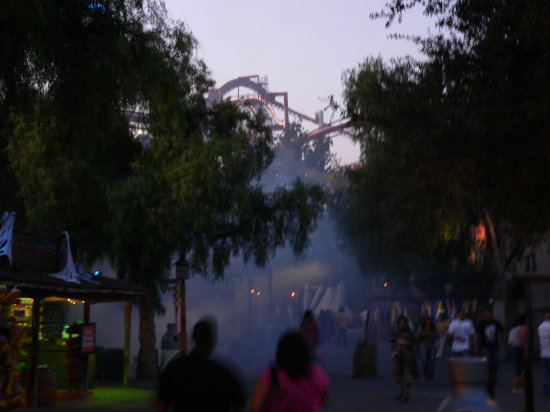 Getting darker...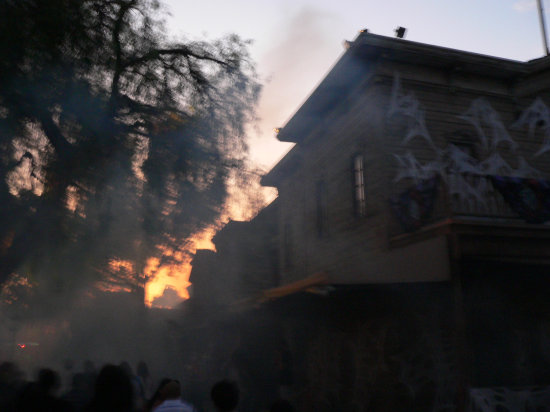 Say goodbye to the sun... AND CLEAN UNDERWEAR :O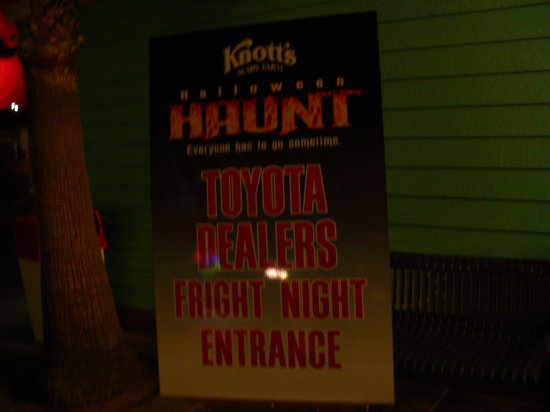 So my friend Shannon invited me to come to Knott's Haunt because she had free tickets since her father is from
a Toyota dealership. They were having a special night for Toyota dealers, complete with a Halloweeny food buffet!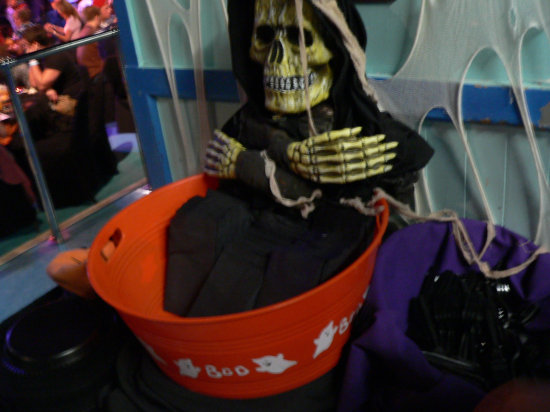 The reaper guards the black plates, napkins and cutlery.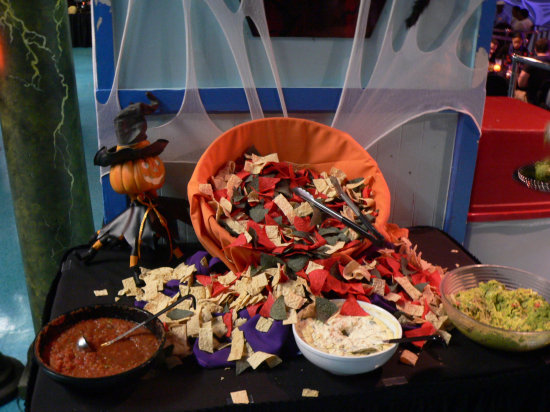 Halloween salsa!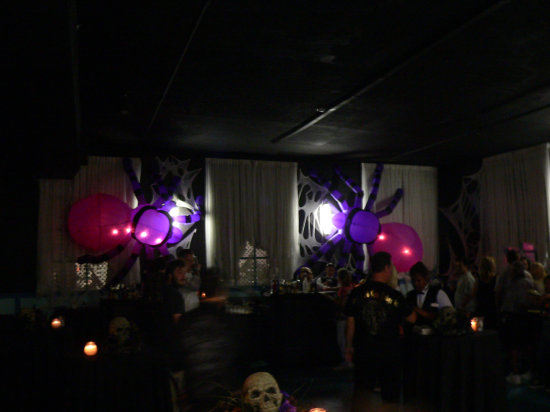 Giant inflatable spiders adorn the walls of the exclusive dining area!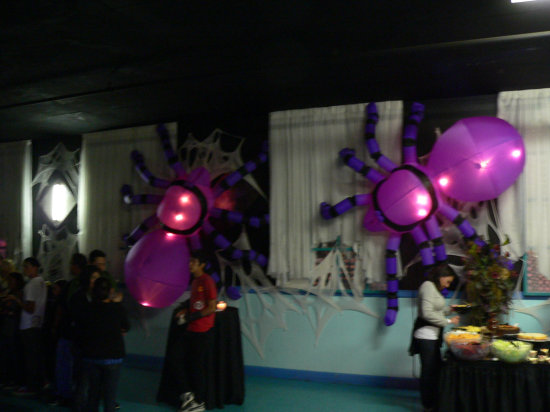 Seriously, those spiders were friggin' HUGE!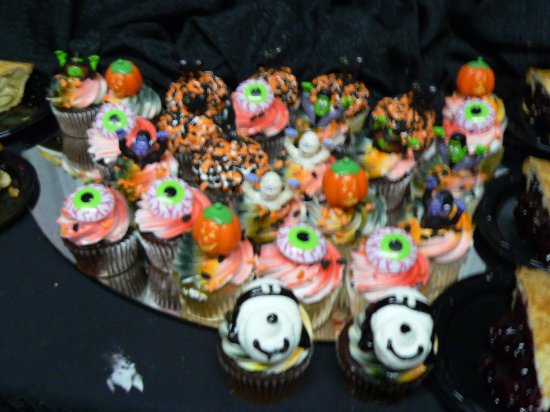 Plenty of delicious Halloween cupcakes to choose from.

I assume this vulcher was part of the clean-up crew.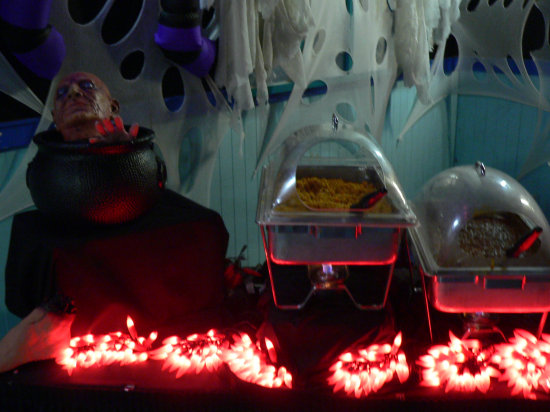 The head in the cauldron was tempting, but I ate the rice instead.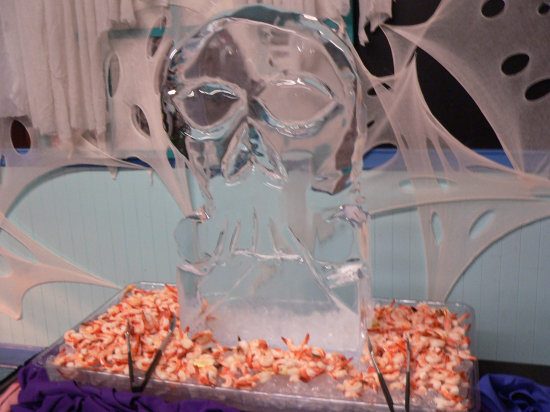 This was my favorite decoration - a giant ice sculpture skull as the shrimp centerpiece.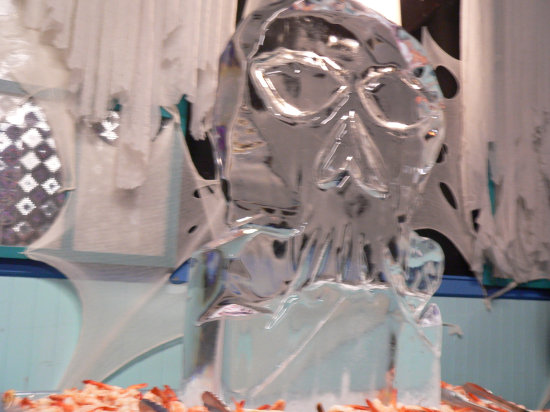 Another angle of the big ice skull.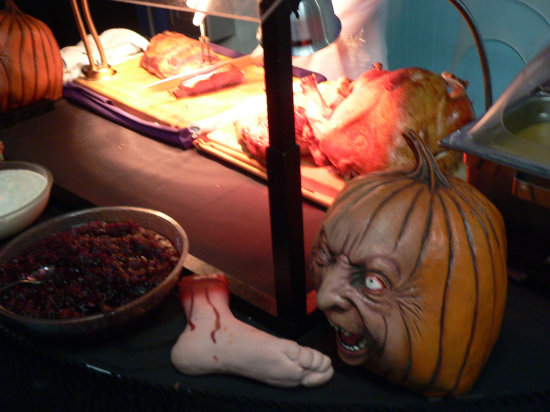 Psycho pumpkin would rather eat a severed foot than the fresh turkey being carved behind him.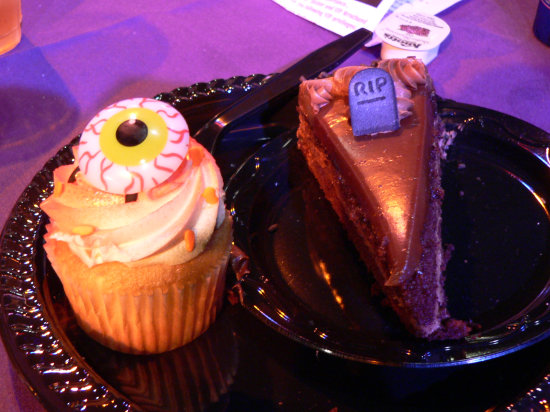 Mmm... dinner is served!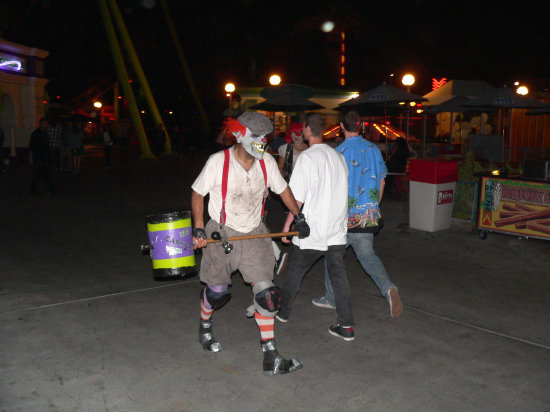 I wish I had a video of it, but this clown was chasing some terrified little girl around the park with his oversized hammer.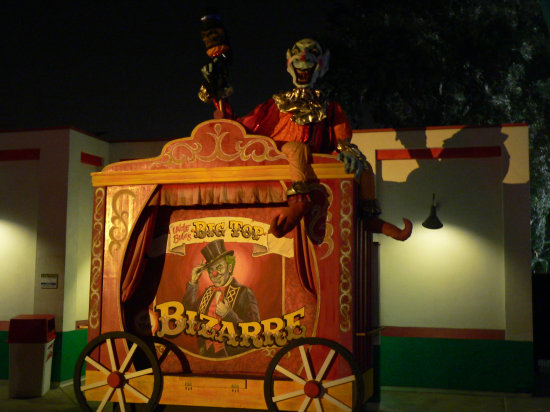 Who's up for some 3D circus fun at Big Top of the Bizarre?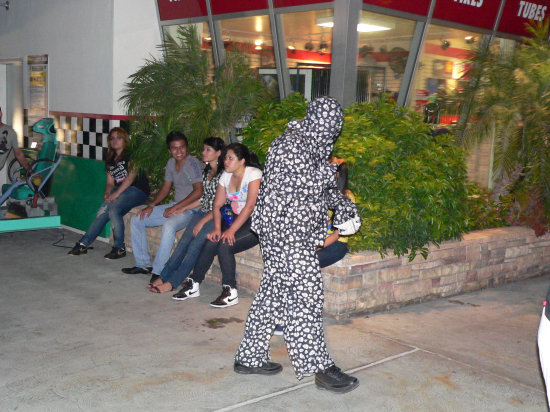 Maybe you shouldn't have the guys who blend in with the crazy wallpaper inside the mazes walking around outside.
Kind of ruins the surprise. Just a thought...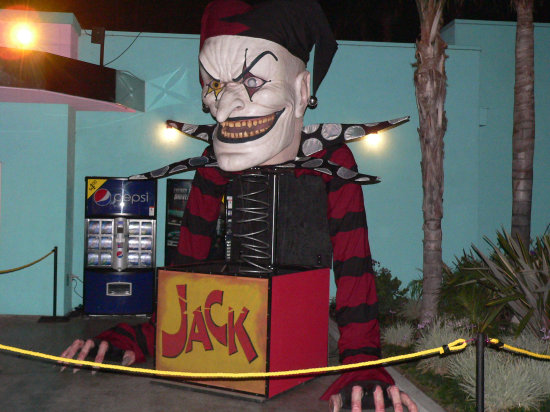 More like JERK in the box, am I right?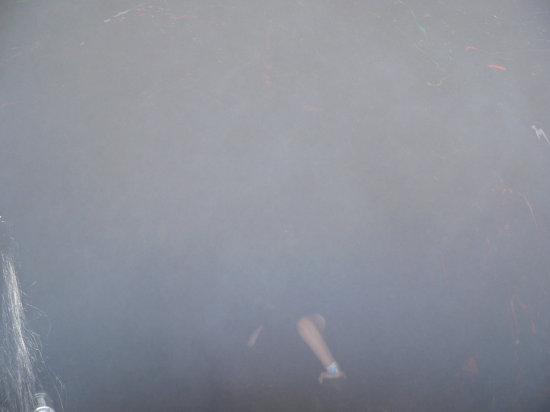 As you can see, visibility was very high in some areas of the park.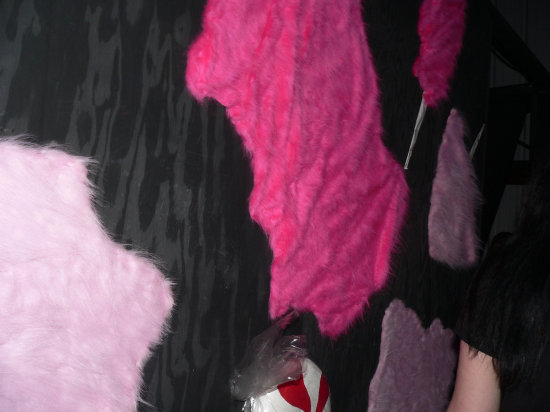 Squashed cotton candy decorates the walls, but I assure you it looked waaaay cooler with the 3D glasses on.
Many of these things can't be done justice with photos since a camera can't capture the fantastic 3D decorations.
There are more Knott's Halloween Haunt pics to see!
Click here to continue onward to page 2!