by: -RoG-
While I've still gone to Knott's Scary Farm every single Halloween season, I haven't done a pictorial on their always impressive haunt since 2009. Considering this year is the 40th anniversary of their Halloween Haunt, I decided it was definitely time to snap some new pictures of the event, so you can see some of the latest sights and scares that draw in thousands of horror fans every year. Remember, these guys are the originals - they were the first theme park to ever convert their entire park for Halloween. In other words, they've been doing it for a long time and they really know how to do it well.
As always, when you're wandering through the dark corridors of their Halloween mazes, it's not always easy to get the best photographs, and I'm often shooting blindly and hoping something comes out well. Fortunately, I have a pretty decent camera for lowlight photography and managed to snap some pics here 'n there, so here's a collection of photos from Knott's 2012 Haunt. Enjoy!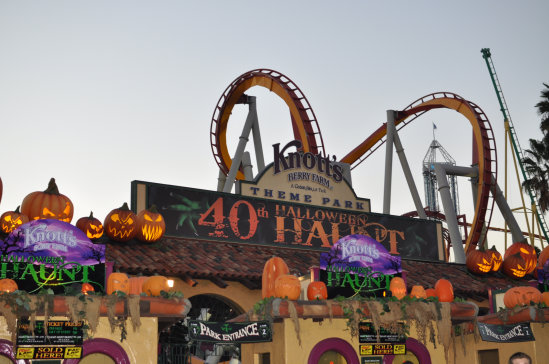 Arriving at Knott's 40th Halloween Haunt.

It's not nighttime yet, but the rooftop Jack-O-Lanterns are lit up and ready to go.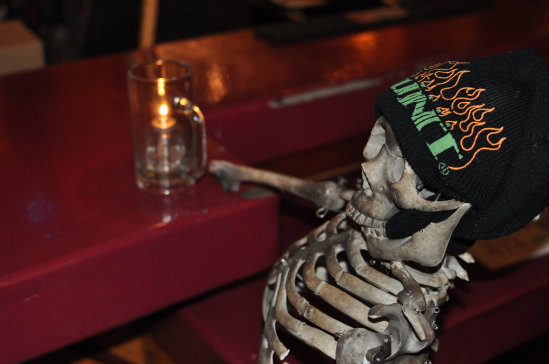 A skeleton is having a drink at the nearby hotel bar before heading into the park.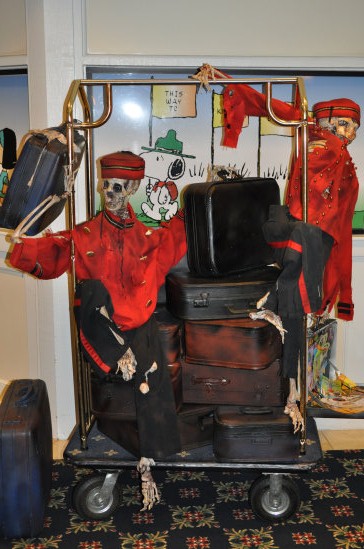 On the plus side, you don't have to worry about leaving a tip for these bellhops.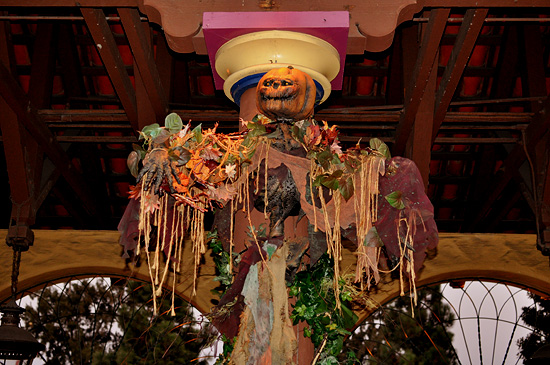 Some of the pillars in at the entrance were converted into these killer pumpkin scarecrows.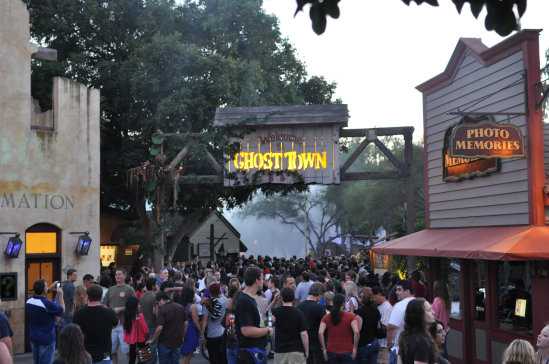 Large crowds wait for the park to open up as the fog machine in the distance are turned on full blast.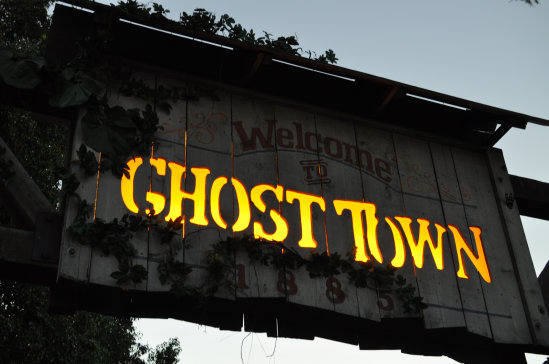 Welcome to Ghost Town!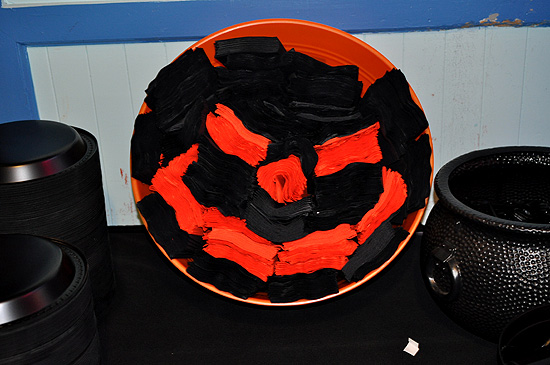 Before going on the rides, we were treated to a special "Boo-fet" dinner.
I loved how they arranged these napkins to make them look like a smiling jack-o-lantern.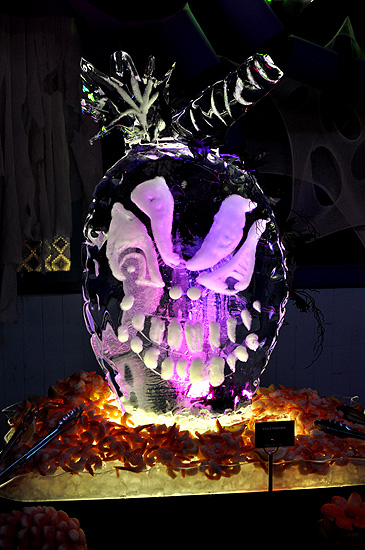 Shrimp look a thousand times more appetizing when surrounding an illuminated spooky ice sculpture.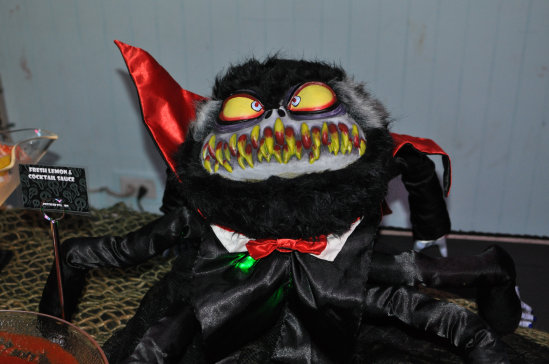 It kinda looks like a hybrid of a spider, Critters, and Dracula.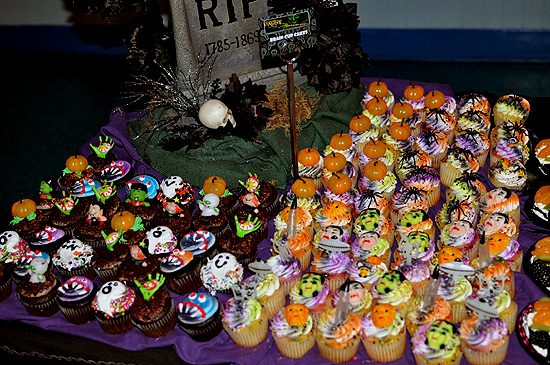 These cupcakes looked absolutely awesome. Hands bursting from graves, blue monsters with big teeth,
ghosts, vampires, frankenstein's monster, pumpkins, and more were all waiting to be devoured.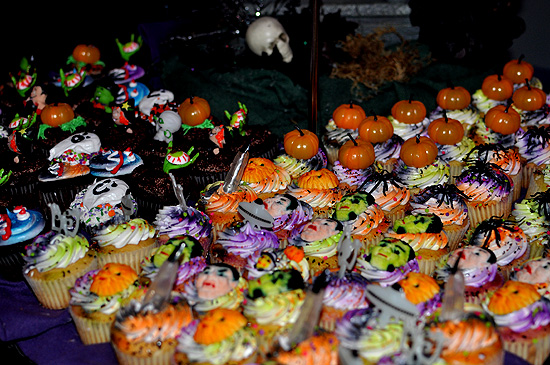 Another shot of their killer cupcakes.

Frankenstein and skull heads filled with mousse have returned! You may recall me blogging about these last year.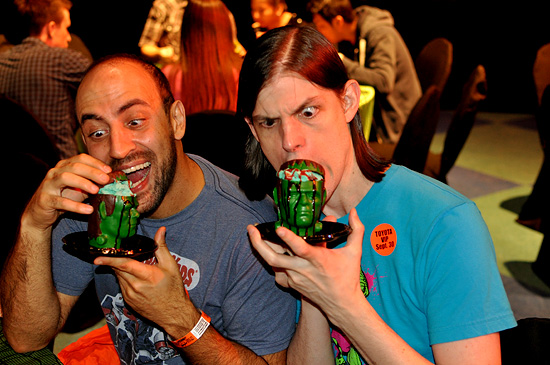 My buddy Maddox and I wasted no time chowing down on ol' Franky's mint-flavored brains.

I'm not sure what Tonga Tiki Terror was supposed to be, but that's what the nearby stage had on it.

Looks like somebody needs to practice nailgun safety.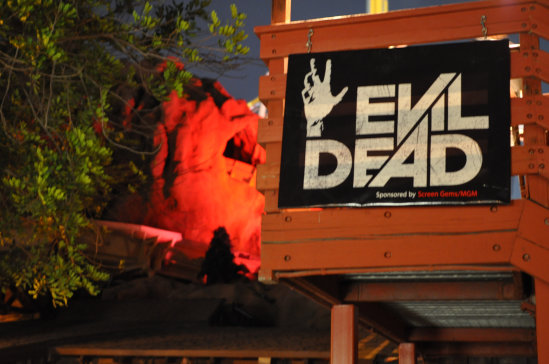 The log ride was converted to have an Evil Dead theme based on the upcoming remake.
If the ride was any indication, the remake is just going to have Ash getting soaked with water and nothing else.
I think I'll stick with the original classic. Bruce Campbell is Ash... nobody else.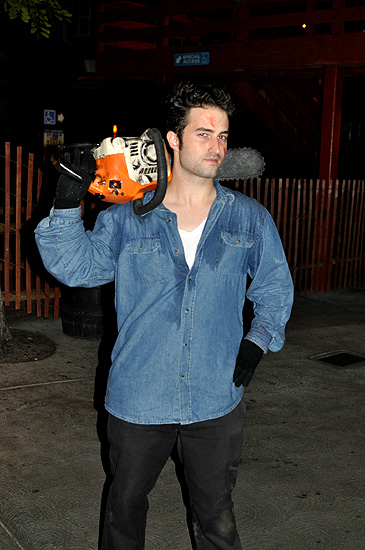 Not even this guy.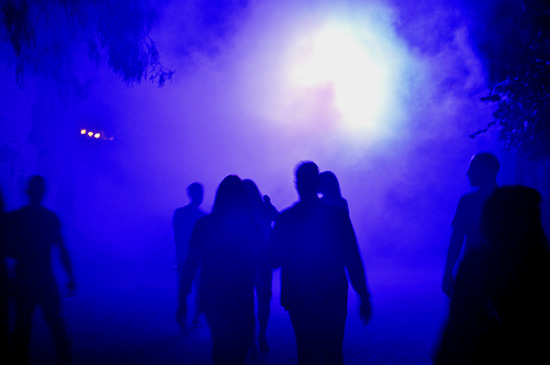 Like I said before, they really turn those fog machines on full blast.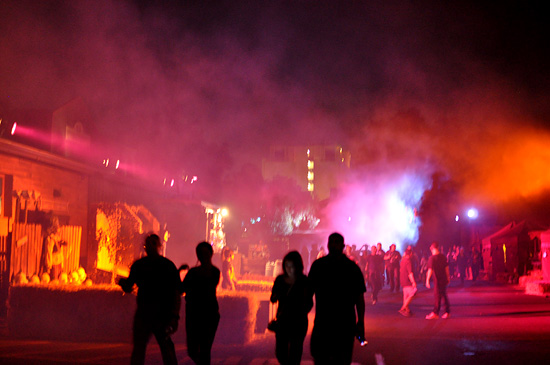 More haunt fans walking through Knott's foggy areas.

One of their haunters waits behind a cloud of fog to jump out at unsuspecting pedestrians.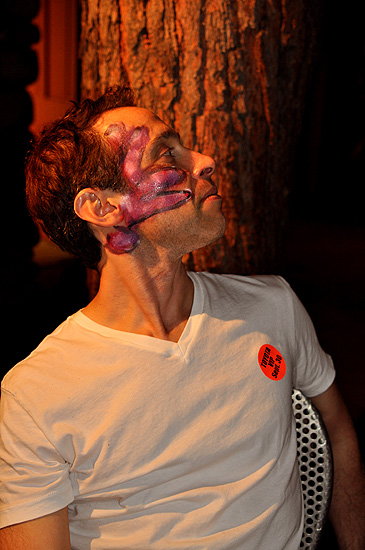 Our friend brian went up to a face painter and asked to have his face look like it was smacked by Snoopy.
They made it look bad intentionally, and they also did it for free.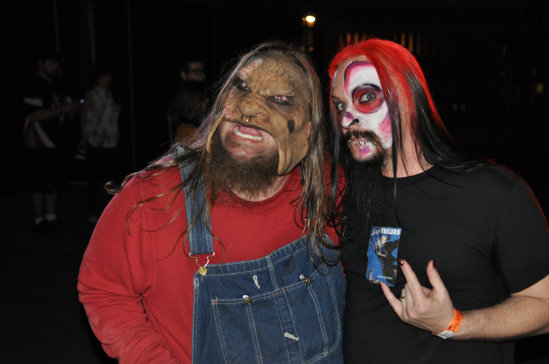 Dan received a much nicer face paint job and his hillbilly haunter pal here approved of it.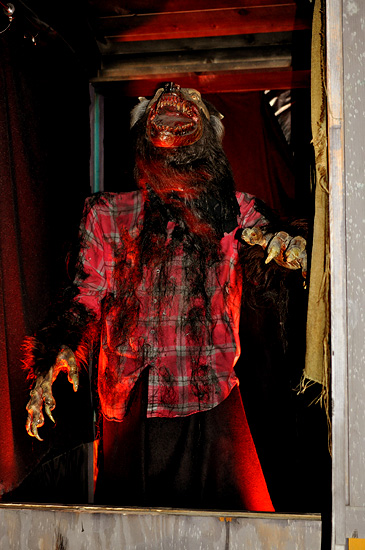 Werewolf trapped in a closet.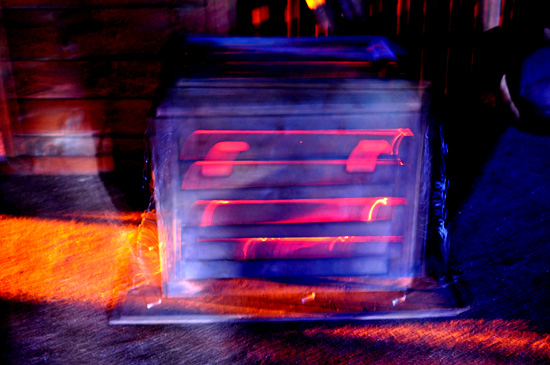 I really like this picture for some reason.
It was this crate chained to the ground that would flash lights and bounce around whenever you approached it.
There are more Knott's Halloween Haunt pics to see!
Click here to continue onward to page 2!