I Ate Frankenstein's Brains!
Paying a visit to Knott's Scary Farm has become an annual Halloween tradition, for it always has a great blend of haunted mazes, spooky rides, and a terribly cheesy public hanging of a current popular celebrity (this year it was Rebecca Black). While the mazes haven't changed much in the past two years, it was still a blast checking them out again - especially my favorite "Dia de los Muertos" 3D haunt and the always amusing haunted log ride. The one thing I did take photographs of while there was the amazing desserts we were served as part of our monster dinner. Behold!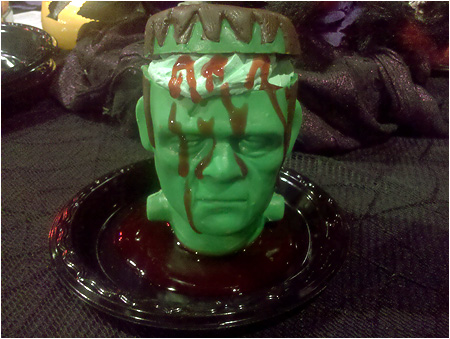 Up until this event, I had never tried mousse before, so I'm glad that my first time eating the dessert was out of a monster's skull. It was a mint mousse stuffed into a chocolate head of Frankenstein's monster and it was absolutely delicious. They even added a raspberry drizzle to it so that it appeared his brains were bleeding all over the place. The raspberry didn't really mix well with the mint, but the rest of it was so good that...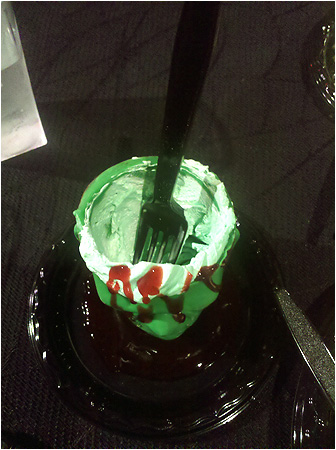 ...well, as you can see, I really enjoyed it. They had a few other flavors such as a chocolate cauldron filled with strawberry mousse and another filled with almond mousse, but let's be honest here... who in their right mind is going to pass up a chance to eat the minty brains of Frankenstein? That kind of thing only happens once in a lifetime if you're lucky. Just like Winston told Ray, "If somebody asks you if you're a god, you say yes!", if somebody asks you if you want to eat Frankenstein's minty brains, you say yes too.
So yeah, I grabbed a fork and hollowed out his skull without ever looking back.
In related news, not to break with tradition, I made sure to get another photo of myself hanging upside-down in a coffin at Knotts: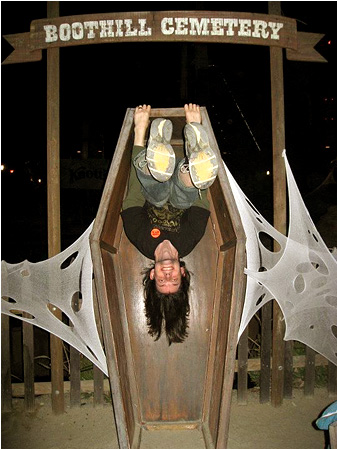 While we're on the subject, in case you haven't seen them already, be sure to check out some of my previous Knotts Scary Farm Halloween maze pictorials: Knott's Scary Farm 2009 and Knott''s Scary Farm 2006.
16 comments
Leave a Reply
Previous post: Apicarnage Tour Coverage: Part Two.
Next post: Tales From The Candelabra!