by: -RoG-
Los Angeles is no stranger to horror conventions, with wonderful events like Monsterpalooza and Days of the Dead, but this past August we were introduced to a new convention: ScareLA. This convention was different than the usual horror ones in that it was specifically geared towards Halloween - monster masks, yard haunts, sfx workshops and all. Sure, ScareLA was in early August, but considering I've been doing our annual "Two Months of Halloween" celebration on I-Mockery for the past decade, I had no problem getting into the spirit of my favorite holiday even earlier.
For those of you who couldn't attend, I've snapped some photographs while I was there to help give you a sense of what it was like. The following is a collection of photos from the 2013 ScareLA convention at the LAMart on August 11th. Enjoy!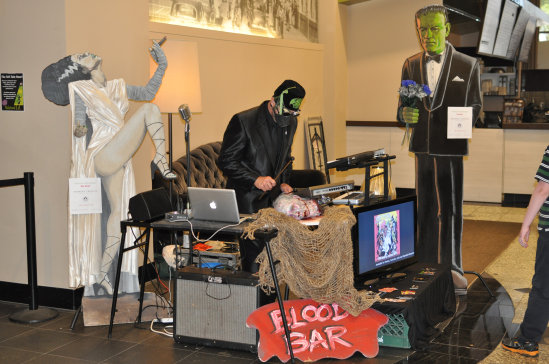 As we arrived, we were greeted by a guy wearing a gas mask and a fez hat
while he played The Munsters theme song on a xylophone.
Yep... I was totally on board with this convention already.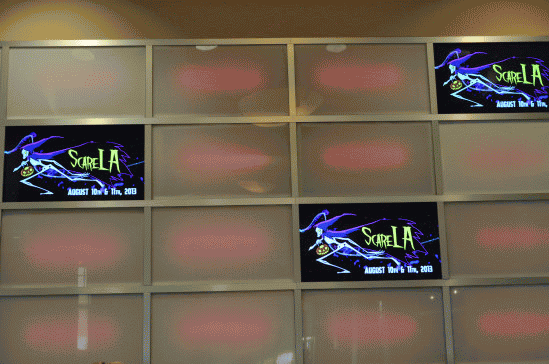 The colorful screens behind the front counter made me question whether or not the convention was doubling as a rave.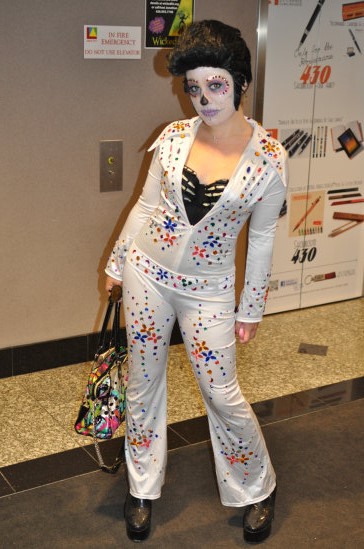 I think we can all agree that no Dia De Los Muertos celebration would be complete without Elvis.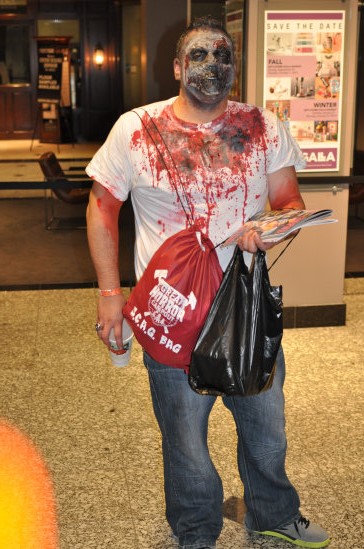 Looks ScareLA already made one customer very happy.

After a quick ride up the elevator, we arrive at ScareLA and are treated to this awesome visual: Jack's Carving Shack.

Looks like Jack prefers to carve his pumpkins the old-fashioned way........ with a circular saw.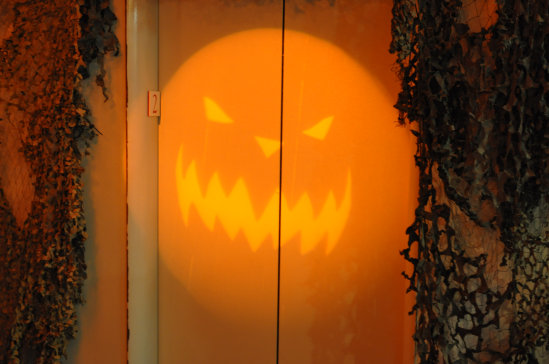 When the elevator doors closed behind us, we noticed an jack-o-lantern projected on the door. Nice!

It may be August, but that's not gonna stop people from dressing up for Halloween early.

One of the many panels about SoCal haunts.
In this case, they were talking about the always fantastic Knott's Scary Farm.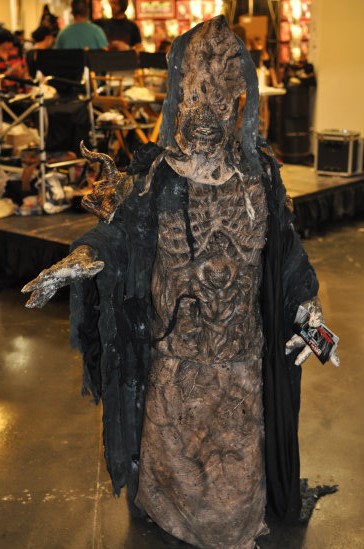 Free hugs!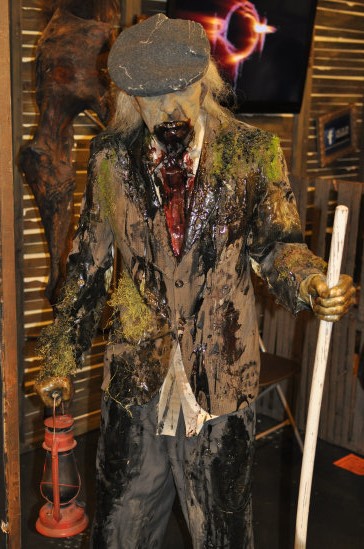 Every cemetery needs a good groundskeeper.

Awww... he made a friend!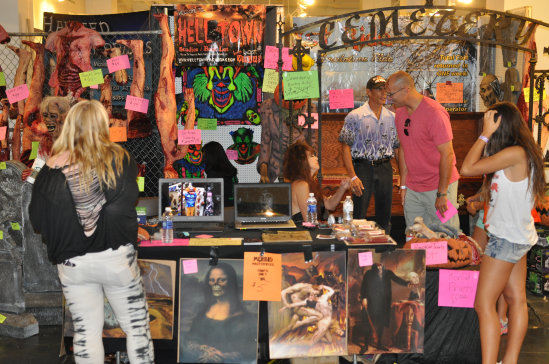 A wide variety of Halloween props were available to make your own haunts with.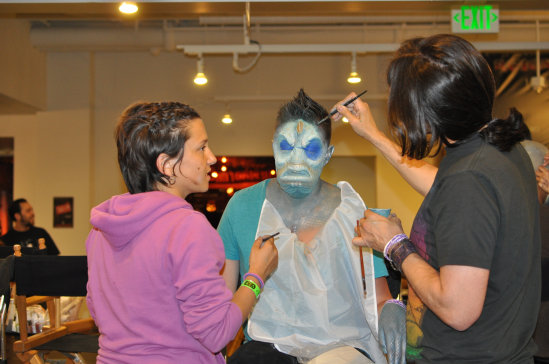 There were lots of nice makeup sfx demonstrations taking place throughout the day as well.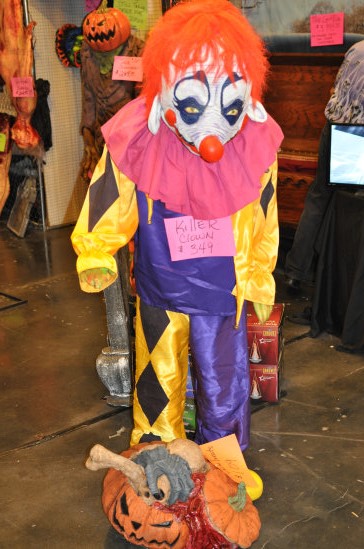 Not an official Killer Klown, but I'm sure he'd still get the job done.

I'm pretty sure the grocery store sells dead meat for cheaper than that. Then again, maybe human meat costs more.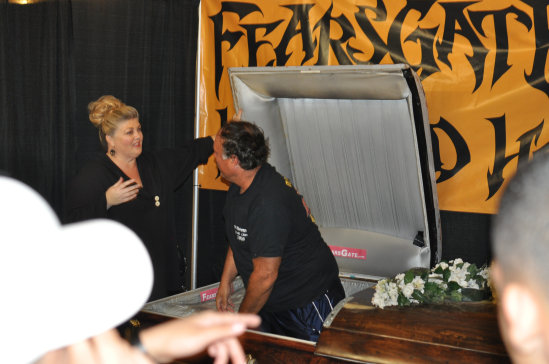 If you're not claustrophobic, you could hop into a coffin for a bumpy "Last Ride" simulation.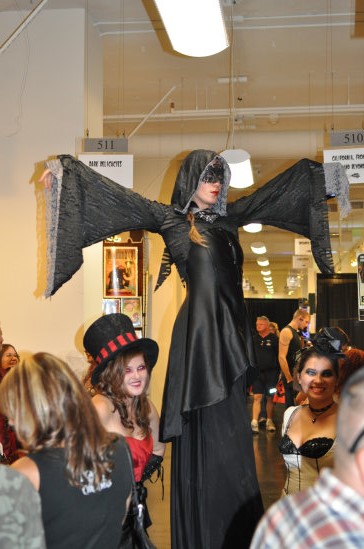 Spread thy wings!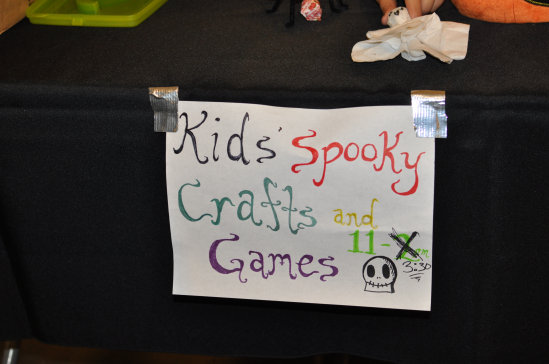 Yep, they had a section for kids where you could grab some crayons and color in a spooky Hello Kitty.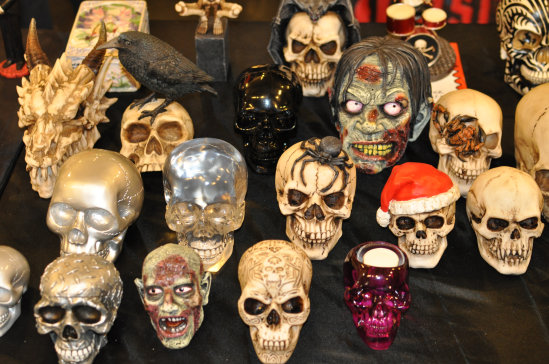 Wrong holiday, but I still like that they had Santa's skull on display.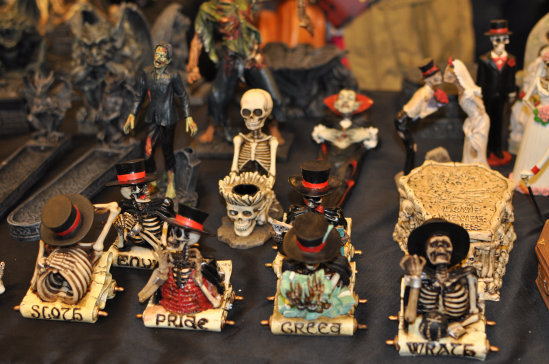 More small skeleton statues.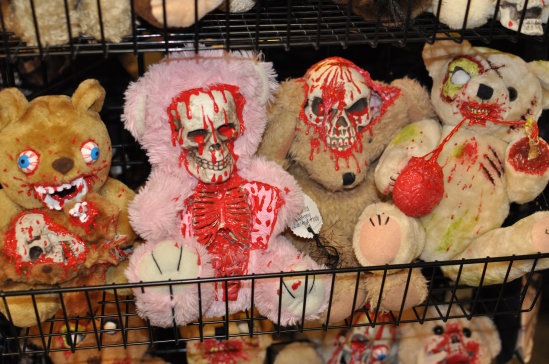 How come these plush Scare Bears are never found in crane machines? Oh right, they're hand-made...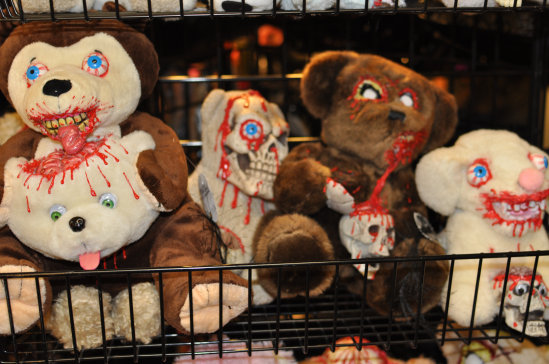 ...and they'd probably mortify any child who saw 'em.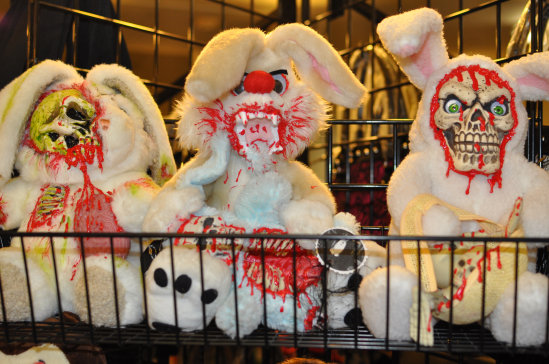 Easter gets a long overdue makeover.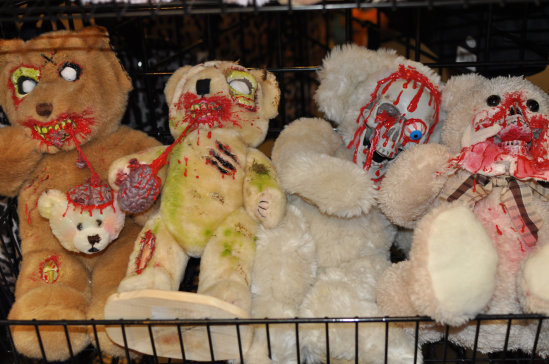 And that's the last of the super gory plush bears. Gotta love 'em!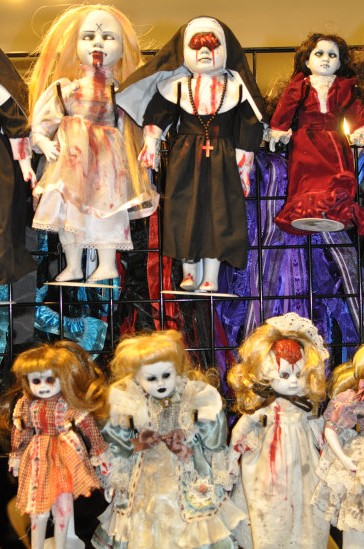 Some creepy dolls.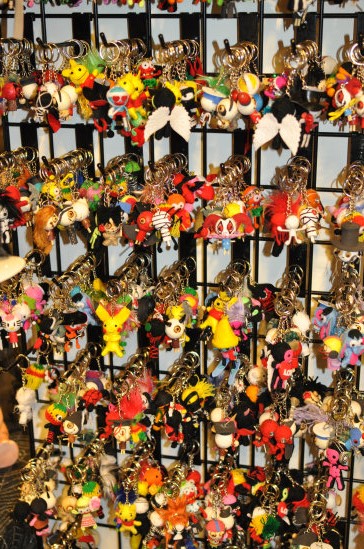 Keychains, keychains, keychains!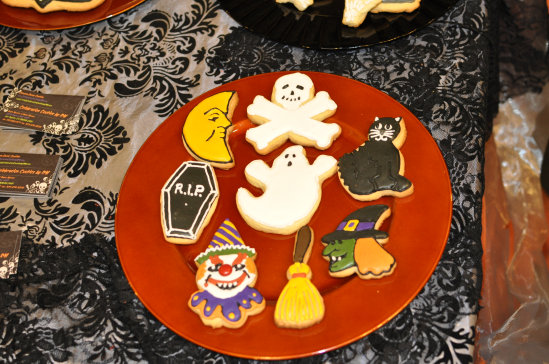 One booth was showcasing their wide variety of Halloween-themed desserts.

Ornate tombstone cookies.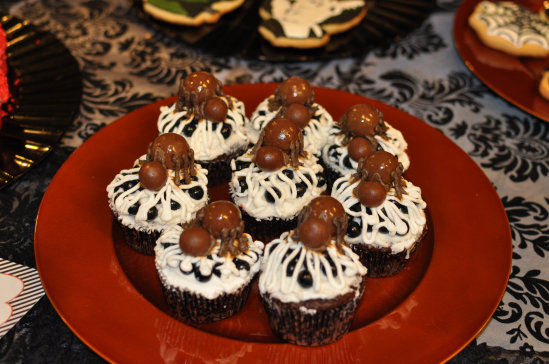 Spider cupcakes with web icing.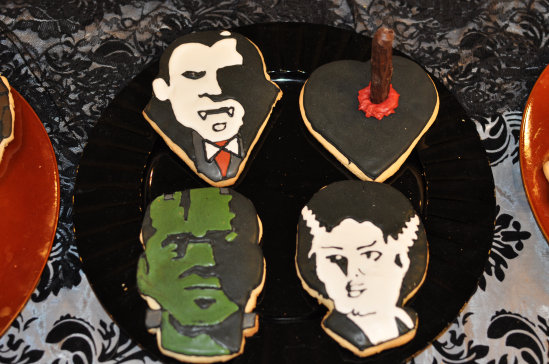 Some classic Universal monster icon cookies, along with a wooden stake through the heart.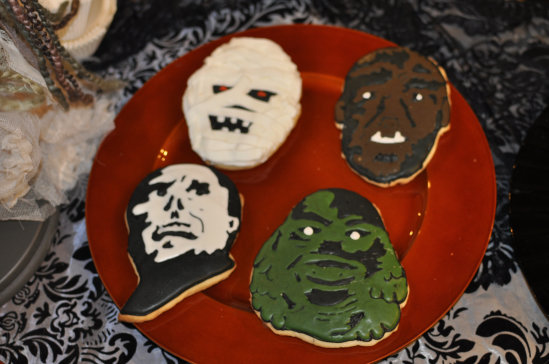 More classic monsters.

I think I spy a razor in those cupcakes.

Cauldron cookies. Yummy.
There are more photos from ScareLA 2013 to see!
Click here to continue onward to page 2!