by: -RoG-
Once again, ScareLA returned to Los Angeles in August to get everyone into the Halloween spirit well in advance of our favorite holiday. For those of you who are unfamiliar with it, ScareLA is a convention that celebrates all things Halloween including haunted attractions, horrific artwork, gory props, monster masks, sfx workshops, and more. In the previous two years, it was held downtown, but this time around, they moved it to the Pasadena Convention Center. This turned out to be a great move, because there was far more walking room for more exhibitors, and I always relish a chance to visit Pasadena. After all, Pasadena is the old stomping grounds of Michael Myers.
For those of you who couldn't attend, I snapped lots o' photographs while I was there to help give you a sense of what it was like. The following is a collection of photos from the 2015 ScareLA convention in Pasadena on August 9th. Enjoy!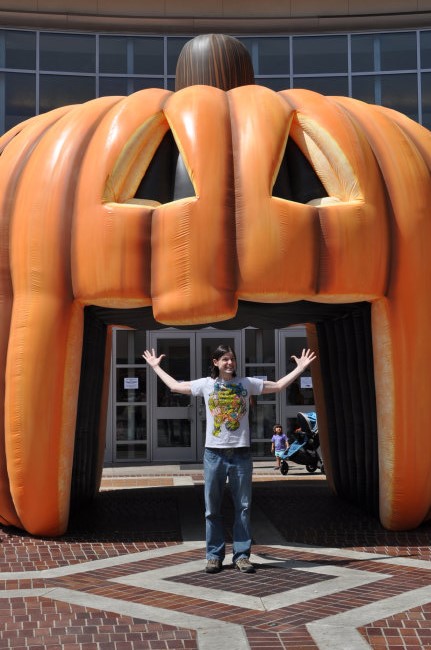 Upon our arrival, we were greeted with an awesome new sight:
A huge inflatable jack-o-lantern entrance to the ScareLA Halloween convention!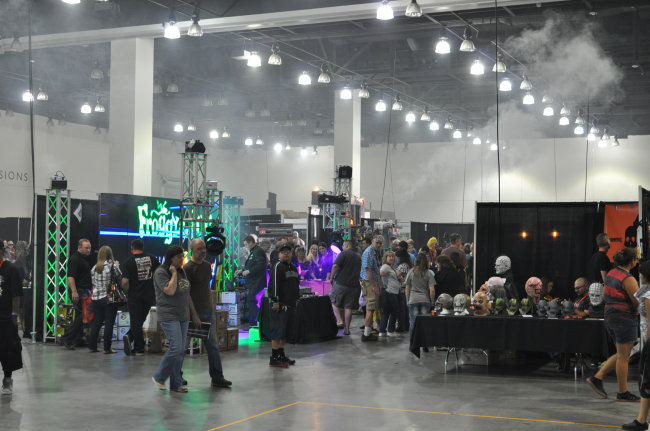 Oh yeah, this was gonna be a hell of a fun day.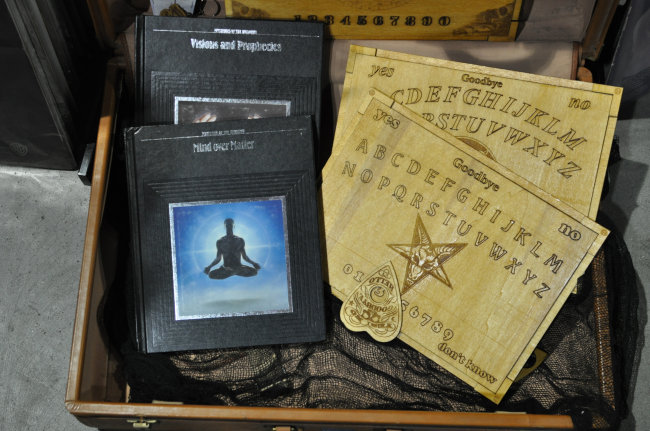 I'm a HUGE fan of the old "Time Life: Mysteries of the Unknown" book series, so seeing them displayed in
an old trunk alongside some Ouji boards really set the mood right for my ScareLA experience that day.

And speaking of setting the mood right, I instantly fell in love with this display of vintage Halloween items.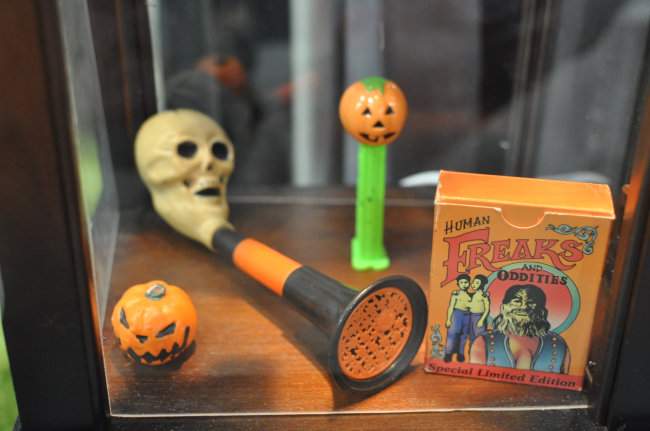 Here's a closer look at that bottom shelf. That classic skeleton horn killed me.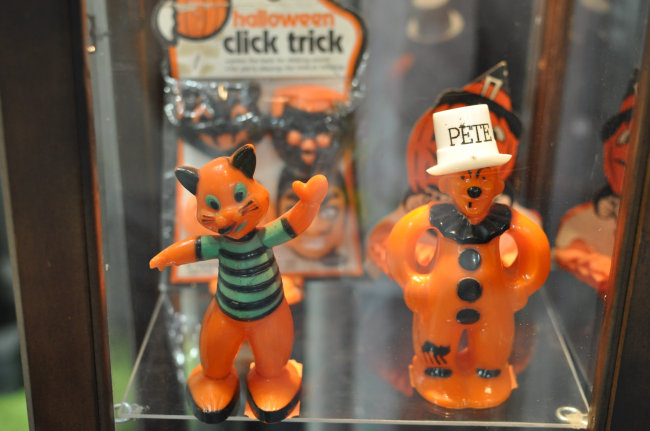 Here's the lower-middle shelf, and this was a real surprise. That package of Halloween Click Tricks in the background is from the same company that produced the Halloween Groosums that I purchased last year at ScareLA. What are the odds!?
(and yes, of course I purchased them)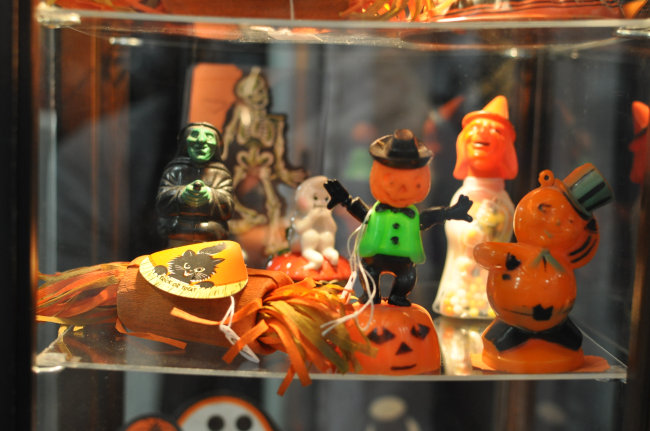 Here's the upper-middle shelf filled with more wonderful Halloween decorations from yesteryear.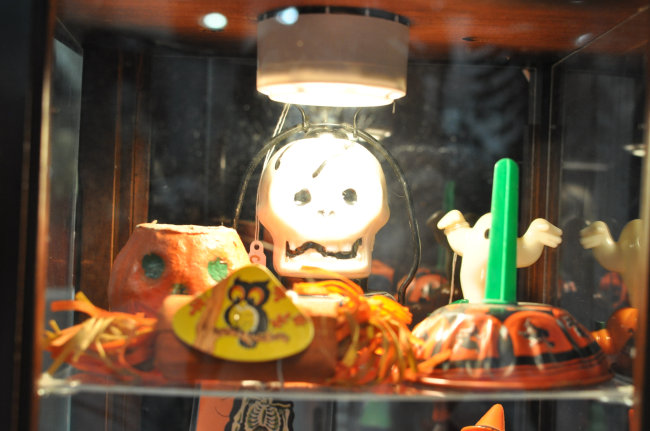 And the top shelf had more excellent decorations, including that killer glass skull lamp.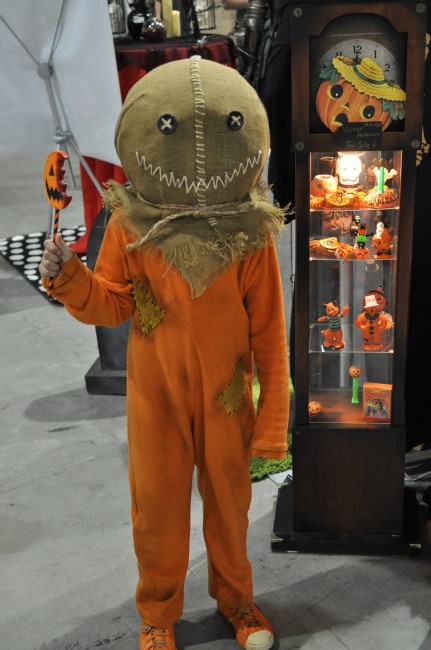 And who should appear right after I made my vintage Halloween purchases? Sam from Trick 'r Treat!
I guess he was really happy to see me supporting the true Halloween spirit.
(also, I really love this photo)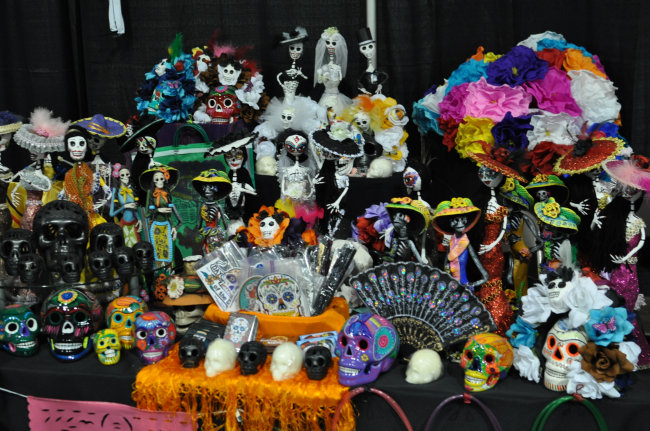 Always nice to see a booth representing Dia de los Muertos.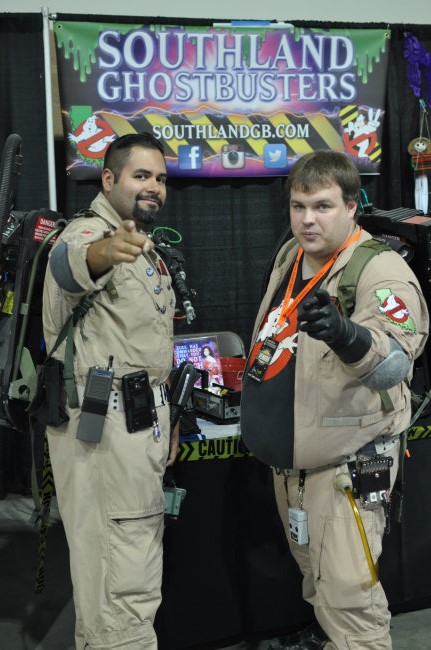 Always good to see the Southland Ghostbusters crew and their incredible homemade props.

Who ya gonna call? I need one of those slimed SoCal patches!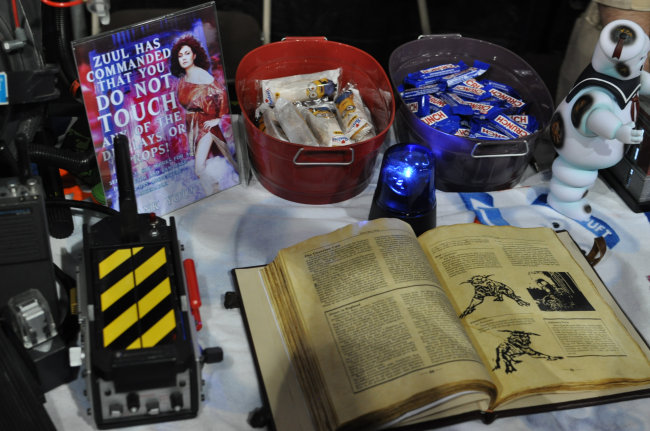 This time around, they actually made their own Tobin's Spirit Guide book!
Gotta love that they even had free Twinkies and Nestle Crunch bars for their fans.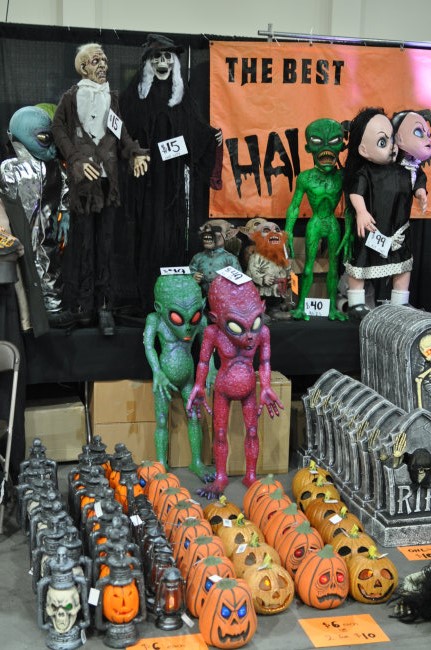 As always, there were props a plenty on hand for all of your haunting decoration needs.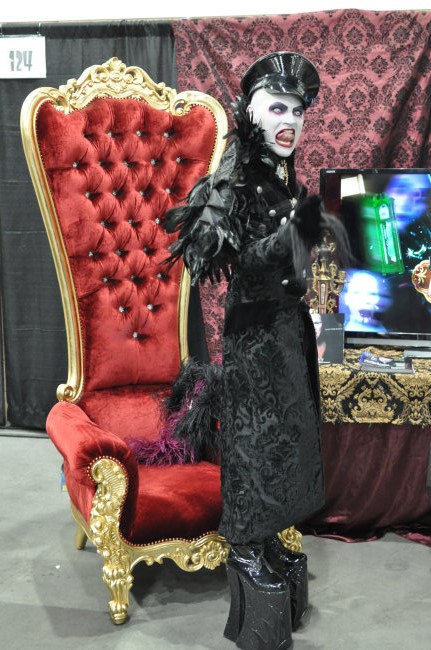 This impressively creepy fella from the Haunted Playhouse really made us wanna up our costume game.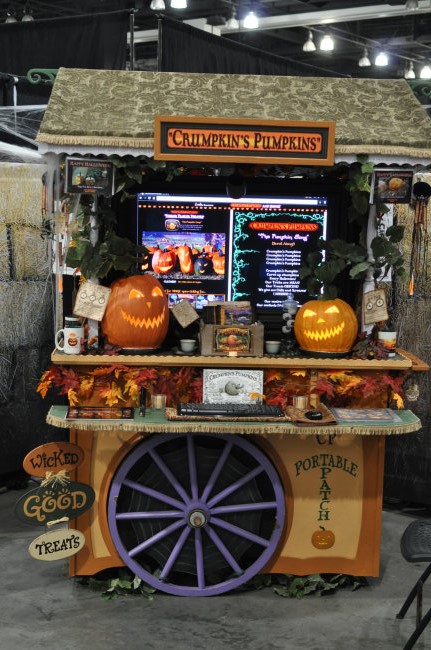 The adorable Crumpkin's Pumpkins portable patch cart.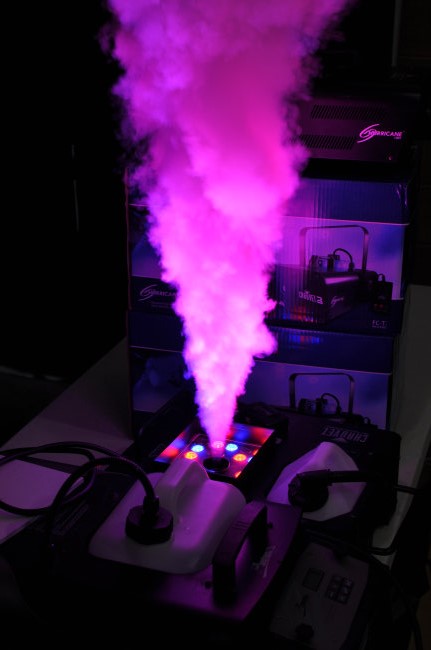 Not your average cheapo store-bought fog machines by any stretch.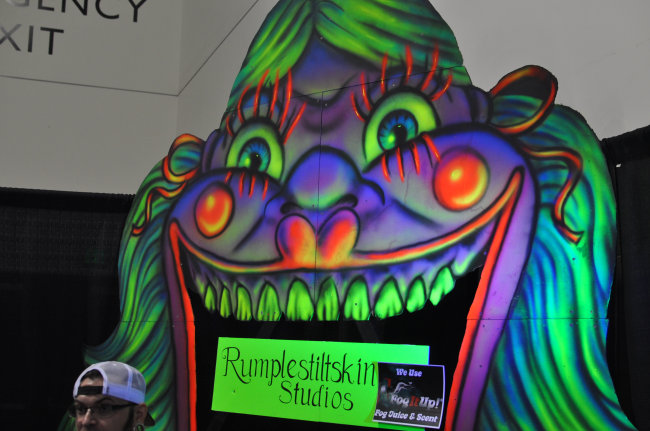 A nice circus-like blacklight display from Rumplestiltskin Studios.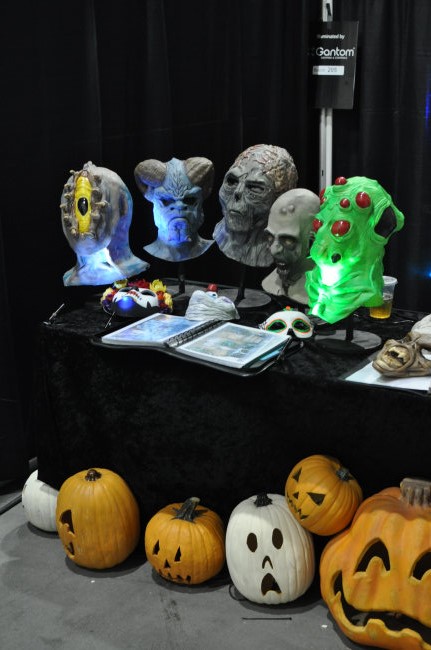 Some nifty Halloween masks from Prolifx FX Studio.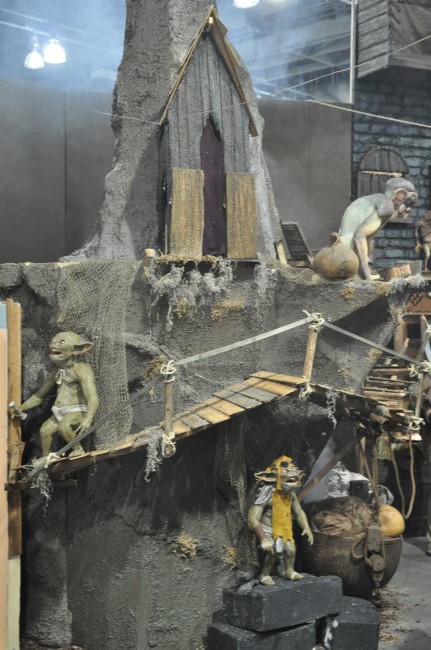 The folks from Figment Foundry took things to a whole new level this year, as they turned their entire booth space into an amazing goblin city, with animatronic puppets all over it. I was ready to move in, but they didn't have rooms for rent. Damn!

You may recognize the one on the right from previous years.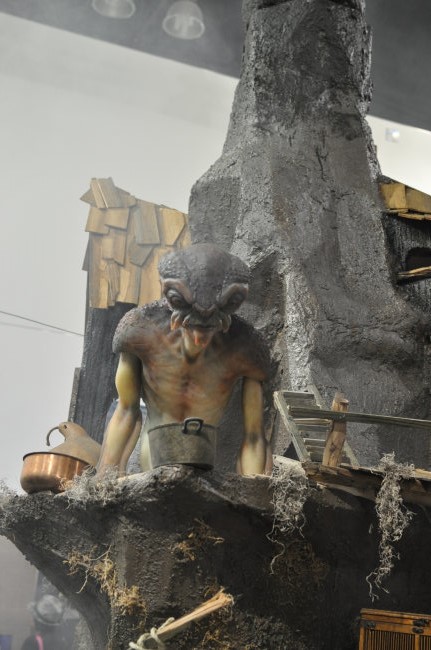 Well, now we know how these goblins are born. They're cooked in pots until they're ready to cause chaos!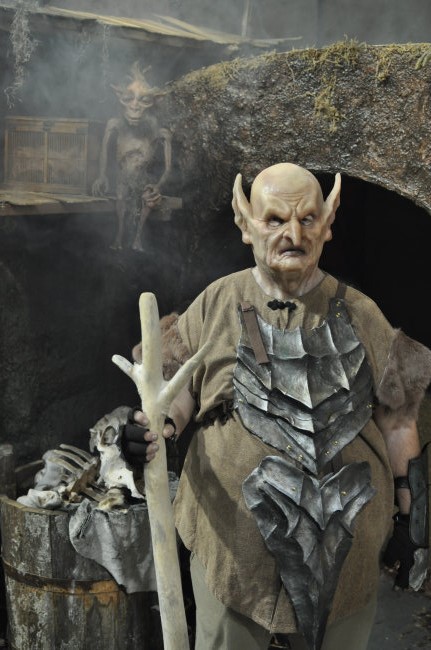 And here's the master of the goblins himself.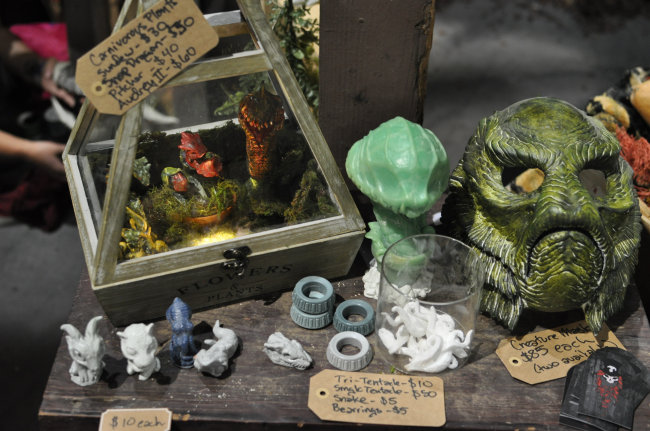 Some fantastic little items for sale, including a great carnivorous plants display and an Audrey II sculpture.
There are more photos from ScareLA 2015 to see!
Click here to continue onward to page 2!