by: -RoG-
(12/7/11)
In terms of travel, this has easily been one of the busiest years of my life. I drove from Los Angeles through Bryce Canyon and on over to Denver; I went on tour with Keith Apicary and we drove around the entire country from coast to coast; I went to Palm Springs and the Cabazon Dinosaurs; I exhibited at the San Diego Comic-Con; and I went on a variety of day trips in Southern California throughout the year. You'd think by now I'd be sick of traveling, but there's honestly nothing I like more than being out of the house and exploring new places. Like many of you, I spend most of my days behind a computer screen, so I relish the opportunity to get out into the real world for while in search of all things eclectic.
Re and I had been talking about going on a trip out of the country for quite a while, as we hadn't left the States in over half a decade, and we promised ourselves that we'd go somewhere this year. We finally settled on visiting South Korea, because we had never been there before and it seemed like an amazing city. I can't say it hurt that I studied tae kwon do for years and was an avid Starcraft player either. We also both really enjoy the holidays, and I have to say, nobody does Christmas quite like South Korea. I mean really... these people pull out all the stops when it comes to celebrating the holiday. At times, I wasn't sure if I was in Seoul or if I had accidentally took a plane to the North Pole to visit Santa's Workshop itself.
We traveled all over Seoul during our week there and I thought you'd enjoy taking a look at many of the photos from our trip in this big pictorial. You'll see everything from bad engrish and bizarre foods to impressive architecture and amazing Christmas light displays... and more. So without further delay, I present you with our Christmas in Korea pictorial: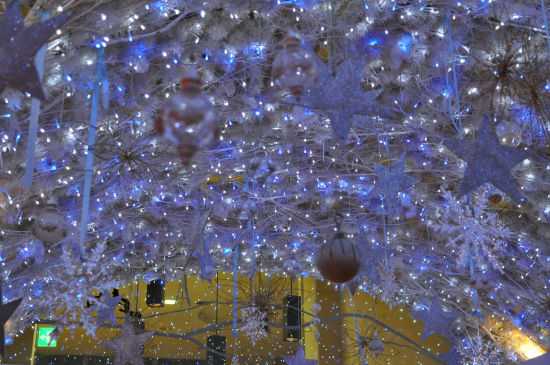 We stayed at the Ibis Hotel in Myeong Dong, Seoul and they decorated the archway
near the elevators to get everybody in the mood for the holiday season right away. It worked.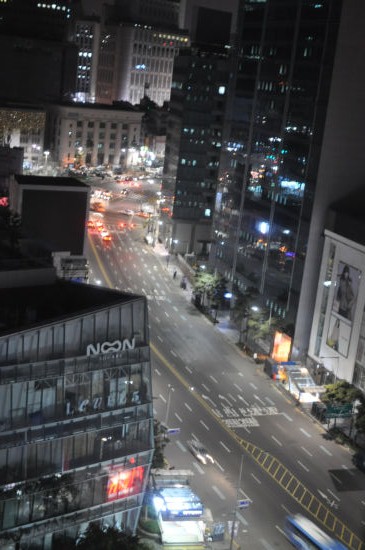 Hell of a view from our hotel room too.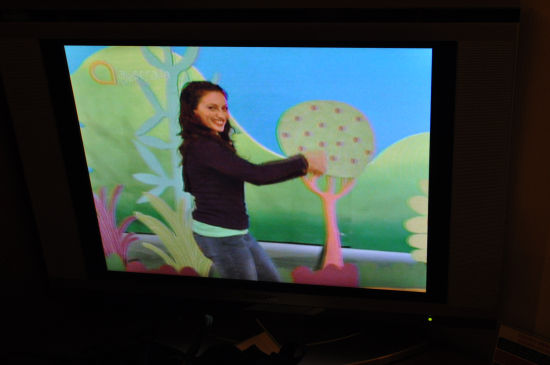 I flipped on the TV in hopes on finding some quirky Korean programming, but instead, I found the Australian equivalent
of Mr. Rogers' Neighborhood. I couldn't get the damn song she was singing out of my head for a solid four hours.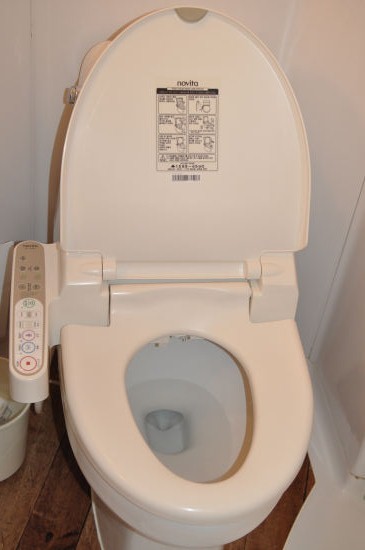 Our toilet came with a remote control which, among other things, either activated a bidet or a water fountain.
I couldn't be 100% sure which it was.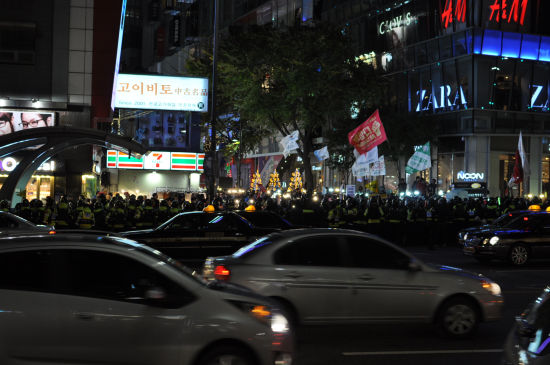 Upon our arrival that first night, there was a big protest going on right outside.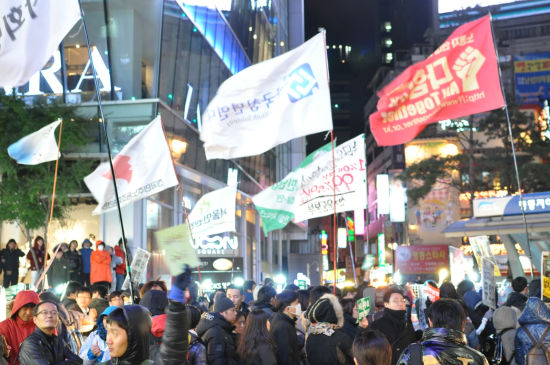 Power to the people.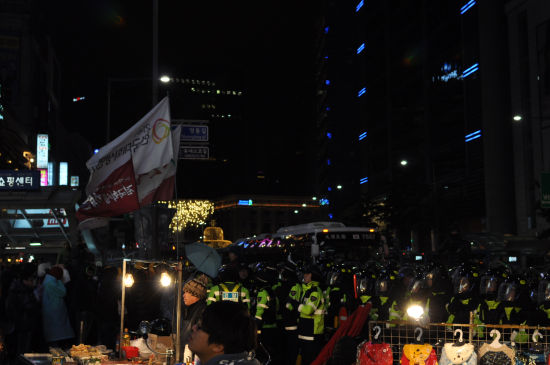 Riot police were standing by with shields, but they didn't do anything.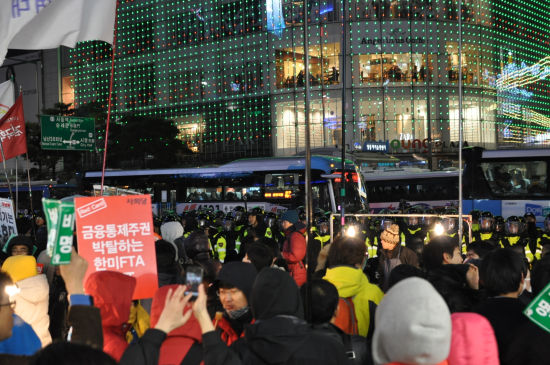 Protests look like such happy, festive events when accompanied by a big Christmas light backdrop, don't they?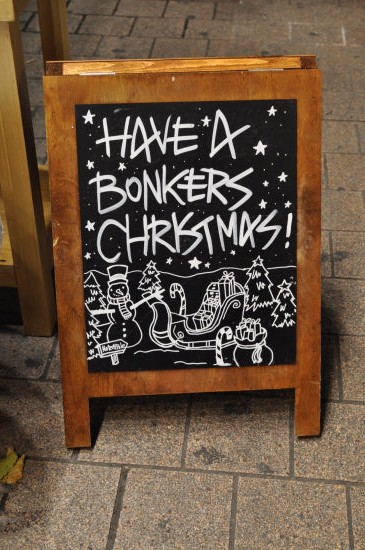 HAY GUYZ! HAVE A BONKERS CHRISTMAS! HAHAHAHAHAHAHAHAHSDFASDF;LKJA!@!!!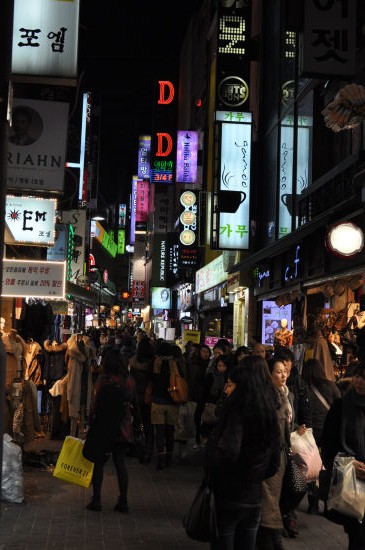 Shoppers were out getting their holiday shopping done into the wee hours of the night.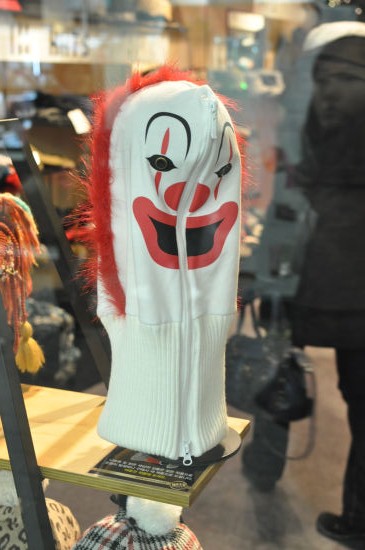 Hey mom, look what I'm getting you for Christmas this year! What!? You already have one!?
Oh well... at least I got a gift receipt.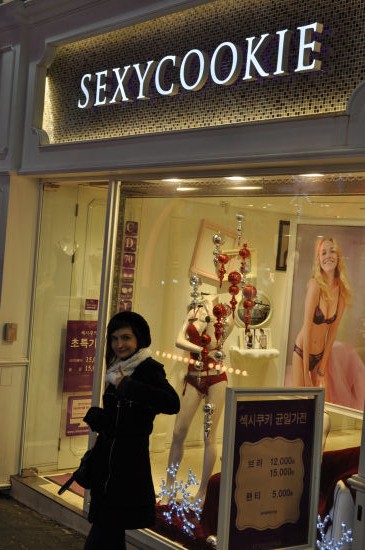 That's one Sexy Cookie.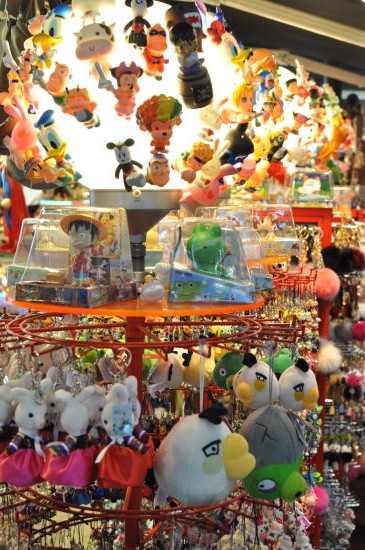 You won't have any trouble finding toys in Seoul.
On a related note, I saw more "Angry Birds" crap than I care to mention.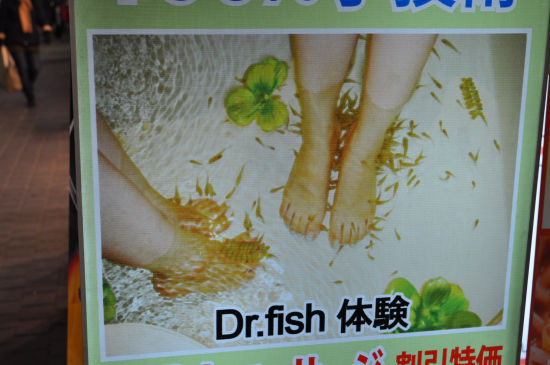 Why scrub your feet when you can visit Dr. Fish and let hundreds of tiny fish eat away at them while you drink tea?
South Korea is awesome.

The sequel to Kraze Burger is so much better than the original.
I can't wait for them to finish the third one, so I can get the box set on Blu-Ray.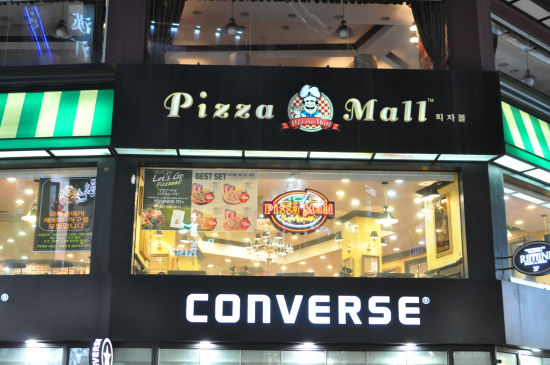 In America, we have pizza restaurants. In South Korea, they have pizza malls.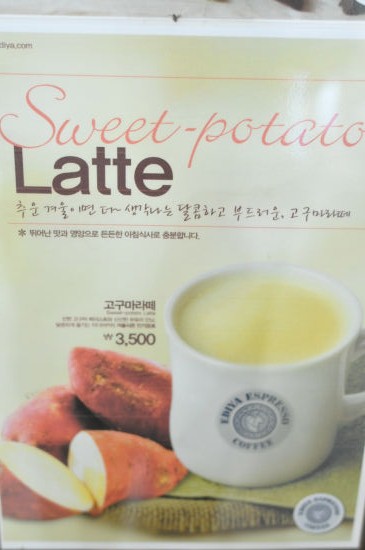 I'm not a fan of sweet potatoes, so the idea of a sweet potato latte is synonymous with barf.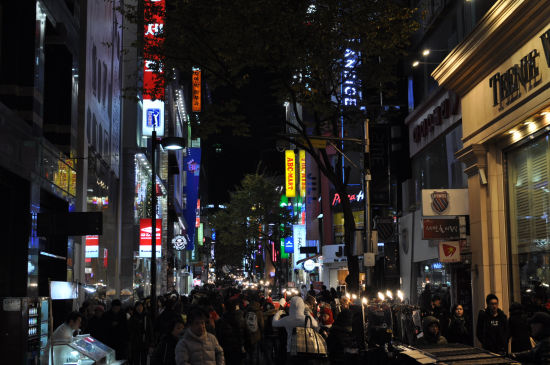 So many people in this amazing area.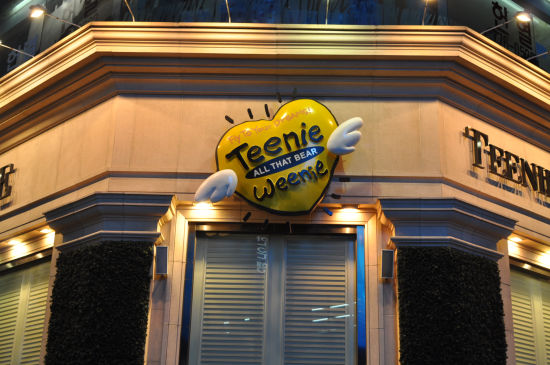 Teenie Weenie.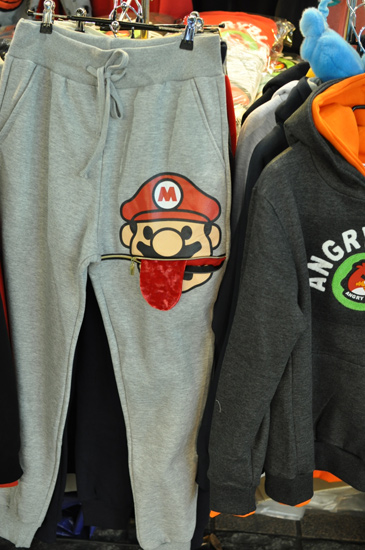 If you're looking for sweat pants that you can unzip to reveal Super Mario's tongue, Seoul has you covered.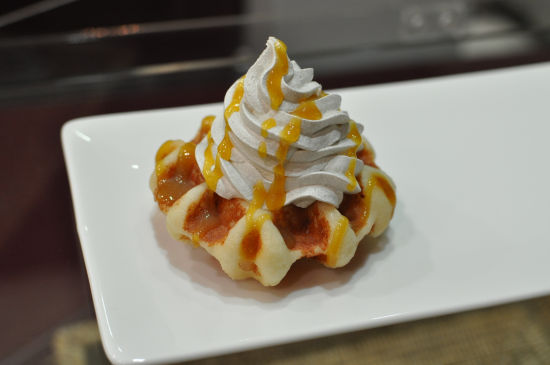 Waffle Lab makes some extremely delicious waffle treats. I wish I had a laboratory to make waffles in.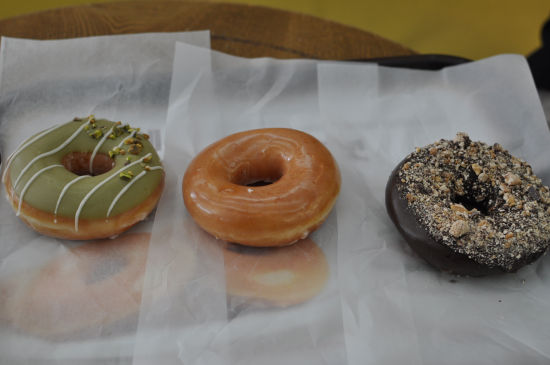 Had to stop in at a nearby Krispy Kreme donut shop. The chocolate crunch donut was excellent,
the glazed was no different than anywhere else, and the green tea donut was surprisingly good.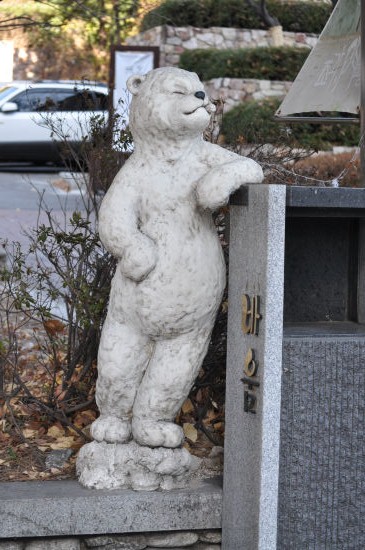 The next day we headed to Jongno-gu to check out Changdeokgung Palace and found this smoking bear nearby.
Smokey is gonna be so pissed when he sees one of his own kind playing with fire.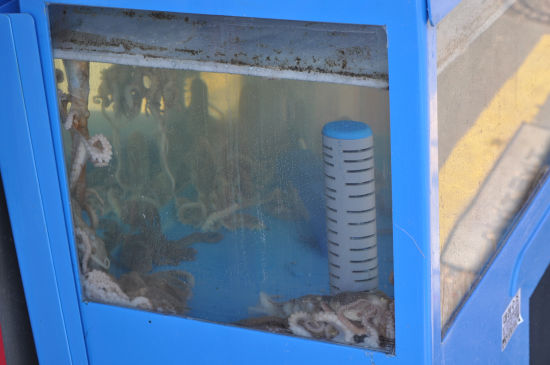 A tank full o' cephalopods just sitting there on the sidewalk. Works for me.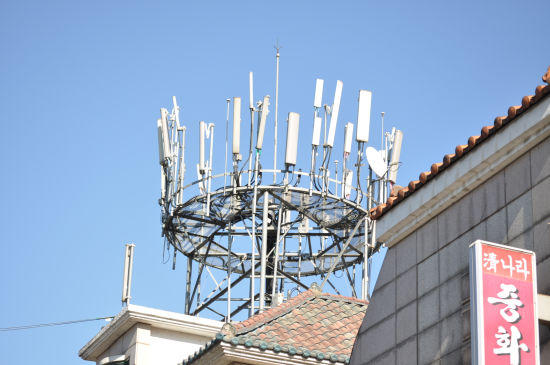 This rooftop had a crown of antennae.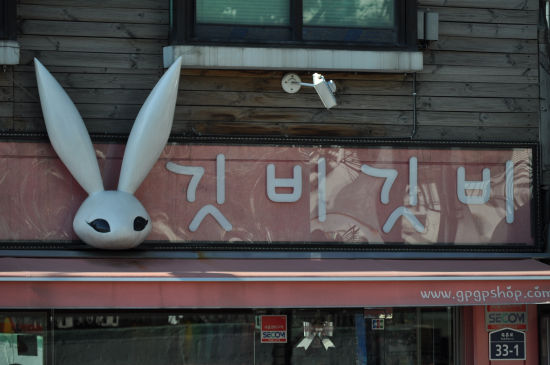 It appears we have found a rabbit from the future.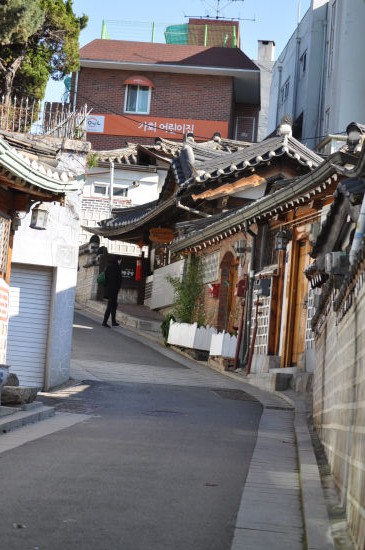 Exploring another random street.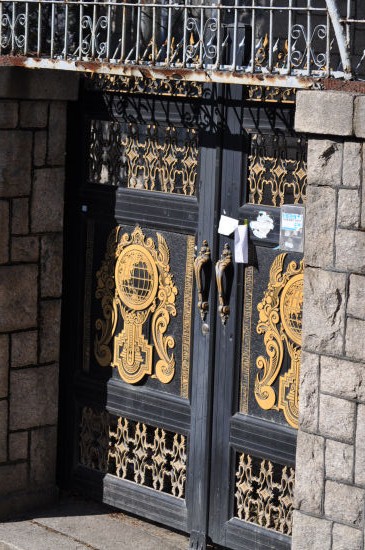 Why can't my front door be this ornate?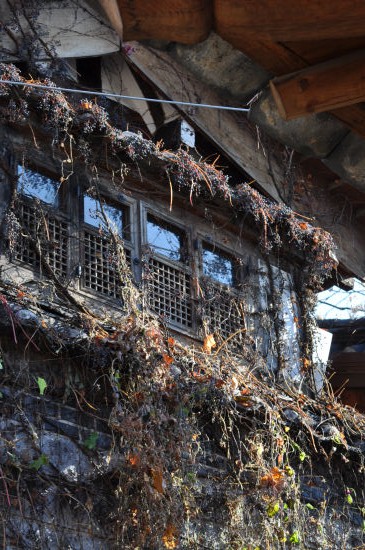 Not sure what exactly, but there was something about the vegetation growing on the one side of this house that I loved.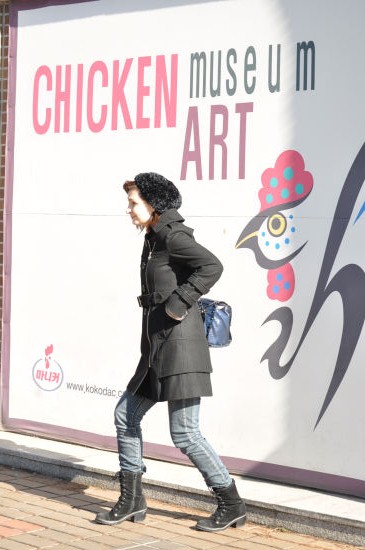 Who needs to go see the Seoul Museum of Chicken Art when you have Re to do the chicken dance at the drop of a hat.

More of those wonderful rooftops.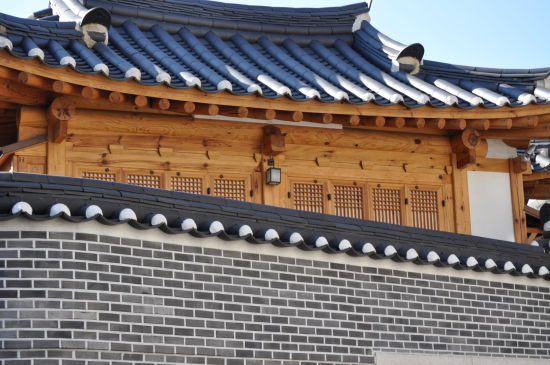 They just don't make 'em like they used to.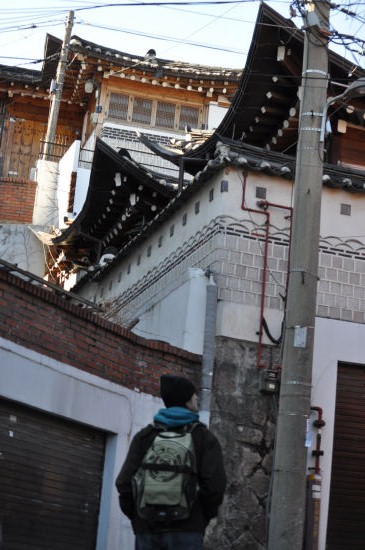 Still exploring.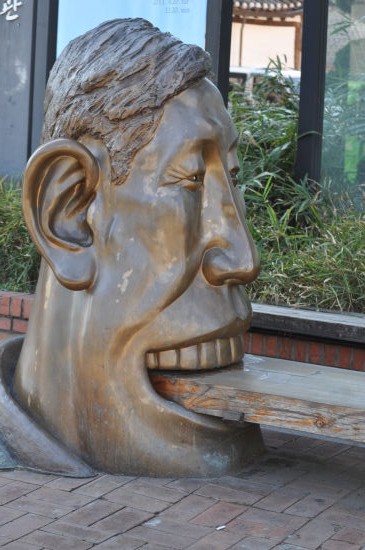 This may be the best public bench ever created.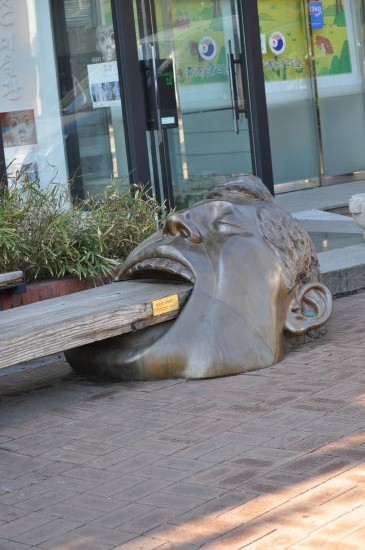 Okay yeah... it's definitely the best public bench ever created.

Anybody hungry for a fresh stingray snack from a street vendor?
There's more madness from South Korea to see!
Click here to continue onward to page 2!