Tour Detour: The Goonies House.

[Click here to watch in hi-res]
So while we're on tour rushing to the next town for another Keith Apicary show, we're doing our best to take advantage of what little downtime we have. After we left Portland, we decided to head up to Astoria, Oregon to pay a visit to the house from The Goonies.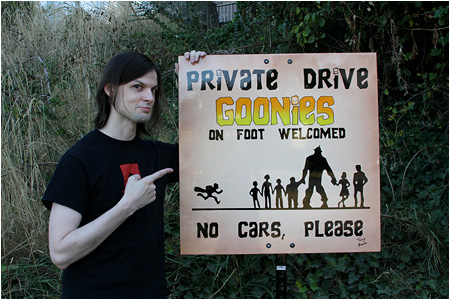 Once we entered the town, it quickly felt like we were driving around the Goon Docks and I was expecting to see some kids riding past us on their bicycles about to go on an adventure. But today, the adventure was ours, for we were heading up to that classic house. When we pulled up, there was this fantastic custom made sign letting people know they had arrived at a cinematic landmark. What's nice is that the current owners are totally cool with people walking up their driveway and taking pictures of the house. The place has been maintained really well over the years and the views of the water and town down below made me want to move in immediately. Of course, it could've used some Rube Goldberg contraptions to really sweeten the experience, but it was still great finally seeing the place in person.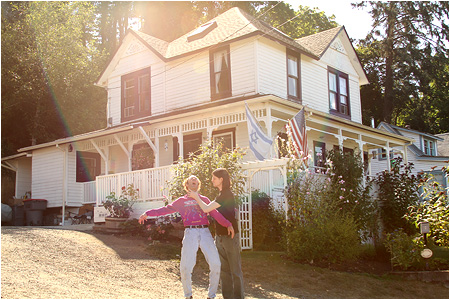 Afterward, we decided to drive out to the beach with the huge rocks near the Fratellis' hideout in the film. What's funny is that it takes about 45 minutes to drive a car from the house to the beach, so it's funny imagining The Goonies actually doing that bike ride. I guarantee Mikey, Chunk, Data and Mouth would've croaked or been hit by a speeding car long before reaching that beach. Ah movie magic...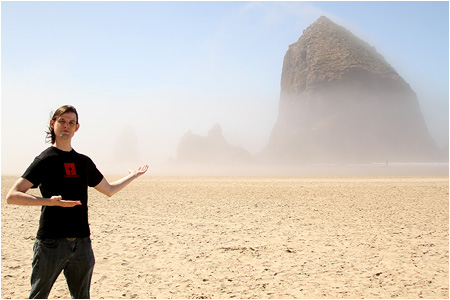 Cannon Beach was completely overcast that day, so it even felt like we were reliving scenes from the film, but holy crap.... Haystack Rock was ENORMOUS! No photos or movies can possibly do it any justice, and all I can say is that the people of Astoria are seriously lucky to live near such a spectacle.
We finished shooting some video and then truffle shuffled our way out onto the long, winding roads towards Tacoma. But before we reached our next show destination, there was another special stop we planned on making, so you can expect to hear about that one soon enough. So stick around and don't ride up Troy's Bucket, there are more adventures on the way for all you Goonies to enjoy.
By the way, be sure to watch the above video in its entirety even after the credits, I think you'll get a kick out of it.
13 comments
Leave a Reply
Previous post: I-Mockery's Keyword Guessing Game!
Next post: My Take On Freddy Krueger Appearing In Mortal Kombat.