The Very Last Summer Vacation Ever!
by: Max Burbank
Hey gang! There's an elephant in the room! No, no, I don't mean an actual physical pachyderm, or even the dancing pink variety brought on by too much booze. I'm talking about the good old idiomatic 'elephant in the room', an obvious truth that is being ignored or going unaddressed. And I'm just gonna say it!
Pretty soon now, civilization as we know it is coming to an end!
PHEWSH! You were thinking it too, right? Don't you feel better now that it's out in the open? I mean, come ON!! Five bucks a gallon gas come summer, global warming, water and food shortages, a BLACK GUY, a WOMAN and the PHYSICAL EMBODIMENT OF DEATH running for President?! It's OVER!!
You know it, I know it, the American people know it. We are number one with a bullet and we're taking the whole world with us.
We can sit around and argue about just exactly how long we've got left, or we can start planning...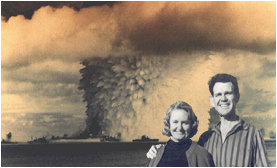 THE VERY LAST SUMMER VACATION EVER!!!
So come on everybody! Jam your family in the wagon, stuff it full of all your crap, tie a whole bunch more to the roof and LET'S GO!!!
SCENARIO #1: ROAD TRIP TO THE EDGE OF THE EARTH
Having a destination is for summer vacations that you think will be followed by other summer vacations. This is your last summer vacation ever! All you need to know is SOUTH. Point the car and drive. Why? Because the further South you go the more batshit crazy things get. That's always been true, and now that the world is going to end, it's truer than ever! I hope you left a little space under all your summer junk, 'cause stop numero uno? A ROADSIDE FIREWORKS STORE!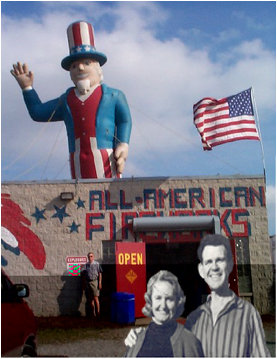 Nothin' but nothin' says lovin' like sixty or so pounds of explosives in the back of your over stuffed, hellishly hot car! And here's a tip! You can always cram a few bricks of M-80's in and around the car seats and boosters of the younger set. While it's true that car seats aren't as safe if they're not level, it's highly unlikely any of you are going to get very much older anyway! Boy, I'm using exclamation points like there's no tomorrow!! Because maybe there isn't!!!
Now, get back in the car and drive like a madman and don't stop until you find some horrible cracker ass road side stand where you can buy pecan logs and gallon bags of boiled peanuts and deep fried sow belly and get back in the car and eat while you drive!! Eat and eat and eat as much of that Deep South comfort food as you can, make a contest out of it, see if you can die of a heart attack before the rapture! Kids, see that convertible in the right hand lane? Roll down your window, get your whole upper body out of the car, holler like mad that you're being kidnapped and then empty a Big Gulp of Blue Raspberry Slushy and let it fly!
Some time around Three AM. Pull into any hotel at all that has a pool and get a suite on the credit card you are never going to pay. Work up a hell of an appetite splashing and swimming and running past the 'no running' signs! Form an ice bucket brigade and see if you can make the hot tub cold! Now scamper up to your suite and devour EVERY SINGLE ITEM in the mini bar because by the time they get around to billing you, the few human beings left on alive on earth will be hiding in burned out basements and beating each other to death with pieces of sidewalk for food! Then catch about three hours of shuteye, get everybody up, chow down on complimentary continental breakfast, into the car and REPEAT AS NECCESARY! Can you make it to Mexico before the end of days? If you do, then KEEP ON TRUCKIN' 'till the pavement turns to gravel or the car dies or whatever and get out and start walkin'! Whoever gets the furthest south by the time we hit peak oil and the entire course of western civilization begins to shake itself apart WINS!!!
SCENARIO #2: ON THE BEACH
Who doesn't love the beach?! Take all those credit cards you've gotten by responding to every single ridiculous credit card offer that came in the mail for the last year and rent the biggest bestest beach house ever! Give your whole extended family and everyone you've ever been friends with in your entire life the address and tell 'em they can crash anytime and hunker down in your beachside home away from home that will almost certainly turn into a bunker and eventually a mausoleum! Pack the upstairs refrigerator with incredibly high caffeine soda and the basement refrigerator with meat! Cook out on the beach like people used to! Let the cops try and stop you, they know the world is ending too, they'll probably give you a pass and a high five, and if they don't, add cop fight to the list of experiences you and your family had before it all came crashing down! Go to the boardwalk and see how many straight hours you can eat funnel cakes until you pass out, get the stupidest, most crass, offensive tattoo you can imagine on your face! Find a family applying sun block to their children, grab their sunscreen tubes and hurl them into the ocean! Educate them through yelling that they will all die in food riots during the oncoming famine years before skin cancer could ever get them! Get up at sunrise and build the most humongous sand castle ever while wearing a bathing suit so tiny it would make a Frenchman blush and burn as red as a crazed lobster so that when kids come to see what your building they freak out and cry and run away and then steal their buckets! Then run, run, run along the beach until you come to some driftwood or an old pier or anything at all sticking up out of the sand at an angle and pretend it's the head and shoulders of the Statue of Liberty...
...and throw yourself on your knees screaming "You Maniacs! You blew it up! Ah, damn you! God damn you all to hell!"
SCENARIO #3: MOUNTAIN CAMPING BACKWOODS SURVIVALIST HOOTENANNY BLOWOUT!
Oh, boy, the Great Outdoors! Spot weld a few sheets of scrap metal to the old Wagoneer, fill the back with sleeping bags, barbwire, construction gear and weapons and you are good to go! Don't waste valuable packing space on food or water because on this vacation you'll be cannibalizing anyone who violates your territory and when fresh water can't be found, drinking your own urine! Don't be a sissy, urine is sterile and by the time the unprocessed toxins in it build up to lethal levels you'll already have been dead for a week from something else anyway! Once you get to the middle of nowhere, dig a gigantic hole and bury your car, which will now serve as the 'home base' from which your network of tunnels can extend! Engage in extreme outdoor activities like dynamite fishing and dark of the moon, night vision goggle zip lining into neighboring campgrounds! Visit small, quaint, out of the way towns and loot them!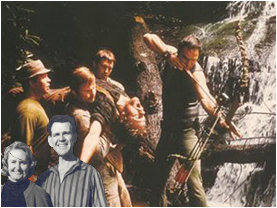 Set the kids to whittling sticks into the all-purpose last-summer-vacation-ever-tool, the pointed stick! Use them to roast marshmallows, make a perimeter fence, booby trap the surrounding area, draw complicated violent plans for attacking neighboring campgrounds in the dirt, kill elderly or sick family members, and talk to when you go completely nuts from prolonged urine drinking! Go for scenic nature hikes to neighboring campgrounds to steal things and kill people for food! Tell stories and sing songs around the camp fire that and let them rapidly devolve into 'Lord of the Flies' style quasi religions! Eat as many guilt free s'mores as you want with the glorious knowledge that well before they go to your thighs, everything you cherish will have gone straight to hell!
SCENARIO #4: HEAD IN THE SAND DENIAL FEST
Expend One Hundred Percent of your energy telling yourself the world isn't going to end even though clearly it is! Tell your family you're all going to have a 'green vacation' by keeping it local and seeing the sights of your own hometown! Take the family to all the places you take people to when they come to visit you while vigorously repressing anxiety about the obvious upcoming collapse of civilization! Dine out at restaurants in walking distance you've never been to before while silently telling yourself over and over that everything is going to be just fine!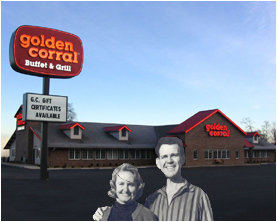 Take everyone to the movies because it's dark in there and if you clench your teeth, no one knows you're weeping! Act normal until no human being on earth could take the strain and then go totally, absolutely mental and strip to your underwear and race through the middle of town with one kid on your shoulders, the wife on your back and one kid under your arm like a squalling, human shaped football, crying, laughing, braying like a crazed donkey, singing the Hallelujah Chorus and speaking in tongues until you drop dead of an exploded heart or reach nirvana in the instant before the local police gun you down in the street like the maddest, scariest, MOST RABID BUG-EYED DOG YOU ARE!