WELCOME TO THE OFFICIAL ANTI-RAVE SITE!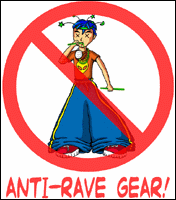 YOU'VE ALL BEEN ASKING FOR IT! NOW IT'S HERE!
ANTI-RAVE GEAR! T-SHIRTS, SWEATSHIRTS, MUGS, MOUSEPADS,
TANK TOPS, BOXER SHORTS, BUCKET HATS, CAPS, AND TOTE BAGS!!
CLICK FOR INFO!
Recently Updated Sections:
Idiot Ravers, New Cocktails, Raver F.A.Q, Experiences, and Hate Mail !!!
***CHECK OUT OUR UPDATED HATE MAIL SECTION!***
***COME TALK WITH ALL OF US ON THE ANTI-RAVE MESSAGE BOARD!***


Click To Play this Plurific game!
Why have we gone and made a site that mocks raves? Because it needed to be done people.
Raves, Ravers, Repetitive Techno Music, Drugs, and Hippy-like attitudes... these are the first things that come to mind when I think about the world of "Raving". I myself, as well as the contributors to this site, have all had to deal with Raves and/or Ravers at one point in our lives. I actually had to endure a LOOOONG evening at what was probably the worst rave in history (you can read about that in the Rave Experiences section of the site). So you can imagine I already have some ill will towards raves.
Within this site you will find all sorts of interesting tidbits. Whether it's tales of Ravers getting high on Vics Vaporub or all new tasty drug concoctions that we've come up with, this site is sure to be both informative and GROOOOOVY!
If you're wondering why you can't turn off the music with the on/off button, it is because I want you people to understand what I experienced at a rave. I had to listen to what seemed like the same annoying song over and over again for over 8 hours. There was no way for me to turn it off. So yes, you all must suffer! That way you will really appreciate where we are coming from with this anti-rave site.
With all of this being said, let your journey into The Official Anti-Rave Site commence!