by: -RoG-
As Halloween and Monster Cereal fanatics around the country wait for their local Target stores to finally put the long-awaited retro cereal boxes on their shelves, I thought you'd all enjoy an early look at the complete collection. General Mills was nice enough to send me all of the modern boxes, but since the retro boxes are a Target exclusive, I had to resort to other measures. I've probably called various Target stores over fifty times in the past two weeks, so I'm sure they were sick of having to run out onto the sales floor to see if the retro cereal boxes were in stock yet. They never were. Long story short; I met a shady character in a back alley and traded him some garlic and holy water for all five retro boxes... OR... I bought them from a guy online. I'll let you decide which story sounds more believable.
I was lucky enough to break the news about these when General Mills first notified me back in August that the boxes would be coming out. Now, I'm happy to share with you all five of the Target exclusive retro Monster Cereal boxes: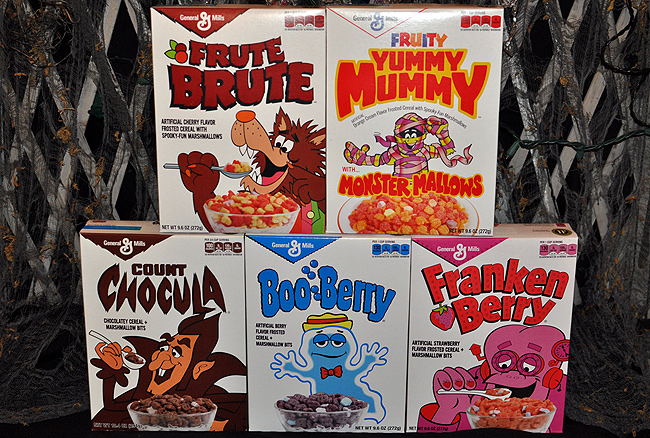 [click to enlarge]
Beautiful aren't they? Somebody pinch me. Is this real life?
They definitely captured the exact style of the 70s and early 80s Monster Cereal boxes, right down to the fonts and colors. I wasn't sure how good the print job would be compared to the original sneak preview images that were released online, but let me assure you (in case the photos haven't already) that these retro boxes do NOT disappoint. They really do look like the genuine article.
Besides, purchasing an original, vintage collection of these empty boxes would run you well over a grand these days, so being able to get the complete retro Monster Cereal set in such pristine condition for the cost of a regular cereal box is one hell of a nice Halloween season treat for us all. And yes, for those of you living elsewhere in the world, there are people selling these online. Sellers are charging more than you'd pay in stores for them, but still, it's well worth it if you love the old Monster Cereal art as much as I do. It's an investment in making your eyeballs happy on a regular basis.
I mean look at it... we finally get to see all five original Monster Cereals together! Boo Berry, Franken Berry, Count Chocula, Fruity Yummy Mummy, and Frute Brute (or Fruit Brute as he was originally known before General Mills was legally required to change his name). Seeing all of them together, for everybody to enjoy is something I never imagined would've happened, and these vibrant boxes are something I'm sure many people will be holding onto for ages. And they should, because they're works of art that just happen to have cereal inside 'em.
Plus, unlike most old cereal boxes you'd find, these don't have promotional star bursts covering up a large portion of the artwork on the front of each box. These simple have each of the monsters with their respective cereals - pure and perfect.
Now, I'd love to tell you the backs of the boxes featured reproductions of the old Monster Cereal promotions, but they're just the same as the current generation cereals - which is fine. I wasn't expecting them to change the backs any more than I was expecting them to include vintage-style toy prizes with the cereal. Not that any of us would be opposed to such a thing next year. (*hint* *hint* General Mills)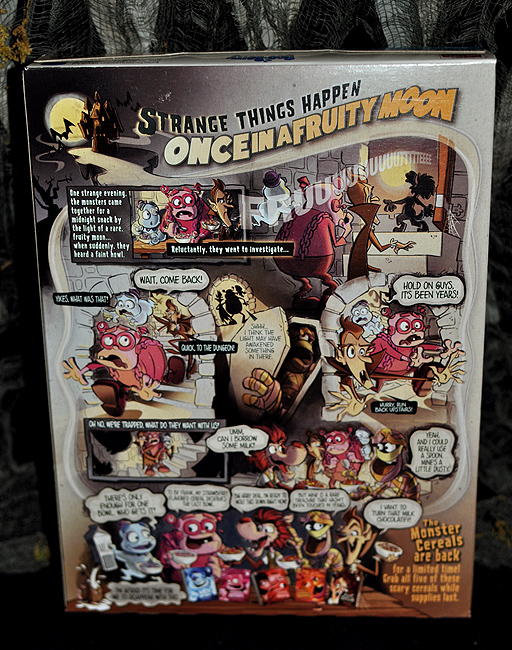 As you can see, the backs of each box still have a great little "Strange Things Happen Once in a Fruity Moon" comic in which the three original cereal monsters - Boo Berry, Franken Berry, and Count Chocula - have their first encounter with Fruit Brute and Fruity Yummy Mummy. After all, Brute and Mummy are the real stars this year, because they've been gone for so long and nobody ever thought they'd return. It looks like they're stalking the other monsters at first, but it turns out they just wanted to borrow some milk and a spoon. It's nice to see them all eating their cereal together at a table too, like the civilized monsters they clearly are. It's like the Last Supper, but with monsters and Halloween breakfast cereal.
Last but not least, I figured you'd like to see what all the new boxes look like with their retro counterparts: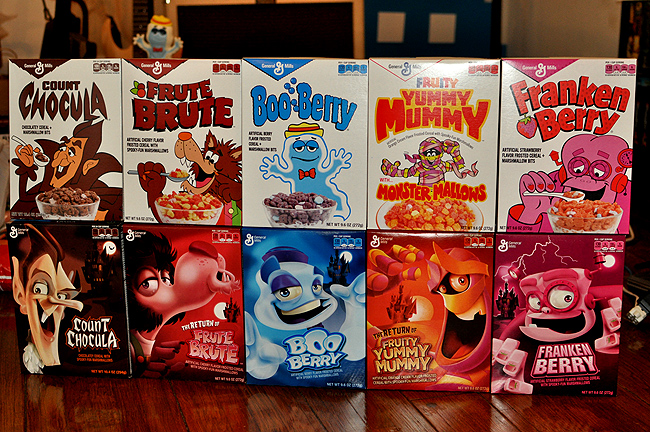 [click to enlarge]
It's pretty crazy to see how products can change over the course of 30+ years. For example: the monsters all used to be completely infatuated with their own bowls of cereal. Nowadays, they'd rather just have a close-up shot of their faces and show their haunted castles in the background. I'm sure it comes as no surprise that I prefer the original retro box art, but whichever Monster Cereal style you prefer, I'm sure you can appreciate the fact that we're all really lucky to be alive during a Halloween season when we can get not one, but TEN different boxes of Monster Cereal.
Well, it's 4:30am and I've gotta get some sleep, but before I do, allow me to leave you with these parting words:
I honestly don't know if we'll ever see another retro promotion like this in the future, or even if all five Monster Cereals will be on store shelves again come Halloween 2014. What I do know is that anybody who is a fan should do whatever it takes to get their hands on all of the boxes for safekeeping. Eat the cereal and then put 'em on display to remind yourself of Halloween 2013 - the season that all five cereal monsters were finally resurrected to share the spotlight together.
Oh and by the way...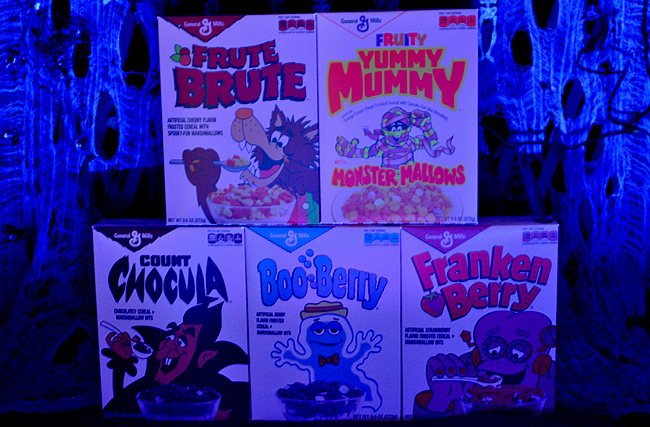 [click to enlarge]
If you ask me, our favorite classic Monster Cereals will always look best under black light.
Have any questions or comments about this piece?
SHARE YOUR THOUGHTS IN THE READER COMMENTS SECTION BELOW!