by: -RoG-
...CONTINUED
Nestle Crunch Pumpkin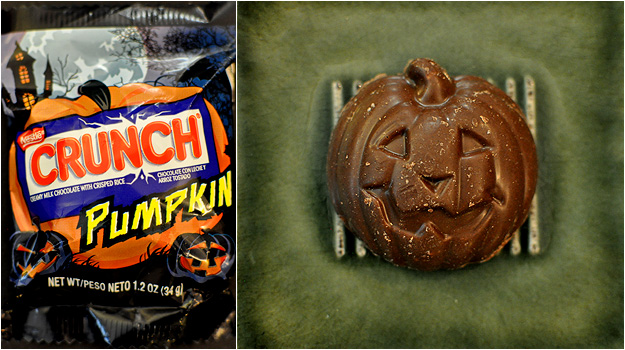 It's nice to see a Nestle Crunch variety of these pumpkin chocolates, since Snickers and Butterfingers have had them out for several years now. I really love the packaging on these, especially with the dark little pumpkin silhouettes in the in the bottom corners of the foreground! Definitely a nice change from the more convention orange jack-o-lanterns we're all used to seeing. Anyway, if you like Nestle Crunch bars, you'll certainly like these too. That said, I still gotta go with the Cadbury Crunchy Spiders over these though, both in terms of design and the flavor of the milk chocolate. On the plus side, you can actually get these ones pretty much anywhere, unlike the spiders which are currently only available in the UK.



out of 5 crazy Jacks
Crazy Bones Lollipops


Man... they really went all out on the packaging with these! Not only is the big outer bag shaped like a bone, but each individual lollipop is wrapped in a bone-shaped package of its very own. Top that off with the fact that the traditional lollipop sticks have been replaced with plastic arm and leg bones toys, and you've got a winning combination. The only thing I wish is that they had more bones so you could eventually build a full skeleton with them like some other candies I've reviewed in the past let you do. Still, it's a minor complaint considering that everything else about these is really well done. Oh, and the orange, cherry, and green apple lollipops taste fine too.




out of 5 chainsaws
Peeps Crispy Rice Halloween Marshmallow Treat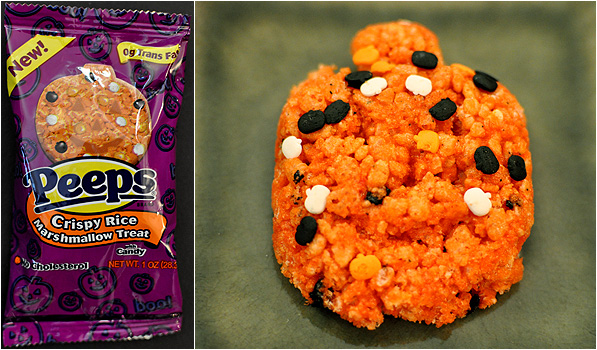 It's really good to see a new Peeps product as they've been hashing out the same marshmallow pumpkins and ghosts for many years now. This may be my favorite Halloween product this year in terms of looks simply because it has the appearance of something that was completely homemade. It's the kind of thing you could totally see a kid making - a malformed treat made by jamming rice krispies, marshmallow, orange dye, and some Halloween candy sprinkles together, and then separating them with a pumpkin shaped cookie cutter. You can barely even make out the face of the jack-o-lantern, and the candies on it look more like maggots crawling over the dead corpse of what was once a rice krispies treat.
I can't tell you how much I seriously love this thing and it pained me to take a bite out of it for this taste test. I wanted to stick it in a frame and hang it on my wall. And having tasted it, I can tell you with absolute certainty that's what I should've done. It's not a bad rice krispie treat per se, as I've definitely had worse, but it's nothing that great either. It's just okay. The crunchy candies at least add a nice texture to each bite. Flavor aside, I really hope they keep making these, because I want to see more disfigured pumpkin treat faces in the future.



out of 5 Kiefer vampires
Vidal Gummi Candy Corn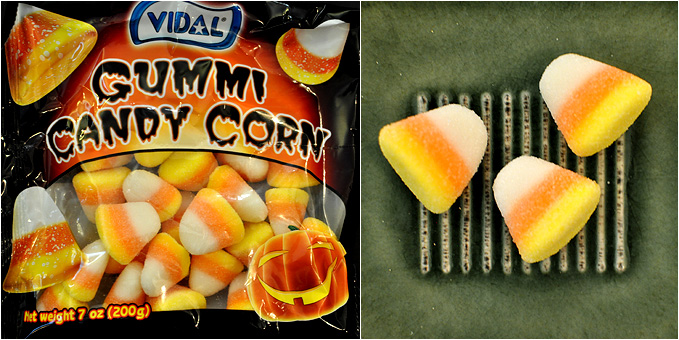 Considering how soft their other gummies are, I was surprised at how much tougher Vidal's Gummi Candy Corn ones were. That's not necessarily a bad thing though, as it makes them last a bit longer and they're quite chewy with a nice sugar coating. They actually copy the flavor of candy corn really well too, so it's a pretty strange feeling when you eat a gummy candy that tastes fairly close to the genuine article. If you see 'em and you're a fan of candy corn, I'd recommend giving 'em a shot.
out of 5 Freddy gloves
Pumpkin Spice Hershey's Kisses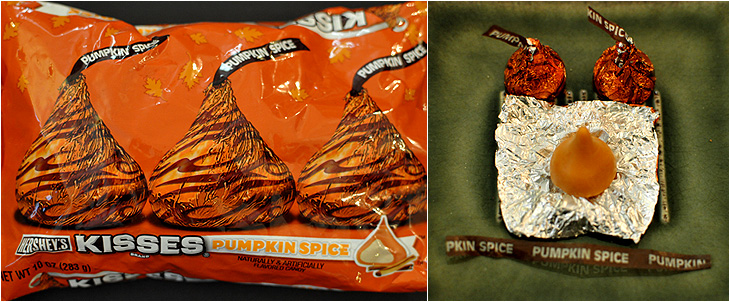 I honestly can't get enough of these. I've mentioned them back in 2008 and they've grown on me even more since then. Look, I generally don't like pumpkin flavored anything, but these really aren't pumpkin flavored. There's a very subtle pumpkin flavoring here; what you're really getting are cinnamon flavored Hershey's Kisses, and they're incredibly good. Seriously, don't pass these up.




out of 5 Frankensteins
Black Forest Juicy Oozers Gummy Vampires
& Black Forest Gummy Werewolves


Black Forest makes my favorite gummy snacks in the world, so I jumped at this Halloween 24-pack the moment I saw it. In it, you get two varieties in mixed mini-packs: vampires and werewolves. The difference between them is that the vampires are part of the Juicy Oozers variety, so they have a liquid center. The werewolves, however, are just their standard gummies. As tasty as the werewolves are, they just don't hold a candle to the vampires.
The gummies also come in a variety of monster themed shapes. With the werewolves, you get full gruesome grape werewolf bodies, spooky strawberry lemon werewolf heads, and blood orange paw prints. On the vampire side, you get cherry melon fangs, blood orang bats, bewitched berry vampire heads, and wicked watermelon lime coffins. I must have missed the meeting where "Wicked Watermelon" was officially accepted as a Halloween flavor, but between these and the new Crest Halloween toothpaste, it appears we have to accept it into the fearsome food flavors fold.
I know it's a lot to digest (haha, food humor!), but as much as I love these, I prefer the classic Juicy Oozers Gummy Skulls. Cherry will always be their best flavor, and with the skulls, you got nothing but that flavor AND you got to see skulls bleed as you bite into them or crush them between your fingers. Biting into a watermelon flavored coffin just doesn't have quite the same impact, even if it does ooze when you do so. Bring back the skulls, Black Forest!




out of 5 jack-o-lanterns (for the Juicy Oozers Gummy Vampires)



out of 5 zombie hands (for the Gummy Werewolves)
Gallerie Freaky Fingers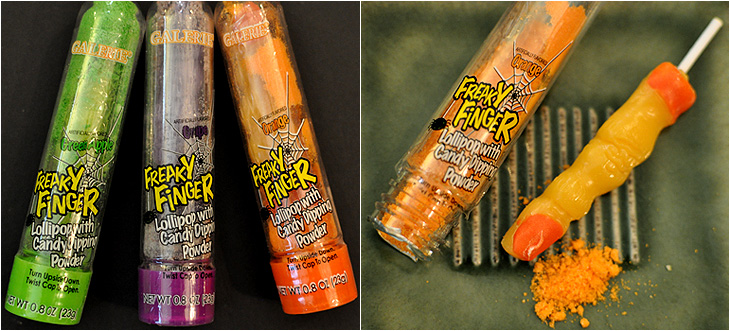 The idea of getting a severed monster finger in a test tube filled with candy dipping powder is something I can totally get on board with and these look pretty great. Problem is, it takes a good five minutes to get to the actual candy. First you have to remove the outer wrapping, then when you remove the cap, you find another foil seal that you can't peel off, so you have to puncture it. Then you have to struggle to remove the lollipop from the tiny test tube, only to discover that it too is wrapped in cellophane. I felt like I was on one of those shitty web sites that make you click to go to a different page to view each individual item on their latest "top 20 [whatever]" list. You should be able to get to your destination without having to go through countless online obstacles, and the same goes for getting your Halloween candies to their destination: your mouth.
Well, I did eventually extract the severed zombie finger and while the lollipop itself leaves much to be desired, the candy powder you dip it in is EXTREMELY sour. If you like sour candies, then you may want to check these out. Fortunately, you don't have to eat it all at once as the tube makes for a handy little storage container. Of the three flavors, I'd suggest going with the grape, though the lime probably looks the best as far as severed zombie fingers go.


out of 5 Edgar Allen Poe's.
Brach's Mellowcreme Pumpkins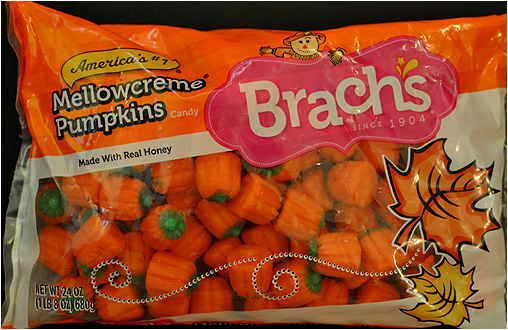 I promised myself I'd finally take a photo of the full bag this year before I devoured every last one of the Mellowcreme pumpkins found within. Well, I did it, and now it's time to collect my reward.
Okay, I lied. I bought three bags, and two of them were consumed extremely fast... BUT I STILL MANAGED TO TAKE A PHOTOGRAPH OF THIS ONE BAG FOR MY CANDY REVIEW ARTICLE BEFORE I POLISHED IT OFF! THAT'S PROGRESS DAMNIT! I DIDN'T MAKE IT THAT FAR LAST YEAR, SO IT'S PROGRESS FOR SURE! IT COUNTS! STOP JUDGING ME! I'LL EAT ALL THE MELLOWCREMES I DAMN WELL PLEASE AND YOU CAN'T DO A DAMN THING ABOUT IT! MELLOW OUT, WILL YA!?!? HAHAHAHA! I SAID MELLOW OUT AND I'M TALKING ABOUT MELLOWCREME PUMPKINS! THAT'S SO INCREDIBLY HILARIOUS!!! WHO WRITES THIS STUFF!? WHO CARES! I HAVE MELLOWCREME PUMPKINS AND NOTHING CAN HURT ME EVER AGAIN! NOTHING!!!!!!





out of 5 witch hats
Halloween Mallow Monsters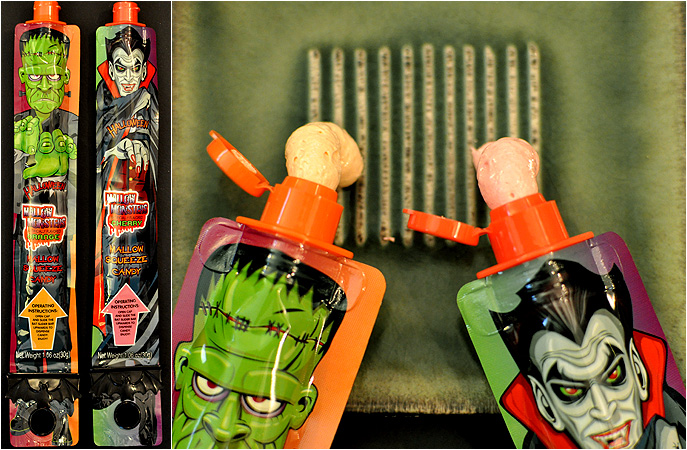 Just look at these beauties. Everything about the packaging on these new Halloween candy tubes is absolutely stellar. First off, they're quite long... about as long as my forearm, so you're getting plenty of candy in each tube. You also know you're in for a good time when your candy comes with "Operating Instructions". Yes, they actually come with a Bat Slider bar at the bottom of the tubes that you slide up to extract the marshmallow candy. Brilliant!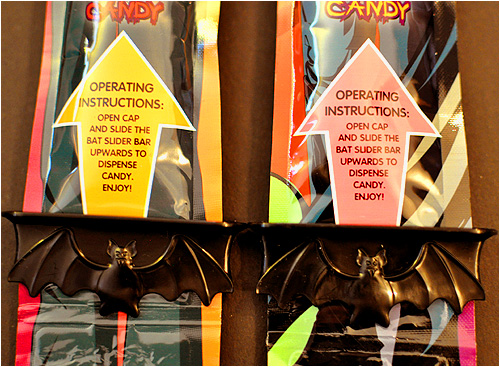 They come in two varieties, a cherry Dracula and a orange Frankenstein. I figured I'd like the cherry better, but it turns out the orange works much better for this marshmallow treat. The orange is a nice mellow flavor, while the cherry remind me more of the flavoring for some cough syrups. I guess I shouldn't be surprised - I mean, if we learned one thing from Monster Squad it's that Frankenstein is way cooler than Dracula. Well, that and the Wolfman's got nards. It's a strange marshmallow substance too, almost like a foam. Easily the most unique Halloween candy I've had all season and I'd love to see the Clever Confections company make more of these in the future. Maybe get a chocolate Wolfman, a lime Creature from the Black Lagoon, and a lemon Mummy in the mix next time. Either way, track these down and try 'em!




out of 5 full moons.
Oh but there's more!
CLICK HERE TO CONTINUE TO
PAGE 3 OF THE CANDIES!