by: -RoG-
...CONTINUED
Pumpkin Spice Hershey's Kisses


Last year, Hershey's Kisses came out with a limited edition candy corn flavor that I really grew to like a lot. I haven't seen them in stores this year, but that doesn't mean they're not out there. What I did find, however, were these new Pumpin Spice Hershey's Kisses. Out of all the candies I've tried this year, these ones definitely smell the best. When you first open the bag, you're hit with a really nice cinnamon scent that makes you want to chow down on these things like you were starving. These are one of those treats that really come down to a matter of preference... I think some people will love 'em and others will hate 'em. I'm on the fence with these because, on one hand, I really love how they smell... on the other hand, the cinnamon flavor itself is so strong that it really overpowers the pumpkin flavor. They're also very rich, so it's hard to each more than just a few of 'em. Still, I'd recommend trying them because for certain sets o' taste buds, these could be one of the best new Halloween treats this season.



out of 5 crazy Jacks
Bones Fruit Gummees Bowl


If there's one thing Bones probably shouldn't be, it's gotta be "gummy"... what with them being BONES 'n all. Still, that didn't stopped one company from producing this Bones Fruit Gummees Bowl. The fruit snacks themselves aren't anything to really write home about, they're just your standard generic brand tropical fruit flavored gummy candies. And hey, if the novelty of assembling your own gummy skeleton wears off quickly, one of the highlights of these candies is that you get some new microwaveable tupperware out of the deal (yes, they actually promote it on the package). Gummy candies and tupperware? You can't tell me these Halloween treats aren't specifically targeted towards the elderly.
out of 5 chainsaws
Squirt Bugs Fruit Gummees Bowl


The same company that brought us the Bones Gummees also produced this Squirt Bugs Fruit Gummees Bowl. It's the exact same deal, only these bugs come in several flavors. Don't let the "squirt' in the name or the squirting bug character on the bowl fool you though... these things have no liquid inside whatsoever. Pretty weak, even if you do get some new tupperware.

out of 5 counts
Jolly Rancher Lolli Pops With Creepy Tattoos


Jolly Ranchers have put out a variety of Halloween themed lollipops in the past (such as their Creepy Pops), and while these new ones don't have any spooky shapes, the assorted flavors still taste just as good and come in hanging packs of four with tattoos. The tattoos look like they came straight out of a Halloween clipart site with your standard fare sheet ghosts, black cats, jack-o-lanterns and spiders to name a few. But hey... if you want something nicer, go to a real tattoo artist.


out of 5 Freddy gloves
Ice Breakers Sours Pumpkins


If there's one candy you wouldn't expect to see trying to "Halloween it up", Ice Breakers mints would probably be near the top of your list. And yet here they are, with these fantastic little Sours Pumpkins in orange and mango flavors. What really impresses me is that they actually went through the trouble of reshaping these things to look like pumpkins. That's honestly the kind of dedication to Halloween that all candy companies should have. Ice Breakers, I salute you!
out of 5 hearses
Green Apple Gummy Frog Dissection Kit


Now this is a big disappointment. Last year, Target was carrying these in a completely different package, and while the packaging isn't a huge deal, the contents were. Yes, you still get the huge gummy frog which weighs enough to knock somebody unconscious if you hurled it at their face with enough force. What you don't get, however, is the shiny pair of tweezers or the flies to remove from it. Kinda defeats the purpose of having a frog to cut open if you're not gonna have anything cool to remove from it. It's sad to see them skimping out on those little extras, so let's hope they reverse this error in judgment next year.


out of 5 Frankensteins
Strawberry Gummy Heart Dissection Kit


Since there was no heart dissection kit last year that I'm aware of, this large gummy heart and plastic scalpel are a welcome new addition to the Halloween candy aisle. Gotta love that big blue artery running along the outside of it. Again, with this kit there are no extras for you to pull out of the gummy candy when you cut the sucker open, but I'm sure there's more than enough gelatin in this thing to clog your own arteries. Then a a doctor can dissect your own heart... spooky!



out of 5 zombie hands
Wonka Nerds Test Tubes:
Vampire Vaccine, Mummy Makeover,
Werewolf Morph and Bat Bite Antidote


Man, the Wonka company really is just the king of Halloween. These new Nerds test tubes are what Halloween is all about. Not only do you get some delicious Nerds candies, you get four mini monster statues as well. Take a look: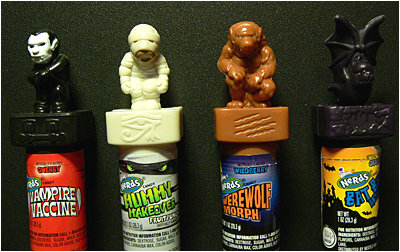 Pretty nifty aren't they? Actually, the Werewolf Morph character looks more like a mutated version of Alf, but that just makes me like him all that much more. Also, the Wildberry flavored Nerds he comes with are a flavor I've never had before (unlike the Cherry Vampire Vaccine, Fruit Punch Mummy Makeover, and Grape Bat Bite Antidote) and I gotta say, they're really good. Then again, it's hard to think of any Nerds flavors that are bad. Nerds, test tubes and monster statues, all for under two bucks a pop? Wonktacular!




out of 5 Edgar Allen Poe's.
Yummy Light Up Lollipops


Now these are one of the many Halloween candies that you would rather look at than eat. After all, they're just lollipops, so unless you're really starving, there's no reason to eat them and ruin the one truly cool thing they have going for themselves.

Just look at those beauties! I can't think of any time where I'd be craving a lollipop that badly to where I'd want to ruin perfectly good Halloween lights like this. So, as far as miniature light-up decorations, they're pretty awesome and worth picking up.



out of 5 haunted houses
Oh but there's more!
CLICK HERE TO CONTINUE TO
PAGE 3 OF THE CANDIES!