by: -RoG-
...CONTINUED
Pumpkin Spice M&M's


These were pretty disappointing to be perfectly honest. I love the Pumpkin Spice Hershey's Kisses more than just about any other Halloween candy, so I figured these would be fairly similar, but they're not. The chocolate just doesn't blend well with the pumpkin spice flavoring here. It tastes nothing like the Hershey's Kisses variety that I can't get enough of. They're not awful per se, but it's also not a candy I'd ever bother seeking out again, especially since it leaves a bad aftertaste in your mouth. Oh well, they can't all be winners.
out of 5 crazy Jacks
Dark Moon Vampire Hair Crackling Cotton Candy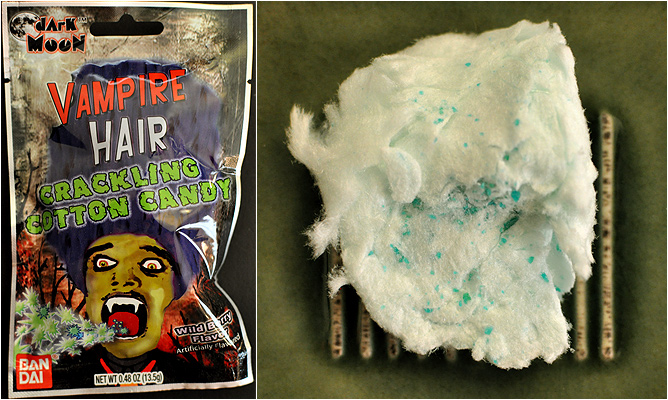 Here's a completely random one, produced by Dark Moon and Bandai; a company mostly known for making a variety of video games. But hey, who's gonna turn down a chance to eat the cotton candy hair of a vampire? Personally, I think they should've called it Bride of Frankenstein hair, since she has more than enough for anybody to eat. Still, there's no denying that the packaging on this is pretty incredible, as it appears to be a rushed Photoshop job that was done in about five minutes. Wild Berry is also a very unusual flavor for cotton candy, but it works really well. Imagine if they turned cherry & strawberry Starburst candies into a cotton candy blend, and that's pretty much the flavor you're dealing with here. Excellent. And yes, it does crackle too, as it appears to have Pop Rocks candies mixed in it! The sensation of cotton candy melting in your mouth while the pop rocks simultaneously crackle in your mouth is pretty awesome. The only thing I'm taking a point off for is the ridiculously miniscule amount of cotton candy you actually get in the package. Considering they charge over a dollar for it, there's no excuse to not give more since we all know cotton candy is super cheap to produce. Still, it's well worth trying out if you can track down the vampire hair, because there's definitely nothing else like it.




out of 5 chainsaws
Russell Stover Mini Caramel Pumpkins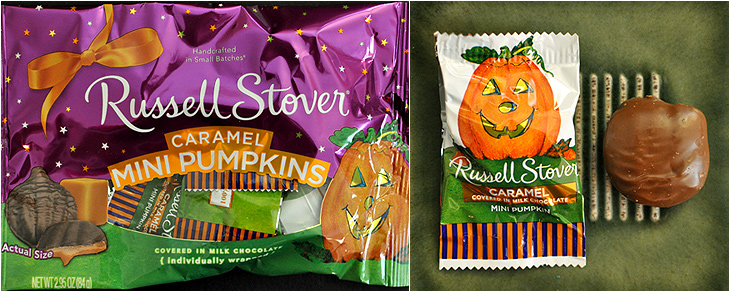 While they are very small, I still appreciate that they come in nice, shiny, individually wrapped jack-o-lantern packages. The chocolates themselves don't have any real design to them, and they often don't even look like pumpkins. Would love to see Russell Stover put a little more effort into the aesthetics of their chocolates next Halloween. Then again, I'm a sucker for any chocolate-caramel combination, and these are no exception. They're simply tasty as can be, and I'm sure I'll come close to finishing off the bag before Halloween is over anyway.
Update: Okay, so I finished off the entire bag for I even concluding my writing of this article. DON'T JUDGE!



out of 5 Kiefer vampires
Brach's S'mores Flavored Candy Corn


Holy crap, these are incredibly good! When it comes to candy corn, I'm typically a purist, because most other flavor variations usually end up disappointing (such as the aforementioned Starburst ones). But these, wow... these S'mores candy corns are the kind of candies I could shove into my mouth all day long and still want more. Between the marshmallow, chocolate, and graham cracker flavors, I'd say the marshmallow and chocolate stands out the strongest here, but it really works well.
If you're one of those people who absolutely hates candy corn, I'd strongly suggest giving these a try as an alternative to the classic variety. You just might discover a new favorite Halloween treat here. Keep it up, Brach's!




out of 5 Freddy gloves
Skittles Darkside


Just as Mountain Dew has their "Pitch Black" soda variety, Skittles now has their new "Darkside" variety that fits in perfectly with the Halloween season. And you know what? They're pretty good. I like the darker packaging, and the flavors all work nicely together. Instead of the classics, you have Forbidden Fruit, Dark Berry, Blood Orange, Pomegranate, and Midnight Lime. Honestly, when you're eating them all together, it tastes like a typical Skittles candies with only a slighter bolder flavor. The only flavor that really seems to be quite strong and straying from the norm is the pomegranate. I'm not a fan of it on its own, but when consumed with all the other flavors, it's perfectly fine. I'd still like to see Skittles embrace the Darkside as their official Halloween variety by putting some seasonal designs on the package, but I suppose a darker rainbow will have to do for the time being.



out of 5 Frankensteins
Jolly Rancher Caramel Apple Lollipops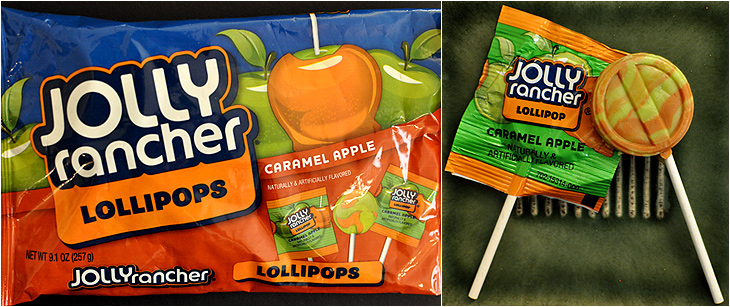 In terms of presentation, these certainly appear to have a visual advantage over Tootsie's caramel apple lollipops that I reviewed on the first page of this article. Unfortunately, the visual advantage is pretty much all these Jolly Rancher pops really have. If you've ever had a green apple flavored Jolly Rancher candy, you know how incredibly strong that flavor is, and it's no different here. If there's caramel flavoring in these lollipops, I'll be damned if I can taste it. Visually, it appears there's lots of caramel streaks mixed into the pops, but the green apple flavoring is so incredibly overpowering I cannot taste the caramel at all for the life of me. Granted, I love green apple Jolly Rancher candies, but it's not a good thing when you were hoping for a blend of the two flavors. So yeah, I'd recommend sticking with the Tootsie variety over these.


out of 5 jack-o-lanterns
Palmer Double Crisp Monster Munny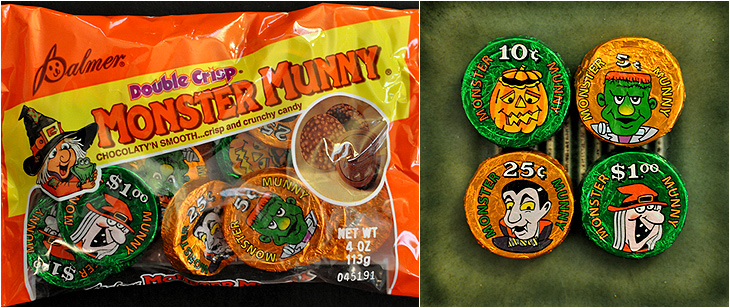 These were a bit disappointing since I've enjoyed Palmer's crispy chocolates in previous Halloween seasons. Maybe it was a bad batch, or they were sitting out too long? Whatever the case may be, they're definitely a step down from previous years. That said, I can still appreciate the idea of monster money... er... "munny" being used as a form of currency. Granted, it probably wouldn't be a particularly valuable currency since you can find it at most dollar stores.


out of 5 Edgar Allen Poe's.
Brach's Mellowcreme Pumpkins

The Mellowcreme pumpkins never last 'til Halloween... but I could totally stop eating them whenever I wanted to. No really, I swear I could. It's not that hard. I can totally quit 'em cold turkey.
OH GOD, I'M OUT OF MELLOWCREMES AND MY LOCAL GROCERY STORE IS SOLD OUT OF THEM TOO! WHAT THE HELL AM I SUPPOSED TO DO NOW!? I'M TOTALLY NOT GOING THROUGH WITHDRAWAL SYMPTOMS HERE, OKAY? OKAY!!??? I JUST WANT SOME GODDAMN MELLOWCREMES. JUST ONE FIX! THEN EVERYTHING WILL BE FINE! I'LL BE A NEW MAN TOMORROW, I PROMISE! I JUST NEED THEM TO HELP ME GET THROUGH THE NIGHT! TO HELP ME GET THROUGH HALLOWEEN! WHAT THAT? YOU SAY DON'T HAVE ANY YOU CAN SHARE WITH ME? FUCK YOU! LIAR! LIIIIIAAAAAAAAAR!!!! I KNOW YOU'RE HOLDING OUT ON ME! GIMME THE GODDAMN MELLOWCREMES AND MAYBE I WON'T TEAR OUT YOUR THROAT - HOW'S THAT FOR A DEAL!?!? GIVE ME MY MELLOWCREEEEEEEEEEEEEEEMES!!!!!!





out of 5 witch hats
Spooky Nerds Rope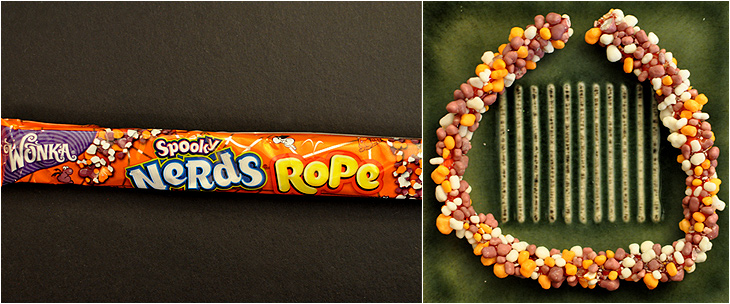 I first reviewed these back in 2007 and I'm glad they're still around, because they're just as good as they were then. Since I'm quite certain we'll sadly never see Wonka's incredible Halloween Bloodberry Donuts making a return, I'm glad that the Spooky Nerds Rope candies continue to thrive every season. Super soft gummy ropes covered in a variety of Nerds candies is such a perfect combination. It's tangy and delicious as hell. Combine that with packaging that features witch and vampire bat Nerds, along with one that has its ass stuck in a spider web, and you've found yourself a real Hallowinner.




out of 5 full moons.
Oh but there's more!
CLICK HERE TO CONTINUE TO
PAGE 3 OF THE CANDIES!