by: -RoG-
...CONTINUED
Caramel Apple Twizzlers


This is the one candy that I must admit I'm the wrong person to ask to review, because I've never liked Twizzlers at all. Why? Because when I open a bag, they smell amazing and I want to devour them instantly, but as soon as I take a bite, I feel like I'm chewing on a flavorless piece of old rubber. Twizzlers are bland as can be, and I've never understood why people love 'em so much.
Still, I put aside my distaste for classic Twizzlers in hopes that these new Caramel Apple filled twists would prove to be a pleasant Halloween surprise. These are snack size green apple twists, filled with what's supposed to be caramel flavoring, and they certainly smell like apple candies when you open the bag. I tried eating some of the caramel separately and it barely has any flavor whatsoever, not to mention it doesn't seem to have the consistency of caramel. Seems somewhere more between taffy and marshmallow than actual caramel. What's weird is when you eat a full piece, you do taste the caramel flavoring a little bit. Sadly, these Twizzlers still smell WAY better than they taste. Their scent is deceptive in that you think they're gonna be super sweet, but they're far from it. I'd choose them over the classic Twizzlers sure, but they're not gonna wake up my taste buds by any stretch.


out of 5 crazy Jacks
Russel Stover Red Velvet Pumpkin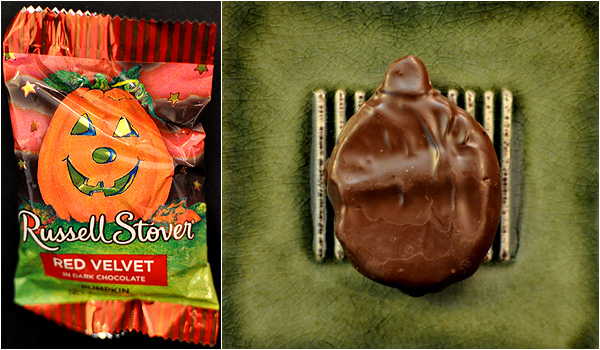 Another tasty Russel Stover chocolate pumpkin has arrived in the Halloween market, and this time it's dark chocolate filled with red velvet cake. It's a really interesting combination, and I can't say there are any other candies like it out there this season. It's not quite up there with their Big Bite Caramel Apple Pumpkin covered in peanuts, but it's always good to have more choices. And really, you can't go wrong when you have the bitterness of dark chocolate meeting the sweetness of red velvet cake. Good stuff.



out of 5 chainsaws
Brach's Candy Corn Gummies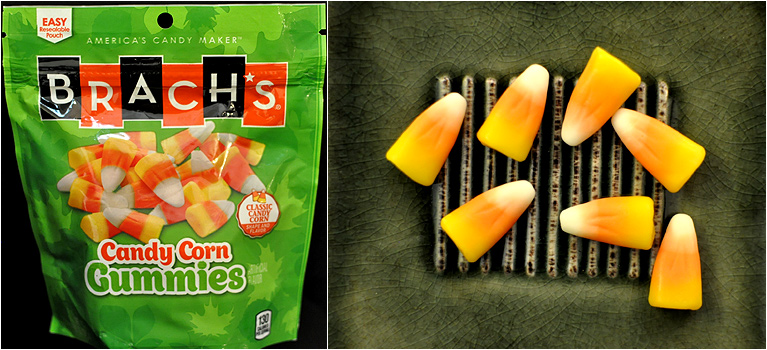 Did I say candy corn was conquering Halloween 2014 or what? Brach's has released these resealable pouches of candy corn gummies that are supposed to be the same shape and flavor of their classic candy corn. And it's true, unlike other gummy candy corns I've had before, these are the exact same size and shape as the originals. They're also incredibly soft to the touch, but still give you enough resistance when you chew on 'em, which is always a good thing when it comes to gummy candies. The flavor is like candy corn, for sure, but you can also taste the gelatin a bit too much in my opinion, and it just makes me want to eat the real thing instead of their gummy alternative. Still, if you're a fanatic of candy corn and gummy candies, this is probably the best choice out there for you this season.


out of 5 Kiefer vampires
Gold Emblem Gummy Candy Corn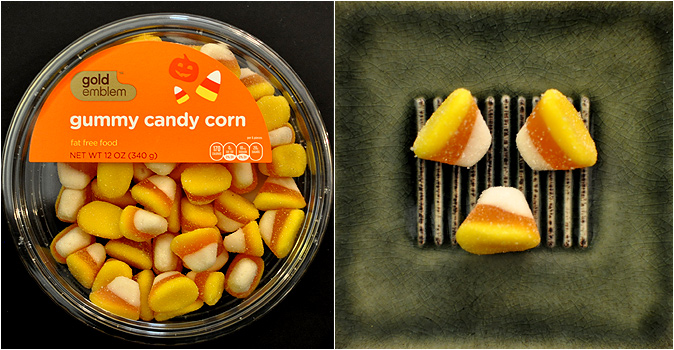 Gasp! Another candy corn flavored item to review! Color me shocked!
Alright, I'll be blunt: this is the worst candy I've tried this season. If I could give it less than one point, I would, but I don't feel like cutting the Freddy glove graphic in half. Besides, your product has to be pretty awful in order to score a 1. These gummy candy corn pieces are covered in crystallized sugar and are significantly larger than Brach's variety. Right off the bat, they had a strong chemical scent when I opened the tub, which is never a good sign. When I bit into a piece, I was hit with an awful, sour chemical flavor that in no way resembled candy corn whatsoever. It's not often that I feel the need to spit out candy, but it happened with these. I almost feel like this was a prank put on by Conal Cochran himself. Avoid 'em at all costs, or hand 'em out to trick-or-treaters who believe they're "too cool" to wear a costume yet still deserve some candy.

out of 5 Freddy gloves
Wonka Caramel Apple Laffy Taffy


Not a lot of new Halloween products from the Wonka candy company this season I'm sad to say, but they did put out these caramel apple flavored Laffy Taffy candies. Each piece is brown, inside and out, so I was expecting a very heavy caramel flavor. That's not the case. The apple flavoring is incredibly strong and completely overpowers any smidgen of caramel flavoring in the taffy. The only time I even remotely detected it was in the aftertaste. The taffy still tastes good, but I would've liked to see a much better balance of the two flavors.
I should also note that each piece is individually wrapped, complete with jokes on every wrapper. Sadly the jokes aren't Halloween themed, but they're just as bad as ever. Here are two shining examples:
Q: What do astronauts eat for dinner?
A: Launch meat.

Q: What is yellow and wears a mask?
A: The Lone Lemon.
I dunno about you, but I just lost my appetite.



out of 5 Frankensteins
Caramel Apple M&M's


M&M's have a new flavor out this year, and most people seem to have overlooked these, because I've seen very little chatter about them online. The packaging is nice, with the green M&M lady mascot eating a candy apple and serving up a plate of them right into your face. The candy pieces seem to vary in size and come in both dark and light red tones.
So I have to ask: Has anybody else had these? I'll be damned if they really taste anything different than classic M&M's, because I sure can't sense even the slightest bit of apple flavoring when I eat them. At best, there's an extremely faint apple flavor aftertaste, but I honestly could be imagining it because I'm trying so hard to detect the apple.
Anyway, if you like classic M&M's and just want a bag of red ones, today is your lucky day.



out of 5 jack-o-lanterns
Powder Filled Fizzy Vampire Bites Gum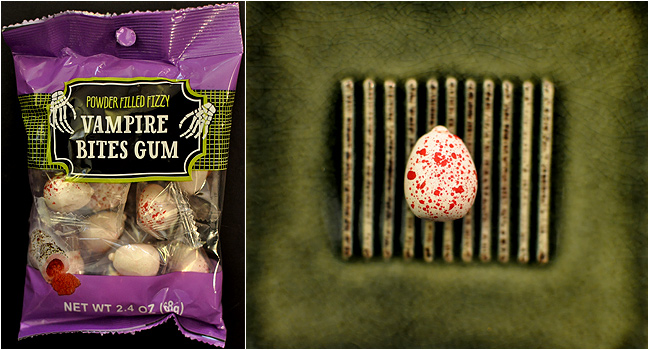 Another new addition to Target's Halloween line of candies are these Vampire Bites gum pieces. It's hard to tell what they were going for with the shapes, as some of the pieces look like eggs, while others appear to have nipples on them. So you're either dealing with blood spattered eggs, or blood spattered breasts. What either of those have to do with vampires, I do not know. Well, if they're eggs, perhaps this is their way of telling us how vampires reproduce? They lay eggs? Yes indeed, that eternal question continues to burn in the back of our minds: which came first, the vampire or the egg?
While you're pondering over that, let's talk about the candies themselves. Just as they really went all out on speckling these things with fake blood, the centers are filled with some red substance that fizzles in your mouth a tiny bit. Nothing like Pop Rocks or anything mind you. The center is more sour than anything at first, but then it ends up blending with the gum nicely for a surprisingly decent flavor. If you're hankering for some sour 'n bloody eggs/boobs, Target has you covered this year.



out of 5 Edgar Allen Poe's.
Brach's Mellowcreme Pumpkins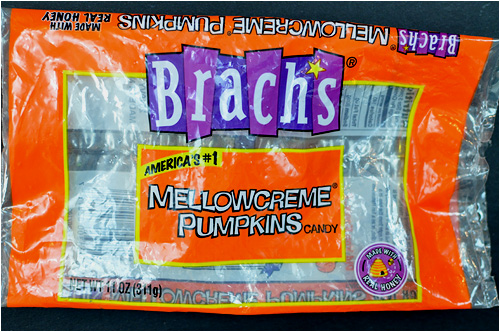 You know how this always goes down... it doesn't matter how many bags I buy, for the Mellowcreme pumpkins never last 'til Halloween. It's not like I have a problem or anything, I just really like the flavor. Seriously, I'll be just fine... I... I just... I...
WHAT DO YOU MEAN NONE OF THE LOCAL STORES HAVE THEM IN STOCK ANYMORE!?!? THIS ISN'T CANDY, GODDAMNIT! THIS IS MY MEDICINE! I NEED MELLOWCREME PUMPKINS TO LIVE!!! DO YOU WANT TO BE THE ONE HELD RESPONSIBLE WHEN I GO ON A MURDEROUS RAMPAGE, SETTING EVERY PERSON AND BUILDING IN SIGHT ABLAZE WITH THE RAGE OF A THOUSAND HEADLESS HORSEMEN!?!? WELL DO YOU!?!?!?? I DIDN'T THINK SO!! YOU GET ON THE PHONE RIGHT NOW AND FIND SOME PLACE... *ANY* PLACE THAT HAS THEM IN STOCK! I DON'T CARE IF WE HAVE TO DRIVE ALL DAY AND ALL NIGHT TO GET THEM! I DON'T CARE IF WE NEED TO KICK IN THE DOORS TO BRACH'S HEADQUARTERS AND TEAR APART EVERY INCH OF THAT BUILDING! I NEED MY MELLOWCREMES OR THIS WILL BE THE LAST HALLOWEEN YOU EVER SEE!!!! DO YOU HEAR ME!??? THE LAST HALLOWEEEEEEEEEN!!!!!!!!!!!!





out of 5 witch hats
Kraft Jet-Puffed Candy Corn Marshmallows


Did I miss a meeting where it was decided that 2014 would be the year of candy corn? Well, in this case, it's definitely a good thing, because Kraft has put out these candy corn flavored marshmallows that taste great. The nice packaging shows them on a rice krispies treat and includes a recipe for which they include a recipe on the back. I'd be curious to see krispy treats made with these instead of marshmallow fluff. Or even better, Kraft should release a candy corn flavored variety of marshmallow fluff in 2015! I'll keep my fingers crossed.
The marshmallows themselves are orange and yellow, which is odd to me. I mean, most marshmallows are white by default, and that's the one color they chose to exclude from making these look just like candy corn? WEIRD! Minor color gripes aside, they're quite delicious! I'm not even a big fan of marshmallows, but these are great. They're soft as pillows and they've added just the right amount of candy corn flavoring so it's not too overpowering and compliments their classic marshmallow flavor perfectly.
Also, I now want to see a candy corn colored version of the Stay Puft Marshmallow Man. One of you needs to draw me the candy corn Stay Puft Marshmallow man and post it in the comments section below. As Serpentor says... "This I command!"




out of 5 full moons.
Oh but there's more!
CLICK HERE TO CONTINUE TO
PAGE 3 OF THE CANDIES!